Sharing films on social media has been increasingly popular in recent years, allowing individuals to watch a variety of movies effortlessly. People can relieve unpleasant moods or strain by watching funny films, which can make them happy.
Without any doubt, everyone enjoys seeing the humorous videos. If you're a YouTuber, such videos might draw a lot of attention, likes, and even followers. Do you have any idea how to make funny videos? To add stunning effects to a video, you need fascinating materials and a great video creator with diverse cool effects. You may locate one hilarious tool in this post to assist you with it. Here comes the 8 best selected and tested funny video makers with filters, stickers, and funny nerves!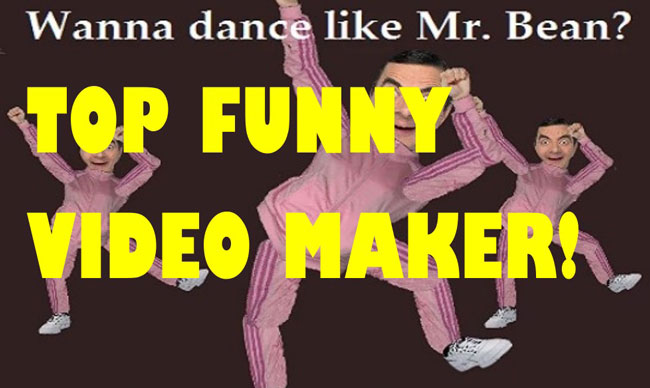 Top 4 Best Funny Video Makers for PCs in 2022
For uploading and editing multiple files, you'd better choose a PC video editor. Whether joining batch files into one or splitting a file into different clips, it is fast and easy to use your computer to edit funny footage. But more than that, many advanced funny effects and filters are only available on those tools, such as split-screen, PiP, keyframes, and more.
1. AceMovi Funny Video Maker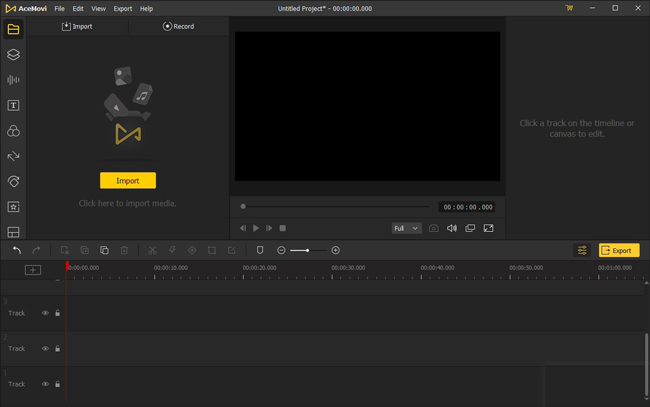 AceMovi is the ideal meme video creator for creating funny videos to make you laugh. You may upload as many files in whatever format as you choose and begin editing right away on the profile. You can make your video meme go viral by using a variety of unique elements, including text, stickers, filters, animations, and more.
As a powerful video editor, AceMovi is designed with transitions and effects. It also comes with a screen recorder that can capture images and sound from your computer. AceMovi is a sophisticated video editor with a split-screen, background music, and sound effects library.
The user-friendly interface includes all the buttons you'll need to enhance your video. AceMovi allows you to construct a funny clip using as many photographs, video clips, and GIF images as you desire. Here to download it for creativity!
AceMovi Funny Video Maker
All-in-one profile
Compatible well with low-end systems
Funny stickers, texts, and music are offered
Import/Export HD(1080p) files
Proven screen recorder and audio recorder
Easy to use for first-time content creators
Great user experiences
2. MiniTool MovieMaker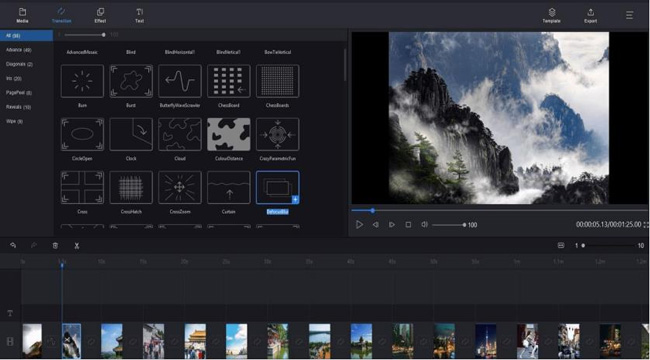 An expert funny video generator is unquestionably required to make a fantastic video. MiniTool MovieMaker is one of the greatest free video editing tools available, with a bunch of features that allow users to produce beautiful films from photographs and video clips while requiring no prior knowledge.
It's free, without adverts, bundles, or watermarks, and includes several Hollywood-style movie templates. Users may produce amusing films quickly because of the app's user-friendly UI. It's also a free audio editor in addition to generating HD clips. It can extract audio from MP4, split MP3 audio, trim audio, and fade in and out audio, among other things.
Pros:
A wide range of video transitions and filter effects
JPEG, JPG, PNG, GIF, ICO, and BMP are supported
A variety of motion effects as well as the ability to create slow-motion effects
Provide a video speed controller for free
Easy to begin with
Cons:
Not good for skilled man
Few music resources
3. VideoPad Funny Video Editor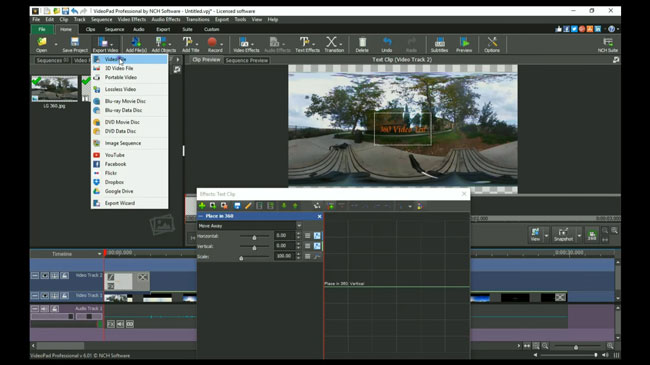 It's a fully-featured and intuitive video editing program. To begin with, it's a hilarious video and status video software. Users may search for and share amusing Indian videos and communicate with others. Second, it's a unique video editor and a hilarious video producer. Users may make short amusing movies and modify them, such as cutting them and adding music.
Finally, it provides viewers with some free videos that they may download. Finally, it's a smart digital audio tool to edit and apply effects to imported audio media with ease.
Pros:
Allows 60+ video formats
50+ VFX and transitions
360-degree video editing view
Drag-n-drop workflow design
Edit chroma key green screen clips
Cons:
The free version cannot export your video at MP4 format
Dated interface
4. VLC Media Player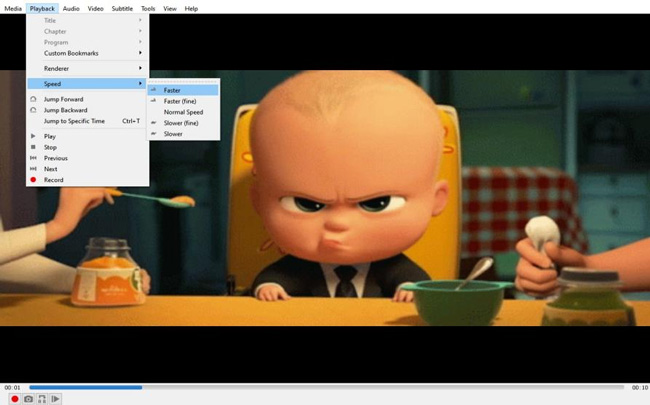 VLC is a feature-rich hilarious movie producer for Windows, Mac, and Linux, that is watermark-free to use and endowed with a plethora of filters and transitions. It's pragmatic, practical, and entertaining, allowing users to easily produce movies, edit films, and share them on YouTube, Instagram, Facebook, Twitter, and other social media platforms. As both a high-quality video player and video editor, VLC enjoys its fame in linear video editing pattern and smart video burning technology.
Pros:
It allows you to crop videos and export them in HD quality
Enhance video with music and your voice
Trim, divide, and edit films and rotate them
Add animated stickers and text to videos
Provide a video merger and joiner that combines numerous clips into a single file
Cons:
Uneasy for beginners
Few music libraries
Cannot edit multiple files
Top 4 Best Funny Video Maker Apps for Mobile Phones in 2022
Video editing apps are more portable and easier to use. Meanwhile, there is a library of unique stickers, images, footage, and music for making a funny clip. Here you have a review of them with the detailed products description. Keep reading!
1. Banuba Funny Video Maker App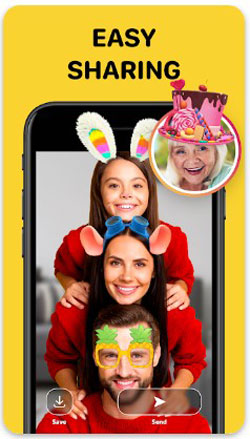 Banuba funny video maker app includes a variety of amusing video effects as well as live face filters. It can create amusing and fascinating films and selfies. It may also be used as a video editor and a voice changer. You can change your voice to other types in one click. And funny maps and stickers are some of the interesting parts of making an amusing clip. Now, download it on your phones and hit the road to make your audiences laugh.
Pros:
Switch faces with your wanted celebrity
Change your voice on videos to sound like an animal or an alien
Make animated emojis
Dozens of on-trend photo filters and face masks
Cons:
It is filled up with ads
Sometime go to crushed
Unfit for editing more than one media
2. Likee Funny Video Generator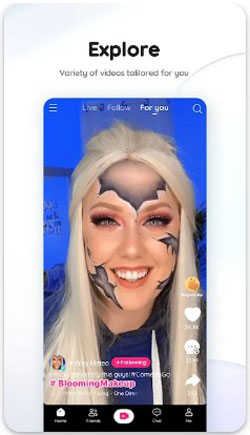 Likee is a popular funny video creation and sharing site with various stickers and audio magic effects, allowing anybody to create humorous films easily. It not only has hilarious music and original videos, but it also has food discovery series, life hacks, and a variety of other catchy things. Hair color, 4D magic, facial magic, and other smart features are included.
Pros:
It has advanced video editing capabilities
Aapply flawless makeup in a matter of seconds
Access to millions of short videos
Easy-to-use live wallpaper maker
Cons:
Doesn't have good music to add
3. JokeFaces Funny Video Maker for Phones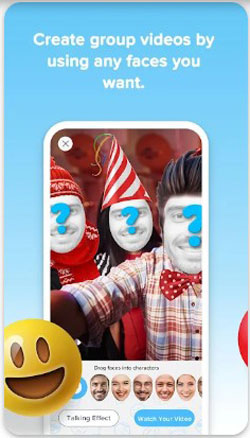 Being a user-friendly and amusing movie creator that allows users to create their humorous videos with no restrictions and swap out faces in the video with any faces they like, JokeFaces allows users to generate custom material for occasions such as birthdays, anniversaries, and wedding proposals. It has output choices for GIF and MP4 files and produces output with a high resolution. You find movies and animations regularly refreshed with JokeFaces.
Pros:
Add talking effects to the faces in a video
Share your designs with your friends on social media
Create group videos by using any wanted faces
Save GIFs and clips to camera roll
High resolution output
Cons:
The 3-day free trial cannot share or export any clip
4. Funny Movie Maker
As the last one to be introduced, Funny Movie Maker is simple to use and allows users to make humorous films with great ideas. It also empowers users to replace their faces with those of other people, even space aliens. Users may also add music to the video to make it more comprehensive. Furthermore, it provides users with some amusing video creatives. The built-in camera can snap images and record new clips.
Pros:
Alter one's voice
Make your pets talk
Fun, fast and simple to use
Customize clip and face shape, size and blend
Take new pictures and recordings
Cons:
You may encounter ads
You need to buy the ability to make the mouse move
To Conclude
A computer and a phone may be used to create a funny clip to make people laugh. However, making one on the computer using those recommended tools is the best option for more amazing effects and high-quality results. Add captions, animated words, and sound effects to make your funny videos stand out.