Nowadays the internet space contains many video contents requiring you to talk to yourself. A way to go about this is by cloning ourselves - Creating another "me" in the video to interact with the real "me". However, the ease of achieving the cloned video depends on the quality of the app, device, and operating system you are using.
Cloning yourself may be hard to do in case the video editor hasn't designed such functionality. To help you choose the best clone video editing app and software, I recommend the top 8 clone video editor based on the pros, cons, and unique properties of each, along with the basic tutorial to make the process easier. Let's get the ball rolling!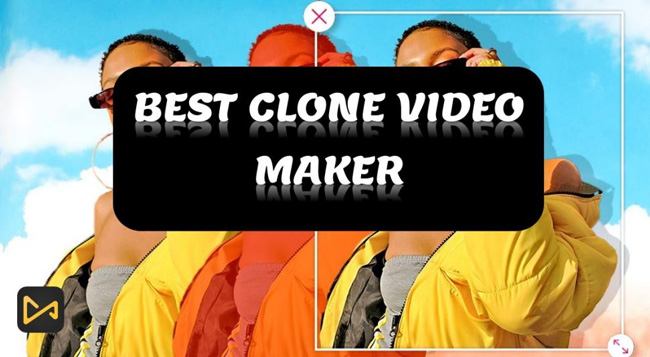 2022 | Top 5 Best Clone Video Editors for Windows and Mac
We all know that editing video on computers is simpler and comes with more opportunities. With the following mentioned video editors, you'll be guided to make yourself cloned in a video using the Masking Tool, Video Flipper, and more effects.
Top 1. TunesKit AceMovi: Easy & All-in-One Clone Video Editor
The first clone video editor recommended herein is the TunesKit AceMovi, which is an all-in-one toolkit that brings a series of functions including cloning, cutting, chopping, cropping, converting, compressing, etc. Below are a few features of the application.
You'll find AceMovi easy to use and try, not only can you access tons of elements of background music, sound effects, stickers, text templates, filters, overlays, regional effects(Mosaic, ColorNot, Blur, Magnify), but also you can apply all of them onto your clone video flexibly and individually.
AceMovi is related to YouTube, Facebook, and Vimeo, meaning that you can export or convert a video in the best format for these social video uploading websites with one click. Other supported formats like MP4, AVI, M4V, MOV, TRP, TS, MKV, WMV, ASF, WebM, DivX, DV, GIF, iPhone, iPad, Galaxy, Xbox, PSP ... Now install this video editor to make yourself cloned on the screen!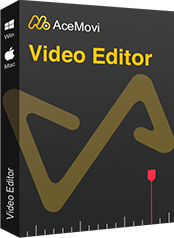 AceMovi Video Editor
Security Verified. 8,368,391 people have downloaded it.
Reasons to Try:

Easy-to-catch and straightforward UI
A variety of elements and effects
Versatile Tools: Trim, cut, record, rotate, flip(mirror), equalize, mosaic, blur, enhance, convert, etc.
The trial version has no limits on expiration and register
PiP(picture-in-picture) and split-screen video maker
All commonly-seen video formats
Downsides:

Export video with a watermark on the trial version
Top 2. VSDC: Video-Masking Clone Video Editor for Windows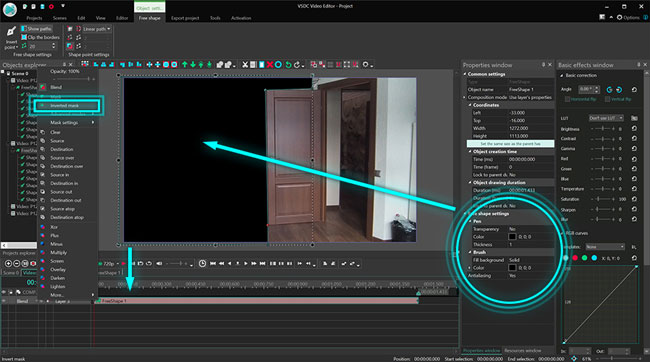 VSDC is a Windows-only video clone editor you can use to clone and edit yourself. The software uses the video masking feature, which allows you to exist at different parts of the video separately. However, using the software requires having good video editing skills, for example, you need to acquire basic guides on how to use a video editor for beginners.
The video editor operates non-linearly and has many editing functions like 3D charts and 3D editing. More examples include the freeze-frame clone effect, record screen, voice recording, stabilize video, and Chroma Key. Also, it is compatible with many output formats.
[Tutorial] How to clone yourself in a video using the video-making tool with VSDC? Firstly, start with a blank project and import all files you want to edit(you need to prepare 3 videos for cloning). Now add a rectangle and proceed brush > Color > Black Color. Lastly, go to the Mask icon and select Inverted Mask.
Pros:

A good user experience
Many editing functions aside from cloning
Compatible with many output formats
3D chart and editing
Slideshow maker
Cons:

No video stabilization tool
For Window only
Top 3. Filmora: Fully-Fledged Video Editor for Windows & Mac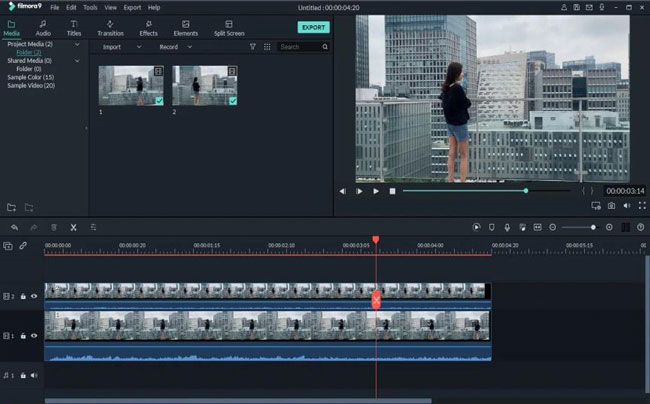 Filmora video editor clone yourself software is a powerful tool for creating clones and editing cloned videos. Editing functions available on the software include cropping, reversing, rotating, recording, blurring, etc. This software is easy to edit multiple files because of the unlimited tracks. You can choose to start with a background color, filter, overlay, transition, text template, or others.
[Tutorial] However, Filmora is not a free tool and you'll meet a watermark after downloading. So how do you clone a video for editing with it? Now shooting the footage required and importing files into the timeline. Now go to Effects > Utility > Image Mask. Under the Preset Mask, you can click the clone area and X-Y degree. Once over, click the Export to share your masterpiece.
Pros:

Fully cover clone video editing functions
Ideal for beginners
Gets a plethora of elements and effects
Compatible with output formats with HD quality
Unlimited tracks
Pros:

It has a poor GUI
Maximum editing is only possible with the paid version
Top 4. VideoStudio: Smart Clone Video Editor for Windows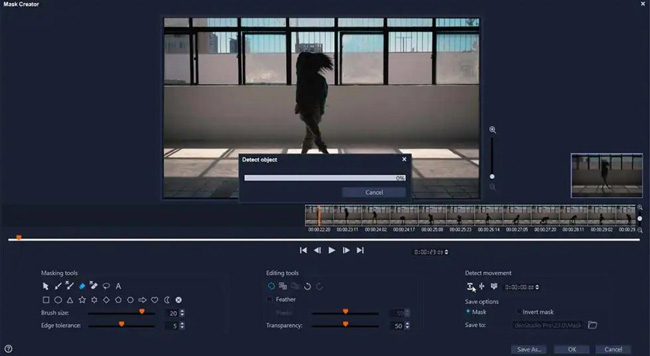 VideoStudio is another powerful video cloning editor available on Windows. It uses the video masking technique as well, which involves overlapping several clips. Other features of the clone video editor include reflection adjustment, color balance, and movement detection.
[Tutorial] So how do I clone something in a video with VideoStudio? You can record a video or upload a video locally to make an import. Then navigate to the Mask Creator to select the clone part in your video and extract it using the masking tools. Continue to slide the Transparency and Movement Detection, making the effect perfect.
Pros:

An intuitive interface
Accessible online as well
Customizable templates are free to apply
Many editing functions such as resizing, cropping, and effects
Masking Creator to make a clone video easily
Cons:

High subscription fee
It has limited keyframing
Top 5. Powerdirector: Powerful Clone Video Editor for Android & iPhone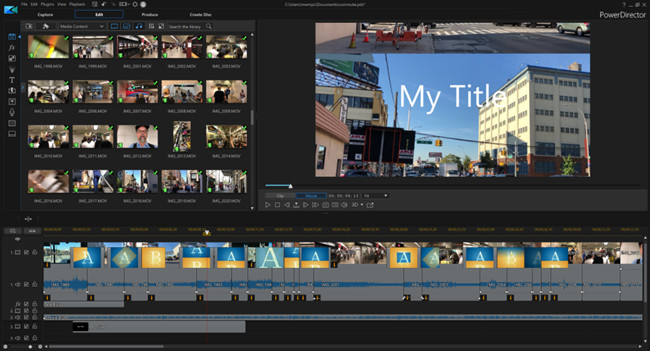 Powerdirector 365 is a clone video editor with about 200 editing functions. The name says it all about its editing capability. While the number of functions might be high, learning how to use them is easy. You can use the software to create professional-looking cloned videos.
Other features of the application include adding custom shape objects, and transitions, using motion graphics and animated titles, and editing green screen foot.
[Tutorial] So how to clone yourself in videos with Powerdirector? To begin with, click the File menu to make videos uploaded, then drop the files into the two video layers. Time to go to the toolbar > Modify > Add PiP Object(3th), scrolling down until you find the clone effect and then changing the mask transparency in real-time to balance the final effect.
Pros:

Powerful clone video editor
Full video/audio editing functions
Editing is quicker and easier
An intuitive and user-friendly interface
A lot of text templates
Cons:

Does not have many transition effects & animated text features
Top 3 Best Apps to Clone Yourself in a Video Easily
Now let's come to see which is the best app for cloning a man in a video. You can do all of this just by a mobile phone using Making Tool, Split-Screen, and Fading-in & -out Sequence, so unbelievable, isn't it? Keep reading!
Top 1. KineMaster: User-Friendly Video Editor for Android & iPhone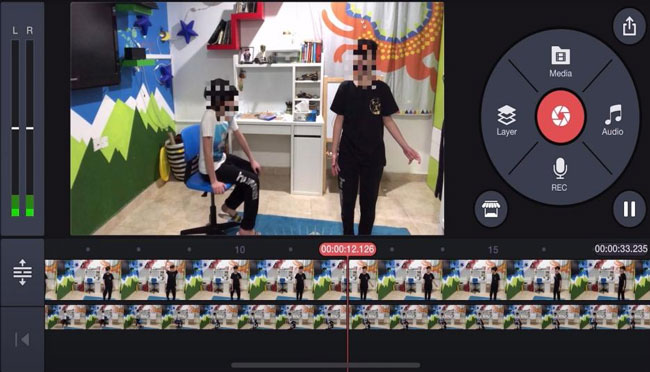 KineMaster is a clone video editor apk available on both iOS and Android. The application overlaps videos to clone them. Therefore, you can work with video footage with enough separation around the person to be cloned. It also has many editing features to enhance your video with various tools worthy of deploying.
[Tutorials] So how to clone yourself in a video using KineMaster on mobile phones? Click the Media to import two footage and don't forget to set the aspect ratio and resolution. The most important part is adding a new layer to this video, making sure you resize it to fit the same screen. Then click the Split Screen and choose a style and click OK.
Pros:

Features a lot of elaborate templates and trendy effects
Clean and easy-to-follow interface
Unlimited layers and tracks to add
Free clone video editor apk for iOS and Android
Cons:

The free version leaves a watermark on clone videos
Many complaints about the app crashing
It does not work on several Android models (e.g., Samsung)
Top 2. Ghost Lens AR: Fun Clone Video Maker for iPhone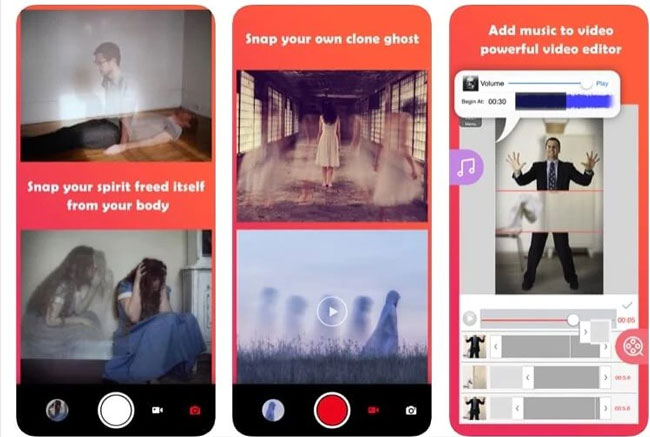 Ghost Lens AR Fun Movie Maker is a video editor app available on iOS that you can use for cloning a video or picture. It uses a fading in and out sequence similar to the video masking technique. Aside from being able to create clone videos and pictures, the application is also a video editor. Editing features on the app include stickers, filters, trimming, text, and adding music to video.
[Tutorial] So what's the easiest guide to making a clone video with this app? You need to start with a new project by recording or uploading. And go to Effect > Fade-in & -out, choosing the fading sequence and area in your video. Then adjust clone transparency accordingly, lastly, add a new media onto the faded part.
Pros:

User-intuitive interface
Supports many output formats
An in-app camera
A bunch of layouts and templates
Integrate into social media and email
Top 3. iMovie: Watermark-Free Clone Video Editor for iPhone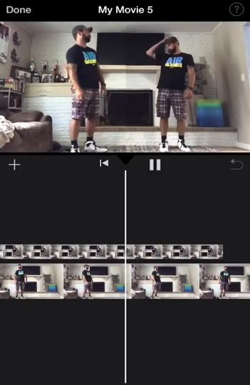 For iPhone users, iMovie can be another great choice to make a clone video. iMovie has many editing functions and can act as a clone video maker using the picture-in-picture feature. This involves overlaying two videos and changing the transparency. You can also edit with the software using video color adjustment, stabilization, speed control, and video cropping features.
[Tutorial] So how to make a clone video with iMovie? We are going to make it POSSIBLE by the feature of PiP. Firstly record yourself on a side of a place, then record another video on the other side. Now go to the iMovie app and start a new project by clicking Movie > Media > Albums. Lastly, you'll see the yellow circle when clicking the Square, dragging it until the two videos matched.
Pros:

Stable clone video editor
Looping, resizing and splitting video
It is intuitive with its user-friendly interface
Free & no watermark left with
No ads
Cons:

It requires large storage
Only available on macOS
It does not work with MP4 output formats
Conclusion
Cloning yourself is likely to be quick and amazing with the right clone video editor. By testing, the easiness and creativity of a tool are two important factors that should be considered. Herein the video cloning editor app, such as KineMaster, delivers on-the-spot cloning as well as smart built-in features.
However, the best cloning video editors are on computers since they allow maximum functionality. This article introduced eight clone video editor apk and software that can help you create something that represents your idea, wish you'll get the one you like!