"Is it possible to create audio and video content on Ubuntu?"
Indubitably! Ubuntu is a reliable platform allowing users to create and play audio and video files. Whether you're a novice or an expert video maker, there is enormous scope to edit content like a pro on an Ubuntu-supported PC/laptop. So, if you wish to tweak existing video files on a Linux-Ubuntu desktop, finding good video editing software compatible with your system is the first thing.
In this review of the best Ubuntu video editor, we have curated a list of the well-performing video editors for Ubuntu OS devices. You can read the FAQs to know about working with video files on Ubuntu. Also, if you want to try a Windows or Mac tool with more creativity, just scroll down!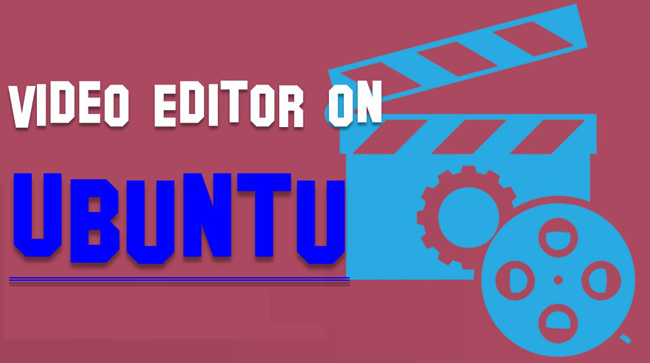 8 Best Software for Editing a Video on Ubuntu OS
In this part, you will review the 8 best video editors that can be operated and used on Ubuntu's desktop for free. Most of them are cross-platform and open-source. Comparing them from features, pros & cons, as well as UX is suggested.
Top 1. Kdenlive Video Editor
KdenLive is a professional-grade Ubuntu video editor with cutting-edge features to take your editing experience to the next level. This simple software features an open-source MLT Framework allowing beginners to access a suite of ready-to-use tools to work with multimedia libraries, time-based media, multiple audio playlists and tracks, transitions, and filters.
One of the benefits of working on Kdenlive powered by the FFmpeg library is that it is alive with almost all video and audio formats. This program arranges the required tracks and mute/lock the ones not required for the current session. The customizable interface can ease your job when dealing with bulk work volumes. Besides, this revolutionary video editing tool has the best-of-kind 2D title creator.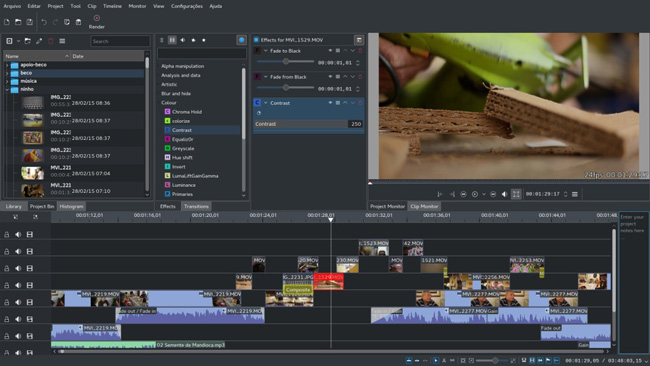 Pros:
Multi-Track Audio/Video Editing
Customizable Shortcuts and Interface
2D Titler
Automated Backup for Every Project
Render Your Work from Proxy Copies
Cons:
Laggy response
Limited output options
Unstable on low-end systems
Top 2. Lightworks Video Editor
Lightworks is an award-winning Ubuntu video editor for advanced-level work. This is not an open-source tool offering free (limited features and format support) and premium packages. Suppose you are making videos for social media. In that case, Lightworks allows users to add edited pieces directly from the platform to popular sites, including Vimeo, YouTube, etc.
Users can add video/audio clips to the timeline for a seamless editing job, and insert sound and visual effects into their work. Structure source clips in the correct order and remove the gap using the drag-and-drop feature. Create multiple workspaces (rooms) within a single project to create various segments for the work. Lightwork also features a backup tool allowing users to import work across devices.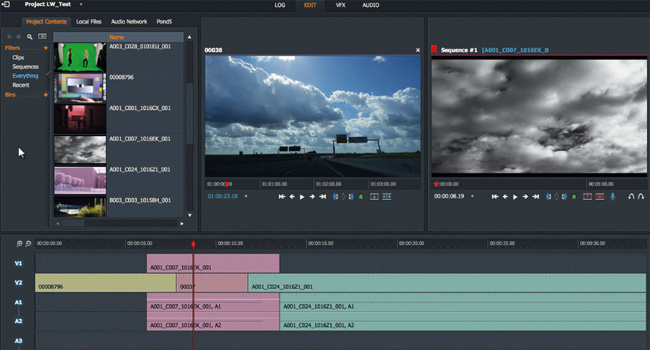 Pros:
Unmatched support for different formats
Cross-platform for Windows/Mac/Ubuntu
Share your files on social media
Autosave instantly
Process HD, 4K, and 8K media
Cons:
You need to log in regularly, and you can only download the video on 720p, at MP4/H.264 Codec on the trial version
It is complicated for beginners
Top 3. PiTiVi Video Editor
PiTiVi is a free Ubuntu video editing software that can be operated and used for processing videos using the Gstreamer Framework. Configured with compact coding, it takes minimal space on your system for faster performance. You can get this software from the Ubuntu repository to download and work using the pre-assembled kits.
This tool helps with basic editing work - video trimming, splitting, snapping, mixing, etc. Control and edit sound using audio waveforms directly from the timeline. Supporting automatic backup, it eases Retrieving your work anytime from the library. Its beginner-friendly interface and editing tutorials make users without any experience in editing explore video editing field.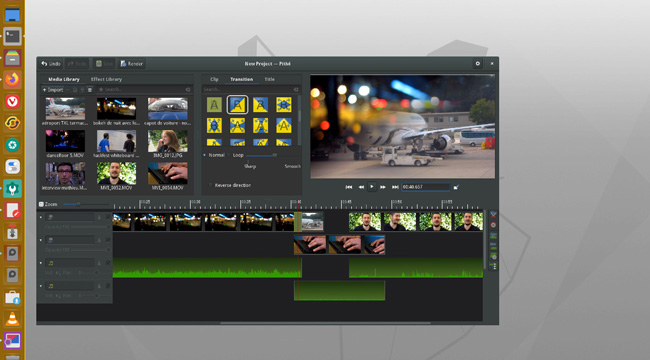 Pros:
Keyframe curves
Ripple and roll editing
Fade-ins, Fade-outs, Crossfades, and more VFX
Split a file into more than one part
Sound waveforms
Cons:
The tools are too basic, so you cannot find chroma-keying or 3D preview functions
Top 4. Shotcut Video Editor
No matter the OS on your device, it is free and easy to use Shotcut for your video editing chores. The cross-platform software works on Linux, Windows, Mac, and FreeBSD. The simple user interface eases precise understanding making this tool an ideal option for novice users on Ubuntu. Edit your work directly from the multitrack timeline, add transitions, and process source clips using filters. This tool also supports 4K videos and 3-point editing.
You can see properties and metadata from the on-screen panels. The Codec parameters include H.264, AV, MPEG-4 AVC, etc. Below, if you're a YouTuber, you can convert the original video into an aspect ratio of 16:9. Also, other dimensions like 9:16, 1:1, 1.85:1, and more are included.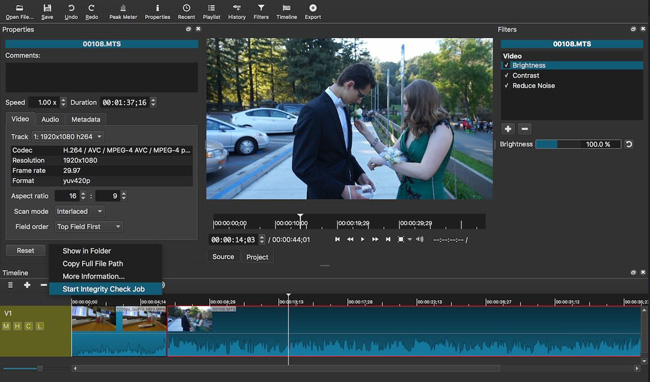 Pros:
Peak meter
Convert aspect ratios for specific requirements
A wide range of formats
Sleek using experience
Playlist with thumbnails
Cons:
No preview for transitions and VFX
It has lags with applying effect changes
Top 5. Blender Video Editor
Blender is a one-stop destination for experienced video editors to work with 3D animation and gaming projects. It is free so you can take up unlimited files and keep working as and when required. Add transitions and keyframes to non-linear videos, time/speed effects, and more to create multimedia work like a pro.
This Ubuntu video editor software also supports chroma vectorscope to adjust color balance and saturation. Adjust light levels, and brightness, and monitor the dynamic range of footage with Luma waveform. You can also work with audio content on Blender. It is easy to sync, mix and scrub audio into a video clip.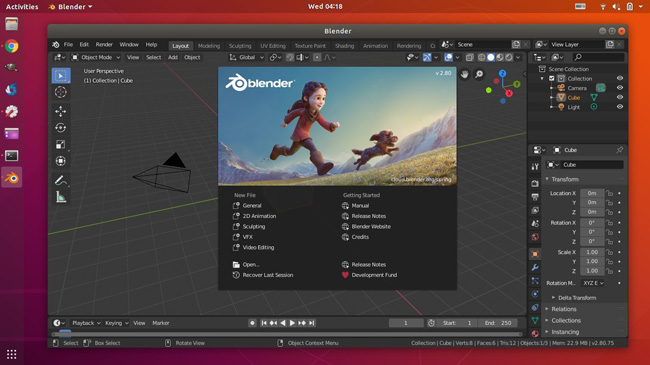 Pros:
Professional in 3D animation
GPU and CPU rendering
Dynamic subdivision
3D painting with brushes and masking
Powerful sound synchronization
Cons:
Intricate user interface with a steep learning curve
Blender struggles on low-end PCs
Some renderings can be buggy
Top 6. OpenShot Video Editor
If you are a new multimedia editing professional, it is preferable to work on OpenShot. It is easy and simple as an Ubuntu video editor with a sleek interface. It is free to use for a lifetime, so you can try hands-on video editing without shelling out a single cent. However, you'd better prepare your own music resources and sound effects due to there is no music stock.
This feature-packed tool is good for incorporating 3D titles, transitions, animation, and visual effects (bounce, fade, slide, etc.) into your video clips. Work with unlimited video projects, and add time effects (slow, time-lapse, and reverse) to any existing playback. OpenShot supports 70+ languages to ease your understanding through instructions and workflow.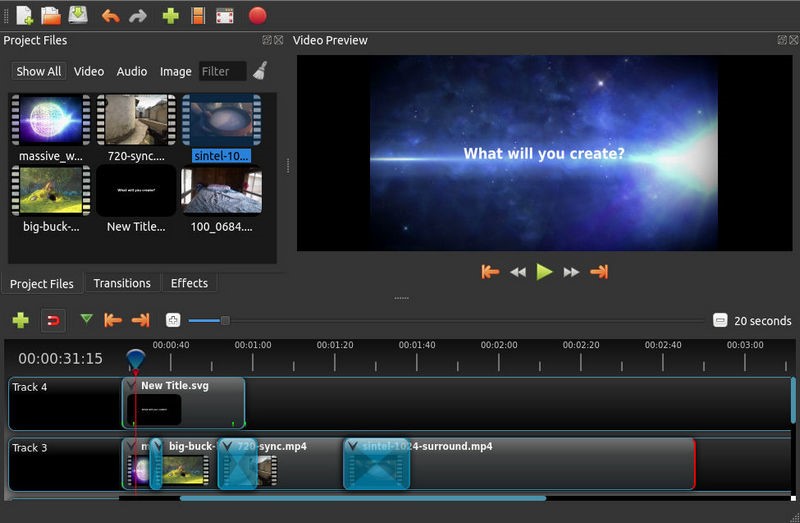 Pros:
Apply animation and keyframes
Unlimited tracks for adding multiple layers
Built-in smart title editor & 3D subtitle templates
70+ languages support
The time effects can generate slow motion
Cons:
This video editor for the Ubuntu system can be laggy if your process cannot smoothly handle the edit files
It doesn't provide background songs
Top 7. OBS Studio
Looking for more free video editing software for Ubuntu? If not satisfied working with any of the above tools, consider using OBS Studio. Besides boasting a set of advanced video editing features, it allows you to composite and encode video content, capture screenshots, and include them in your tracks. It supports all standard video file formats, including mov, flv, mkv, ts, mp4, m3u8, etc.
This free open-source software works fab for capturing real-time videos, working with multiple clips at a time, blending images, and much more. One of the outstanding points of OBS Studio is that the interface takes up a large portion, so you can render any effect in real time and decide whether to apply it or not. Built-in tools also include recording, streaming, and transition adding.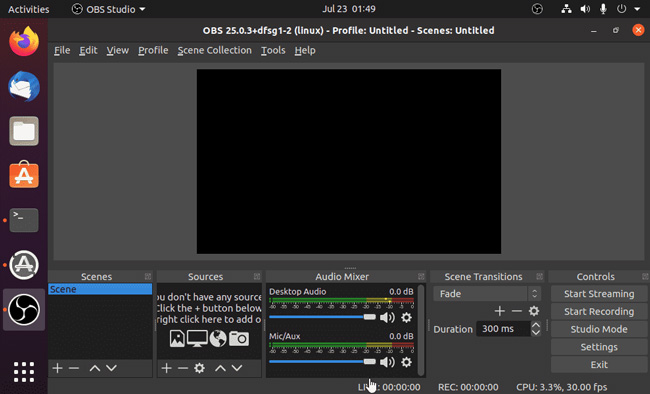 Pros:
Live streaming and screen recording
Detailed configuration options
Intuitive sound mixer with per-source video filters
Customizable transitions to add between every two clips
You can personalize the hotkeys
Cons:
Complicated customization options
Top 8. Cinelerra
Working with a huge video project is easy with a non-linear editing tool such as Cinelerra. The latest release- Cinelerra-Infinity-GG offers 11 video plugins and supports 8k videos and all standard file formats. It allows users to add transitions, texts, and effects, and create slideshows with a video clip. Users can navigate to all features from the timeline with one click.
Different from BST Studio and OpenShot, Cinelerra has two panels for video-making - Viewer and Compositor. In this case, you can edit and compare more rendering details with the on-screen monitor. Apart from that, it is also available to detach the audio from the original video, then add your own background music to sync the whole file. It is a special Ubuntu Video Editor with Special features.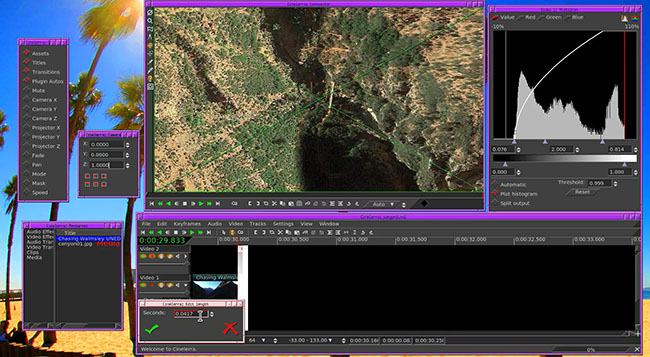 Pros:
VFX and SFX abound
Add keyframes to any clip
High-fidelity video transitions
Video audio extractor
Double performance monitor
Cons:
Cannot preview the effects and transitions when editing a project The built-in codec is limited
FAQ about Ubuntu System & Video Making
1. Is Ubuntu a Windows or Linux?
Ubuntu is a Linux Debian-distribution-supported operating system and free, open-source cloud-computing solution. It was developed by the British Software Company Canonical Ltd and released in three editions - Desktop, Server, and Core.
2. Is Ubuntu better than Windows?
Both Ubuntu and Windows are powerful OS with excellent hardware adaptability. Ubuntu is a great platform with a monolithic kernel, advanced security features, and a password-protected UI. It has fewer users compared to Windows, so there are minimal chances of threats from malicious attacks. This operating system is a robust programming solution for software developers and server-based operations.
Windows has a massive user community worldwide, offering a suite of office tools and power-packed entertainment/multimedia/gaming options. It has a superbly intuitive, user-friendly interface making it a convenient option for personal home computers. You can compare some details below:
| | Ubuntu 19.04 | Windows 10 |
| --- | --- | --- |
| CPU | 2 GHz dual core processor | 1 GHz or faster processor or SoC |
| RAM | 2 GB | 1 GB for 32-bit or 2 GB for 64-bit |
| Disk Space | 25 GB of hard-drive sapce | 16 GB for 32-bit OS or 20 GB for 64-bit OS |
| GPU | 1024 * 768 screen resolution | 800 * 600 pixels output resolution |
3. Is Ubuntu good for video editing?
That depends. On the plus side, Ubuntu offers multimedia support allowing users to create, edit, and play audio and video formats. The platform is a choice for video-making professionals since there are enough possibilities for doing things free of cost. You just need the best Ubuntu video editor, and the rest is a breeze.
However, there are still many problems you need to face. For example, Ubuntu does not support many of the software on Windows and Mac, consequently, you may find that you need to change the system for uploading your content on some social media.
Besides, Ubuntu is incompatible with PhotoShop and some Adobe products, so you cannot use them to edit many types of media directly. Actually, if it is not necessary, choosing to generate videos on Windows and Mac will be more convenient.
The Best Video Editor for Win/Mac - TunesKit AceMovi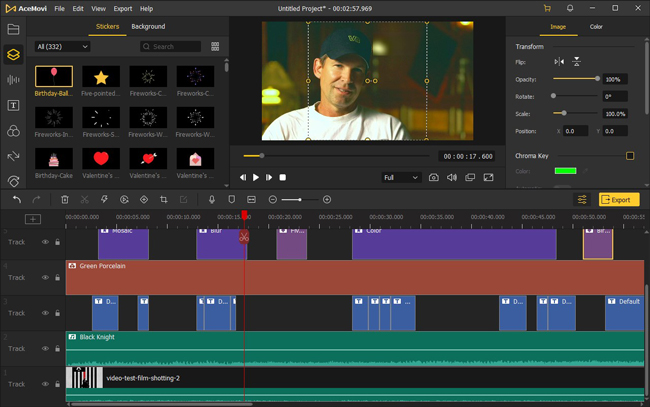 TunesKit AceMovi Video Editor comprises Video Trimmer, Recorder, Cropper, Cutter, Converter, Compressor, Speeder, Reverser, and more features to make itself an all-in-one video-making software. You can download and use it even on low-end Windows and Mac systems.
When it comes to the built-in elements, background music, stickers, emojis, text templates, filters, transitions, and split-screen modes are available. With a couple of clicks, you're able to generate a high-quality video and share it with friends.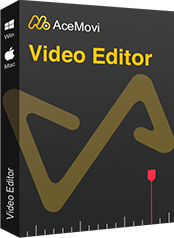 TunesKit AceMovi Video Editor
Security Verified. 5,481,347 people have downloaded it.
Easily add text or image watermark to video on PC or Mac
Provide both basic and advanced editing features to enhance video
Multiple filters, transitions, text, sound effects, music, etc.
A variety of output options to choose from, like format, device, social platform
User-friendly UI and easy to operate
The Final Verdict
It is not a tough job to find a Linux-Ubuntu video editor. These 8 picks are configured to provide high performance on your Ubuntu laptop. Experienced users can create professional-quality videos with Blender and Lightworks. Kdenlive is also trusted as the best video editor for Ubuntu by many videographers. Go for OpenShot if you want to do a basic editing job. It is excellent for beginners.
While the above ones are sutiable for computer, you can find many more on Google Play Store. So, do the research to choose the one that fits your needs. If you want to produce content on Windows or Mac, TunesKit AceMovi Video Editor is a good option. Hope this guide helps in the process.