Screen recording is one of the most basic and helpful tools that has been widely used for Ads, gameplay, sports highlights, and zoom meeting. It's no denying that heavy screen recording software is supposed to make low-end computers run more slowly. Because of this, your device cannot reliably capture synchronous video or audio sound.
Guess you're using a low-end system computer and planning to record the screen. You can look into this review of the 8 best screen recorders for low-end PCs. Those options are no-lag and safe for multiple purposes, which allows customizing the resolution and window size. Now, select the tool and choose your recording mode at the start!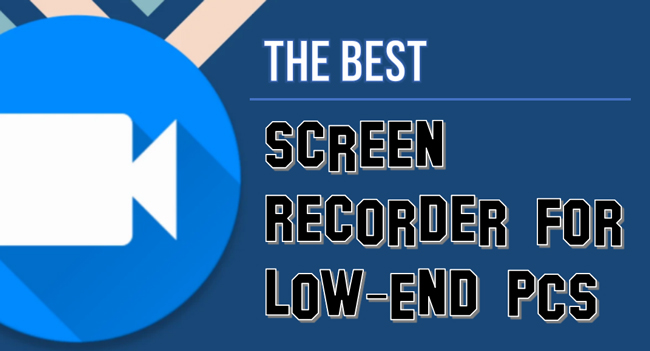 8 Best Screen Recording Software for Low-End Personal Computers
Which one is the best free screen recorder for 2Gb RAM PC? You'll find it in this section! Most newbie content creators, tutors, and developers have low-end PCs and heavy software lags when recording the screen. To help you out, we've listed eight of the finest no-lag screen recorders for Windows and Mac.
Top 1. AceMovi Video Editor & Recorder
In 2022, AceMovi Video Editor and Recorder is the finest software for capturing any size of the screen on a low-end PC. You can use the presets to control the aspect ratio of the video at 480*360, 640*480, 1024*768, 854*480, 1280*720 (HD), or 1920 1080 (Full HD). For customizing the video window as per your needs, just drag, hold, and drop the corners.
AceMovi operates on almost all types of Windows and Mac. Even Windows XP or macOS X 0.8 can download this software and use it to record a clip without any lag. Inside the "Settings", converting video files and settings hotkeys are allowable.
However, different from other screen recording tools. This user-friendly program offers various options, such as pre-set text and graphic layouts, background music and stickers, animated transitions and overlays, and more. As a bonus, it may be used to create professional films with features like Chroma Key, Split-Screen, Duet/React, Sound Equalizer, etc.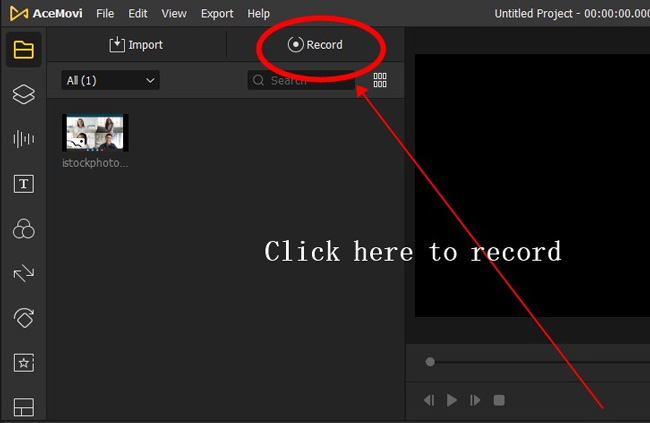 Compatibility:
OS: Windows XP - 11 (32-/64-bit); macOS 10.8 - 12 Monterey
Processor: 1G Hz or above
RAM: 512MB or above
Monitor: 1024x768 pixels or above
AceMovi Screen Recorder
Record screencasts, PowerPoint, & conversations
Set the video aspect ratio at any size personally
Various hotkeys for starting or stopping recording
Auto-save all recordings to the Media panel
A huge library that contains music and subtitles
Edit the video with color, filter, and transition
Record a video with or without MP3 sound
Top 2. TunesKit Screen Recorder
TunesKit Screen Recorder is a professional webcam and screen recording software most types of computers can download. Five ready-to-use projects can be selected from, containing "Screen Recording", "Audio Recording", "Webcam Recording", "Windows Recording", and "Game Recording". Inside the specific project, for example, the recordings will only save the audio part when you use "Audio Recording".
The program is intuitive enough to use successfully, even if you have never worked with video editing or screen recording. The preference settings help you record videos for YouTube, Facebook, Vimeo, Instagram, TikTok, and many more webs. You have unlimited video recording time and 1-m audio recording time on the free version.

Compatibility:
OS: Windows XP - 11; Mac OS X 10.8 - 12 Monterey
Processor: 1G Hz or above
RAM: 256 MB or above
Monitor: 1024x768 pixels or above
Hard Disk Space: 200 MB free hard disk space or above
Pros:
Preset video aspect ratios
Four video recording projects for screen, video, audio, webcam, and game
Multiple output video/web formats
Recording trimmer to cut out unwanted parts
Add your own watermarks and design the texts
Cons:
Limited audio recording time for free license
Top 3. OBS Studio
OBS Studio is a wonderful option to consider if you are looking for low-cost and open-source software to record the screen of the computer. This high-frame-rate screen recorder is compatible with Windows, macOS, and Linux, and it can operate flawlessly on almost any computer, even less powerful machines.
Using this simple, low-end PC screen recorder that works on several platforms, you can start live streaming or record the screen to play back later. With its assistance, you can pick the region of the screen that you want to record flexibly, choose the audio resources you want to use, and even add a camera overlay to your screen, if necessary.
In addition, if you have two or more screens and want to record everything on all of them simultaneously, OBS will always make it possible for you to do so since it allows you to create as many scenes as you need. The "Start Recording" button is set inside the "Controls" under the interface.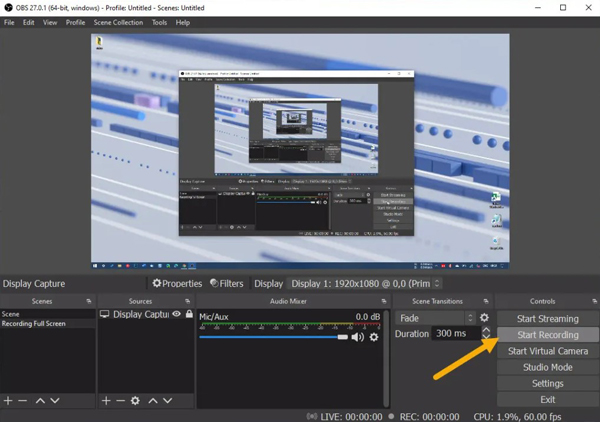 Compatibility:
OS: Windows 10 or higher; Mac 10.15 or higher
Processor: Intel i5 2500K, AMD Ryzen 1300X for Windows;  Intel quad-core for Mac
Memory: 4 GB or above
Storage: 600 MB for Windows; 800 MB for Mac
Pros:
The software can be used on Windows, Mac, and Linux for free of cost
It comes with configuration options that are both powerful and simple to use
Assign hotkeys to almost any of its operation
Export recordings of very good quality
Virtual camera and studio modes
Cons:
The interface is too complicated to manipulate
There might be an audio delay and an issue
Top 4. FBX Game Recorder
FBX Game Recorder can record in high definition (HD) on low-end computers without a lag and has robust editing features that can make even the most boring gameplay seem fascinating. It allows you to watch recorded games, pick out the finest moments, and save them as GIFs, video snippets, or full-length films.
It also simplifies distributing these videos across other social media channels. This one is amongst the best screen recorders for low-end PC free download since it empowers you to capture HD movies with no stuttering.
FBX Game Recorder is even capable of recording gameplay at 120 frames per second while using a camera. The FBX Game Recorder app makes recording the screen and sharing the results simply.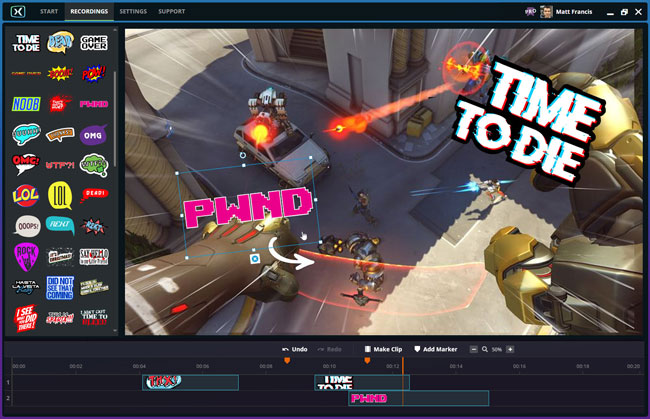 Compatibility:
OS: Windows 7 - 10
Processor: Dual-Core 1.8 GHz or above
Memory: 1 GB or above
Hard Drive: 220MB at least
Pros:
The FBX format allows for continuous DVR-style recording
Save memorable in-game experiences for later use
Brighten up your videos with GIFs and stickers
A shortcut key allows you to record without pausing the game
Deem it as a DVR to record videos continuously
Cons:
Watermarkings
It unfit for live streaming
Top 5. Dxtroy
ExKode's Dxtory is also one of the finest screen recorders for low-end computers since it is specifically created for DirectX and OpenGL applications. Dxtory's creators thoroughly examine the issue of record lagging and use surface memory buffer capturing technology to overcome it. As a result, even a low-end computer can capture movies at rapid speeds.
Dxtory offers a basic user experience, however, using its functions requires some skill. Countless videos and tutorials are accessible online to help you through the process. Although it has many tempting features, the built-in hard drive is one of the most crucial. The preset settings consist of the resolution, frame rate, mode, back color, and width & height.

Compatibility:
OS: Windows XP x64 - 10
Memory: 1 GB or above
Processor: Intel Dual Core processor or above
Pros:
Its data is retrieved directly from a surface memory buffer
Six alternative audio codec choices
Its scale, margin, and clipping capabilities enable customized screenshots
High-speed functionality that works well with a light load
Support video frame rate up to 60 FPS
Cons:
The interface is out of date
Frequent updates
Top 6. Flashback Express
There is no lag in recording using Flashback Express, and it's completely free to use. This screen recorder for low-end PC without watermark is ideal for beginners because it is straightforward.
Quickly start recording high-definition video, capture screenshots, capture audio from the computer's microphone or camera, or even go live with only a few shortcut keys using this tool.
It enables you to produce high-quality clips with simple effects like GIF making, Slow-Mo effects, and subtitles. The limited sharing options (exporting or uploading to YouTube) may not bother gaming enthusiasts. Even though it doesn't work with every OS, it's a great tool to start with. Flashback Express gives colorful elements to decorate the recordings.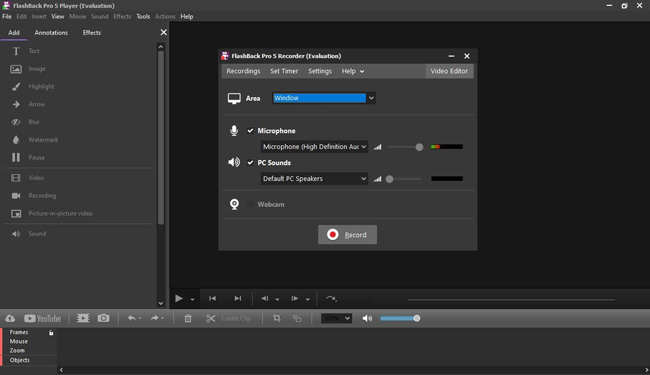 Compatibility:
OS: Windows XP SP 3 - 10
Memory: 512 MB or above
RAM: 1 GB and above
Pros:
Supports various formats, including AVI, WMV, MP4, AVI, etc
Easily change any aspect of your gameplay videos
The microphone and system sound are processed without lag
Automatically masks any typed-in passwords
Select a personalized window area
Cons:
Paid-only features
The audio format only provides .mp3
Some ads are at the starts
Top 7. D3DGear
D3DGear is regarded as one of the finest recording programs for low-end PCs due to its ability to capture high-quality video with nearly no performance hit. To begin recording, run the program before you begin playing, and then press a single button.
This screen recording software without watermarks also can compress files while maintaining a high standard of video quality, which helps to lessen the software's overall footprint on your hard drive. The projects for screenshots, movie recording and broadcasts are available on the timeline. Advanced effects include "Push-to-Talk" and "Overlays".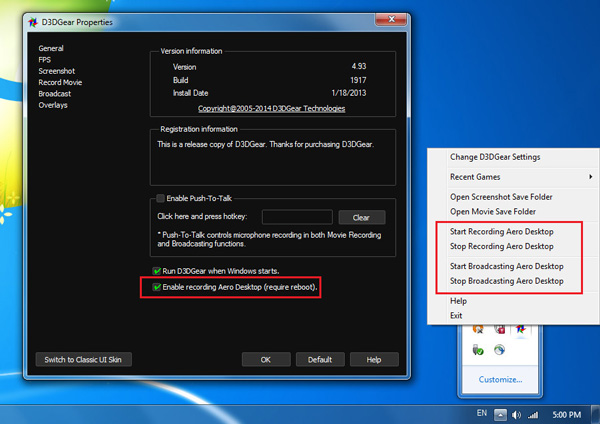 Compatibility:
OS: Windows XP - 10mory: 2 GB or above
Processor: Pentium 4 compatible CPU
Graphics: DirectX 8
Pros:
Watch the live game streaming on well-known live-streaming websites
Track-splitting option to divide the audio into two tracks
Without interfering with your performance
Simple user interface that makes recording easy
Record a screenshot or broadcast specifically
Cons:
Hard learning curve
Crash sometimes
Top 8. Xbox Game Bar
Users of Windows 10 or later versions will have access to a low-end PC game recorder, Xbox Game Bar, that is integrated right in.  Microsoft has created this free program for anyone who wishes to capture exciting moments while playing PC games. Recording a video with a mic and saving the files to the Media are the basic features of the Xbox Game Bar.
However, it's not only restricted to capturing games, you can record anything happening on your computer screen, sound or not. Plus, it's a breeze to capture screenshots and publish them to other networks. The shortcut to launch Xbox Game Bar is "Windows + G", then you're empowered to choose the recording mode.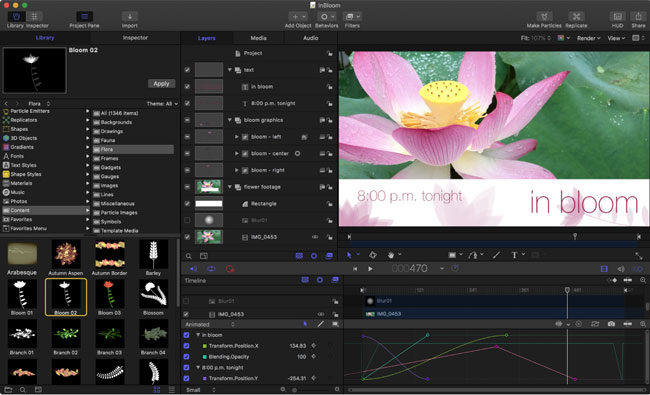 Compatibility:
OS: Pre-installed in Windows 10 and 11
Pros:
Quickly capture gameplay images or videos without interrupting your game
A full 1080p HD video at 60 frames per second
Immediately engage and share recorded videos
It's an in-built feature that saves you time and effort by not requiring you to install any additional software
No watermarks and limited file recording time
Cons:
Without basic editing features
You need to use the Media Player to preview the recording
The Best Screen Recorder for Low-End PC No Lag: Differences
Those screen recording tools vary from each other in the aspects of OS, pricing, FPS support, resolution, and user experience. Now, you can dive into this table and figure out which you prefer most.
| | OS | User Experience | Max Resolution | Webcam Recording | Screen Recording Frame Rate |
| --- | --- | --- | --- | --- | --- |
| AceMovi | Windows and Mac | "Excellent tool for editing videos" | 2160p/4K | Yes | 60 fps |
| TunesKit Screen Recorder | Windows & Mac | "Professional software with pre-designed projects" | 1080p/Full HD | Yes | 60 fps |
| OBS Studio | Linux, Mac, and Windows | "Intelligent Screen caster and video recording tool" | 2160p/4K | Yes | 60 fps |
| FBX Game Recorder | Windows | "It is the best tool to record lag-free videos" | 1080p/Full HD | Yes | 144 fps |
| Dxtroy | Windows | "The perfect PC recording software" | 1080p/Full HD | Yes | 120 fps |
| Flashback Express | Windows | "An easy video tutorial creator" | 1080p/Full HD | Yes | 30 fps |
| D3DGear | Windows | "Best for people finding an easy-to-use recording tool" | 2160p/4K | Yes | 120 fps |
| Xbox Game Bar | Windows 10 and 11 | "Solid gameplay recording option" | 1080p/Full HD | Yes | 60 fps |
Conclusion
Screen recording is essential for sharing how-to videos and saving essential information and achievements. However, if you've got heavy software, recording the screen on a low-end PC is a hectic task because it slows down your PC, which results in lags. So, if you were looking for a powerful screen recorder for a low-end PC, we hope you've found one after reading this article.