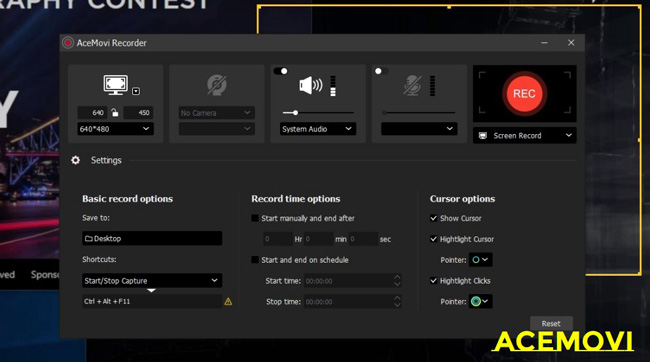 Bloggers and many other people in various professions have embraced video presentations as a way to communicate new ideas. There is a lot of rivalry in the software business regarding screen recorders and video editors for PC. Many software and tools promise to provide their customers with a complete experience surrounding screen recording and video editing. People these days require these tools for generating instructional videos for products and how-to manuals, for blogs focusing on UX, and for recording video conferences and calls.
Still, many choices are available, but picking one may be a challenge. Solved! We bring you the 8 best screen recorder and video editor tools, so you do not have to go through all of the possibilities on your own.
AceMovi Excellent Screen Recorder and Video Editor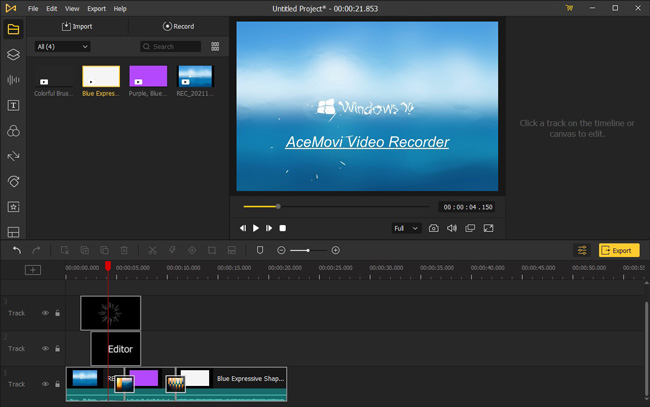 Video editing is so easy and convenient using TunesKit AceMovi, which is one of the best software available for capturing highlights and movies in 2022. This easy-to-use tool contains numerous features and functions: text templates, music, stickers, animations, transitions, overlays, etc. It may also be used to edit professional videos with the advantages of Chroma Key, Split-Screen, Duet/React, Sound Equalizer, etc.
The best feature of the TunesKit AceMovi video and screen recorder editor is that it allows you to modify your videos while also capturing your screen. You may have the option of recording the video on the screen and changing it subsequently to obtain the desired effects. You customize the shooting window and switch from screen recording mode to webcam recording mode. Easy!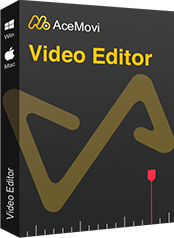 Key Features of AceMovi Video Editor
Security Verified. 10,327,000 people have downloaded it.
Pros:

Simpler, user-friendly layout
Recognizes and transforms a range of video types
A free trial is available
Excellent built-in library
Wonderful for YouTubers, TikTokers, and Facebookers
Support export recordings at audio formats only
Cons:

Using the free trial, you can only export the videos with a watermark
It would have been beneficial if there was a Linux version
Learn How to Record Screen and Edit Recordings with AceMovi
Camtasia Screen Recorder and Video Editor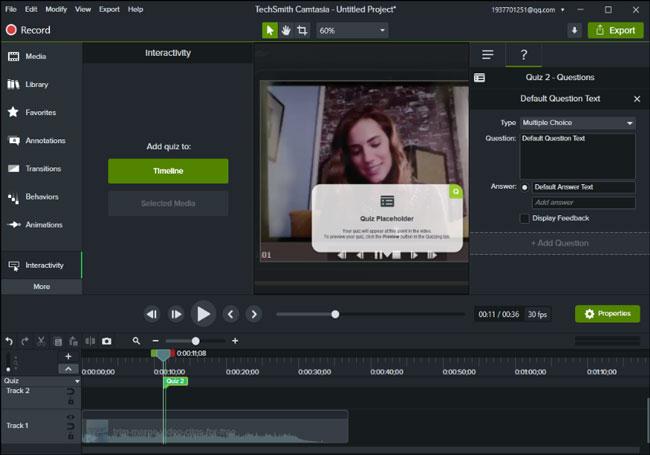 Camtasia is a robust screen recorder and editor available on both Windows and Mac platforms. It has various features and supports multiple video formats, giving you unmatched control over the films you make. It's also surprisingly simple to use.
A free Android and iOS app developed by Camtasia maker TechSmith allows you to transfer movies for editing from your mobile device to your PC.
You can save them and publish them immediately to your YouTube channel, Vimeo, Screencast, or Google Drive as soon as you've finished editing your videos. Isn't it cool?
Pros:
Videos can be as long as you like
Having the ability to record anything
Great features for importing and exporting
Behaviors and animations abound
A seamless connection to other software programs
Cons:
The media gallery is limited
Pre-made music themes are few
Quite costly
Screenflow Fully Functional Video Recorder and Editor
With ScreenFlow, your search for the finest screen recorder and video editor may end. ScreenFlow may help you create high-quality videos by using all of your computer's capabilities. Additionally, you have the option to screen record your iOS devices.
Video editing and screen recording have never been more fun or engaging than with ScreenFlow's latest edition. ScreenFlow's Stock Media Library offers more than 5,00,000 pieces of various media available for an extra $60 per year. So, if you're seeking a more advanced editing experience, the add-on is available for purchase.
Pros:
Exellent User-interfac
Large stock media library
Exceptional screen record features
Create and make GIFs
Lower thirds, action icons and images
Cons:
Stock media is not accessible for free
It takes time to understand the editing feature
No guide available for new users
Movavi Video Suite 2022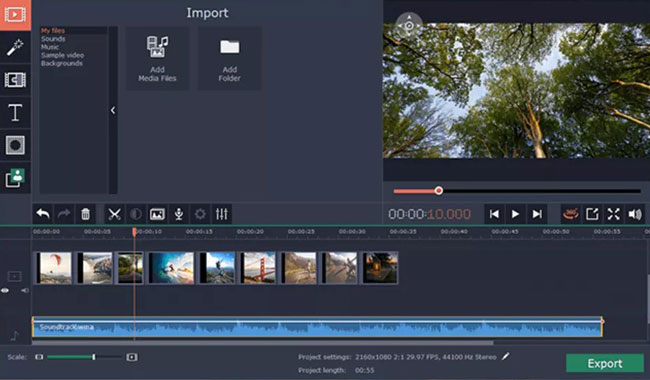 As one of the best screen recording and video editing software, Movavi Video Suite 2022 is more similar to a video editing suite. Everything you need is there in front of you to get to it quickly.
However, this might not be very clear for those who are just getting started. For those skilled in video editing, this is a great option. As a result, your editing talents significantly influence the whole experience.
In addition, you may start recording immediately from the app's main screen. That makes it convenient for you to get started and record your screen. You may record your screen in Full HD resolution at 60 frames per second for better video quality.
Pros:
Simple to use for beginners
User-friendly interface
A large number of effects
Easy advanced features
Cons:
Underdeveloped or lacking in features
Not designed to handle more complex editing tasks
Smartpixel Pro 3D Screen Recorder Video Maker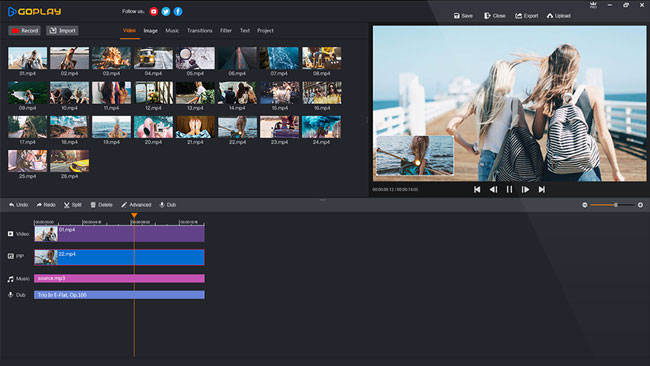 However, even if Smarpixel Pro lacks some of the more complex screen recording capabilities, such as markers or 4K support, it is still a solid screen recorder that you can use to capture any activity on a computer or Android Smartphone's screen. There is equipment in showrooms and an interactive background that you can use to construct your recordings.
Screencasts of any skill level may generate professional-quality screen recordings using the essential video editing tools. It is possible to record your voice using a microphone. However, the audio editing choices in the program are limited.
Pros:
Beginners who wish to learn to make screen recordings will find this app ideal
There are no watermarks on your movies in the Pro edition
Memorable interactive sales PPT
A.R.T: Advanced Reality tool
Interact on the go
Cons:
Features a bare minimum in terms of video editing options
There isn't any support for 4K resolutions
Flashback Pro Remoto Work and Learning Screen Recorder Editor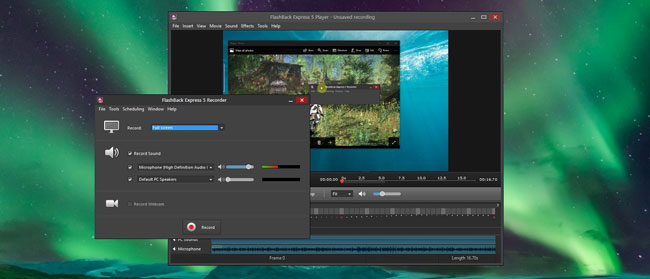 Screen recording options in FlashBack Pro are among the best in the business and allow you to choose the frame rate, quality, and region of the screen you wish to capture. This will enable you to tailor the recording to your project's needs. You have access to use the multi-device screen recorder and video editor to capture screens and webcam.
In addition, FlashBack Pro comes with a suite of sophisticated video editing tools to enhance your screen recordings and export them directly to some of the most popular online video-sharing networks. Using the built-in Narration to record a commentary is cool and flexible.
Pros:
Easy to use and inexpensive
Editing capabilities are solid
Video tutorials and video calls
Record area, full screen, and window
Quick export at MP4, AVI, GIF, and more
Cons:
It is not compatible with Mac OS
When recording graphically intensive video games, this doesn't work very well
Demo Rreator Online Free Screen Recorder and Video Editor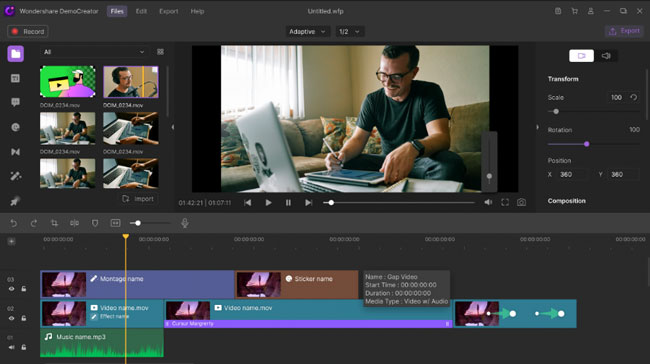 Screen capture software from Wondershare has a wide variety of screen capturing and video editing options. DemoCreator gives you complete control over the screencasting process, from selecting the area of the screen to record to export options that include all of the most commonly used file types.
Using this screen recorder and video editor, you may record a video at 120 frames per second, annotate it with markers or speech bubbles, and many other features.
Pros:
Screen recording and video editing are made easy with this program
Supports 4K resolution
Drawing the screen while recording in real-time
Quickly edit and capture videos with one click
2D and 3D video cartoon virtual avatar background
Cons:
Affects the speed and responsiveness of games
Features may be unimpressive to more experienced users
RecordCast Free Online Screen Recorder and Editor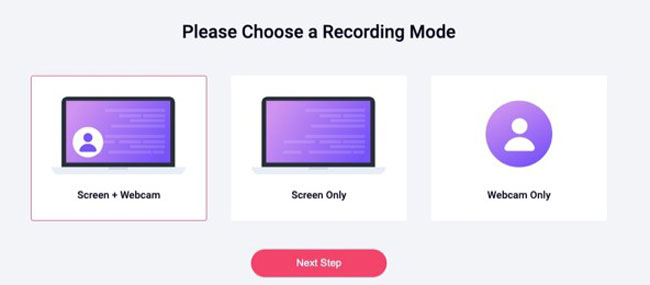 RecordCast is a free online screen recorder and video editor available. Using the program's simple capabilities, you may picture and record work or explanations on your device's screen. It allows you to take photos with your camera simultaneously.
You may use the application to edit recorded movies without ever leaving the site by capturing the entire screen or only bits of it. Consequently, you won't require any additional recording or editing software. The RecordCast website is simple to use.
Pros:
User-friendly and simple to use
In-built video editing software
No downloads required
No watermark
Online-based screen+webcam recorder
Cons:
HD quality videos are not available in the free version
There is a limit to time recording
To Conclude
When faced with so many choices, it might be challenging to choose which one is the most appropriate screen recorder and video recorder as per your requirements. As long as you take your time and pick correctly, the improper software might cause many headaches down the road.
Compatibility is yet another crucial factor to take into account. Your operating system should be compatible with the application. Otherwise, you risk encountering compatibility difficulties that make using the product a hassle. Keep in mind that many of the apps on our list are free to use, so you can try them out before making a final decision.