Podcasts are becoming popular day by day. But do you know that a lot goes into making one podcast? For over a voice to your opinions and thoughts, the first thing you'll need is a good sound recorder. You should definitely think of using the best podcast recorder that lets you record your voice and comes with multiple audio-enhancing tools like the tone mixer and bit rate converter.
Don't worry! We've done all the research work, and after doing rigorous tests, we bring you the top seven podcast recording software options. Indeed, many such tools are available for free, but always be careful before downloading one since not everyone is developed for the best quality output.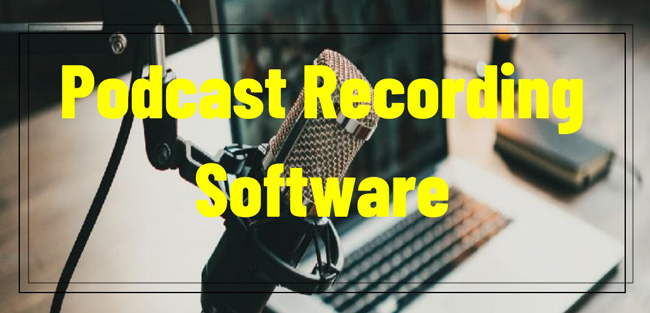 What Is a Podcast?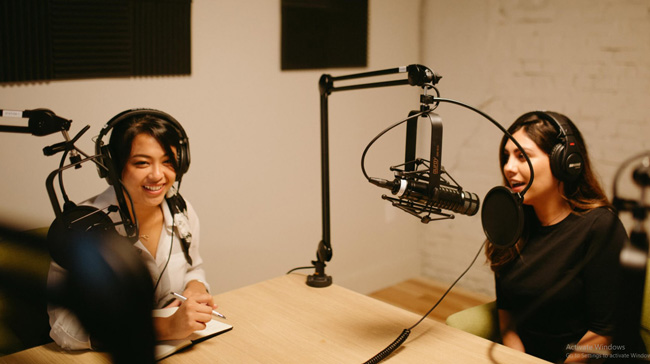 For anyone new to the world of podcasts, the podcast is a digital audio file. The reason to make a podcast can be many, but each podcast will have a purpose. Some podcasts can be made just for entertainment's sake, while others to educate or talk about something important, such as current events, breakdowns, etc.
Going by the term podcast, it should only have audio. However, you'll get to see video podcasts these days as well. It's easy to hear the host in a video podcast. Since videos can make some people self-conscious, it is always better to go for the standard podcast without the video. This is more practical for those who are new to podcasts.
How to Pick Up Podcast Recording Tools?
Before sharing the list of the best software to record podcasts on your Windows or Mac, let's try to understand what features you should look for in those options.
1. Features
The first and the most important thing to look for is the kind of features a podcast recording software has to offer. Does it let you reduce the background noise, over another music file, let's one edit the podcast to an advanced level, and so on? What you will record is a raw file, but what you will share with your audience needs to be of top quality so that your audience doesn't stop listening to it halfway through. 
2. Stability
The podcast recording software should always be stable. This means it shouldn't struggle with glitches right when you are capturing. You will go with a flow when you record and an unstable podcast recorder can disrupt your session.
3. Price
Here's another thing to keep in mind and a big thing, if we must say. The price of a podcast recorder needs to be something that is cost-efficient. Don't go and buy one that is expensive right away. Try the free versions of as many tools as possible, compare the features, and then follow the advanced premiums. 
4. User Experience
Last but not least, pay attention to the user experience. You don't want a program that is difficult to understand and provides you with a poor user timeline. You should look for a tool that is seamless to use and make you want to use it repeatedly.
7 Best Podcast Recording Software in 2022
Top 1. TunesKit AceMovi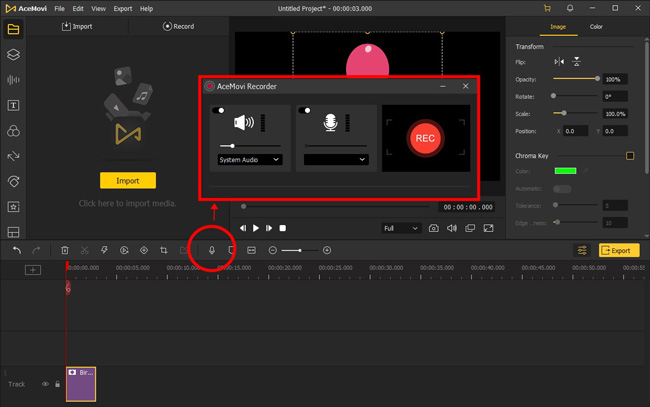 TunesKit AceMovi is known for being one of the best video/audio editors and recorders. You might not know that this professional tool is a recommended podcast recording software.
This program doesn't only let you record podcasts easily, it allows you to edit the recordings precisely by the audio volume booster, music merger, format converter, speed changer, and much more.
Let's say you want to convert and add some audio effects or a background score to the podcast, AceMovi enables you to do that without any effort. This tool is available for Windows 10, 11, and Mac. Moreover, you can try it for free as well before buying it.
AceMovi Podcast Recorder
Record multiple podcasts
Full of audio effects
Equalize music file
Extract audio from video
Sound format converter
Advanced parameters
Audio bit rate up to 320 Kbps
Windows and Mac versions
How to Record a Voice-Over/Podcast with AceMovi
Top 2. Logic Pro X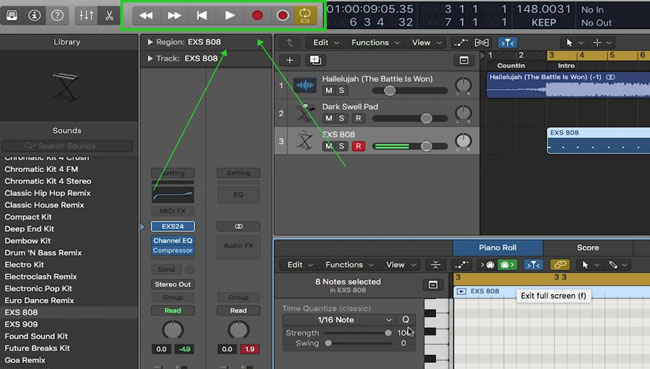 Next up is Logic Pro X. Pretty expensive but worth it. This one will cost you $199.99 one-time and is available for Mac users. So, if you are a Mac user and budget is not a problem for you, you can consider getting Logic Pro X for a fluent, meticulous workflow.
This tool is designed for professional podcast makers and comes with tons of eye-catching features, such as vintage EQs, sound effects, advanced audio recording tools, multiple plug-ins, and more. One downside is that it demands many technical requirements, and if you are a novice, you may want to skip it.
Pros:
Audio looping feature
Multiple tracks
Record and edit podcasts on one screen
Pro sound mixing
Attractive audio effects
Cons:
It's expensive for a lot of users
Hard studying curve
Top 3. Adobe Audition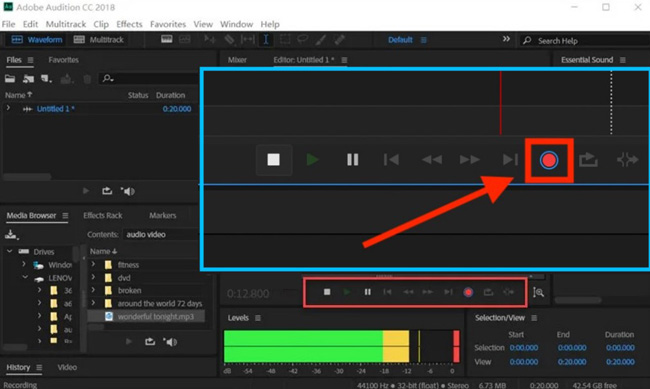 Here comes the best software to record a podcast - Adobe Audition, which is available for both Mac and Windows users with a 7-day free trial option. This tool has come a long way. Today, it is known as one of the top audio editing tools that offer multiple tracks.
Some of the features that are worth talking about are powerful DeNoise and Reverb effects, batch processing feature, and HQ/SQ podcast recording. It does come with many features, which could overwhelm you a bit if you are new. Also, be prepared for steep learning if you are a beginner.
Pros:
Windows and Mac compatibility
Specific audio-editing panel
Convert frame rate
Unlink/extract audio from video
Record sound with a mic
Cons:
Complicated user workflow
This software needs demanding systems
Top 4. Audacity

Audacity is multi-purpose, all-in-one recording software for podcasts, yet users cannot edit videos with it so you need to extract the soundtrack from a video before uploading files to it.
The interface looks a bit outdated compared to all the modern-day tools available for an affordable price, but Audacity is beginner-friendly and works seamlessly. Once you record your podcast, you can even edit it using the same tool.
The best part is Audacity is free for every user. If you are looking for free software to record your podcast for your Windows, Linux, and Mac, give Audacity a try. It captures high-quality audio, offers a multitude of audio recording options, comes with a rich audio effect library, and supports a wide range of formats.
Pros:
Completely free
Wave colors
Rhythm track and lebel track are supported
Equalize the recorded podcast
Quick channels to export the audio
Cons:
It cannot edit video
Limited exporting audio files
It might get stuck for low-end PCs
Top 5. Alitu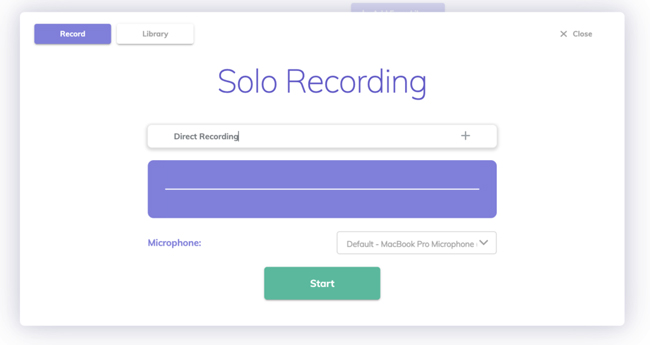 Don't want to download any tool on your computer? How about trying a web-based tool instead? Here comes Alitu, an online free podcast recording tool that allows you to edit podcasts in the best and simplest way.
Not just this, if you want to make your soundtracks and add them as a background, you can do that too. It supports multiple audio formats like MP3 and ACC. With a simple-to-use interface, one can upload the podcast after recording directly to popular social platforms like YouTube and Instagram, and it removes unwanted noises from the background.
Pros:
Online podcast recorder
Music library
Trim out unwanted audio clips
Post editings on media
Background noise remover
Cons:
Registration required
There is no audio effects like "Bleep" and "Shot"
Top 6. VSDC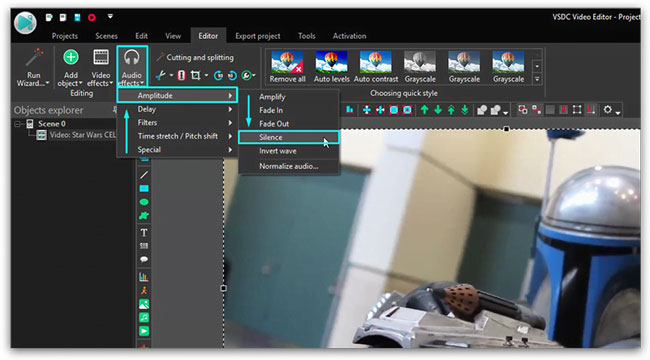 Being a professional podcast recorder and suitable for interview content, VSDC is compatible with Windows and does many things, such as fixing bleeding automatically, reducing noise, and converting audio parameters of speed and sample rate.
Other commonly-used features are automatic audio ducks and cross-compatible with different DAWs. You can connect this tool with Skype, Zoom, and even your phone call to record a podcast. The basic level comes for free without watermarks. You can go to use the predesigned projects for recording and slideshow-making.
Pros:
Prepared podcast recording project
Advanced audio parameter settings
Beat and tone mixer
Edit video without watermarks
Sound equalizing feature
Cons:
Intricate layout design
Only available for Windows
Top 7. Protools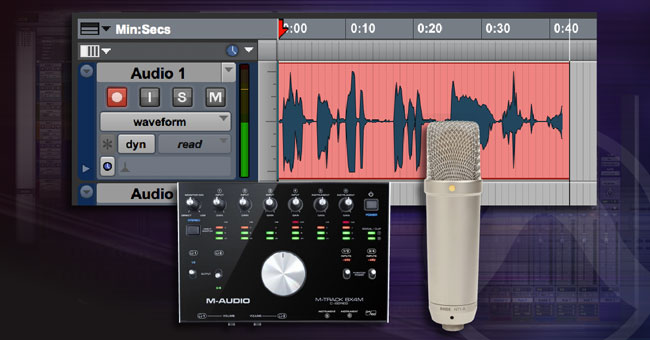 The last one that we have for you is ProTools, which is the best software to record a podcast without any hassle. The plan starts from $29.99 and is available for Mac and Windows users. It is a recording as well as an audio editing tool.
This means that after recording your podcast, you can use the same tool to edit it to give it a professional touch. Also, if you have already recorded podcast clips, you can use ProTools to mix them with your current podcast. It also lets you collaborate with your team members to edit a file together. ProTools is an ideal tool for beginners.
Pros:
User-friendly
Record a new podcast with one click
Piano and more intruments sound effects
Grid a portion of music
Download for free
Cons:
Only with pro version can you equalize the background noise and enioy more cool features
Conclusion
These are the top seven podcast recording software for computers. Do try all of them and figure out whether you should go for an advanced-level podcast recorder or a simple one will work. If you are a beginner, instead, try the free versions first before making a decision.