Available for listening and downloading through the internet anytime, a podcast collects a series of digital sound files. Reporting news, sharing stories, and progressing conversions are some of the aims of the podcast. In fact, your podcast audiences desire to hear breakdowns and updates for entertainment.
A classic case is American Life which is an hour-long weekly podcasting program that shows some fictional and most actual things under a thematic circle. If you want to operate podcasting for attracting audiences or making a profit, this post will be helpful herein you'll learn how to record a podcast with ease and then edit the podcast recordings with selective features. Let's jump right in.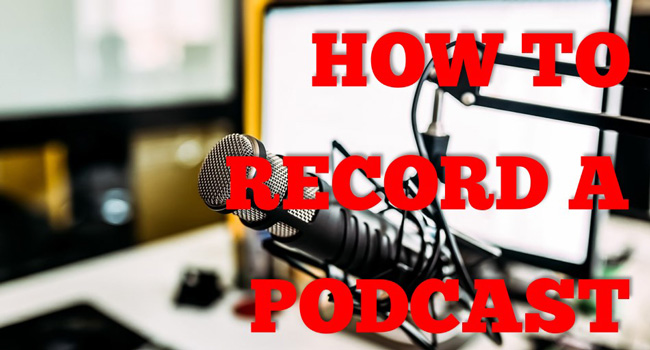 Things You Need to Consider to Record a Podcast
1. Podcast recorder
A fully-fledged recording tool for podcast is required for your job, which is not merely going to record a raw file, but you can use it to adjust play speed, increase or decrease original volume, remove background noise, convert important parameters like bit rate and frame rate, as well as apply fade in or fade out effects. We'll show you selective podcast recording software and apps below.
2. External mic
For making high-caliber podcast recordings, you'd prepare a good, peripheral USB microphone. In this case, the mic will help you remove the background noise powerfully to reach the best state of the recording file. Also, you can use a headset to record the podcast as well.
3. Quiet room
For removing the background distraction to the maximum degree, you need a quiet room to record the podcasting sample. By the way, you don't need to care about the starting and editing points because you can trim out unwanted parts using the recorders and editors.
TunesKit AceMovi: How to Record a Podcast on Windows 10, 11, & Mac
For recording and editing a good podcast on your Windows and Mac, TunesKit AceMovi is good enough, which also helps you make a change to the podcast recordings in the volume, speed, sample rate, pitch, and background noise. Now you can download TunesKit AceMovi podcast recorder and maker on Windows or Mac for a free trial.
There is a vast broad of royalty-free music and sound effects for you to add to the timeline for enhancing the quality of the podcast. On the streamlined interface, users are allowed to add multiple media of video, audio, and images. The following is the guide for you!
AceMovi Podcast Recorder
Record a podcast on any resolution
Add sound effects to podcast like Fade
Control sound speed from 0.01x to 100x
Easy-to-learn user tutorials and guides
Free, well-prepared background MP3 music
Save your file at almost all media formats
Unlimited tracks for batch podcast editing
Begin to Record a Podcast with TunesKit AceMovi
Operate TunesKit AceMovi Video Editor. Click Record from the menu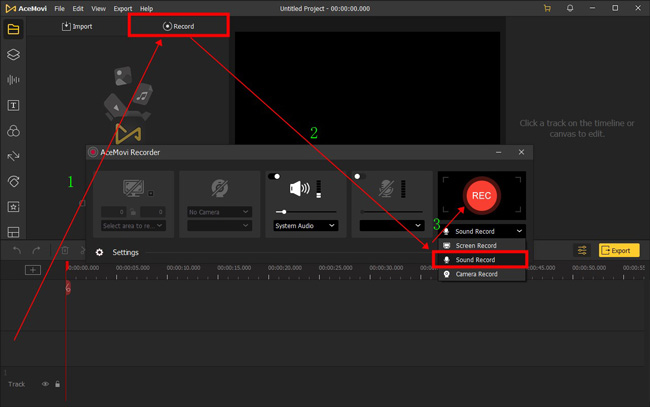 Users do not need to download the plugin Audio Recorder with TunesKit AceMovi. You can directly launch the built-in recording tool to record your podcast on the desktop. For uploading media files, just drop them under the interface to add background music or some photos.
Edit your podcast with built-in trimmer, speeder, volume booster, etc.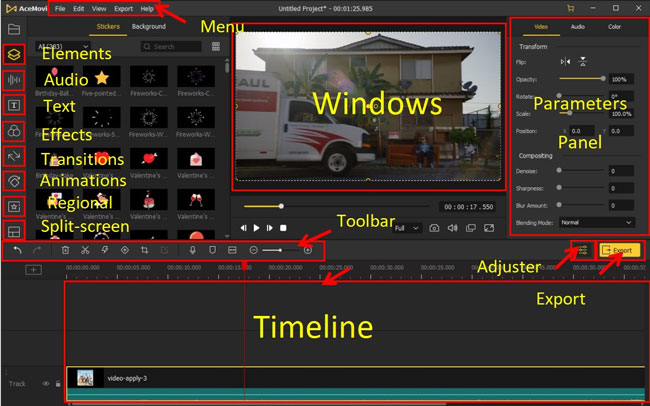 With that said, TunesKit AceMovi comprises more popular features to edit the original podcast recordings. First of all, those recordings will be saved to the Media place automatically, and you can edit them via the following functions.
Increase or decrease the initial volume. When it comes to controlling the volume, you should go to the "Properties" in the right upper corner. Then find "Audio" and "Volume". Alternatively, you can drag the sound line under the audio track.
Cut unwanted parts. If you find some parts of the podcast are unnecessary, you can pick on the soundtrack first, and later, right-click the track to choose "Split". You'll find the track will be split into two parts, which can be deleted directly.
Change the bit rate and quality of the podcast. Editing podcast recording is different from making videos with TunesKit AceMovi. You need to go to the menu and find the buttons "Export" and "Export Audio". Under the professional workspace, convert the parameters as you want.
Download your podcast by going to Export and Export Audio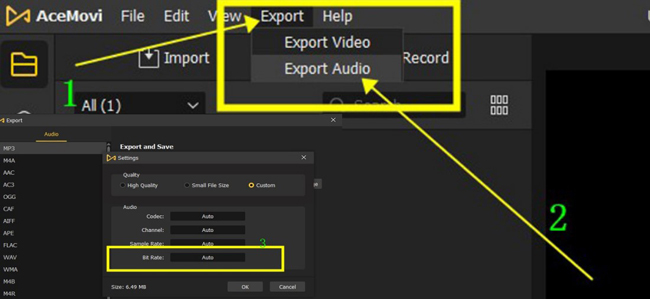 Users need to click the "Export" and "Export Audio" to launch the workflow for downloading their podcasts on TunesKit AceMovi. You can convert the format and change the save path according to your requirements. Want to enjoy more features? Get TunesKit AceMovi first.
How to Record a Podcast on GarageBand for Mac
If you have a macOS system device and want to create a podcast, then GarageBand will be one of the best options, which is a fully-featured podcast and studio recorder that helps you make good sound with multiple mics. You can play it like a DJ professionally or apply the entry-level DAW function as Logic Pro.
However, what makes it different from TunesKit AceMovi and Premiere Pro is that GarageBand is available for Mac merely. Here is the guide to recording a podcast on GarageBand.
Download GarageBand on your device and click to import media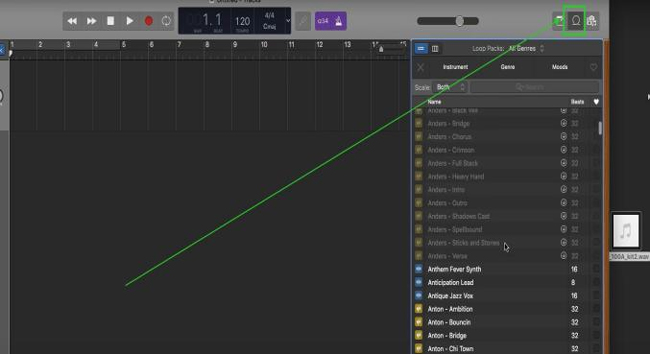 GarageBand features no performance monitor and a trackless timeline, so you can add a lot of files to it and edit them without any hassle. The icon for importing your files is set in the right upper corner.
Click the green button to record or the red button to pause

Users are able to record a new voice-over with GarageBand. On the interface, the green button is designed for starting recording, whereas the red icon stops recording. And each recording will be saved automatically to the timeline.
You can right-click the specific track for trimming out unwanted portions, adjusting the playing speed, boosting or decreasing the volume, or manipulating other effects.
Download your podcast by clicking File and Save from the menu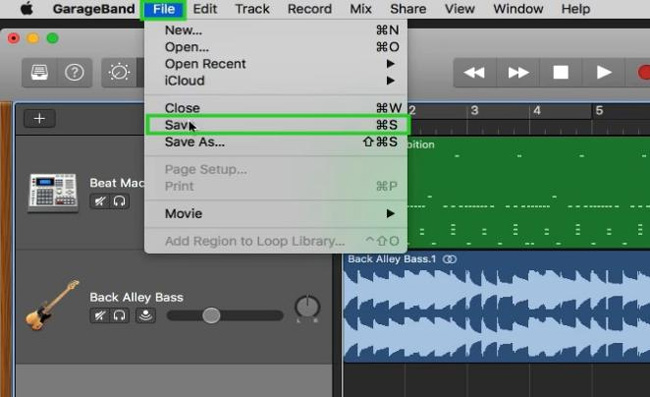 As for saving the podcast files to your local folders, you need to navigate to the "File" and "Save". Choose the save path and file format based on your needs.
How to Record a Podcast Online for Free by 123APPs
Want to record podcast without downloading software or applications? In such a condition, an online podcast recorder will be your choice. And we think the 123APPs is good enough for your requirements in recording a podcast online. Nevertheless, you will encounter a few advertisements that are annoying. Surprisingly, this website provides you with other useful podcast editing tools. Follow me to use it!
Switch to the Audio Recorder function on the 123APPs website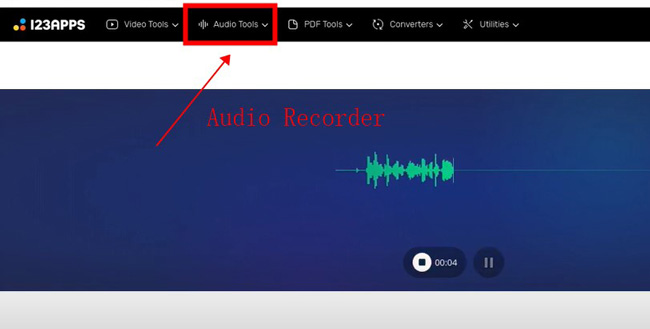 Once visiting 123APPs online, you can click "Audio Tools" and "Audio Recorder". All the features are built-in separately. After a while, you see buttons for audio recording.
Press the Record icon to begin recording your podcast and download it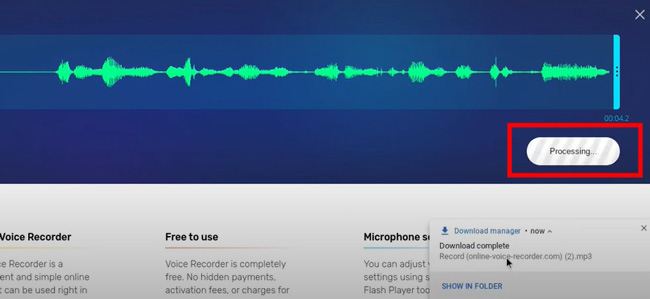 123APPs is different from TunesKit AceMovi and GarageBand. You cannot edit multiple podcasts with it. In other words, you'll be able to record one podcast each time and download it from the interface.
How to Record a Podcast on iPhone & Android by Anchor
When you desire to record a podcast remotely on your iPhone or Android, then the Anchor is the app you cannot miss out. Anchor is a multi-functional podcast recording app for beginners who can record and edit music anytime with it. Apart from recording, you can use it to trim the start and end points, or split and remove audio from your video. There are also channels to share your podcast on YouTube and Facebook. Keep reading this tutorial!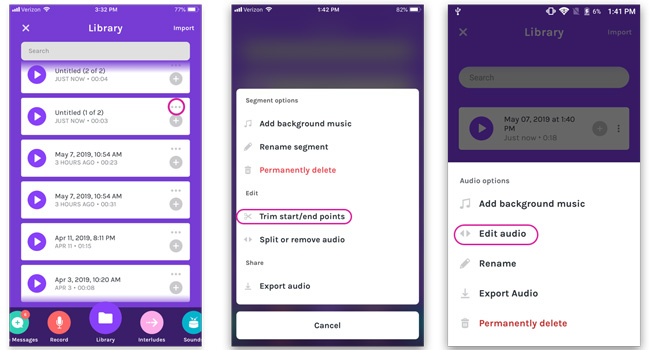 You can find the button "Record" from the toolbar to commence recording your podcast. Then, try to edit each recording file with the functions like trimmer, splitter, and converter. In the final step, the Anchor app gives you channels to add background music, edit audio, rename the file, and export the podcast.
The Final Verdict
If you want to make an excellent podcast, recording skill is not enough, you should try to trim, speed, change the quality, and make format conversion. When it comes to the result which podcast recorder is the best one by concluding this post, I should say that depends. Leave your podcasting-making experience with me here.