Zoom is so popular for our work-from-home people in this era of digital economic growth. It's simple and direct to hold a meeting, watch a webinar, and invite partners and colleagues to join in with Zoom. Beyond that, compared with in a conference, Zoom is supposed to operate a real-time screen recording with sound.
However, Zoom has limits on the recording service, such as the number restriction and the "host-permission". All right! From this post, you'll learn three ways to record a Zoom meeting on laptops and mobile phones even if you are not the host. Surprisingly, the tool introduced, furthermore, can help you to edit, trim, crop, denoise, and convert the recordings. Let's go on to it!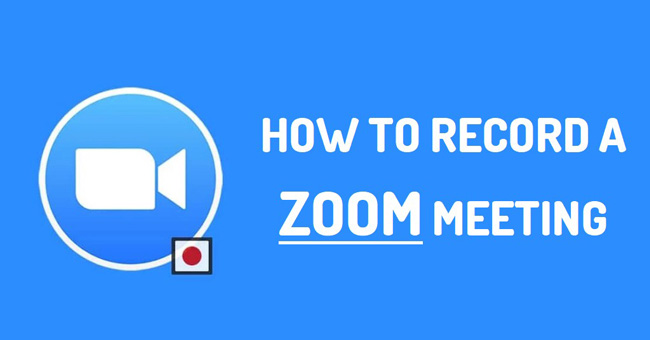 The Best Zoom Meeting Recorder Software: AceMovi
AceMovi comes with no limits on the number of recordings you capture and the membership of the host or participant you are. You can customize the recording screen to many different aspect ratios, like 800*480, 1280*720, 1280*960, and 1920*1080.
In addition to the video-recording feature, AceMovi is capable of trimming, splitting, reversing, speeding, converting, splitting, and reversing the Zoom recording on one screen. AceMovi is easy for entry-level users and you can download it on Windows and Mac for free right now.
AceMovi Screen Recorder
Take a snapshot when recording Zoom meetings
Customize any screen recording aspect ratio
Download for laptops without registration
A series of features to edit recordings
Watch z recorded Zoom meeting directly
Record Zoom meeting with or without sound
How to Record a Zoom Meeting as a Participant with AceMovi
Download AceMovi, then launch it and operate the built-in screen recorder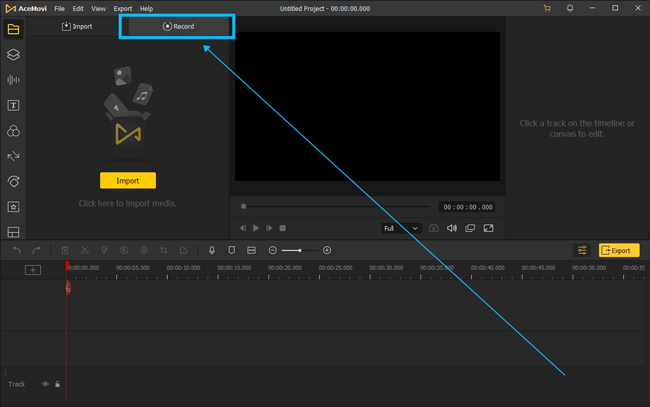 Download AceMovi software on your desktop from this page, which is compatible with both Windows and Mac.
When you are in the Zoom meeting, launch AceMovi Screen Recorder by clicking on the "Record" button at the top left of the default interface.
Customize the screen recording resolution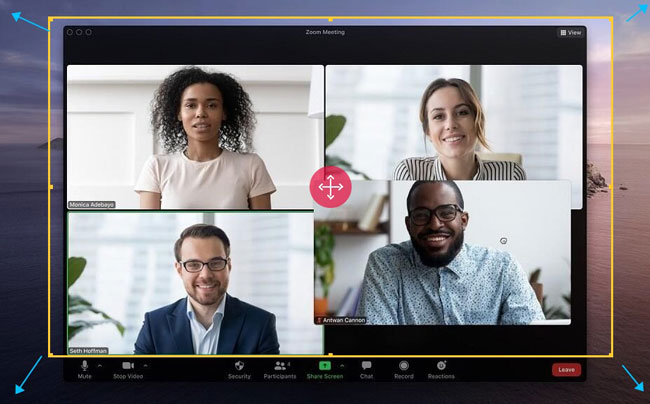 The aspect ratio of the preset window can be adjusted based on your preferences. You can change it by dragging the edges, or later choose to crop the unwanted bars as well.
Tune necessary system settings beforehand (optional)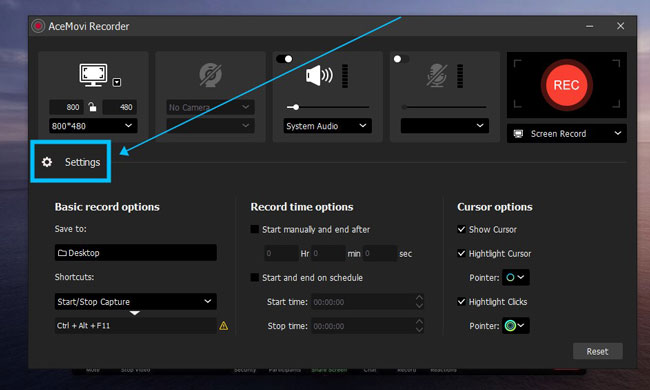 Advanced settings are the reason AceMovi outshines other screen recorders and video editors. Click the "Settings" icon on the AceMovi Recorder's toolbar. You're accessible to select the save path, manipulate shortcuts, schedule the start and end, as well as set whether to show the cursor when recording. Now you should be all set, tap on "REC" to begin.
Click to pause, stop, or take a screenshot while recording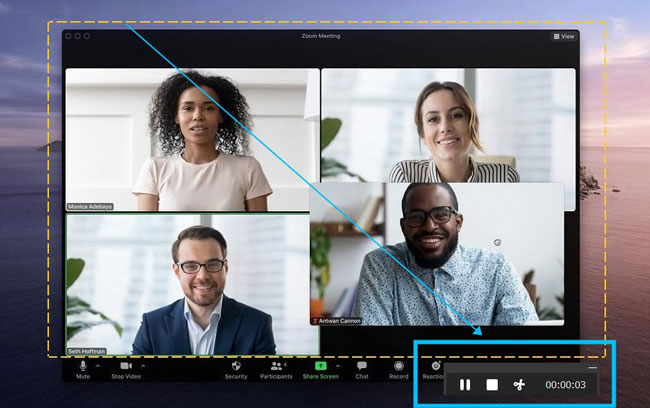 Three buttons float in the lower right corner of the recording window - "Pause", "Stop" and "Screenshot". The screen recording mission won't be stopped and AceMovi will automatically save the captured pictures in the Media place after clicking the "Screenshot" button.
Edit your Zoom recording with features, then export it from AceMovi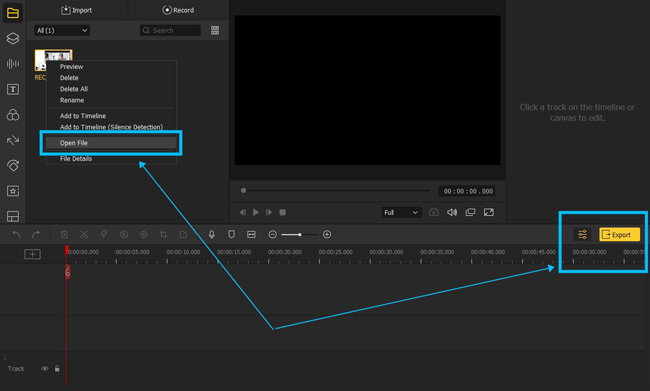 AceMovi saves recordings in the Media panel. You can continue to trim, cut, convert, equalize, slow-motion, green screen, increase volume, or apply fantastic effects. As for exporting the file, click "Export" and then set up output format as well as related video quality.
That's all for AceMovi's tutorial on recording Zoom meetings without the host's permission. Still, AceMovi is a third-party video recorder and editor. So, if you have been authorized by the host to record, you can try the following two methods by the Zoom program itself on laptops and phones respectively.
How to Record a Meeting on Zoom for Computers
Want to know how to record a meeting on Zoom software firsthand? Zoom has built-in buttons for users to record their meeting in real-time, along with an array of options to enhance your experience. With Zoom, it's no need to download a third-party screen recorder, yet there are limits such as you cannot set the aspect ratio in advance and edit the recordings by trimming or cropping. Here to learn how to record a meeting on Zoom.
On Zoom's bare-bones interface, click the gear icon to preset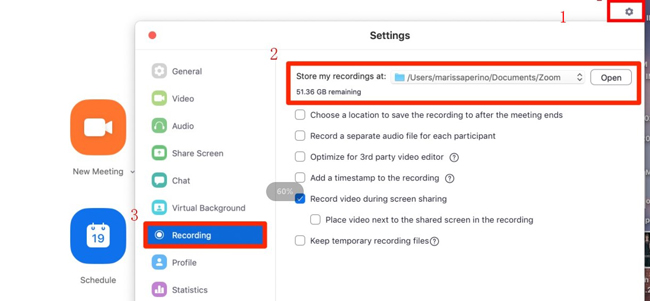 You can select options before recording your meetings on Zoom. Based on sequences, you should click the gear icon at the top right of the workflow. There are settings to choose a location folder to save the clips after the meeting ends, record a separate audio file for each participant, optimize for 3rd part video editor, etc.
Begin to record screen when you are in the Zoom meeting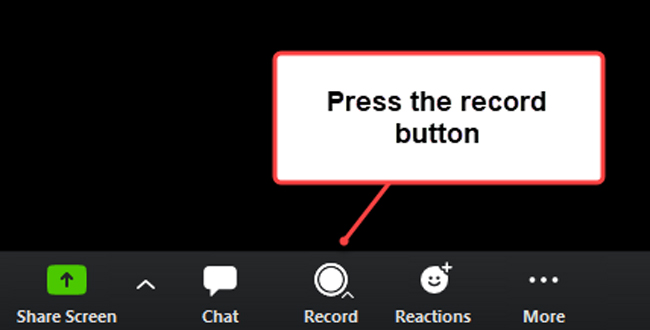 When you are ready, press the "Record" button from the toolbar. By the way, you will see the button to stop recording when you are in the meeting.
Find the saved file from "Meetings - Recorded" on the profile

With that said, Zoom will automatically save the recorded files in folders on your laptop. Now, follow the steps to find it: Profile - Meetings - Recorded. Later, you can use the recommended AceMovi Video Editor to edit your recordings as you want.
How to Record a Zoom Meeting on iPhone and Android
Want to figure out how to record a Zoom meeting on an iPad, iPhone, and Android device? We're going to show you the guides to using the Zoom app. Nevertheless, the screen recording service has limitations so you may need to upgrade your account if necessary. Basically, you can save 10 meeting recordings maximum with Zoom.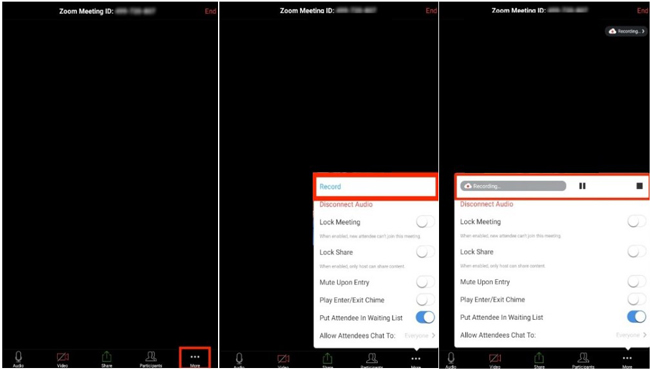 1. Download the Zoom application and log in.
2. Hold a meeting, or join others' meetings and request the authority to record.
3. Click the three dots menu, then pick on the "Record".
4. Save the recording to the cloud or your mobile phone.
FAQs to Recording Zoom Meeting You Should Know
Can I record a Zoom meeting if I am not the host?
With permission from the host, it's impossible to record Zoom meetings on the Zoom program. That is to say, only with a third-party screen recorder can you record the Zoom meeting. By the way, it's not advised to record the meeting if it's classified or avoid being recorded.
How long can you record on Zoom for free?
There is a free service to record 40-minute time in MP4 format, and the recordings will be saved on your computers.
How can I grant other participants the meeting recording permission on Zoom?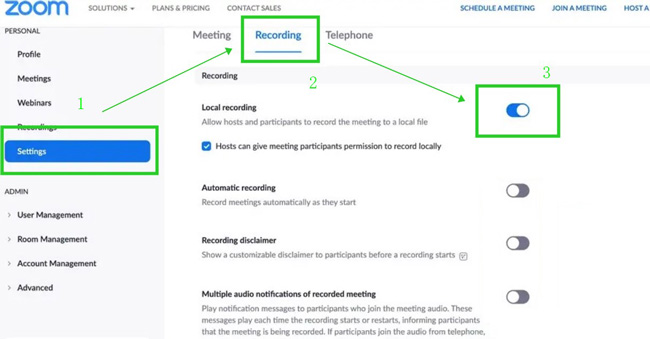 Head to the Zoom profile, click the "Settings" and "Recording" buttons on the left sidebar and then tick the "Local recording" option. In this case, all of the participants can record the Zoom meeting locally.
The Bottom Line
AceMovi is a third-party media recording and editing software provided for you to capture the Zoom meeting as a participant. Furthermore, you can use AceMovi to edit the screen recordings with Video Trimmer, Cropper, Convert, and more popular functions. If you're not willing to record your meeting on third-party software, try the other two ways.