For the uninitiated, a webcam is a video camera that is connected to and displayed on the computer. A webcam can be used for video chats or to capture/broadcast video feeds of what's happening in the user's environment. This is where two or more people can see each other and converse through live video dialogue. The best webcam recording software is one that is easily set up, has a sleek user operation interface, and offers ready-to-use resolution presets to make your work easier.
A good webcam recorder also takes better snapshot pictures, records screen at any aspect ratio, and even does live streaming. It also allows you to edit your videos quickly and share them with friends. Today, we will look at the seven best picks!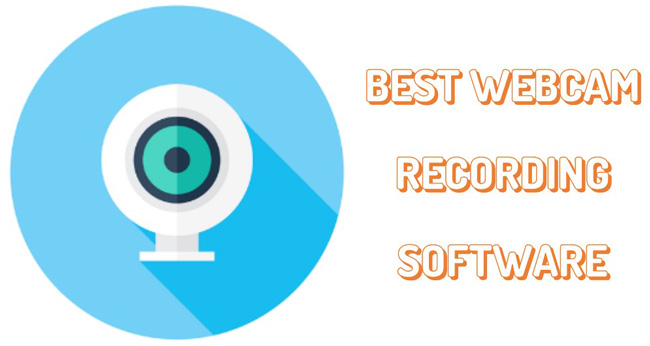 7 Best Webcam Recording Software for Windows 7, 10, and Mac
Top 1. AceMovi Video Editor & Recorder
As regards the best webcam recording software for Windows 10 or Mac, TunesKit AceMovi is a standout, handy tool from the rest. The tool's performance is unimaginable and facilitates a professional or an amateur create mesmerizing videos in a few clicks.
● When recording, the resolutions include: 1920*1080 (16:9) Full HD, 1280*720 (16:9) HD, 854*480 (HD), 1024*768 (4:3), 640*480 (4:3), 480*360 (4:3). It allows you to select the area as well.
● Features for advanced recording: PiP Overlay, Green Screen, Audio Mute, 4K Output, Trimming, Speeding, Captions, Reversing, Sound De-nosing, Dubbing, Mirroring, etc.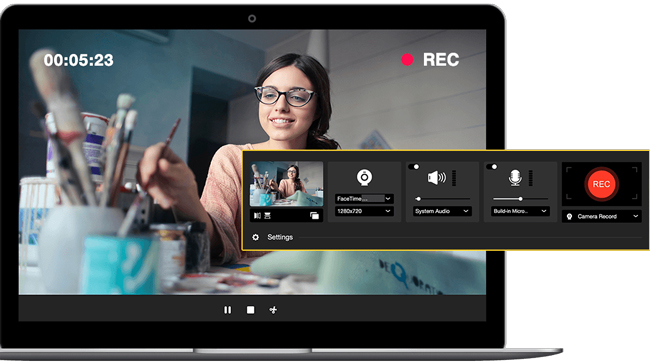 You can capture videos of the screen or through the webcam and use the built-in editor to fine-tune the video with trimmer and cropper. Just choose the area of the screen, the dimension, and the display quality. It further enables or disables sound and choose from the system's sound card or any external source, such as a mic, to capture the audio.
Once you've captured the recording, you can use the software to add filters, transitions, sound effects, subtitles, and filters, zoom a section, control the playback speed of the video, or boost the volume. Now, download AceMovi to begin.
AceMovi Webcam Recorder
Add static/dynamic captions and subtitles
Record a video with or without MP3 audio
Put the PiP overlay window at any place
Live-streaming feature to save files automatically
Trim out unneeded recording startings or endings
Grade color in brightness, hue, and contrast
Export recording file at MP4, AVI, DivX, WMV, etc.
Top 2. TunesKit Screen Recorder
Once entering TunesKit Screen Recorder, 5 ready-to-wear projects for different missions are made, including Screen Recording, Audio Recording, Webcam Recording, Window Recording, and Game Recording. Users need to switch to the Webcam Recording mode in the first place. This software detects cameras automatically.
If there is a mic or a headphone, TunesKit Screen Recorder catches the background environment sound as well. Different from normal video webcam recorders, this software is embedded with features to add your brand watermarks with personalized styles of color, space, font, and position. If you need to proceed with advanced settings of format and quality, this tool is powerful enough.

Pros:
5 ready-made video recording templates
Preset for output quality based on Codec, Resolution, Frame Rate, and Bit Rate of video/audio
Exporting formats for HD Video, Devices, and Web Video
Record as much time as you want
Trim the recording on a panel that can contain multiple files
Cons:
1-min for audio recording on the demo version which is free to download
Top 3. VideoProc Converter
VideoProc Converter is the best webcam recording software and website video downloader. Its easy-to-use and straightforward interface makes it suitable for beginners and professionals alike. You can make the videos look eye-grabbing and choose from various preset templates, customize them, add text, effects, and music, or even create your own template.
It even has a range of editing features. For example, you can record the webcam and the desktop simultaneously and adjust the size and position as needed. You can further improve the quality of the video by using brightness, hue, gamma, and saturation for complete control. Alternatively, you can apply readily available filters for a 1-click selection.
VideoProc Converter supports GPU acceleration and assists Intel, AMD, and NVIDIA. Because of this, there is a reduction in the processing power that your CPU exerts and ensures smooth rendering. In addition, the multi-level GPU acceleration helps you record lengthy videos without shuttering and frequent crashes.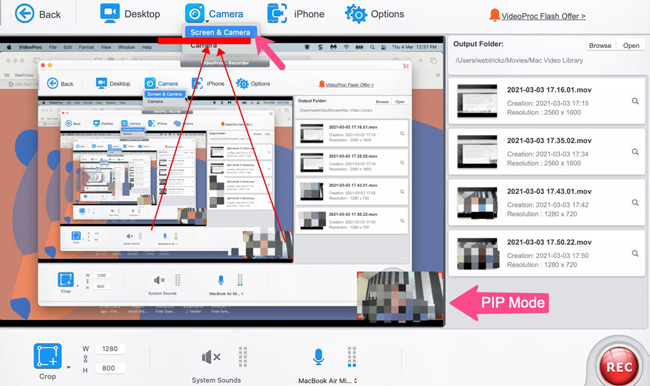 Pros:
Customize the width and height of the cording window
Picture-in-picture ability
Download videos from YouTube or other websites
Digitize DVD to AVI, MP4, and more formats
Save files for mobile phones or TVs
Cons:
The webcam recording is one of the projects in VideoProc Converter but it is does not belong to the main features like the Video Converter. So the recording features are too basic
Top 4. Logitech Capture
Logitech Capture is available for Windows and Mac and is the best free webcam recording software for Windows 7 and 11. It allows you to capture, gameplay, voice, and webcam. Its ability to use makes it efficient, where even a beginner can start recording videos quickly.
More than that, the intuitive interface makes it simple to access the features provided by Logitech. Logitech Capture enables you to capture in a 16:9 display ratio compared to others. Depending on the requirements, you can further broadcast the content on YouTube, Twitch, or Facebook.
The built-in features help you adjust the video for better output. You have image adjustment, transitions, filters, and frames. There is also Chroma Key available that you can enable to change the background during the recording.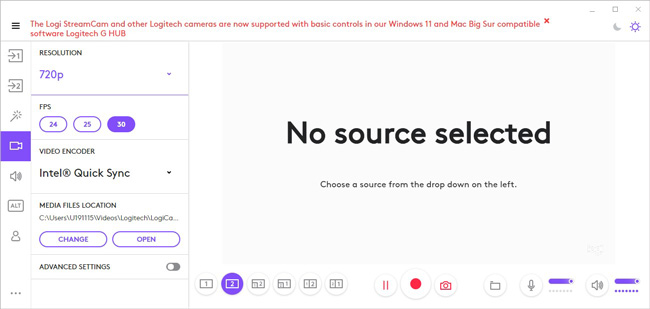 Pros:
Best webcam recorder software free for Windows and Mac
Broadcast on YouTube and Facebook Live
Apply transitions, filters, effects, watermarks, and borders
Intuitive and user-friendly operation workflow
Auto-focus and auto-white balance
Cons:
It doesn't stream
Screen recording is not allowed
Top 5. Bandicam
As a free, open-source software that was developed in 2001, Bandicam is a widespread screen recording software that is made to record and edit videos. The software uses DirectX technology to capture videos from your computer screen and save them as AVI files or MP4 videos.
Bandicam has other valuable features like editing tools, microphone recording, webcam support, etc. It is the best free webcam recorder software for Windows 10 because it offers several features. The user-friendly interface attracts both beginners and experts alike. Record games, movies, applications, and even webcasts from the streaming services like Twitch are available.
This software offers features like recording without audio, microphone recording, video quality settings, and more. As it is compatible with DirectX technology, you can capture videos from DirectX-supported video cards such as Nvidia GeForce GTX 650 Ti Boost or AMD R9 270X card.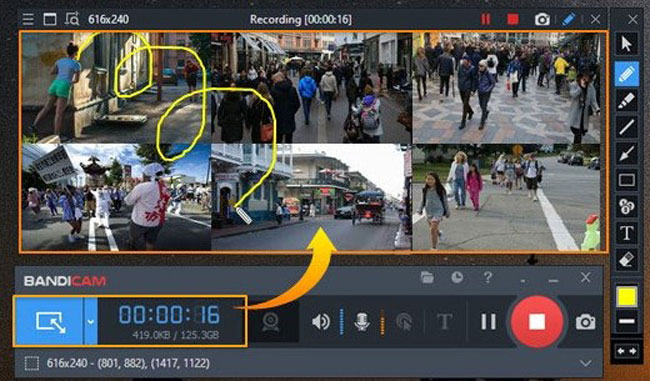 Pros:
Record picture-in-picture webcam video
Scheduled recording
Real-time drawing
Green screen background
Mix multiple voices
Download for Windows only
Cons:
If you are an unregistered, 10-min per recording and watermarks limit your work
Scheduled recording feature is unavailable on the demo version as well
Top 6. Debut Video Capture
Debut Video Capture is a webcam recording software available for Windows and Mac. Unlike other tools that leave a watermark or have recording time restrictions, Debut Video Capture is junk-free for home use.
You can try it to record footage from the system's screen, web camera, or connected devices. Apart from video recording, choosing the audio channel based on the requirement allowed. For instance, you can record the sound from the computer or an external microphone.
When it comes to downloading the video, users are capable of saving the captured video in several formats, such as MP4, AVI, MPG, WMV, MOV, FLV, and more. It is also possible to take screenshots during a recording and save them in PNG and JPG formats.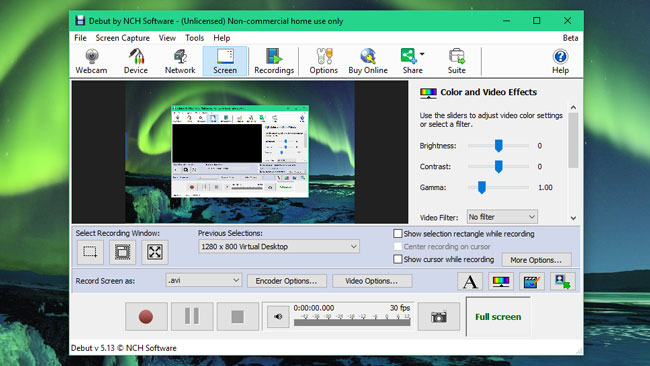 Pros:
Select a filter or adjust the video color of brightness, contrast, and gamma
Watermark-free service
Add captions and timestamps on the screen
Webcam overlay support
Choose the frame rate and size of the output settings
Cons:
Mac users cannot download it
Dated video-making interface
Top 7. YouCam Webcam Software
YouCam webcam software from CyberLink is guaranteed to improve video chatting and those who love to capture their conversations. It belongs to one of the best webcam recording software for Windows/Mac.
The YouCam consists of two operating modes. The first mode lets you indulge in a live chat with various frames to choose from. The second mode enables you to use your webcam to record a video or still images and then edit the same. Integrating the software into Facebook, Skype, Zoom, and other services for a quick and funny video chat is possible.
Alternatively, the standalone mode of recording a video from a webcam or the screen helps make DIY videos. The editing features and effects make it flexible to make changes to a video before posting it to YouTube. Once you create an account with CyberLink, if there are no edits to a webcam capture, just post it directly to YouTube or send it as an attachment through email.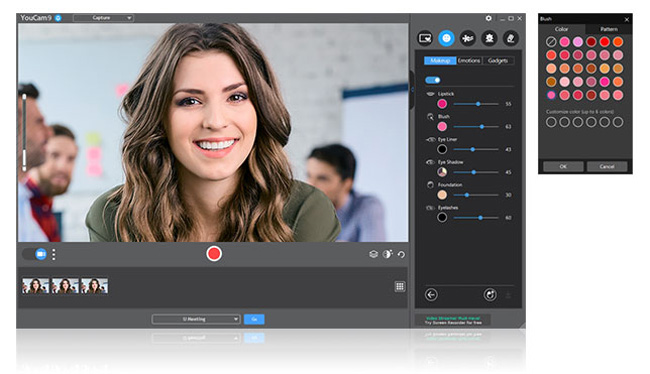 Pros:
Live-streaming services
Personalized images and titles
Video effects and filters
AR makeup
Lightning and intelligent skin smoothing
Animated emojis to overlay
Cons:
It is expensive and only one-time purchase is available
Compare Those Webcam Recorder Software from Many Aspects
Now that you need to figure out which tool is better in the quality you care about much, for example, the built-in elements of captions and filters. It is a good point to compare them in a table and that's what we did in this part. Keep reading!
| | OS | Screen Record | Webcam Record | Max Resolution | UX | Price |
| --- | --- | --- | --- | --- | --- | --- |
| AceMovi | Windows 11, 10, 8.1, 8, 7 Vista, XP/macOS 12 - 10.12, macOS X 10.11 - 10.8 | Yes | Yes | 4K | Excellent | $19.95/m; $49.95/y; $69.95/p |
| TunesKit Screen Recorder | Windows XP-11/Mac OS X 10.8-12 Monterey | Yes | Yes | 4K | Excellent | $14.95/m; $29.95/y; $49.95/p |
| VideoProc Converter | Windows 11, 10, 8.1, 8, & 7/macOS X | Yes | Yes | 4K | Good | $29.95-$57.95 |
| Logitech Capture | Windows 10/macOS 10.14 X, macOS 10.15X, and macOS 11 | No | Yes | 1080p | Average | Free |
| Bandicam | Windows 11, 10, 8, & 7 | Yes | Yes | 4k | Good | $36.95/y; $49.95/p |
| Debut | Windows 10, 8, 7, Vista, & XP/macOS X 10.14 and higher | Yes | Yes | 1080p | Average | $39.95/Pro; $34.99/Home |
| YouCam | Windows 11, 10, 8.1, 8, & 7 | Yes | Yes | 720p | Average | $59.99/Deluxe; $39.99/365 |
Conclusion
Your love for recording the desktop screen or webcam is never over. It only gets better! What is important is that you have software that allows you to record without hiccups, crashes, and shutters. You can choose the best webcam recording software from the list here, which discusses the best available tools and their key features. So, pick the correct software that suits your requirements and start webcam recording!