Whether you want to plan a family party or a business event, it's required to send invites with greetings and related event information (e.g. date, location, description, and the name of the person invited). You should persuade your guests that attending the event should be in their best interests, or inject some fun elements from the very beginning. But how can you achieve this? An ideal invitation video maker is an answer to this question.
There are numerous free invitation video makers available, so choosing an ideal one can be troublesome and daunting. To make things easier for you, here is a list of some best invitation video makers that can set the perfect tone for all your essential events. Let's get this started!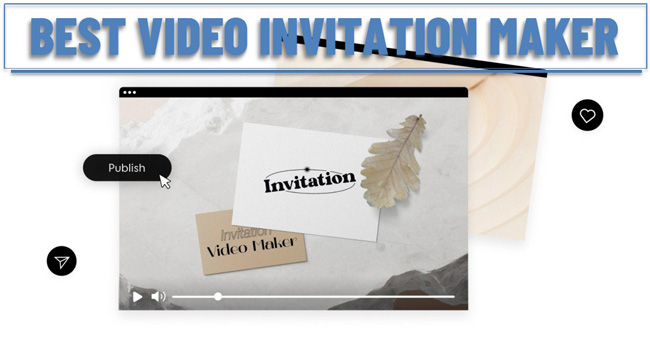 The Best Video Makers to Produce Invitation Videos in 2022
1. TunesKit AceMovi for Windows and Mac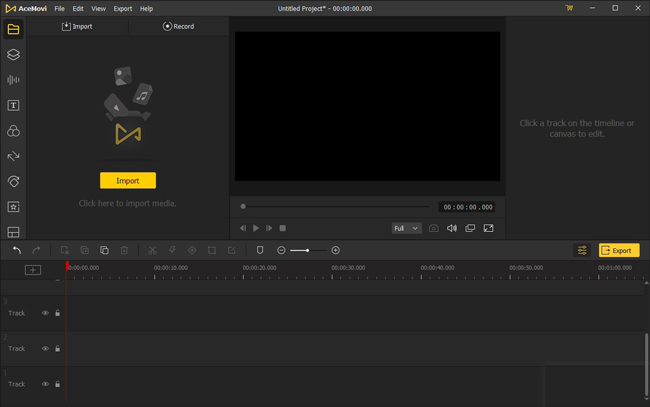 If you want to add some style and flair to your invitation video, you must use TunesKit AceMovi software. As a professional video generator with a simple interface, it is smooth, intuitive, and ideal for users who have just started their editing journey or are pros in their industry.
It contains various advanced tools to help you add effects and transitions. Apart from this, this program also provides features like trim, adjusted speed, merge, and many others.
With TunesKit AceMovi, you can directly download videos to the best format for Youtube, Vimeo, etc. Besides, a comprehensive range of templates is offered to edit your videos in an easy way, which includes video intros, subtitles, text titles, and stickers that help to create unique videos effortlessly. Try this software now, even if you are a beginner, and you will be satisfied using it.
AceMovi Invite Video Maker
Curated photo slideshow templates
Video templates for different events
Animated texts
Free songs and audio effects
Multi-track timeline
Create wedding/birthday slideshow
720p/1080p resolution supported
Download on any Windows and Mac
2. Biteable for Online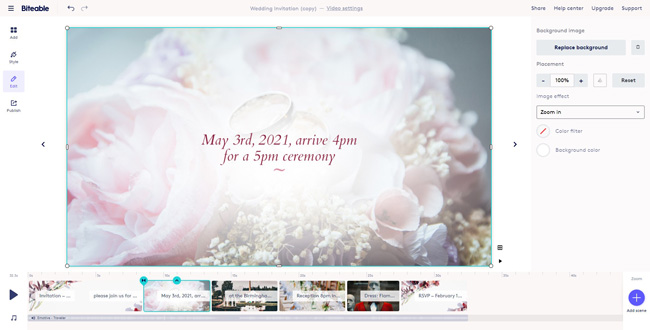 Biteable is an online, amazing invitation video maker as it will allow you to make incredible things in any style you love. This tool is ideal for those who want to share videos with various ratios on the social media platforms like horizontal videos on YouTube, vertical videos on Tiktok, and squares on Instagram.
It features a library of templates to make an integrated invitation for any occasion, including a birthday, wedding, or business event. In addition, Biteable supports a number of visual effects and contains tools that enhance the quality of raw footage. It is a very affordable web-based video editor along with a free trial.
Pros:
Animated video templates
Change background image
Overlay texts
Share to social platforms
Save editings online
Cons:
Limited output options like the formats
One track for video-creation only
3. Animoto for Online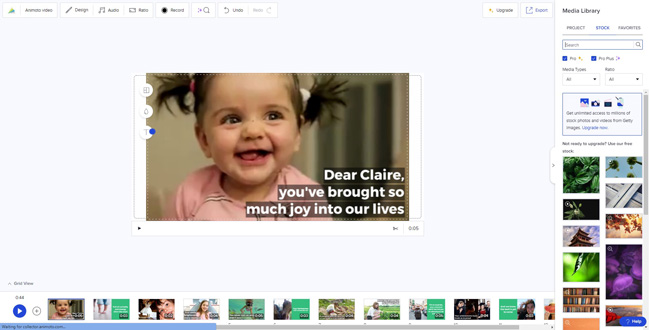 Animoto is a beautiful free video invitation maker that helps to create eye-catching invitation videos for various occasions. It is mostly used to make quick e-invite videos. It offers a paid service, but it allows the users to try the high-end and professional version for 14 days free of cost. Animoto features a simple interface that easily creates polished videos.
Using Animoto, you can create an amazing video invite in just a few minutes. Apart from this, it provides loads of templates to select from. You can choose any template that matches your taste. Moreover, you can customize the template as per your needs. To create an amazing video invite, simply open this platform, choose a template, add content, and voila, you can download your video.
Pros:
Media library
Crop video at any aspect ratio
Screen recording
Customize canvas
Redo and undo
Cons:
You need to upgrade your account to download videos
4. LightMV for Online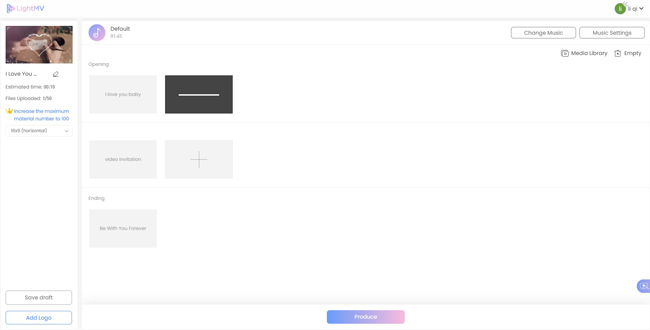 LightMV is a top-rated birthday invitation video maker online free that has a simple interface and is easy to use. It allows the users to make incredible videos using simple steps. This platform offers a number of video templates that you can use to make your video look jazzy and fresh.
To create a video using LightMV, navigate to their website and select the template that suits your taste, add the desired details with photos, and click produce, and it's done. Your e-invitation video is ready to export. Once your file is downloaded, it is all set to share with your friends and family.
Pros:
Customize subtitles
Clean user interface
Add and change background music
Overlay multiple videos
Cons:
It's not a streamlined online tool for video editing
5. Flixier for Windows and Mac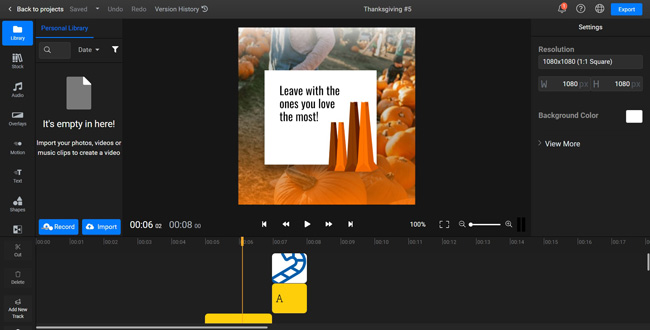 As an animated invitation video maker, Flixier allows you to make beautiful video invitations even with no editing experience. With a well-designed interface, this program helps to combine any photos, videos, and music into an amazing invitation video that stands out from others.
Not only this, it features various editing options that include crop, filters, adds music, text, and more. When it comes to meticulous editing, Flixier makes it quite simple to crop, add music, text, filters, and more.
Pros:
Streamlined track design
Lots of free music resources
Cut out unneeded clips
Change video resolution
Graphics and texts
Cons:
1080p resolution exporting is limited for free trial
6. Adobe Express for Windows and Mac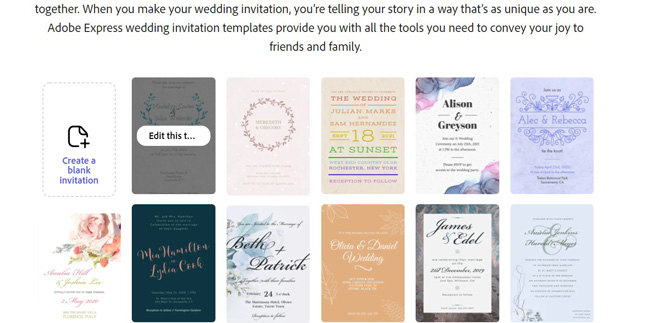 As a product of Adobe, Express is among the best platforms for making eye-catching invitation videos. The free Adobe Express web application syncs with the iOS mobile apps Spark Page, Spark Video, and Spark post allowing the users to edit, create, and share the visual story from any device. It also allows users to design and create visual content for education, businesses, and social purposes, including birthdays, weddings, and more.
The basic version of this platform is free, and you need to pay to access the high-end version. But there is no such need to get the paid version to create e-invitations videos. The free ones can also work well to create a top-class invite video that is exceptional.
Pros:
A wedding invitation video maker with templates
Distinctive texts and fonts
Design your own background style
Export on HD resolution
Cons:
7-day free trial for each account
How to Make an Invitation Video with AceMovi
You've reviewed the best tool to make invitation clips. I'll be sharing with you how to use the recommended AceMovi Video Editor to produce a standard invitation video on computers. Just follow the steps below!
Get AceMovi by downloading. Launch AceMovi and import files to it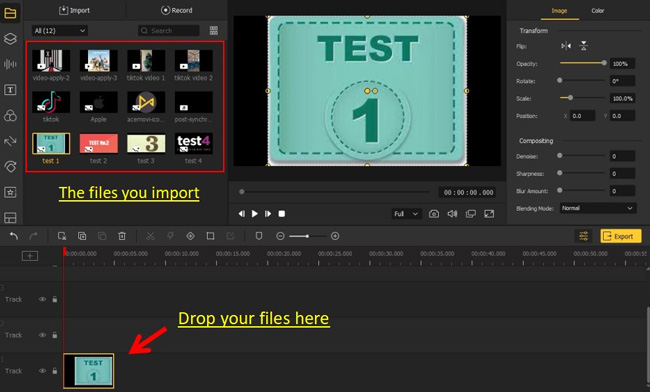 You can drop any format of the video, audio, and image to AceMovi's interface. This software is fit for multiple file editing. It's allowed to add unlimited tracks as needed.
Add music and use a text template to create an invitation video intro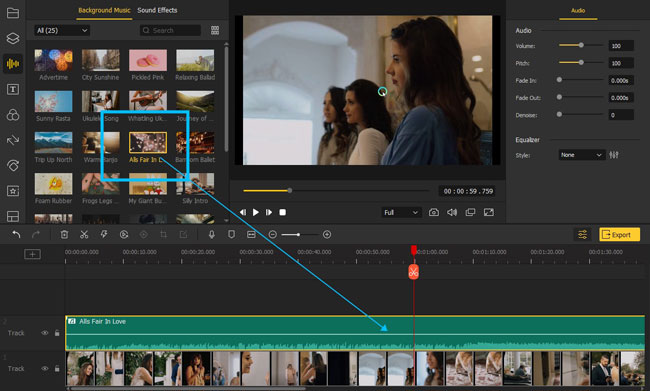 You can go to the "Music" panel to add fresh music to the timeline. On the right side plate, you can change the volume and pitch, or apply fade-in and fade-out effects.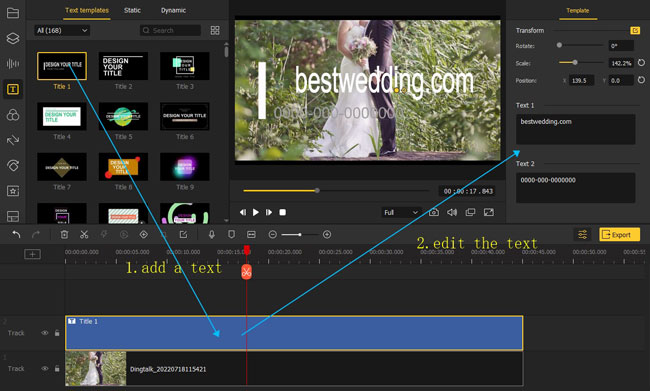 It will be easy to begin with an animated text template so that you can design your own content. To make it possible, you need to choose a text template from the "Text" plate. Drop the template to a new track and edit the text on the "Properties".
Set the downloading path, then export your invitation video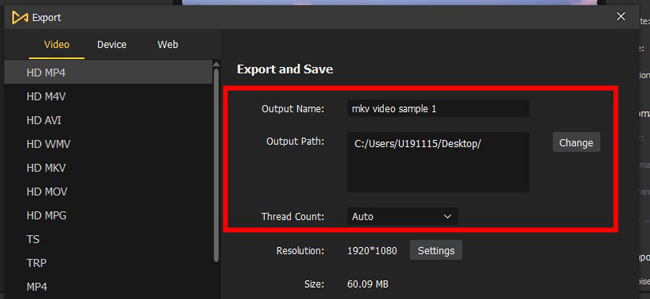 You may want to download the video in H.264/MP4 format, with 1080p resolution and 16:9 aspect ratio. AceMovi is able to make all of those possible. Besides that, you can adjust the codec and quality from the "Settings" as well. Before the final output, you can set the save path and file name.
FAQs about Video Invitation
1. What Kind of Content Should an Invitation Video Includes?
You need to answer all the matters about your event that may be asked by attendees, including the name of the invited, short description, hosts and organizers, time and date, location and route, dress code, and so on.
2. What Are the Types of Invitations?
Generally, invitation is divided into Handwritten, Printed, and Digital.
| Type | Explanation |
| --- | --- |
| Written Invitations | Written invitations are issued for very special occasions, for example, weddings, galas, and formal dinners. |
| Printed Invitations | Printed invitations give you more options. It's creative if you work with a graphic designer or apply a ready-made template |
| Digital Invitations | Whatever the format, digital video invitations are by far the fastest and cheapest ones. You can draft an email and send it to all attendees one click at a time. |
3. Should We Always Make and Give Video Invitations?
Not all events require video invitations, so it's worth considering whether you should spend your time on making and sending them out. For example, many of our readers organize classes, often without invitations.
There are also many public events, such as parades and community gatherings, which are open to the public but a few practical details are advertised on posters around town and online.
Lastly
Although the free video invitation makers come with limited features, we have featured some of the best software available in the market. Most of the above-listed platforms are simple to use and offer premium quality videos. All of the software comes with specific functionalities. So, pick up one and make an attractive intro video for your special event to increase the number of attendees.