"Hope you find time to look back on all your sweet memories together." "Here's to another year of being great together!" "Anniversary cheers!"
Getting the attention of people has never been so difficult these days. However, if there is a suitable anniversary video maker, things can be done relatively quickly. Such applications can help trigger childhood conditioning and make the viewers jump with joy. They would also take great interest in listening to the messages conveyed through the animations and narrations. However, unless and until someone has professional skills and the time to come up with stunning animated videos. Don't worry! 9 anniversary video makers introduced herein to help you make a happy anniversary video. Just dive into the river!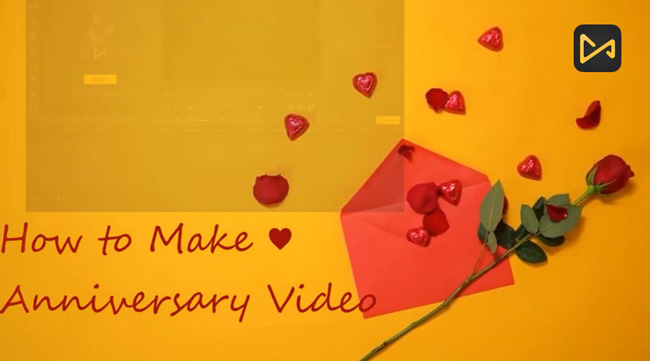 TunesKit AceMovi - A Fashion App to Make Anniversary Videos on Windows & Mac
Trial Version: Free to be downloaded on Windows XP and later, and Windows 10 with 1024* 768 resolution & 1G Hz processor is recommended; Supports OS X 10.8 and later, and 10.15 Catalina will be better
Full Version: $15.95/Month; $49.95/Year; $69.95/Lifetime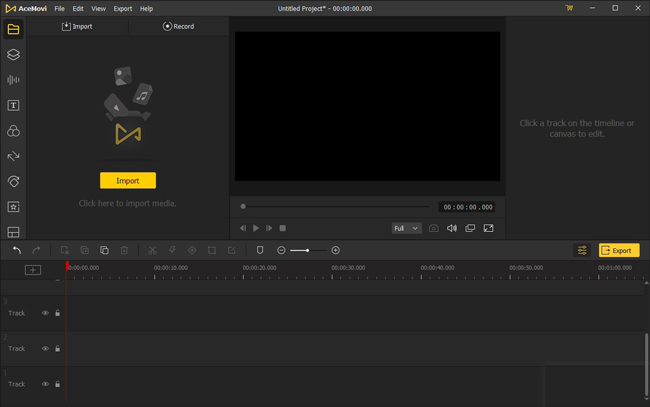 TunesKit AceMovi is a fully developed video editing software that can help individuals inspire anniversary video ideas or concepts in a magical way. It applies flexibly and efficiently when someone is trying to create a 50th, 40th, or 30th wedding anniversary video. The video editing options are so easy that anyone can make a video out of their imagination.
It is straightforward & an advanced happy anniversary video maker that brings a story to life in a cakewalk. You have access to all built-in background music like the Anniversary and sound effects like the Bleep. It would be very easy to extract the default audio from the video and then add a new soundtrack with the wanted pitch and volume. You can also turn to joining or combining multiple audios into one.
With AceMovi, you can create a fantastic anniversary video with the snap of a finger. You don't need to do much, just have this video editor downloaded, make files imported by dragging-n-dropping, and do video edits like trimming, cropping, and keyframing.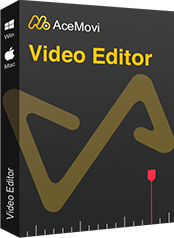 TunesKit AceMovi Video Editor
Pros:

Make a wedding anniversary slideshow video with music in a breeze
Free music resources and stickers are available
Able to trim, crop, and split videos
Turn your anniversary video into a duet or react
Advanced color grading tech
A library of filters, transitions, overlays, and animations
4K Video(4096x2160 pixels) export supported
Cons:

Watermarkings
Need more buttons to editing green screen videos
Learn How to Make An Anniversary Video on PCs with TunesKit AceMovi
Anniversary Video Maker - The Best App to Make Anniversary Video on Mobile Phones
Trial Version: Free to be downloaded on iPhone & Android; takes up 48.4 MB(v1.5)
Full Version: $1.99/Month(remove Ads)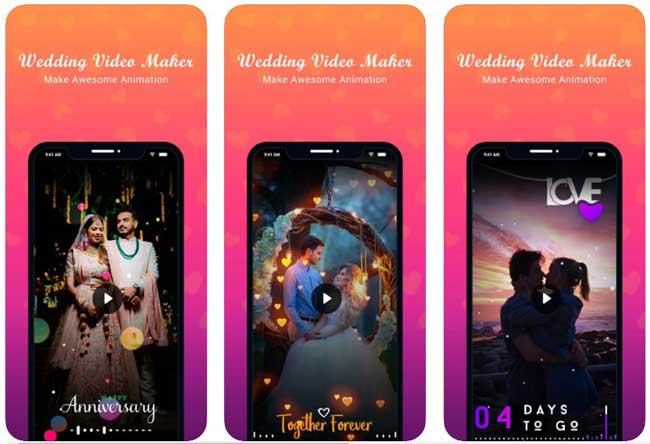 All of the special moments needed to be memorized and celebrated. Using Anniversary Video Maker with song and music is advised in today's sharing for you to make a cut anniversary video on your mobile phones. It's incredibly easy to learn, yet very powerful and has a full set of anniversary video editing features to customize and make it personal, like trimming, hacking, cropping, converting, speeding, and so forth.
There are some Ads that may pop up in the trial version. To remove them completely, you need to follow the full version which costs 1.99 per month. This wedding anniversary video maker is capable of changing video background, adding filters, applying VFX, and overlaying texts on videos.
Pros:
Beautiful filters and effects for making wedding anniversary videos
Specail countdown time effects
Lovely stickers and text templates
Streamlined video editing workflow
Upload many formats of images from stock
Cons:
Full of Ads
Cannot do split-screen
Powtoon - An Intuitive Online Anniversary Video Maker
Trial Version: Free to use, but you cannot download file in MP4 format or with premium elements
Full Version: Paying monthly, Pro - $89/M and Pro+ - $197/M; For paying yearly, $20/M and $70/M respectively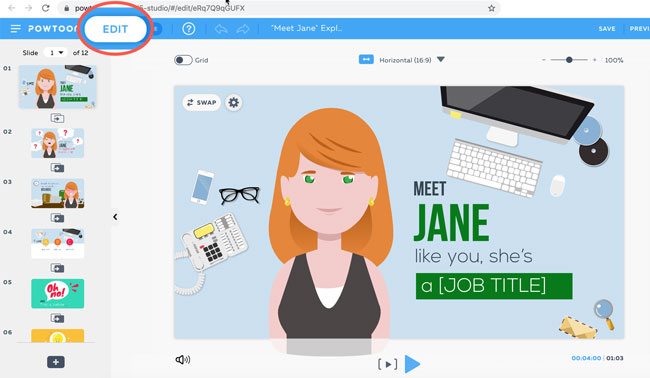 It is considered to be the most versatile anniversary video maker. It allows beginners with no graphic work experience or knowledge to create professional anniversary videos within no time.
The interface is stylish and intuitive enough. Hence, it is very likely to select from hundreds of Powtoon's pre-designed anniversary templates and accordingly customize the scenes, animate the characters and add royalty-free music from the given library. Also, it is good to do the voiceover. Overall, Powtoon can be considered a powerhouse for making anniversary videos.
What set Powtoon different is that it is an ideal application for marketers, content creators, and anyone who wants to do something creative. In addition, it has a free plan for beginners.
Pros:
Page-based programming
Hundreds of video templates
Animated Explainer, Whiteboard Video, Presentation, Marketing Video, and more projects
Tons of images and music tracks online
Cons:
A bit pricey
Fewer templates for anniversary videos
Vyond - A Professional Animated Online Anniversary Video Maker
Trial Version: 14-day free to use
Full Version: Paying monthly, Essential - $49/M, Premium - $89/M, and Professional - $159/M; For paying yearly, $299/Y, $649/Y, and $999/Y respectively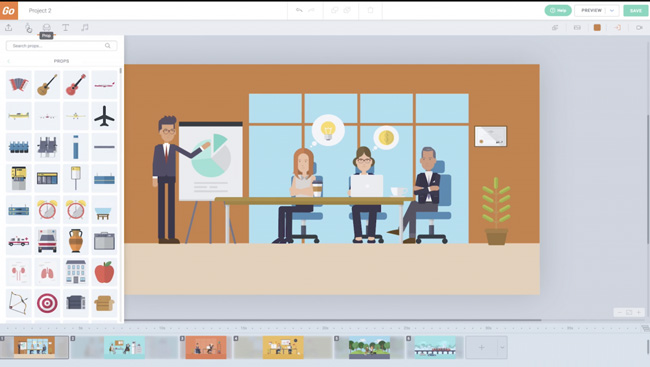 Vyond is a fantastic wedding anniversary video maker online free that can help to stay productive and attract viewers. One can use the various characters, props, charts, and texts to come up with animated anniversary videos. As a result, the present or the story-telling becomes more engaging.
The online tool comes with timeline features for arranging the animated elements in the video. There are three categories of animated characters, one was specifically published for anniversary creations, whiteboard, and contemporary. Also, you find lots of pre-designed animation templates.
So, for those who might be looking for customized animation characters, facial expressions, directions, actions, etc., or for a mind-blowing anniversary video, Vyond is the right choice to pick up.
Pros:
Lip-sync and GIF export
Asset libraries and font import
It's allowable to cutomize character creator
Edit video in real-time without lag
Animations for business
Cons:
A bit pricey yet you can choose to pay for the service annually
Fewer templates for anniversary videos
FlexClip - A Fully-Featured Online Anniversary Video Maker
Trial Version: Free to use yet you can export video up to 480p max
Full Version: Paying monthly, Basic - $9.99/M, Plus - $19.99/M, and Business - $29.99/M; For paying yearly, $5.99/M, $9.99/M, and $19.99/M respectively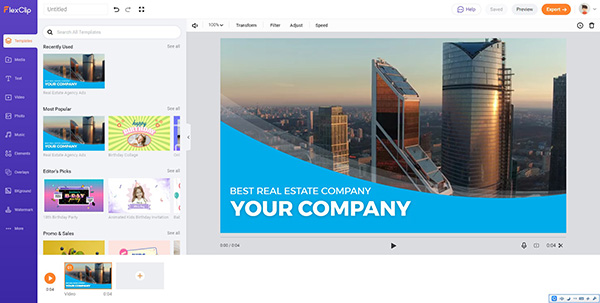 This is another anniversary video maker that is easy, quick, and quite affordable. Apart from creating dazzling anniversary videos, FlexClip is one of the most versatile online anniversary video creators that can take video creation to a higher level.
You can easily customize the animated texts, the various marriage elements, and the vast stock of the video clips so that the result is an engaging animated video. This online tool is great for those who are time-pressed and have strict deadlines. You can also choose to add a logo to a video, create a transition, or record a narration.
There are many video tool options available such as trimmer, screen recorder, and voiceover capturer. The modes for timeline and storyboard editing are different for different users. For free users, there are no watermarks.
Pros:
Make a video for anniversary and share it on social media in a couple of clikcks
Over 800+ engaging effects
Filmora 11 new update includes Speed Ramping and Masking
Download video without watermark up to 480p max
Record a new clip online in real-time
Cons:
Runs unstable and may be stuck
A shortage of advanced effects like split-screen
Animaker - An Online DIY Animation & Anniversary Video Maker
Trial Version: Free to use yet you can export video at MP4 format up to 720p max
Full Version: Starter-$19/M, Pro-$49/M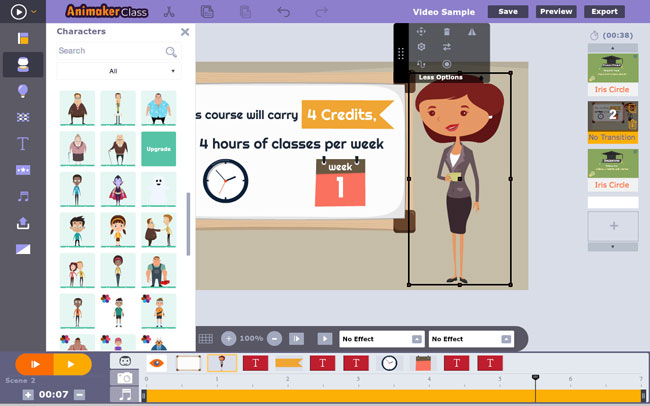 This wedding anniversary video maker online free has been developed specifically for users who prefer the Do-It-Yourself approach. It is a fully cloud-based anniversary video maker that is quite helpful for beginners and non-designers in creating studio-quality videos. It is also an ideal option for live-action videos, especially those with a no-brainer.
You can choose to toggle between Lite and Full mode for interphase editing that works best for everyone. While in full mode, Animaker controls the video's timeline, camera, and animation; In Lite mode, you get a simple storyboard view for editing all the elements of animation. It is worth noting that all screen elements can be customized in all possible ways. The best feature of this wedding anniversary video maker is the auto lip-sync feature for a vivid voiceover.
Pros:
100M+ stock library
Forever free plan
Drag-n-drop interface
Video masking
GIF & quick short video making
Action-live video editing
Cons:
Video downloading and advertisement your video are unavailable
Doodly - A Whiteboard Anniversary Video Maker
Trial Version: No free trial version
Full Version: Standard-$39/M, Enterprise-$69/M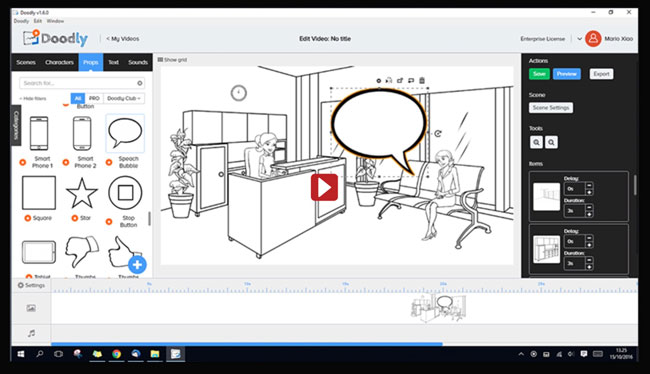 As a highly prestigious and popular app to make anniversary videos, Doodly specializes in creating whiteboard animation videos. The theme could be anything, like a wedding. The iconic style involves an animated artist's hand representing the drawing path. After entering the interface of Doodly, you can upload the image and add control points to follow the drawing path and create a classic whiteboard drawing accordingly.
It is a straightforward and affordable whiteboard anniversary video-making toolkit for creating classic or vintage animated videos. There is a nice feature in Doodly that allows aligning the duration of the drawing with the scene's duration. It can easily create offline animated videos and it is possible to create an anniversary video offline and upload it to the cloud for storage.
Pros:
For professional designers and videographers
Apply imported images in the whiteboard animations
Ethnic groups have a large selection of male and female hand types
Record your custom voiceover audio straightly
1000+ of customized whiteboard images
Cons:
There is no trial version to use
Toonly - A Drag-n-Drop Anniversary Video Maker
Trial Version: No free trial version
Full Version: Standard-$39/M, Enterprise-$69/M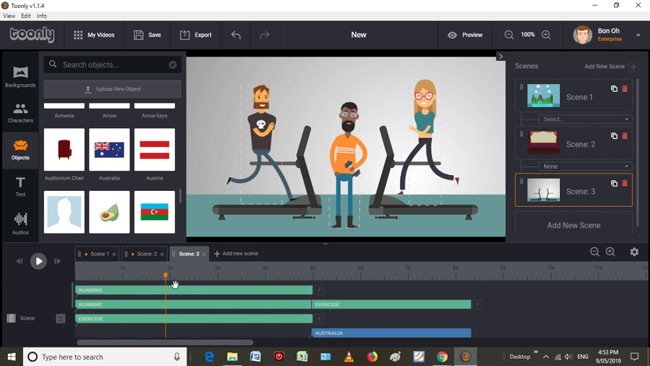 As a powerful desktop animated video, Toonly is quite different from the online animated video makers in several ways, which may sound a bit familiar, but Toonly was created by a group of whiteboard animation makers - Doodly.
While creating an anniversary video, it is possible to preview the effects that have been added in Toonly. Essentially, Toonly is a desktop anniversary video maker for creating animated videos. The best thing about this tool is the use of the timeline mode for animation and editing. In addition, it brings lip-sync features and allows seamless transactions for an animated character to multiple actions. It is also equipped with a key-frame feature to move an object for different motions.
Pros:
Ready-made text animations
Apply imported images in the whiteboard animations
Free background audios
Create unlimited videos easily
Able to be used on multiple computers
Cons:
Unavailable to Toonly Club
You cannot use it for free
Renderforest - An All-in-One Online Anniversary Video Maker
Trial Version: 500 MB storage, create HD720 videos, and add logos in PNG
Full Version: Lite-$14.99/M, Pro-$19.99/M, Business-$24.99/M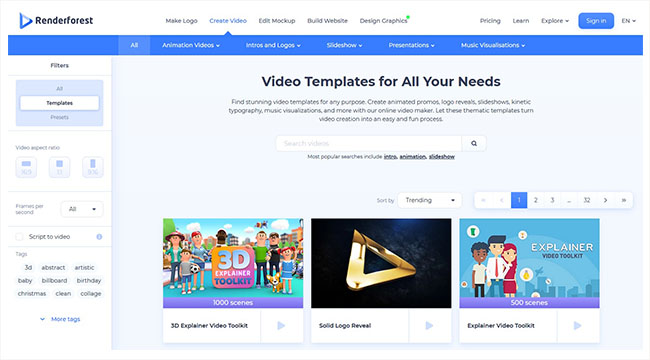 Renderforest is a 3D/2D animated video maker that allows the creation of wedding anniversary videos, logos, intros, and slideshow presentations. There is also a provision for creating music visualizations for promotional and branding purposes. Besides, Renderforest is among those online video makers with awesome 3D animation templates for animation.
The working interface and logic of Renderforest focus on beginners who are not pro animators and cannot devote too much time to animations. However, it is possible to pick an animation template, customize the text, color, music, and style, and preview it.
Pros:
Linear video editing workflow
Add text to video in any size and font
Match scenes intelligently
Free music resources to upload
Preview the video rendering
Cons:
You need to follow the steps to making an anniversary video
HD export is declined on the free version
The Bottom Line
All in all, AceMovi and FlexClip are deemed as the ones that are more powerful and multifaceted in editing anniversary videos and audios. They are used on computers and online respectively.
Since you now have the list of the top 9 apps to make an anniversary video, it is enough to set the ball rolling. Still, if you have any queries about how to make a happy anniversary video, do drop a note.