Photo video creation is a kind of procedure that allows you to create a movie using the images you own, which may be recorded or downloaded. For instance, you can create an amazing video slideshow of your holiday pics with your family and share it with other members. It would be a fun way to showcase photos.
As you would require a tool that helps you create a photo video with seemly background music and moving texts. The Internet provides you with a plethora of information related to the programs that are branded, accessible and supportive. And in this article, you'll learn about the industry-leading photo video makers that have acclaimed their position by giving the customers what they need.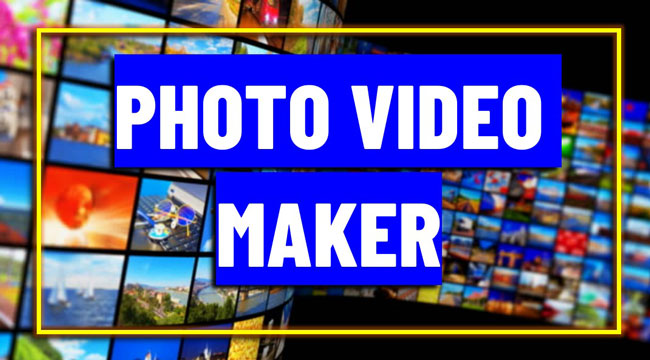 AceMovi: The Best Software to Make a Video from Photos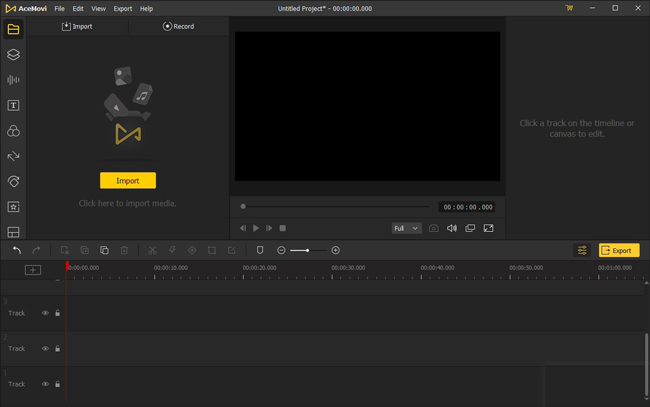 Thanks to TunesKit AceMovi, creating a mesmerizing photo video with music is no longer a challenging job. Instead, you can term it as the best photo and video slideshow generator in its category, for it provides the best of everything on a single platform.
You may search for various programs to do small or advanced editing. Preferably, AceMovi is able to rotate, flip, crop, zoom, split, merge, add music, add text, add subtitles, and adjust the playback speed. There are built-in royalty-free music and sound effects, such as Explosion, Beep, and Clapper. Now, give it a try!
AceMovi Photo Video Maker
Curated photo slideshow templates
High-quality transitions
Free music stock
Add new voice-overs
Export video up to 60FPS
Multi-track editing workflow
Easy to trim, crop, speed, and convert
For both entry- and pro-levels
How to Make a Video with Photos and Music in AceMovi
Now that you've reviewed the best tool to make photo videos in Windows and Mac. Do you want to know how to use it? Now we're going to learn the tutorials step by step. Just get it first and foremost!
Download AceMovi. Import photos to the Media plate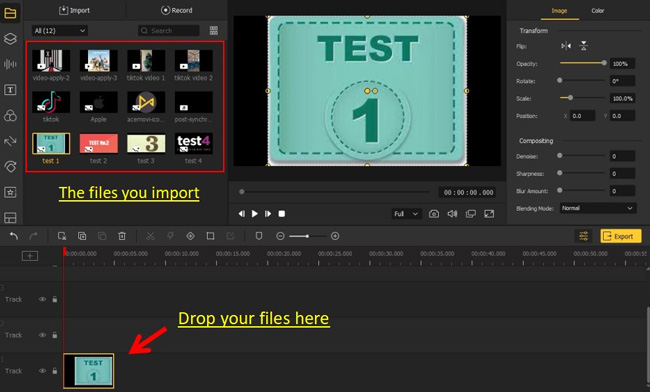 You can use AceMovi to edit any media format. It's allowed to export as many photo videos on 720p/1080p resolution as you want. To begin with, drop files to the interface and then add them to the timeline.
Add background music and text to the photo video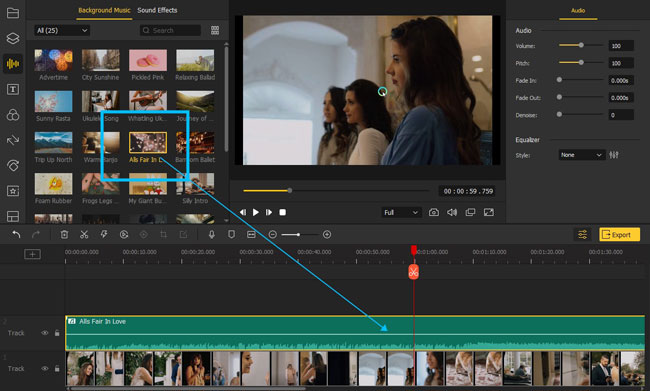 You can add music to a new track directly. AceMovi provides you with a stock of royalty-free music. When it comes to editing soundtracks with this software, you can increase/decrease volume, apply fade-in/-out, denoise background, and mix multiple audio tracks.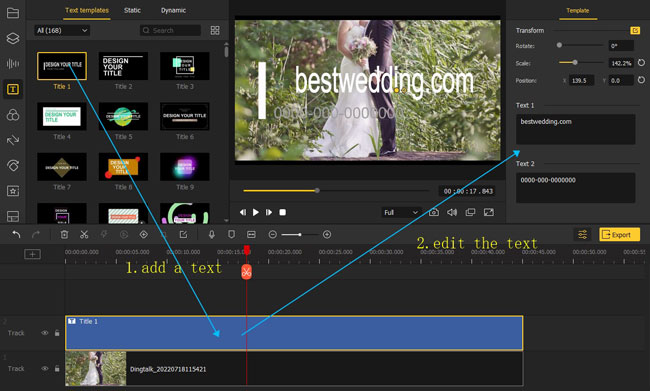 AceMovi comes with both static and dynamic text genres. You can customize the font, size, color, opacity, position, and rotation. For making an intro clip, you can try the text template from the left side bar.
(Important) Insert transition between every two photos in the track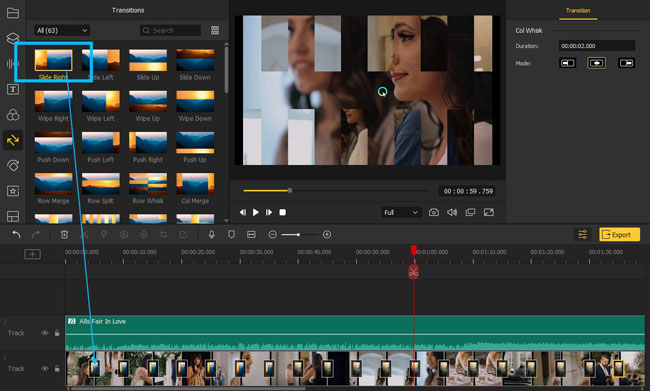 To create a movie from the pictures, you must add transitions so that each image is different and provides a pleasing effect while moving to the following picture. From the side menu bar, press the Transitions icon to see different options. You can choose one and drag between two images. Continue the process until you reach the end.
Set parameters of the photo video. Then download it to your computer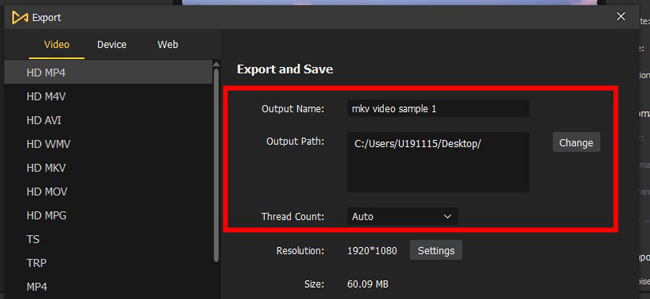 You are now ready to save the file to the computer. Click the "Export" button and save it in the required file format. The software supports various types of video. You can choose the photo video to play on a specific device by clicking the "Device" tab and selecting the appropriate device.
Free Photo Video Maker Software for Computers
You also have other options to make photo videos since some have updated distinctive features and effects. You can even try OpenShot, Lightworks, and VSDC without leaving branding watermarks, here we go!
1. OpenShot (Best Quality: Completely Free)
OpenShot is an open-source photo video maker software free download for all platforms. With its easy-to-use timeline, you can quickly create a video using your pictures. What makes this software different is the transition effect. You can apply multiple transitions at once, and more importantly, they vary from each other.
It's easy for beginners to add elements to the video. Stickers, emojis, texts, and graphics are at users' disposal. It's compatible with macOS and Windows systems for free.
Pros:

Multi-track workflow
Classic transition effects
Watermark-free
Full of emojis and texts
Cons:

There are no music resources so you need to import own soundtracks
It needs to update green screen feature
2. VSDC (Best Quality: Auto Slideshow Project)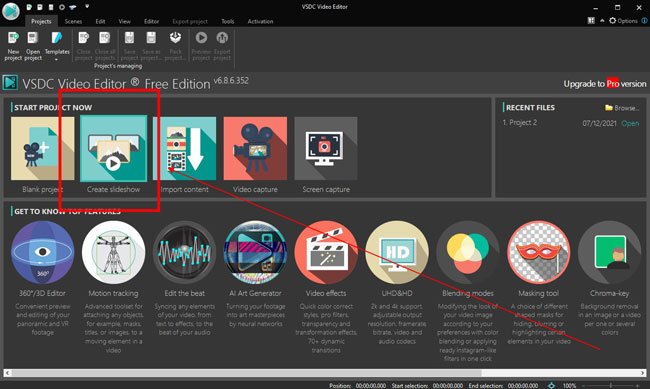 Do you want to try advanced software with detailed settings? VSDC is a pro photo video maker with music effects. The solution provides support to all the video formats and codes. You can quickly create fun videos using images by clicking on the "Slideshow" project at the very beginning.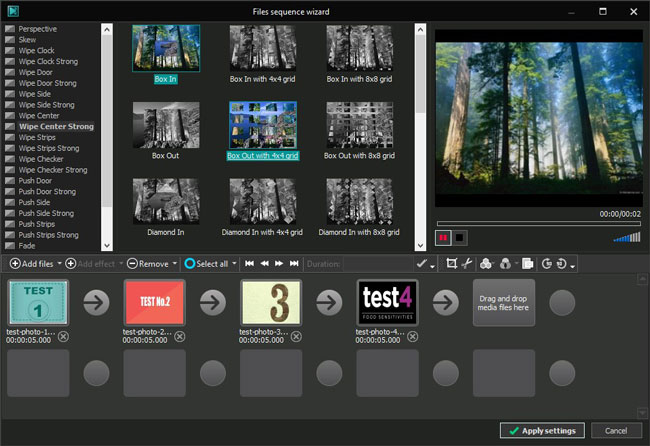 When you enter into VSDC's slideshow-making area. Just click the "+" to add your images to the sequences. The transition plate offers you tons of samples to try. In addition, you can crop the size and change the queues by clicking the buttons from the toolbar.
Pros:

Specific project for making photo slideshow
All manners of transitions
Crop out unwated parts in your clip
Share to YouTube and other social media
Cons:

It takes large storage
Advanced settings may be intricate for newcomers
3. Lightworks (Best: Music Resources)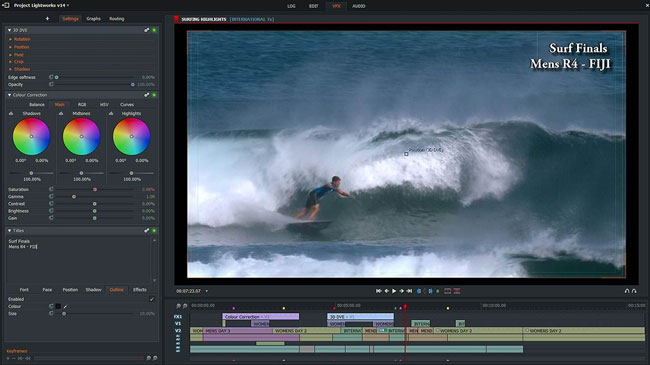 Lightworks is an all-in-one free photo video maker for individuals and commercials. The features include precision trimming, multi-cam support, and saving files in full HD. The usage is simple, and anyone can start creating videos quickly.
The point is you can only choose to export video at H.264 Codec/MP4 format, with 720p resolution on the trial version. However, the filters, effects, green screen, blurring, and many elements can be used for free. Surprisingly, you can browse thousands of music from its stock.
Pros:

Pro color grading
Cool effects, like 3D View
Free to output up to 720p
A vast stock of music
Specialist window for audio and color
Cons:

The Full HD is not allowed for free licenses
Hard learning curve
The Best Photo Video Maker Apps for iPhone and Android
Want to know which is the best video photo maker app? There are many apps designed to help you make a video with photos, music, and stickers on a mobile phone. Just keep reading!
1. Slideshow Movie Maker (Best Quality: Awesome Stickers)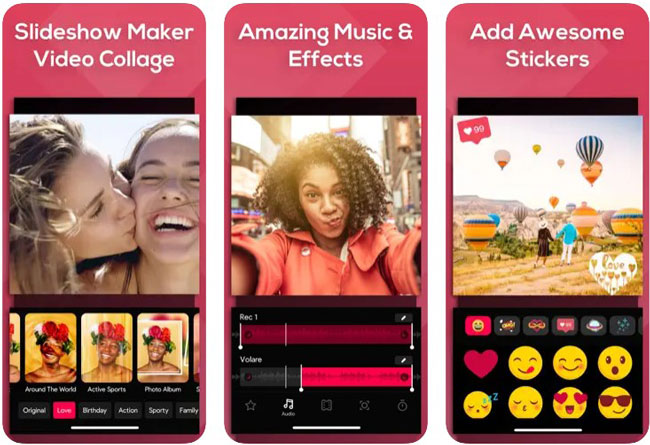 The best free photo video maker application for iPhone and iPad is so called Slideshow Movie Maker, which is popular among social media uploaders. Although the free version has restrictions, creating videos right from the app is simple.
Users can apply wanted filters to their video photos as wanted. Besides that, you can add an amazing audio track to the background and play the video in real-time. There are channels for you to post your masterpieces on social media, like Instagram, Whatapp, and Facebook.
Pros:

Filters abound
Add music from stock
Streamlined workflow
Easy for beginners
Multi-channel accessibility
Cons:

Limited features in the free version
2. Photo Slideshow with Music (Best Quality: Music Library)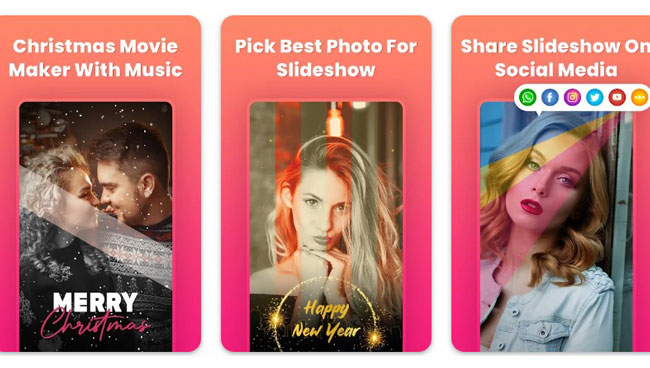 The best free photo and video slideshow maker for Android devices is Photo Slideshow with Music. It is a feature-rich photo video editing tool with an easy-to-learn interface that can help you create photo videos from anywhere. You can add content, text, or pick your favorite themes from various templates. When you find the size should be modified, you can use the built-in Cropper tool. And the dimension can be changed into 16:9, 4::3, or 9:16.
Pros:

Feature-packed app
Instagram grid maker
Streamlined templates and effects
For birthdays and holidays
Cons:

Giltches may occur when exporting
3. VN (Best Quality: Multi-Track Timeline)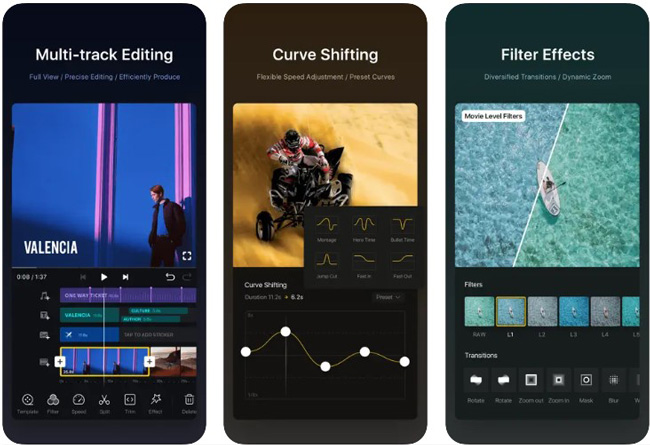 VN is a multifunctional photo video editing app that is free download for both Android and iPhone. It helps create amazing slideshow videos with pictures and lovely music instantly with the help of custom templates. Downloading video on HD quality is allowed with this app.
There are advanced features that you can try with the VN app, such as Curve Shifting, Green Screen, Frame Reversion, and Slow-Motion. This app contains premium services but it won't affect user experiences.
Pros:

Change video speed
Add batch photos
Curve shifting
Add transition to photos
Download without watermark
Cons:

The default profile cannot be customized
The Best Online Photo Video Maker Recommendations
If you're to organize and edit a photo video without installing software and applications, choosing an online website can be a wise option. For those web-based programs, you'll have more video template options. Let's continue to review them one by one.
1. Biteable (Best Quality: Easy to Use)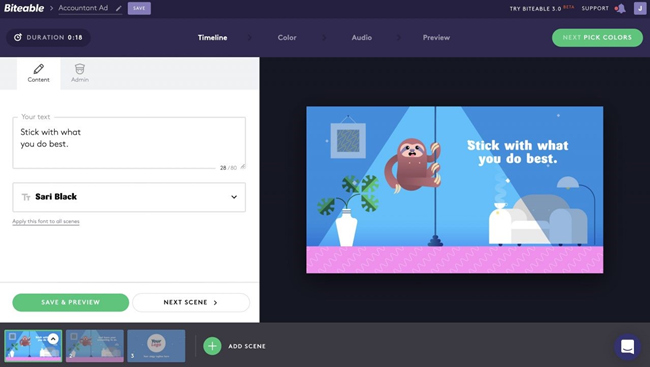 Biteable is the best best photo video maker free program is an online video editing tool. You can make ads, slideshows, and promo videos on the free plan. You can overlay text on your photo or add your own branding name with a few clicks on the screen. This website stores your editing results for free.
Pros:

Simple steps
Colorful text styles
Change background color
Audio resources available
Cons:

Watermarkings
Linear user interface
2. InVideo (Best Quality: Photo Video Templates)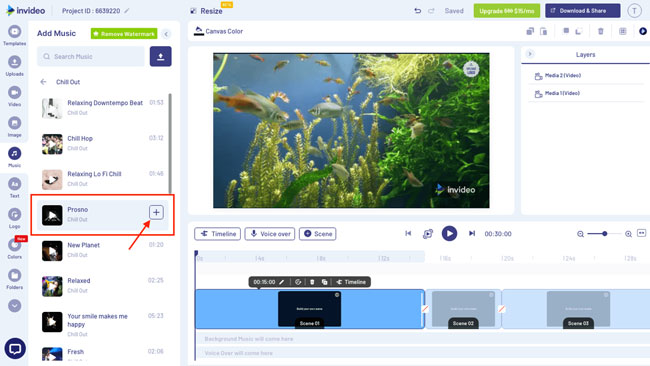 InVideo is a streamlined online tool to make a video with photos. It is powerful and has everything you need to create a music video from pictures. You can further export videos, use text-to-speech, and ready templates. If you want to apply background music to the slideshow, you can open up the "Music" panel, then search for the music type. The stock has plenty of music clips that can be used bluntly.
Pros:

iStock template library
Search for wanted music
Reocrd screen online
Unlimited tracks
Automated text to speech
Cons:

Leave a watermark
Not for professionals
3. Animoto (Best Quality: Animations)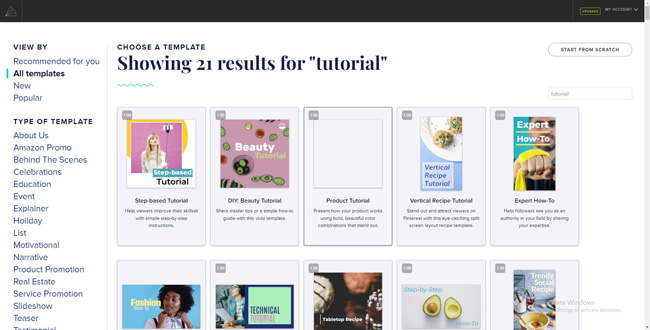 Animoto is for creative individuals and targets marketing professionals. As an easy, free photo video maker tool, Animoto has a massive collection of templates, stock pictures, and music. It saves you video automatically online and you can share the editing to social platforms in minutes. There are customized canvas and a real-time monitor player.
Pros:

Share video links to YouTube and Facebook directly
Screen recording
Straightforward layout
Available on mobile phones
720p output
Cons:

Only can premium accounts download video on 1080p HD
3 video formats supported
The Final Verdict
Eyeing for the leading and the best free photo video maker is a challenging task. However, with the information provided in this article, you now understand what to choose for your project requirements. Make a wise decision in picking the appropriate media editing tool, as having a reliable partner to bring life to pictures is crucial.