Video editing is a very interesting activity. You can use video editing to create captivating results and bring your imagination to life. Now when it comes to video editing, there are hundreds of video editors to choose from in the market but most free video editing software now prints watermarks, which can be very annoying and make your videos look less professional. Don't worry! Actually, we are still have many free video editors to use with watermark-free service.
Here we have compiled a top-list of the top 10 free video editing software no watermark. By the way, all of the below video editors can be used for both Windows 10 & Macbooks except iMovie and VSDC.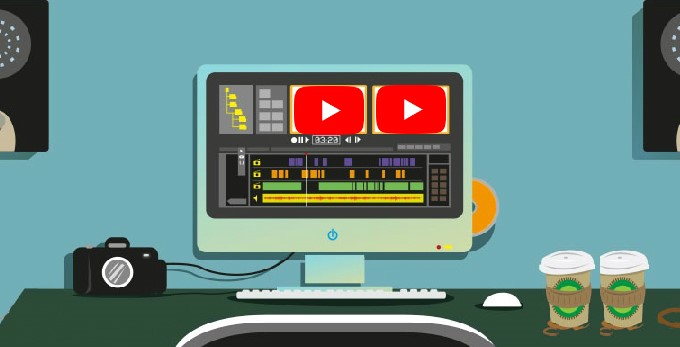 Top 1. Shotcut Free Video Editor No Watermark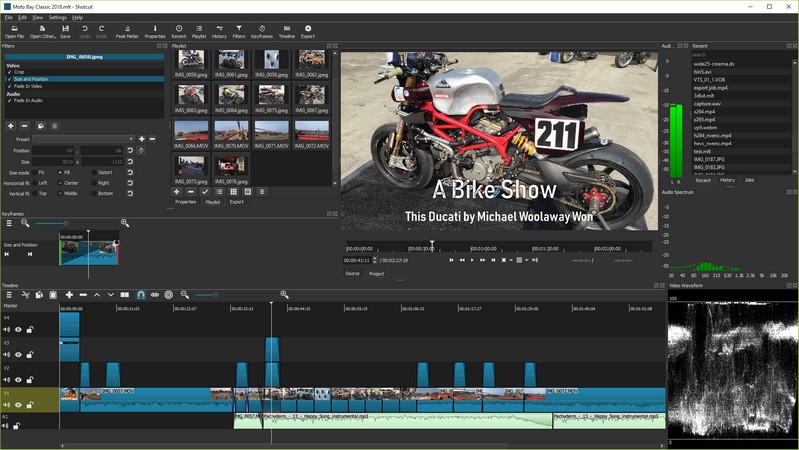 The first free video editing software no watermark on our list is called Shotcut. It is open-source free editing software that available on multiple platforms like Windows, Mac, and Linux. Shotcut is an amazing professional tool that allows you to make very high-quality edits to your videos. It has a very simple and easy-to-use interface that can be used even by an amateur. You can edit the video in the timeline and can see the progress in real-time, meaning you don't have to export and play it. It also supports drag-and-drop action making it very easy to import videos into the software. It also has multiple audio and video format support making it a lot more flexible. Shotcut has most of the high-end features to create quality edits.
Pros:
Intuitive & easy-to-learn interface
Supports videos with up to 60 fps
4K resolution
Motion-tracking
Cons:
Requires a computer with higher specifications
A bit difficult for beginners
Top 2. OpenShot Free Video Editor No Watermark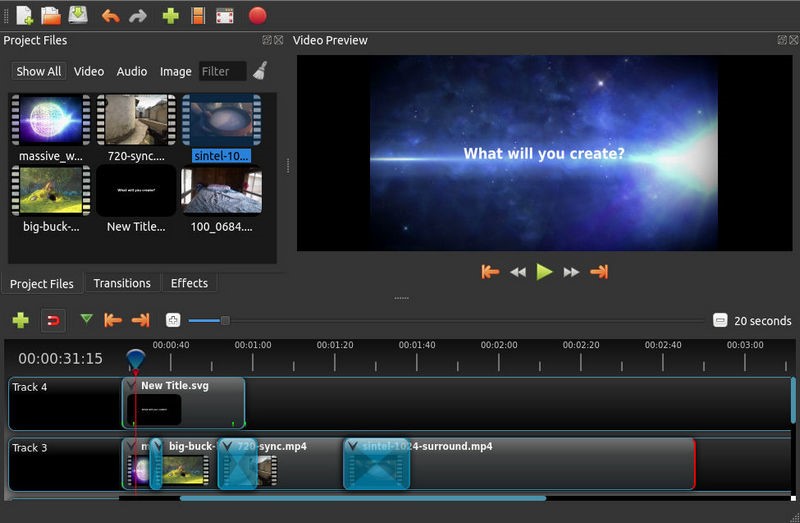 OpenShot is another brilliant professional tool that allows you to edit videos seamlessly. It allows you to create professional-looking movies and slideshows out of your raw pictures and videos. It has many features, like being able to add subtitles, professional-looking special effects, transitions, audio, etc. It supports multiple formats, which means that the videos edited by OpenShot can be exported to devices like smartphones, gaming consoles, casting devices, etc. It has a library of pre-built special effects, transitions, filters, green-screen effects, etc. It has a fairly simple interface as compared to other editing software. The plus point of this software is that it is a free video editing software no watermark.
Pros:
Open-source editing software
Gets regular patch updates that enhance performance
Friendly-use for beginners
Unlimited tracks to add
Cons:
Lacks advanced features like PiP, Chromakey, and Mosaic
Lacks video elements like stickers, music, and filters
Top 3. DaVinci Resolve Video Editing Software No Watermark
DaVinci Resolve is a one-in-all free video editing software no watermark for both Mac & Windows 10 that is full of professional features. This editing software is named after the famous artist DaVinci and anything associated with DaVinci is meant to be great. It is a feature-rich and complex editing software created for professionals. It comes equipped with an advanced color corrector and multi-track editing ability. This editing software is perfect to use in a professional studio. It has a collection of professional creative tools such as multi-track support, color grader, audio editor, etc. It is an open-source editing software and does not add a watermark to the result.
Pros:
Open-source & professional
Robust color granding panel
Line-to-line editing experience
Waveform tech to balance the audio track
Cons:
No multi-camera editing features
You may need tutorials when using this software
Top 4. iMovie Free Video Editor without Watermark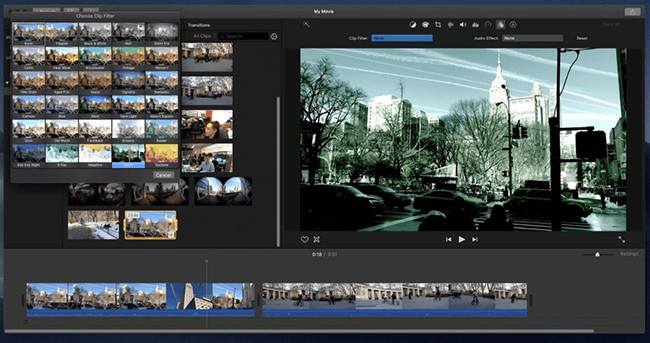 As we are approaching the end of this list, the next free video editing software no watermark for Mac users only on our list is called iMovie. It is a native basic level video editing software made by Apple for its own devices. It is a built-in video editor on a Mac OS computer. It is a free video editing software that does not leave a watermark. It also has a built-in library of themes, filters, special effects, green-screen effects, etc. It is very simple and easy to use editing software that allows any beginner to create some epic results. It also has 4K resolution support. Given below is a list of the advantages and disadvantages of iMovie video editing software.
Pros:
100% free video editor no watermark
Supports 4K resolution and higher
A plethora of filters, themes, and special effects
Responsive & efficient
You can find it even on Apple Store [for iPhone/iPad]
Cons:
For Apple users only (Tips: You may find the newly-released product iMovie for Windows but it is paid and will leave a watermark)
Top 5. Blender Free Video Editor No Watermark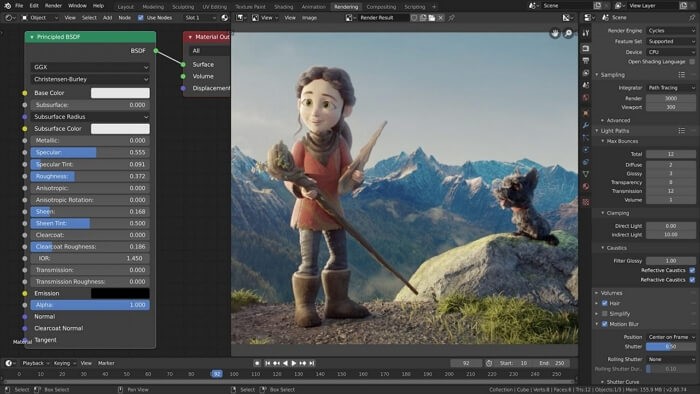 When it comes to 3D modeling and VFX editing, Blender is the best tool to choose. Blender is an amazing 3D video editor that is free to use. Blender allows you to create professional-looking 3D models that you use in your other projects. It is a very high-quality tool for free software. It is not a dedicated video editing software, but it has some basic video editing tools like trimming and cutting, which is enough for most of the users. It is a lot more suitable for animation, sculpting, and VFX editing.
Pros:
One of the best free 3D animators without watermark
Access the full version of Blender by availing of its trial
High-quality video playing and exporting
Change the color, opacity and blend degree easily
Time Remapping effect and Stereoscopy are propped
Cons:
Fewer video elements like stickers, filters, and transitions
Top 6. VideoProc Free Video Editor No Watermark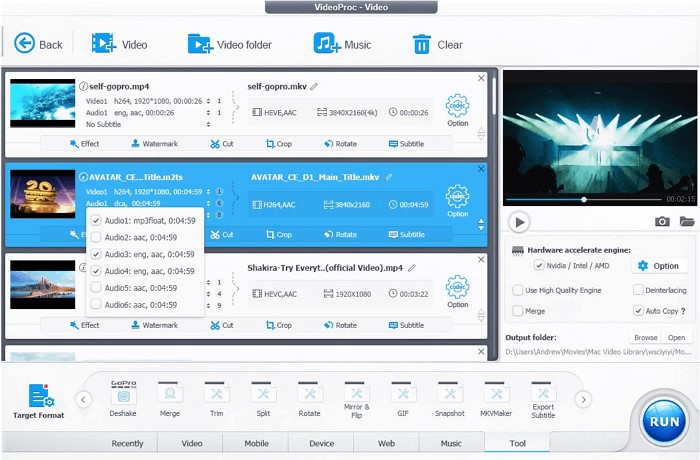 The next free video editing software no watermark on our post is called VideoProc. VideoProc is an amazing video editor and also has built-in converters and a screen recorder, which comes in handy. It takes advantage of the full computer's hardware, so quality does not get compromised. It supports Windows 7, which is very rare for the latest video editor.
Pros:
Takes advantage of all the computer's specs
A good video editing software without any watermark left when sharing
Nonlinear editing style to make content editing more efficient
Include lots of video/audio formats like AVI, WMV, DVD, MP4, MPEG-1, MPEG-2 ...
Very easy user learning curve
Cons:
5-minute limit on the free version
Batch video editing workflow is impossible
Top 7. VSDC Free Video Editor No Watermark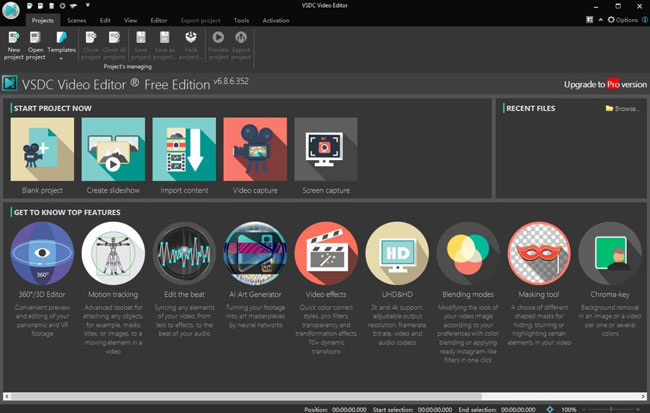 Released as one of the most stunning video editing software for Windows users only, VSDC provides watermark-free service yet robust editing tools. At the first sight, you'll lead to 5 projects with VSDC - except the most commonly-used blank project, you can also apply slideshow project, import content project, video recorder project, and screen recorder project. For example, it'll be very easy to operate a slideshow video with photos by filling in the boxes provided when you picked up the slideshow project.
Pros:
Export into higher quality yet no watermark printed with at all
Advanced editing experices for you
3D/360 video-making freature to edit 3D/VR videos with ease
Motion tracking feature helps you extract keyframes
Robust color-grading & Chroma Key features
Cons:
You'd better view some tutorials beforehand such as how to add text, how to export videos, and where can you apply the animations/transitions
Top 8. VLC Free Video Editor without Watermark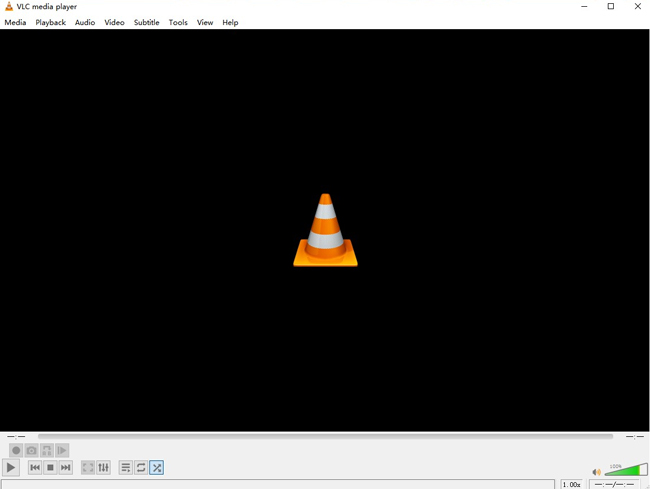 As one of the best free video editing software no watermark added for Mac, Windows, and Linux, VLC is a bit out of date to some degree yet actually it's one of the reasons millions of users are interested in it. Speaking of the Menu where navigates to most video editing techs and features like rotation, blurring, color grading (saturation, brightness, opacity, etc.), and track synchronization. For instance, it's better to go to Menu > Tools > Effects and Filters > Video Effect > Crop > Fill in the Left/Right/Top/Bottom px numbers to make your video cropped. Most importantly, there won't be any watermark left with this great video editing software.
Pros:
Layering editing workflow experience
Hundreds of video effects and features to apply for complete free
Watermark-free while no premium subscriptions
Color extraction & color threshold effects
You can make audio/video track synchronization
Cons:
It's not so good for batch video editing work
Top 9. Hitfilm Express Video Editing Software No Watermark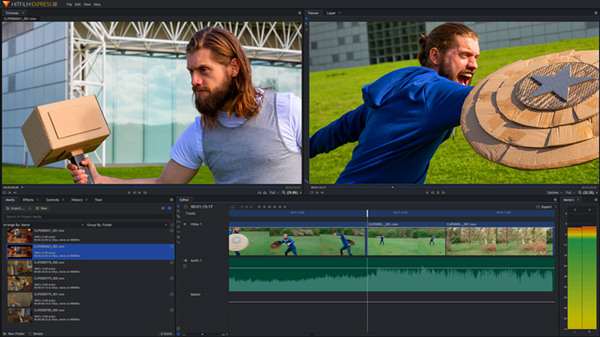 Hitfilm Express is a multi-functional video editing software without any watermark left with. And it's amazing to find two canvases when getting into the practical use of Hitfilm Express, which not only provides the real-time preview opportunity but also you can contrast the details to create more captivating items. Also, on the video editing software that also has no watermark, you're empowered to add endless user tracks no matter they're video tracks, audio tracks, images tracks, or graphics tracks.
Pros:
More details will be shown in front of you by the double windows design
Free-to-use & no watermark video editing software
Clean layout and easy-to-learn user tutorials given
Useful motion-tracking feature
Waveforms of audio detection in every clips
Cons:
Shortage of video elements like aniamtions and transitions
Top 10. Lightworks Free Video Editor No Watermark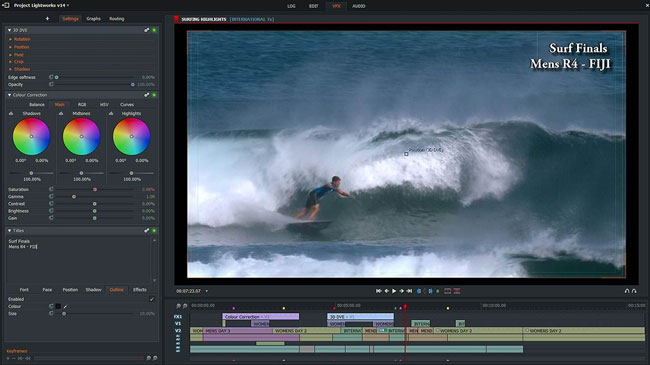 Lightworks is also a free video editing software no watermark for Mac and Windows 10 when exporting but the different point from others lies in the overall layout and process arrangements. To be detailed, you'll be required to connect the earphone devices at the very beginning and then choose the project to want to dig in such as blank project or re-edit project. After experiencing the LOG stage, you'll get into the EDIT and VFX stages - Tools like trimmer, cropper, cutter, converter, and many more can be used within the EDIT panel while color grading and graphic maker are available on the VFX panel.
Pros:
Clutter-free user interfaece
Professional color grading feature to apply
Specialized panels help you organize video editing workflow
High-quality & watermark-free video downloading
A vast library of music resources provided
Cons:
No motion-tracking effect so you need to find the wanted motion and add ket frame
Bonus: Alternative Choice No Watermark - Not Free But Use-friendly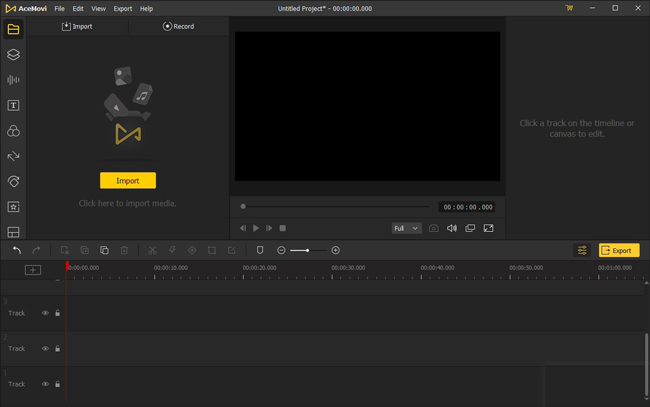 None of these free video editor has no weaknesses, and some of them are extremely complex, as we listed above after testing. If you don't like it, you can go for a high-quality easy video editing software named TunesKit AceMovi. It provides users with numerous effects and templates to help create fatanstic videos in a quick easy way especially if you're a newbie into the video editing field.
More importantly, unlike the video editing software we talked before, AceMovi's clutter-free interface and built-in resources will help you do small or big editing works effortlessly like trimming, cropping, reversing, blurring, compressing, splitting, and cutting, you even don't need to find the tutorials in your first time with AceMovi. And you can buy the subscription of AceMovi Video Editor no watermark at dirty cheap price - $59.95/Lifetime, $39.95/Yearly, $19.95/Monthly. Just give it a try!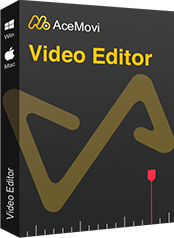 TunesKit AceMovi Video Editor
Security Verified. 7,331,189 people have downloaded it.
Best easy-to-use non-linear video editor for beginners
Make and enhance videos with basic and advanced editing features
A wealth of filters, transitions, PIP, sound effects, text, templates etc.
Flexible and numerious output options including format, device, social platform
Most video/audio/image formats to import like AVI, MKV, WMV, DVD, MPEG-1, MPEG-2 ...
Create slideshow video with photos easily
Dirty cheap to have TunesKit AceMovi no watermark service - $19.95/m, $39.95/y, and $59.95/p
Summary
Now that you are at the end of the article, you will have full knowledge of the 10 brilliant free video editing software with no watermark service. In addition to the 10 free video editor mo watermark, TunesKit AceMovi is also recommended for you. Now it comes down to your personal preference on what software to choose.