Surprisingly, Pinnacle Studio 25 Ultimate for Windows 10 is now available, which creates great content from the heart. With Pinnacle Studio 25, you can translate creative video-making ideas into cinema-quality projects, edit freely over infinite tracks with total control, as well as stimulate the power of some pro-caliber tools like video trimmer and cropper.
If you're curious about how to use Pinnacle Studio 25, I believe this post will give you the best tutorials. Here's a complete Pinnacle Studio 25 review, along with a chart to compare some differences among Pinnacle Studio family members (Includes v25, 24, 23, & 22).
By the way, all Pinnacle Studio products provide a free trial yet for 30-day only and do not have any Mac version. So in the last chapter, you'll be introduced with the best alternative to Pinnacle Studio which runs on both Macs and Windows.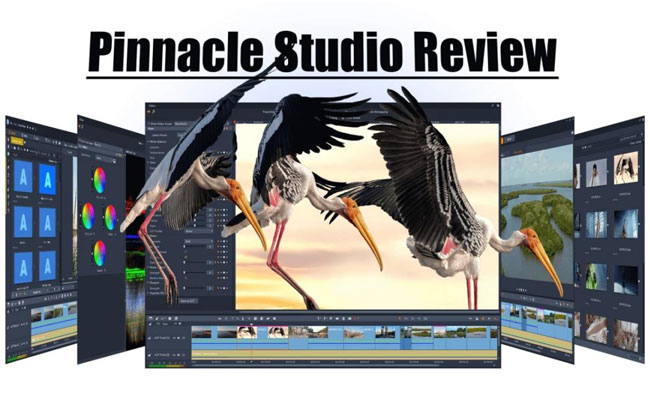 Best Review of Pinnacle Studio 25: All-Around & Practical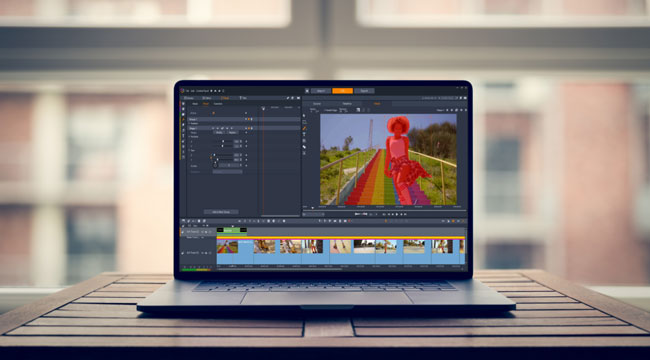 Pinnacle Studio is a professional video editing program for Windows 10 that has continuously gotten faster and more capable with each iteration, presently in its 25th edition. This video editor is positioned at the top end of the market, with its creator, Corel, also developing the VideoStudio video editing software.
Besides, Pinnacle Studio Ultimate is designed for hobbyists on the verge of becoming professionals, with tools and effects such as Stop-motion Maker, Multicam Recorder, and Motion Tracker. Thankfully, it doesn't have the steep learning curve that professional video editing software has. More importantly, 4K and 8K videos downloads, smart object combines, blend modes, and configurable audio noise equalizes are among the new features in the current edition.
If you're familiar with Pinnacle Studio 24, you must have found the motion tracking with mosaic blur, the redesigned title editor, and enhanced keyframe controls are released long before. As we talked about previously, this is not a completely free video editor, you'll see an expiration date after 30 nights. And the Ultimate (Full) version needs $99.95, while the Upgrade version is $129.95 (Discount now for $74.95).
Pros:
A user-friendly interface
The rendering speed is really good
Many more effects are available
Editing using multi-cameras or screen recorder
Exceptional title editor
Masking tools with fine detail
Cons:
360-degree VR implementation that is uneven
Branding watermark is placed on the 30-day free version
User Interface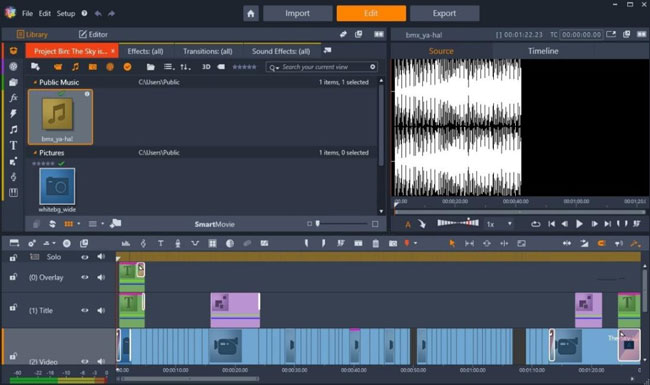 The editing interface in Pinnacle Studio Ultimate 25 is user-friendly and adaptable. It has a black and grey color design with flat, 2D icons. Project Bins are a notion in which you store all of the information for a certain movie project—clips, images, and sound files, but not effects and transitions.
When you start the software, you'll be prompted to join the User Experience Improvement Program, which transmits anonymous use data back to the firm; You may easily opt-out if you don't want to participate. A popup then appears, informing you that the Import function allows you to record and access media files.
Import occupies the whole application window, making it simple to select the sorts of imports you want, such as DVD, computer files, stop-motion, snapshot, or Multicam. It is worth mentioning that the MultiCam Capture is an option in the Import mode, which launches an external app that allows you to record your screen and any cameras connected to or integrated into your computer.
360/VR Video Edit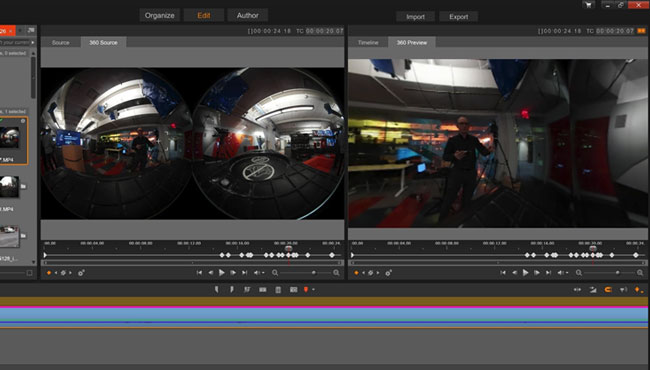 You may now deal with 360-degree video in Pinnacle Studio Ultimate 25. You have the option of doing some basic editing while keeping the 360-degree viewpoint or converting the 360 to a conventional 2D view. All you must do is first add the 360 clip to the timeline, then right-click on it and press the Add icon as 360 or 360-to-Standard from the menu.
You'll see two windows with two tabs normally while editing 360-degree content: A 360-degree source and a preview window with the 2D outcome. You may pan around the scene using the Crosshairs control in the source window or simply click-n-drag the mouse cursor around in the preview window to vary the viewing angle. Both of the ways are practical.
Color Grading
The Standard and editions of Pinnacle Studio Ultimate 24 and 25 provide basic color tweaks, while the Ultimate edition includes professional-level color grading. Select the Color from the Editor menu in the top-left panel, and then you'll find four numbered options: Basic, Tone Curve, HSL Tuning, and Color Wheel. White Balance, Tone (which covers exposure, contrast, and other lighting choices), and Basic Settings are all available in the Basic plate (vibrance, saturation, clarity, and haze correction).
A video scope may be shown in four modes using the Color interface: Waveform, Vector, Histogram, and RGB Parade. These color information views are recognizable to professional editors, but they're less useful to beginners. You may display Vectorscopes for a certain color range, such as skin tones. To do so, you can use a brush to draw a circle around the sections of your image where you want to show the scope.
Video Masking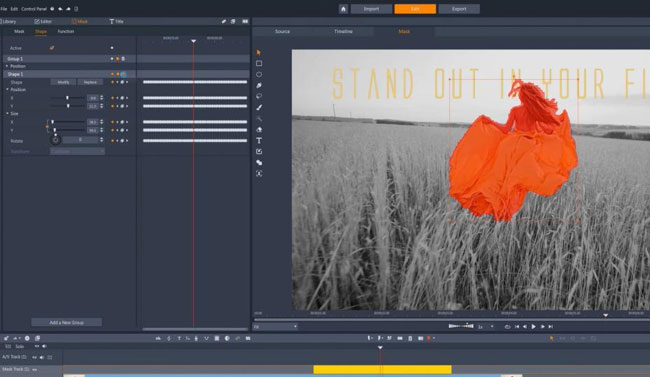 With Pinnacle Studio 25 Ultimat and 24 Ultimat, a Masking button is located just above the Source panel and enables you to access two types of masks: Panel masks and Shape masks. Panel masks may be modified with 3D motion effects, but the first kind can only generate one 2D effect.
You may make a mask by starting with a square, circle, pen, brush, text, or Magic Wand option. It took me a few tries to find an effective mask using the last choice, and; it took many tries to get one that worked. Instead of applying a mask to each track, you may now apply one to each clip.
Animated Overlays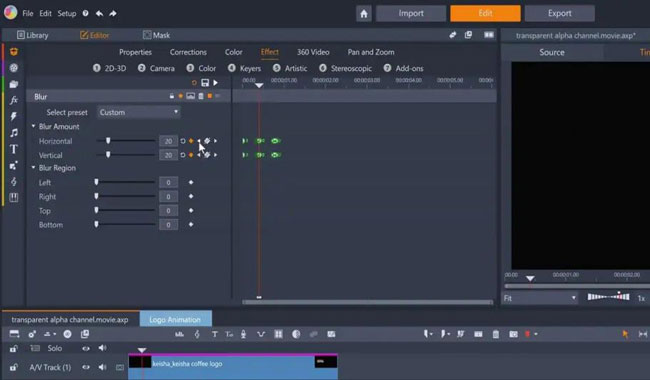 This is an excellent bundle if you have never edited a video on a computer before. Pinnacle Studio 25, 24, and 23 have analog and DV inputs, decent editing, a terrific titler, amusing FX, and useable tools, to name a few. With a plethora of animated overlays in Pinnacle Studio, you can control the slider to set blur amount and blur regional.
The breakout box, which is generally only included on higher costly cards, was extremely appealing. We're not sure we'd recommend that computer newbies open up their towers to install drivers and hardware. Check that your computer fulfills the minimal specifications and that you are comfortable placing hardware in your case.
You'll also need to download and install the 8.3.18 patch (or above) from Pinnacle Studio Ultimate's website. The frequent crashes we encountered are concerning, but they only occurred in a few parts of the application, did not interfere with regular editing, and did not prevent us from finishing any of our projects.
How to Download Pinnacle Studio for Windows 10, 11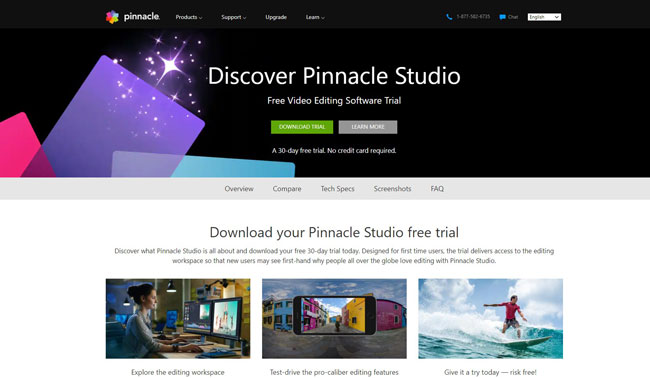 After checking the OS, you can click this link to download Pinnacle Studio for Windows and Mac. And you'll enjoy the one month free trial yet every video you're going to export will left with a watermark.
Tips: What You Should Think Before Editing
Even before you get to the actual editing, video editing is a difficult undertaking. Hard drive space was limited in the late twentieth century. Thus, video editors meticulously recorded only the scenes they required from tape.
Typically, this meant that getting the material from one DV tape onto your computer took at least two hours. Pinnacle Studio includes a lot of alternatives now that typical hard drives can contain a few hours of DV. If space is still an issue, you might try collecting a quick glimpse of the entire video and then visually selecting the scenes and shots you desire.
Second, you might use the rapid preview as a type of offline editor, working with the low-resolution preview files and then letting Studio capture only what is needed to generate the final movie later.
Differences among Pinnacle Studio 25, 24, 23, and 22
The following form includes some important details among Pinnacle Studio Family products like OS, RAM requirement, Memory requirement, CPU requirement, display resolution, and the "What's New!".
| | Pinnacle Studio 25 (& Ultimate) | Pinnacle Studio 24 (& Ultimate) | Pinnacle Studio 23 (& Ultimate) | Pinnacle Studio 22 (& Ultimate) |
| --- | --- | --- | --- | --- |
| Supported OS | Windows 10, 11 | Windows 10 | Windows 10, 8, 7 | Windows 10, 8, 7 |
| Memory | 4GB (8GB Recommended for Multi-camera) | 4 GB | 4 GB (8 GB Recommended) | 4 GB (8 GB Recommended) |
| CPU | 3 GHz Intel Core i3 or AMD A4 or Faster | 3 GHz Intel Core i3 or Faster | 3 GHz Intel Core i3 or Faster | 3 GHz Intel Core i3 or AMD A4 or Faster |
| Display Resolution | 1024×768 | 1024×768 | 1024×768 | 1024×768 |
| VRAM | 512MB+ | 256MB+ | 256MB+ (512MB Recommended) | 256MB+ (512MB Recommended) |
| Up-to-Date Features | 8K Import; Keyframe Groups; Title Editor; Stability and Performance | 4K Import; Video Masking; New Overlays and Graphics; Improved Mastering Audio Tool | Object Tracking; Blend Modes; Audio Features; 360-Degree Editing; Stop-Motion; Ducking | Color Grading; Three and Four-Point Editing; Multi-cam Capture; Split-Screen; MyDVD |
TunesKit AceMovi Video Editor - Best Alternative of Pinnacle Studio Products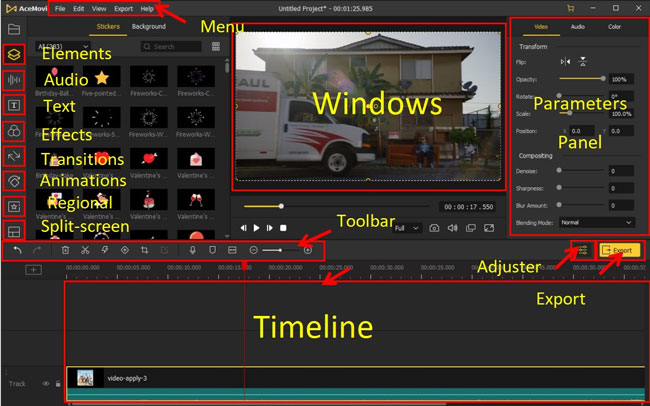 Since there are some confines in using Pinnacle Studio like being valid for 30-day and downloading for Windows only, we've tested a lot of video editors to find the best alternative of Pinnacle Studio. Finally, the TunesKit AceMovi Video Editor comes up, which is qualified and designed with a very simple interface, so everyone can easily navigate to the built-in features and then begin to edit videos.
AceMovi is a multi-functional toolkit, you're free to use hundreds of eye-catching filters, smooth transitions, beautiful background color, ready-made text templates, funny stickers, and animated overlays. Just try all of them in the left item trays!
With this video editor, sharing your tale with the rest of the world in any format is acceptable. You can save the video in MP4, MOV, MKV, M4V, MPG, MP3, WAV, and other popular formats. It's allowed also to customize your video to suit iPhone, iPad, Xbox, Apple TV, Huawei, PSP, Galaxy series, LG TV, and other devices.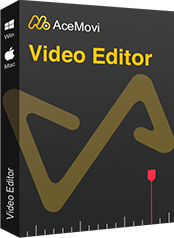 TunesKit AceMovi Video Editor
Security Verified. 7,226,096 people have downloaded it.
Pros:

No expiration date
Very cheap (The perpetual version even just cost $59.95)
For Macs and Windows 10, 11
Import any format of videos and audios and photos
Powerful in blurring video background
Preview effects in real-time
Saves time when doing batch editor's work
Hundreds of interesting elements to try
Advanced plugin helpers like Mosaic, Chrome Key, Split-Screen, and Audio Balancer
Cons:

Remove the exporting watermark when you get the premium version
Stay tuned for the AceMovi iPhone product
Conclusion
Pinnacle Studio 25 is a fantastic video editing program. Mask tracking, blend modes, and title features are among the additional editing tools included in the current edition. The program stands out for its extensive video editing features, as well as its lightning-fast rendering. But it's likely to encounter some shortcomings like single-based Windows system and expiration date. So it's advised to give some other similar video editors a try, for instance, AceMovi!