Are you consumed by wanderlust? How about a walk down your favorite tour's memory lane? The crazy adventure, the amigos, the beautiful sceneries, the luscious cuisines and everything in between – ah, the nostalgia! A travel video is exactly what you need.
Travel videos or Vlogs are a great way to document your trip, relive precious moments and share your passion with the world. But simply recording a video of your trip is far from enough. Low-quality raw, shaky video clips can kill the vibe of your trip. This is where a travel video maker comes in handy. Fortunately, there are quite a lot of video editor apps that can help you put together the pictures and clips of your travel and live through those amazing adventures again. Now, go ahead to review the 11 best travel video makers out there.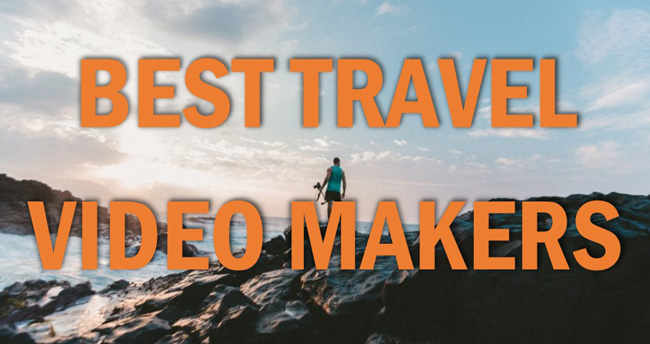 (2022) The Best Vacation Video Making Software
In this list of top travel video maker tools, we have covered both free and paid programs for you. The recommendations are suitable for long-form video editing because they are designed with robust systems for PCs. Using the non-linear user timeline, you can add multiple clips and audio files to edit.
Top 1. TunesKit AceMovi
When it comes to creating travel videos, TunesKit AceMovi is invincible. This travel video maker will meet your colorful needs for a professional-looking video with a suite of innovative features. The ready-made travel-themed templates is a boon for the artistic wanderlusters. Plus, there are basic editing tools such as crop, trim, merge, flip, adjust speed, and add text.
Even better, it includes a powerful slideshow maker that can help you compile short videos and photos to create a seamless storyline. Not to mention, the export is high quality (e.g. 720p, 1080p, and 4K), with output to the best format for Facebook, Instagram, YouTube, etc. All in all, with an intuitive drag and drop interface, AceMovi allows flexible and cushy actions. Give it a try!
AceMovi Travel Video Maker
Templates for travel videos
Fits for low systems
Nonlinear design
No size and format limits
Add texts, filters, and stickers
Export on HD/Full HD
Music library
Top 2. Lightworks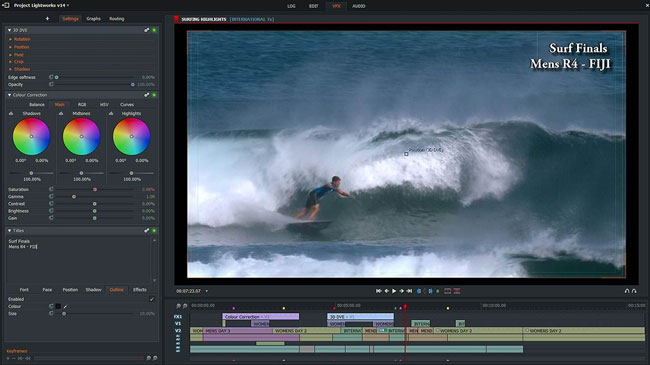 Lightworks primarily specializes in podcasting. However, you can use it to create exceptional travel Vlogs, especially those with narration or voice-over. As a podcast creator, Lightworks has powerful audio technology that records high-quality audio through your microphone and turns it into a social media video.
Moreover, this tool is completely free with specialist creation tools. So, it is well suited for professionals who want to be popular in the Vlogging and podcasting world. For free licenses, it's available to download video without any watermark up to 720p resolution at Codec H.264/MP4 format.
Pros:
Turn video into 360-degree
Advanced audio enhancement tool
Music stock
Video effects, filters, transitions, and more
Watermark-free up to HD resolution
Cons:
With the free account, you cannot export video in other formats except MP4
Top 3. VideoPad
VideoPad is an award-winning video maker tool to make travel videos for Instagram and YouTube. While this free app was initially released only for PC users, it is now also available on mobile phones. With a comprehensive interface, VideoPad offers a smooth workflow with built-in tutorials.
To polish and perfect your travel videos, VideoPad lets you trim, split, add text, apply filters, graphics, color effects, as well as adjust speed. Moreover, it includes a huge variety of subtitle templates, dramatic themes, and fun-filter options. Another plus point is that you can customize the frame rate, resolution, and audio to get high-quality output.
Pros:
Record screen
Horizontal and vertical flip/mirror
4K resolution
Varied aspect ratios
360 preview mode
Cons:
The file upload speed is slow
Top 4. iMovie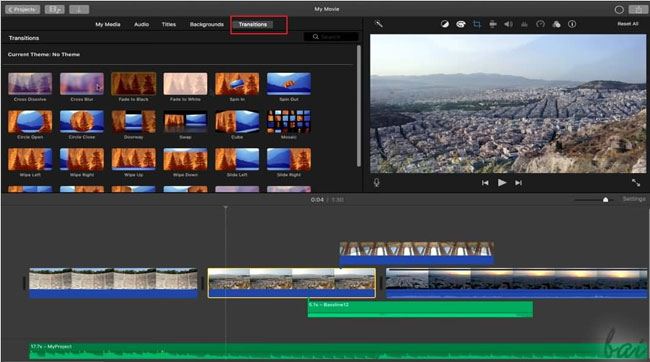 Want to know how to make travel videos on Mac without a watermark? Try iMovie. It is a simple travel video maker that sharpens your creativity. With this tool, you get unlimited hand-crafted filters to get you started. It's permissible to choose from hundreds of free mockups, stock videos, designs, and text fonts to produce beautiful footage. Plus, it allows you to make animated Instagram reels and stories.
iMovie has powerful slideshow-making capabilities. No matter how many photos or video clips you have, it will put them together to create a single eye-catching video within seconds. To top it all, PlaceIt offers advanced output with full HD quality export in various file formats.
Pros:
Unlimited tracks
Easy-to-use UI
Green screen
Color grading
One-stop slideshow creation
Watermark-free
Cons:
Up to now, there is no version for Windows
4 Best Travel Video Maker Apps for iPhone and Android
Are you trying to find the best apps to make travel videos? Video editing application is more portable and convenient for Vlog and short clip generation, but they are weak in process large-size files and multiple tracks. Some apps offer templates to help you commence making travel slideshows. Also, the eye-popping effects and transitions will bring an air of freedom to your footage. Let's discover those apps one by one.
Top 1. Quik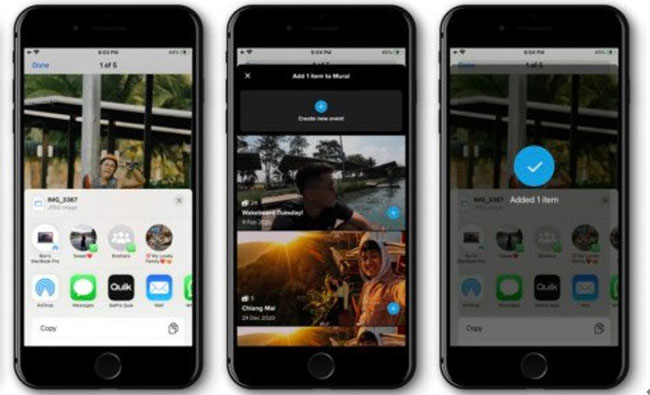 Want to know how to make GoPro travel videos? If you are an action-cam footage fan, Quik is an ideal choice for you. Document your travel tour with the GoPro camera and use Quik to turn it into a cinematic motion picture.
The tool includes 20+ pre-made themes to suit the circumstance and mood. Moreover, it's accessible to enhance the vibe of video with built-in transitions, graphics, intros, outros, and background soundtracks.
For easy sharing, Quik has square, portrait, and cinema formatting that allows you to share your videos in gorgeous 1080p and 720p HD to YouTube, Instagram, and Snapchat.
Pros:
Download free on both iOS and Android devices
360-degree video editing method
Many genres of filters
Connect to GoPro camera devices
Cons:
It's unfit for long-form videos because it supports videos that should be less than 60s
There is not font style changing feature
Top 2. InShot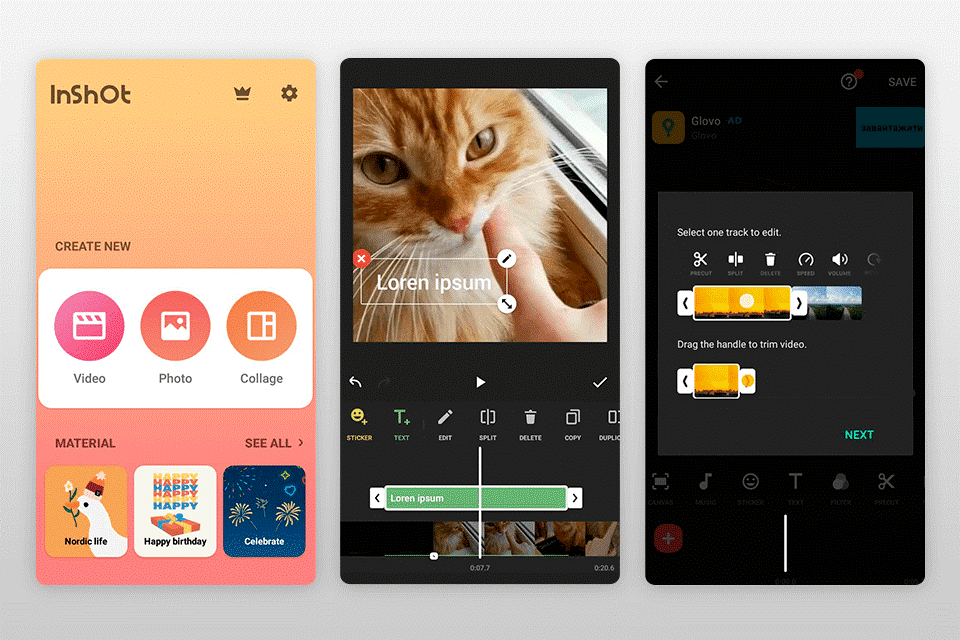 InShot is an all-in-one travel video maker app. Moreover, the app offers a bunch of features for photo and audio editing. While it lets you create stunning travel videos, you can also produce photo collages. Voiceover and effects also help you add a unique touch to the footage.
Not just that, Inshot enables you to change the output aspect ratio to fit your preferred social media platform. Having said that, the tool has in-app purchases and requires a premium subscription to excess advanced features. Also, you see a brand watermark on the edited clips.
Pros:
A vast library of active stickers
Reverse file
Prepared photo collage templates
Change output aspect ratio
Cons:
Watermarks left
In-App purchases
Top 3. Splice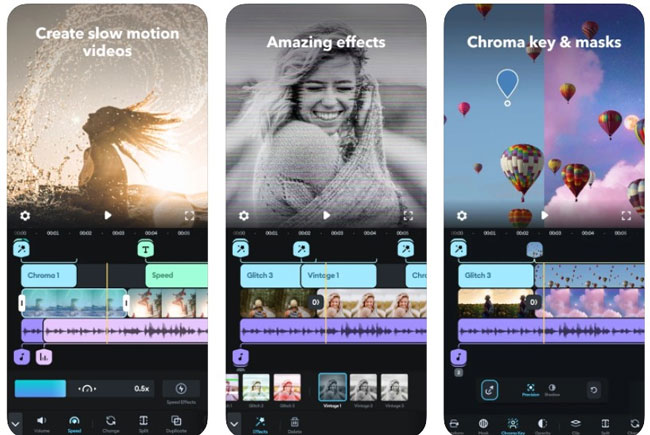 Here is a top-notch travel video maker that lets you create and edit impressive videos without any limits like video size and format. Splice is loaded with a wealth of video editing features that cater to different video-making needs, such as short stories. One intriguing feature is the slow-motion video that offers a cinematic look to your video content.
Furthermore, this tool offers advanced tools such as the chroma key. In addition, Splice has a user-friendly interface and is easy to use. You don't need to be an expert in using its pro-level editing functions.
Pros:
Change play speed
High-fidelity filters
Enormous music library
Streamlined interface
Cons:
It's not for Android devices
The music is under copyright
Top 4. Unfold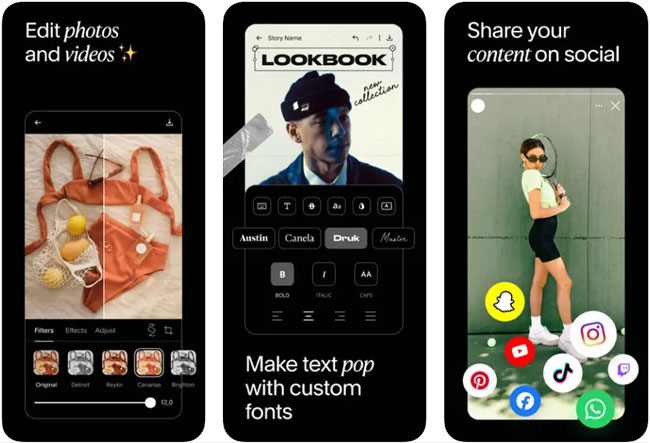 No pun intended, you can truly unfold your creative mind with Unfold – a versatile travel video maker app for both iPhone and Android. The service embraces a stylized design that helps you create and edit your videos into a stunning storyboard. To get you started, hundreds of award-winning templates are fully customizable according to your aesthetic needs.
With Unfold, you can play with unique filters, presets, stickers, and much more. On top of that, it built professional-looking text editing with curated fonts and text tools. Unfold works exceptionally well for Instagram stories, posts, reels, and even TikTok.
Pros:
Make with template collections to save time
Organize and review Instagram Feed
Share content on social media
Apply eye-grabbing filters and effects
Cons:
The lack of output options like PDF
3 Best Online Free Travel Video Creators
If you desire to make travel videos for YouTube and Instagram, choosing an online program is advised. More thematic travel video templates and royalty-free music resources are lit with the following tools. When it comes to using them, you need to log in the first place. Then just perform research to preview designed travel clip templates. Just keep reading.
Top 1. Vimeo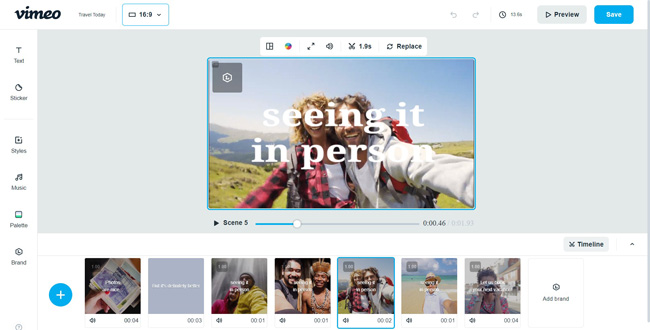 As the top-ranking online vacation video maker, Vimeo is our next introduction. It provides you with ready-made free travel video templates that can create magical travel short clips and Vlogs with mind-blowing texts, music, and filters. Besides video editing, Slideshows and photo montages are Vimeo's strong points. The best part is that you can embed cool elements and rich media to beautify the slideshow.
It boasts a huge library of animated text overlays, fancy fonts, cinematic video effects, and cute filters. There are the best songs to make a travel video that can be applied for free.
Pros:
Free travel video templates
Turn any video clip into GIF
Licensed background music, stickers, and texts
Customizable aspect ratios
Removable timeline blanks
Cons:
Vimeo's branding watermarks
Registration needed
Top 2. FlexClip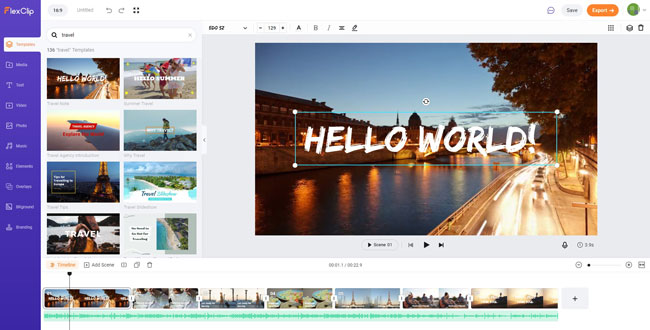 Want to create travel videos at an aspect ratio of 4:5 and 21:9? FlexClip is a remarkable web-based program perfect for traveling Vlog making. It has an intuitive drag-and-drop interface with varied elements and overlays than you can imagine. Unlike many other video makers on this list, FlexClip allows you to trim both videos and soundtracks to set the mood of your footage.
Also, it includes an expansive soundtrack library that creates stunning travel videos or home movies. What's better here is that it offers cloud storage on Google Drive, which means you can make great travel videos anytime, anywhere on any device or browser.
Pros:
Exporting video on 480p resolution without premium accounts
Diverse themes of templates
Clean timelines for images, texts, and clips
Abstract and effect backgrounds
GIF output and convert
Cons:
The HD and the Full HD are not provided for free accounts
Top 3. Canva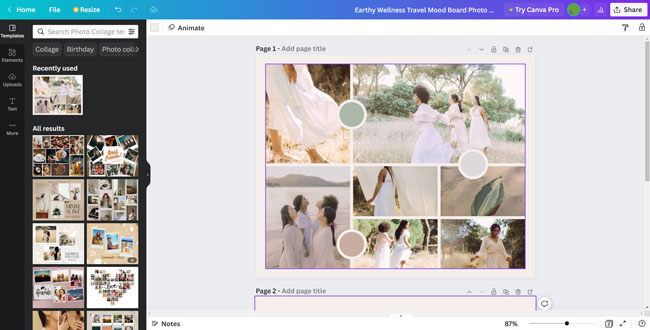 Vizmato brings a perfect mix of Snapchat and Instagram to record your own HD PRO videos. Just like Snapchat, capture second-long HD PRO video clips each day of your trip, and the tool will edit them into a perfect travel video. With this free app, even novices can create Instagram-able travel vlogs that shine.
The amazing Wiztune library boasts 140+ royalty-free music tracks that serve as the perfect background for travel videos. Not just that, Vizmato also offers live video effects, themes, filters, stickers, and animations. Finally, it lets you share your masterpiece of work with the world on Facebook, Snapchat, or WhatsApp.
Pros:
Thousands of travel video templates
Free to download at HQ MP4 video
Lines, shapes, graphics, and more elements
Connect an account to upload files
Cons:
Some of the templates are only for premiums
Sum Up
Videos give the right feel. Making a video of your travel tour can preserve your greatest memories that you can cherish forever. Above are some of the best travel video editing software and apps that can help you light up amazing footage. All of these tools are powerful to use with engaging features, ready-made elements, cool elements, and rich media libraries.
We recommend you document your next adventure and use one of these travel video makers to produce a memorable video.