A decent happy birthday slideshow creator program offers an inspiring library of configurable templates, including themes, eye-popping effects, graphic choices, and shape options, to assist users to produce compelling birthday videos. You can discover various video editing software and photo slideshow generators to turn any of your photography or video clip into captivating sequential and animated clips. These slide displays provide you with the greatest means of communicating your ideas, making big times like birthdays unforgettable and diverting. Bingo! Here comes the seven best birthday slideshow makers with thematic happy birthday music, stickers, and emojis. Let's ignite it!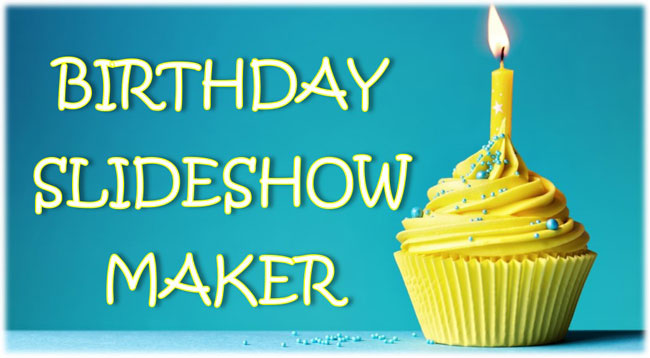 TunesKit AceMovi
If you want to know how to make a birthday slideshow for Facebook, YouTube, Instagram, or other social media, or just for personal appreciation, a piece of software is the first target for you. Here I recommend TunesKit AceMovi Birthday Slideshow Maker.
80M+ people who are using TunesKit AceMovi agree that it is among the best video editing programs available, enabling users to edit films easily. This user-friendly program has stellar features and tools, including happy birthday music, prebuilt templates, emojis, overlaying text, filters, and stickers.
AceMovi's trial version is an all-in-one happy birthday slideshow maker free without registration and expiry compared to those online video editors. At present, split-screen and royalty-free music has been updated on the latest version.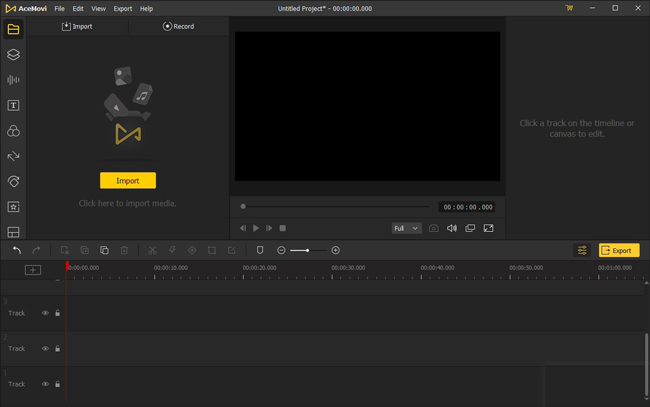 AceMovi Birthday Slideshower
Licensed happy birthday background music
Easy downloading channels for Win and Mac
Tremendous storage for unlimited projects
Well-designed birthday slideshow templates
Edit and make a birthday video without registration
Any aspect ratio and resolution is included
Video Tutorial: How to Make Slideshow with Music in AceMovi
AceMovi released versions for both Windows and Mac. No matter whether you are a first-time video editor or pro, it will surprise you and help you make satisfying videos in a breeze with your wanted features and effects.
Renderforest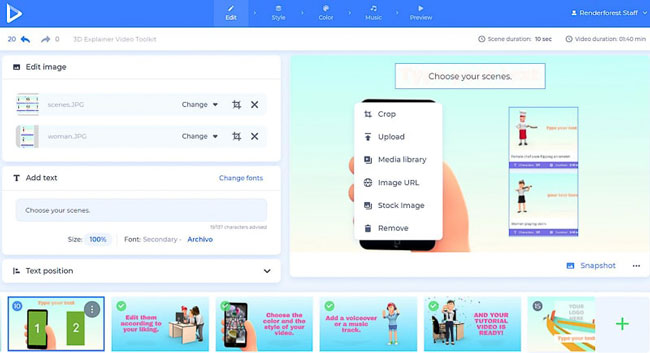 Create a video with photographs and music online with this birthday slideshow maker app to wish someone a happy birthday. As the best happy birthday slideshow maker online free with music, Renderforest can easily produce animated footage on its linear screen without hassle.
There are several features in Renderforest for creating slideshow videos. It is an uncomplicated and user-friendly birthday movie maker and creator. Enhance a humorous video using the tunes and graphics you've selected. A birthday photo slide display with music is being presented.
How to make a birthday photo slideshow?
Step 1. Create a new account and choose your wanted birthday video template;
Step 2. Edit, resize, upload, and split the images;
Step 3. Add text to your slideshow;
Step 4. Choose the style, adjust the background color, and add a piece of music;
Step 5. Preview the new, edited video, then download or share it.
With Renderforest, you can now generate fantastic birthday films to show your loved ones how much you care about them. It's time to showcase your stunning birthday presentations with pictures, music, photo frames, effects, transitions, and animations.
Pros:

Preset video aspect ratio of 16:9, 1:1, and 9:16
5-30 frames per second
Preview hundreds of video templates
Add text and resize your birthday photos
Linear & simple user workflow
Cons:

You need to register in
It's unlikely to apply advanced tools like chroma-keying and split-screen
FlexClip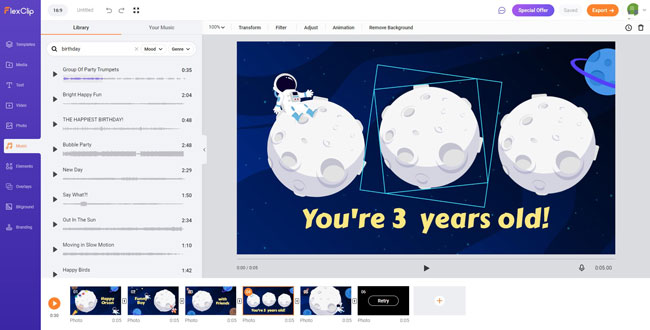 To begin with, happy birthday! It's either your birthday or the birthday of someone important if you're looking at the FlexClip happy birthday slideshow maker free online tool. Slideshow With Music is the video editor you need — don't look any further!
With built-in effect and text, you can collect all of your birthday party images in one location. You can then modify them by adding lovely birthday photo frames, birthday stickers, and of course, your favorite "happy birthday song"! To make unique birthday ecards and offer your best wishes, you may add text and utilize a happy birthday picture editor with quotations.
Pros:

A plethora of birthday video slideshow templates
Soft learning curve
480p resolution is free for everyone
Built-in royalty-free happy birthday music
Save and share your videos online
Cons:

It is unallowed to export videos on 720p or 1080p resolutions for free
Few formats to choose from that you can import or export
SmileBox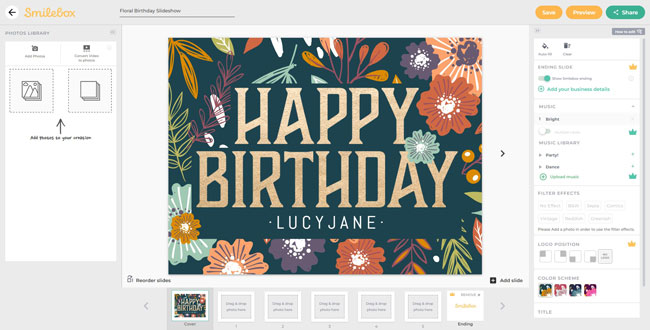 This online easy-to-navigate birthday photo slideshow maker compiles all the elements required to portray birthday parties accurately - SmileBox. Cakes, balloons, flowers, presents, cards, smiles, candles, music, hats, and many more items are examples. These items are all offered as stickers, backdrops, and frames.
The best feature of this tool is the ability to change songs and cakes to include your pals' names. No matter how many photographs you have, you can still use this program to create an animation or video status. Surprisingly, it's easy to convert video to photos with SmileBox.
Pros:

Easy for entry-level video editors
Online music library
Filters and effects abound
Share your files via link, or through Facebook and Twitter
Cons:

It's required to upgrade to the pro or premium account to download your edited videos
The ending slide and logo position alteration services are paid
Animoto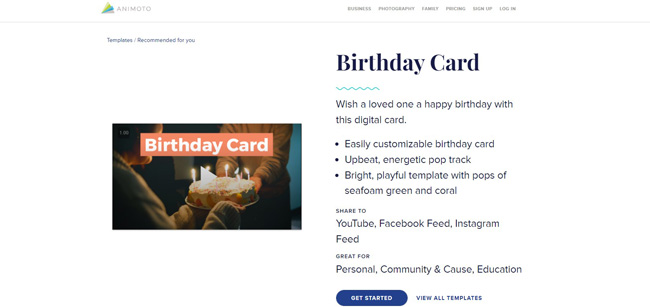 Using photo frames, filters, backdrops, effects, and other tools, you may make your photos adorable and animated. You may place many images in one frame and make photo collages whatever you wish.
The Animoto online birthday slideshow maker free emphasizes the beauty of the image since it allows you to create high-quality videos from pictures. Additionally, it enables you to crop your photos into square and circular forms for simple sharing on social media sites like Facebook and Instagram.
Pros:

3,000+ royalty-free songs
Intuitive color palette and text font
Create square, landscape, and vertical slideshows
No limitations in any Animoto license
Share to YouTube, Facebook Feed, and Instagram Feed
Cons:

Watermarkings
It is unlikely to download your video on HD 1080p resolution with a free license
Limited downloading opportunities
MotionDen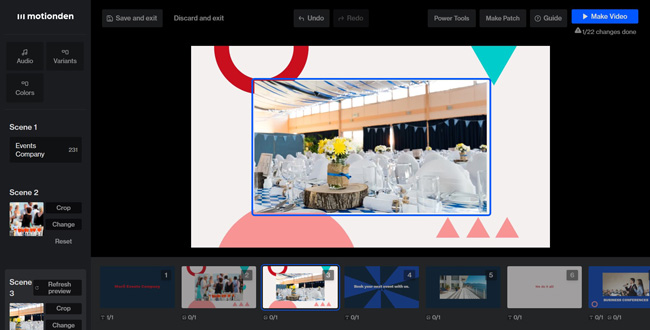 Using more than 50 images, this program enables you to make a beautiful birthday slideshow. You may place cakes, balloons, and other sentimental things on the border of each image. There are birthday-themed templates, effects, frames, and stickers that you may add anywhere in the image. You can use background music to make your photos cooler.
It is easy to add different transitions to your chosen image slideshow. Birthday photos will automatically come and go at the time you set. For instance, you might choose a period of "one minute" for your most stunning image and less than that for others.
Pros:

You can find undo and redo buttons
Animated texts and captions
Streamlined slideshow-making workflow
A stock of background audio
Add black bars to your videos
Cons:

Watermarkings and in-app purchases
The trial account comes with watermarks and limited resolution
Magisto
Because you can produce birthday-specific statuses, videos, and slideshows with it, Magisto is the perfect birthday slideshow maker with music and text templates. You may include more than 15 pictures in one movie at once. The images won't be simple; they'll have various impacts.
For instance, some images will come in various forms, such as hearts, squares, and circles. Similar to how their showing position will vary, some will appear higher on the screen, some from the right and some from the left, etc.
Additionally, this program provides choices for stickers, music, frames, colors, messages, picture organization, and time setting, among other things, to make your slideshow more appealing.
Pros:

Produce fun-looking birthday videos with a couple of clicks
Streamlined slideshow creating panel
Download your videos to various formats
Automatically detect object actions in your clip
Cons:

There is no trial plan
Conclusion
This is how we ranked the best music-enabled birthday slideshow makers. As you can see, no perfect tool would fit every event since practically the programs on the list have advantages and disadvantages. AecMovi is an easy-to-learn software that comes with video templates for your birthday slideshow-making projects, while FlexClip is able to share your videos with 480p resolution for free.