Nowadays, video editing tools are applied to all systems of Microsoft Windows, from Win XP to the latest 11. It's convenient to firsthand shoot a clip using your camera for sharing with friends. The only challenge is when you want to add subtitles, chop a significant segment, or combine multiple videos. With many free Microsoft video editors available, this should not be a problem for you even if you're an entry-level video producer. To get the best results when editing your videos here are the seven best Microsoft video editing tools. The key point is you can free download some of them and apply built-in transition effects.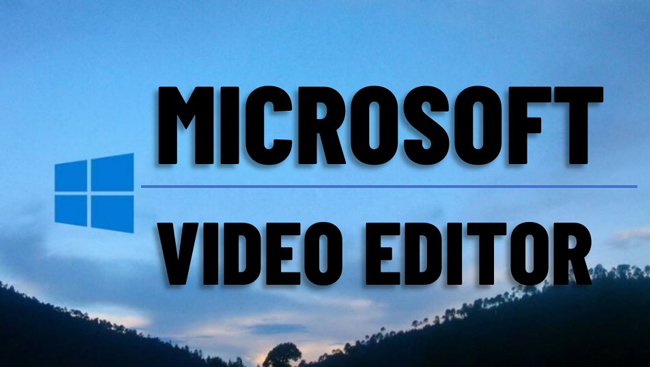 FAQs about Microsoft Video Makers
Does Microsoft Have a Video Editor?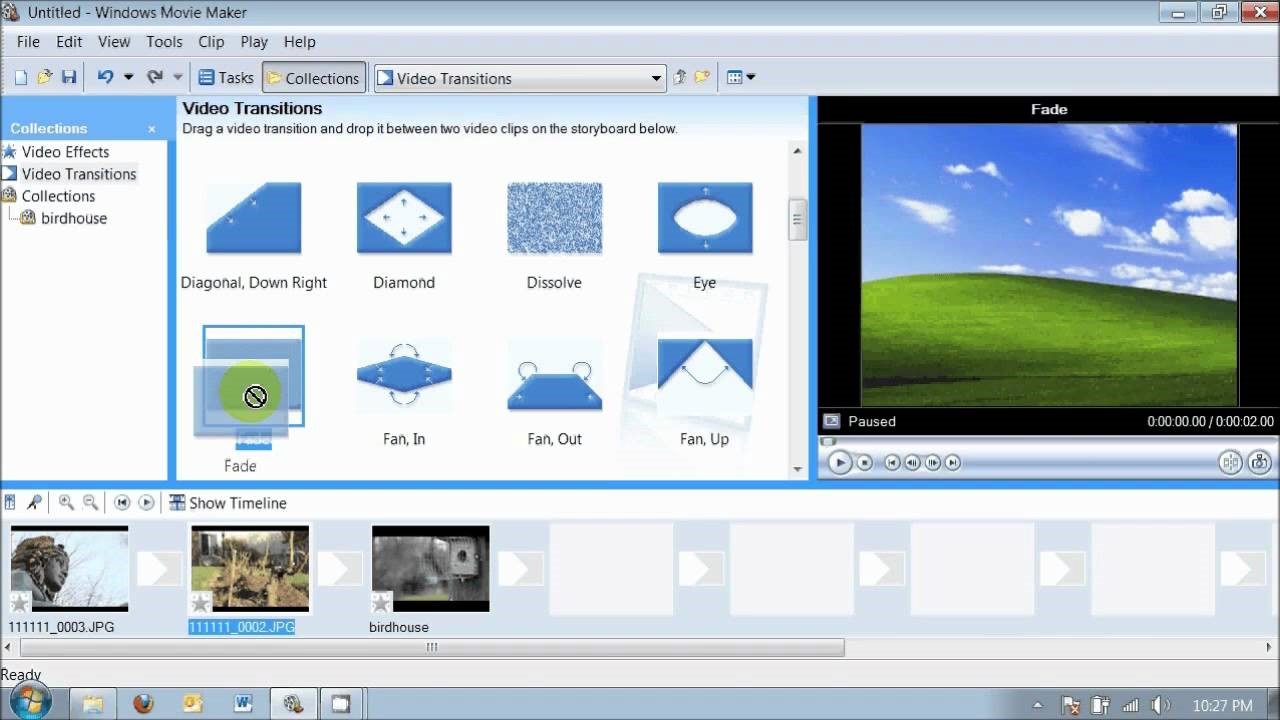 Yes, and it is the so-called Windows Movie Maker. However, you need to download it extra. This program supports you to play videos in real-time and trim out unwanted parts. More effects include transitions, subtitles, and shapes. When it comes to posting, you can share your edited files on YouTube or other media.
What Happened to Microsoft Video Editor (Windows Movie Maker)?
It was discontinued in 2017 so you cannot find it in your Microsoft Windows systems. But it is still provided by some informal websites. Users can navigate to alternatives that offer all-in-one features and great UX, such as AceMovi, Davinci Resolve, OpenShot, and more.
Which One Is the Best Tool for Low-End Microsoft Windows?
AceMovi is the most recommended tool for any system of Microsoft Windows, which accepts both 32-bit and 64-bit. This software comes with an easy-to-use workflow and a vast library of elements, such as text templates and licensed music libraries.
Which One Is the Best for High-End Microsoft Systems?
VSDC is so powerful that a lot of high-end Windows users prefer to try it to do advanced video editing works. It supports slideshow creation, screen recording, 3D chart addition, meticulous parameter settings, etc. You can use it to remove the green screen background with the chrome key.
Now, we'll show you the best tools to edit video and audio in Microsoft without delay. It's advised to make your decision based on the features, effects, using experiences, and output qualities. Let's go!
The Best Microsoft Video Editor Programs for Windows in 2022
Top 1. AceMovi Video Editor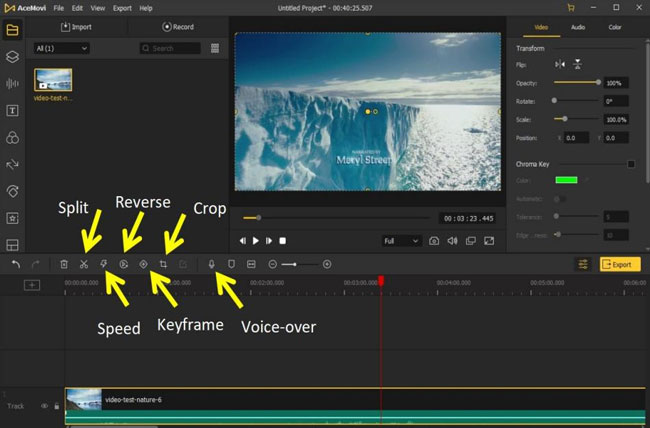 AceMovi Video Editor is compatible with Windows 11, 10, 8, 8.1, 7, and XP. You can easily operate it on your systems and add HD (720p resolution) videos responsively. The built-in text templates, music resources, and eye-grabbing effects are convenient to try. All you need to do is import your clips to the timeline and then select the feature.
This software offers a streamlined timeline, and more than that, which is trackless so you can put as many tracks of video, audio, or image into it for many purposes, like trimming, combining, splitting, cropping, compressing, and converting. Since it's so easy to use for beginners, just try it here.
AceMovi Microsoft Clip Maker
Streamlined user workflow
HD MP4, MKV, M4V, OGV and MOV
Retains the high quality
Licensed video editing music
All Microsoft Windows can run it
Record screen and take snapshots
Export up to 4K/2160p resolutions
To use the AceMovi video editor, simply follow these steps:
Download and install AceMovi on your computer, then operate it
Go to the official webpage of TunesKit AceMovi and download the appropriate, latest version. You can find the Windows and Mac versions to suit your needs optimally. Download the app and install it as per your system OS requirement. Then, launch it by double-tapping the tool icon.
Add your videos, music, and images, or begin with recording a new clip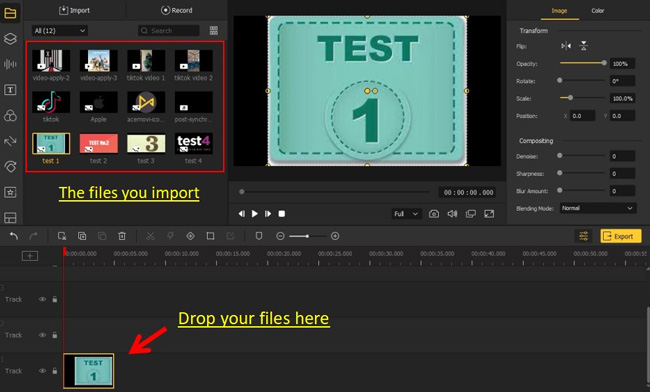 Once launched the program, hit the "Import" or "+" button to add your file to the tool. Alternatively, you can select "Record" to record a new video.
Edit the video with built-in effects, features, and designed settings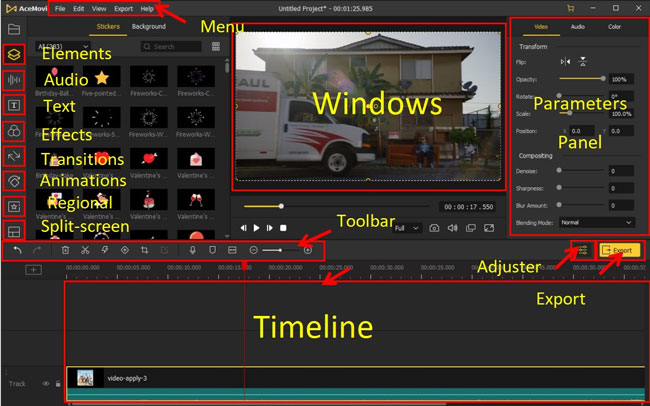 Once you have imported your file, simply go to the media library to get started. Next select "Timeline" which will enable you to edit your file. Use the tools such as zoom, watermark, split, trim, etc. on the toolbar to edit your video as you wanted. Remember to use the preview window to check your work as you edit the video.
Download/Convert the video into wanted format and device per your needs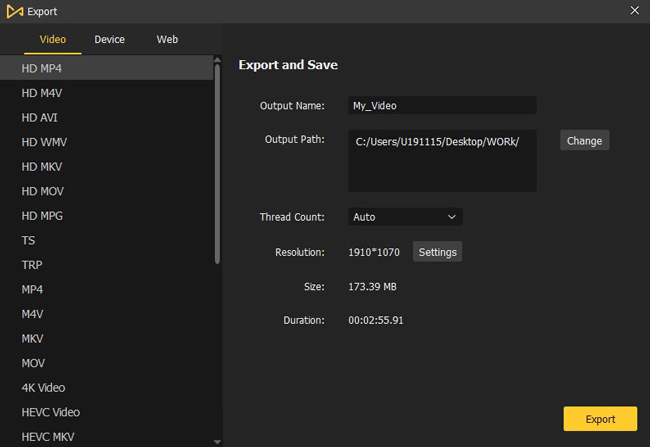 Once you are done with the editing simply click the "Export" icon and select where to export the file to. You can also share your file on social media right from the app. Once done close the software and enjoy your edited video.
Top 2. DaVinci Resolve
Davinci Resolve is a powerful open-source and free Microsoft video editor. It is set with many powerful features that make video editing professional and advanced. Besides, it allows you to use additional plugs which makes the video editing experience awesome. It also incorporates some keyboard shortcuts that make the whole process of video editing easy and fast.
You can post editings on YouTube via it directly. This program is free for both individual and commercial users. The interface may be intricate for beginners because there are complicated buttons and mixed operations.
Pros:
Has many features for video editing
Allows the use of plugins
Various transitions
Full HD resolutions
Pro color grading reels
Cons:
Most effects are only provided for paid accounts
You need to log in to get licensed music online
Top 3. VSDC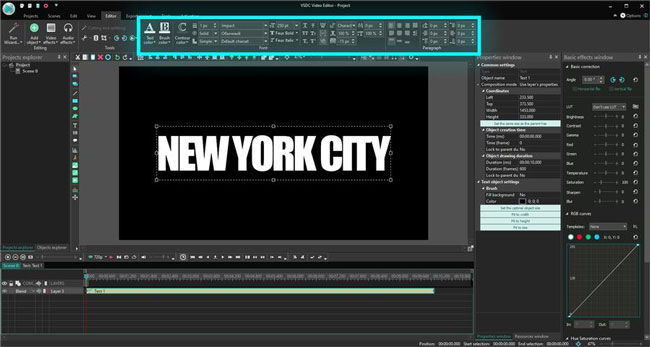 This is one of the best time-lapse software you can use to edit your videos - VSDC Free Video Editor. It has many features such as the Music-Beat function which helps you compile several frames. It also has a zoom feature which makes working with different pieces easy. You can also use the cropper to create the best-size videos. This program exports video up to 8K resolutions. You can use it only for Windows systems.
Pros:
Offers fish eye perspective
360-degrees animated panoramas
Remove green screen background
No watermarkings
Create a slideshow with pictures
Cons:
The interface can be confusing for beginners
Paid hardware acceleration
Top 4. VirtualDub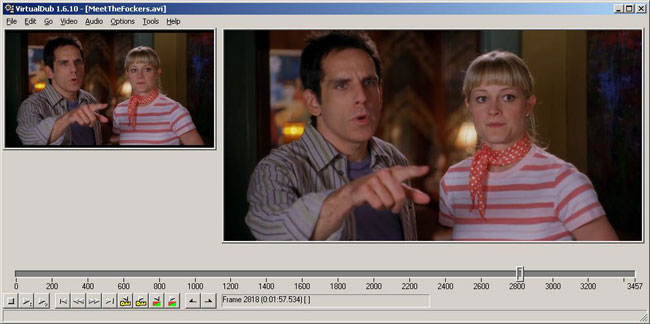 VirtualDub is one of the best Microsoft video editors you can freely use if you want to create high-definition videos. It allows you to trim out videos directly on one screen. In addition, it comes with an audio balance feature which makes your sound become sync with the video. It also has a night vision function which makes shooting at night easier.
Pros:
Supports two devices simultaneously
Has an internal video compile
Run on low-end Microsoft Windows
Without watermarks
Real-time monitor
Cons:
The quality of videos produced is not top-notch
Top 5. VideoPad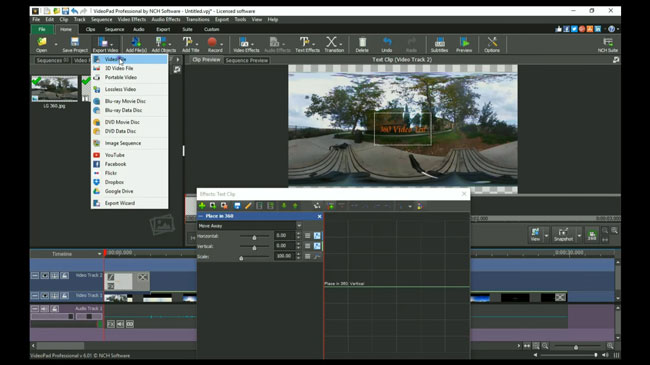 VideoPad is one of the best video editors for Microsoft Windows. It is perfect for creating 360-degree footage. It is designed to make work easy and convenient. You can therefore trust that this video maker will simplify your work and make it direct to convert your photos into some of the best time-lapse videos on the planet. It supports all popular video formats and offers features that turn your clips eye-popping.
Pros:
3D video editing angle
Share to social media
Built-in tutorials
Overlay texts
Burn video to DVD
Cons:
Not perfect for someone looking for a professional tool
Top 6. OpenShot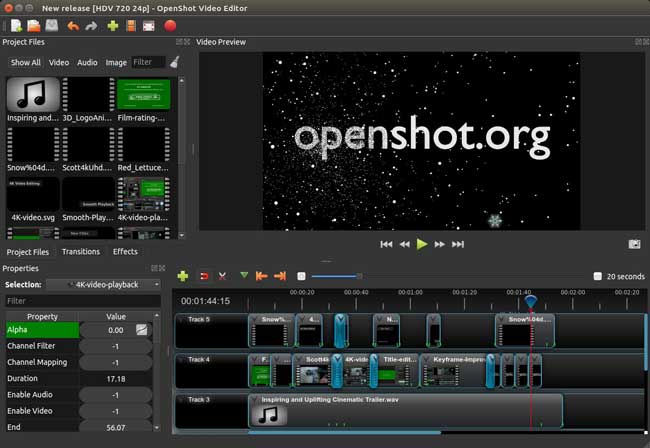 OpenShot is another great Microsoft 10 video editor you should consider. It is simple to try and compiles several high-end features that make trimming, cropping, filtering, and converting videos among formats a walk in the pack. It supports different media, which is a huge plus. With this Microsoft video editor, you can add subtitles to your videos, trim videos add audio files, and join videos.
It has a clean, intuitive interface which makes it perfect even for beginners. A wide range of powerful tools make it hard to imagine that it's a free tool. You can use it to edit videos and create new ones from scratch.
Pros:
Motion/Action detection
Unlimited tracks
High-fidelity filters
Text templates
Cool effects to apply
Cons:
Limited output formats
It is often slow
Differences: Which Microsoft Video Editor to Pick Up?
You may want to quickly check the operating system and respective features of those listings. And here is a table to compare the differences among the six best video creators for Microsoft Windows. Keep scrolling down!
| | OS | UX | Elements (Music, Transitions, Texts, etc.) | Timeline Type | Speed |
| --- | --- | --- | --- | --- | --- |
| AceMovi | Windows XP - 11 | Easy | Full | Streamlined | Quick |
| DaVinci Resolve | Windows 10 and 11 | Hard | Full (Effects are limited) | Streamlined | Quick |
| VSDC | Windows XP - 11 | Hard | Full | Streamlined | Quick |
| VirtualDub | Windows XP, 7, 8, and 10 | Easy | Less | Single Track | Slow |
| VideoPad | Windows XP - 10 | Medium | Full | Streamlined | Medium |
| OpenShot | Windows 7, 8, and 10 | Easy | Medium | Streamlined | Medium |
The Bottom Line
It does not matter the type of Microsoft computer you're using if you're accessible to the right tools. In this article, we have looked at some of the best Microsoft video editors. All these programs are top-ranking and will do a great job for you. However, if you want to produce professional-grade footage or edit videos with specific features to satisfy your needs extremely, you'd better compare their qualities and services beforehand.