"Hello, Friends! I need to upload some videos related to dogs and cats. People found animal videos worthy of watching as they are a great source of laughter. I am searching for video editors to make pet videos that make you laugh on my social media accounts. Suggest me video editors for pets so that I can promote my content. Thanks!"
Are you finding video makers for animals? This article will teach you what you need to make pet talking videos. Also, we will recommend to you the 7 best video editing options for dogs and cats. Among the suggested video editors, few of them stand out with unique and stunning features and benefits. Go through the article, and have answers to your queries.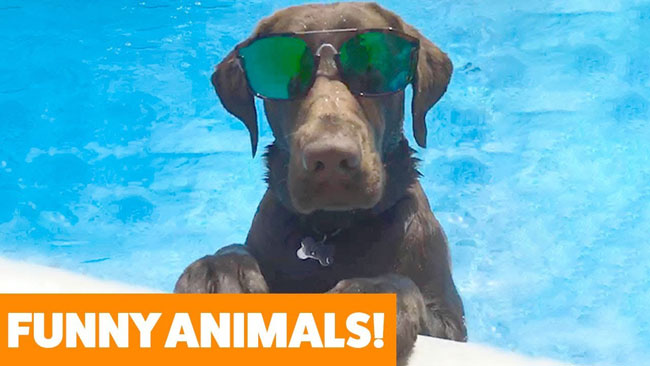 The Things You Need to Prepare for Making Pet Talking Videos
Animal videos go viral on social media if made with creativity and editing skills. You need to know and prepare some necessities and requirements to make a talking pet video. Animal videos are a source of laughter and pleasure for children and adults. To make pet talking videos, keep in mind the following suggestions or tips.
1. Know your pet
The first thing is to understand your pet's facial expressions and body language. This understanding will help you produce an interesting video.
2. Capture enough photos and video clips
It's difficult to capture every moment, so taking photos of the funny moments you spend with your pet is good. For footage, you can use a smartphone or hidden camera.
3. Define the video type
Decide which type of pet video you need to make. You can make cute, funny, dangerous, and fight videos of pets or animals. Also, making a video for one pet or more is worth deciding on.
4. Dubbing the video
Dubbing can make your pet talking videos more humorous. Adjust and change the video speed according to the plot.
5. Add text
Pet-talking videos require subtitles and texts to provide viewers with a better understanding of what your pet is talking about or doing.
TunesKit AceMovi: The Best Animal Video Generator for Windows & Mac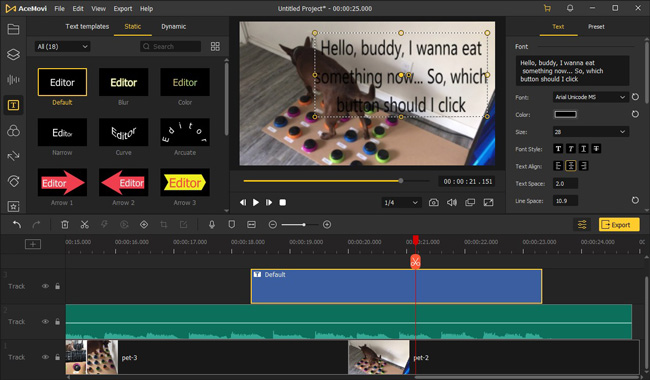 TunesKit AceMovi stands out among all video makers for animals. The software provides all effects and editing tasks required to make pet videos that can become popular on Instagram, TikTok, or Facebook.
AceMovi has an easy and user-friendly interface that allows users to make funny pet videos with simple steps. It supports Mac and Windows PC and any video and audio format.
The features of the software include rotate, flip, split, merge, crop, zoom, speed control, filters, slideshow maker, templates, adding and detaching audio, and adding text. You can easily import your pet video to the software and edit the footage with a voice-over or narration recorder. Edit your pet talking video with TunesKit AceMovi and create a video like a pro now.
AceMovi Pet Video Makers
Overlay animated texts on your pet videos
Ready-made templates for beginners and pros
2160p, 1080p, 720p, and 480p are available
Make a talking video with a narrator/voice-recorder
Streamlined interface for batch editing jobs
Make a duet or reaction video with split-screen
100% safe for both systems of Windows and Mac
How to Make a Talking Pet Video by Users Guide
The following are the TunesKit AceMovi's step-by-step tutorials on making a talking pet video with subtitles and a voice-over recorder. The trackless timeline is designed for multiple video editing, so you can upload numerous texts, images, music, and videos. By the way, the duration can be adjusted by dragging the edges. Now, here we start!
Install TunesKit AceMovi from this page. Upload files to timeline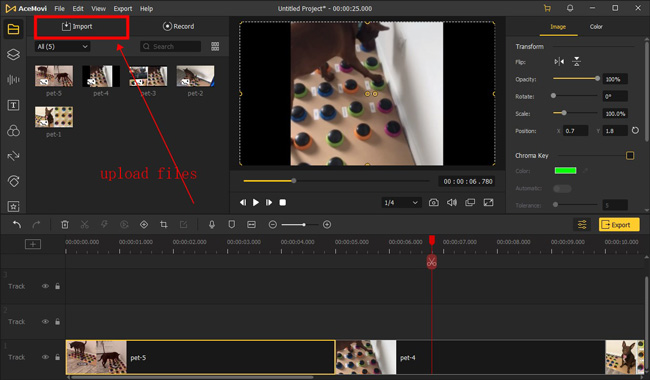 For uploading your files about pets, press the button "Import" from the menu area. The timeline feature supports you to import files by dragging and dropping.
Go to Text in the left-side bar, choose a template and edit the texts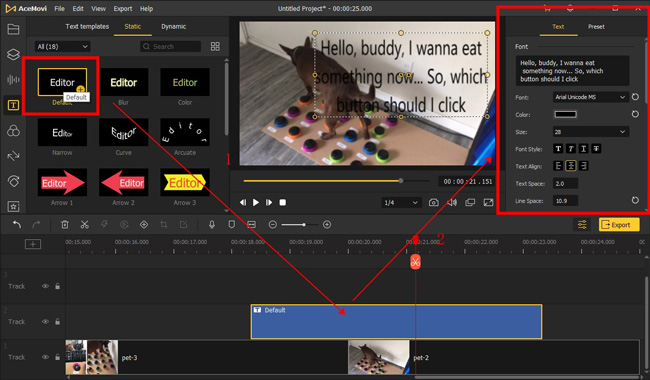 There are libraries of static and dynamic text templates in the "Text" panel. Users are able to put one of the samples under the timeline straightforward. After that, edit the content and manipulat the font, size, alignment, scale, and more from the "Properties" in your right-hand place.
Click Record icon from the toolbar and add a voice-over to make pet talk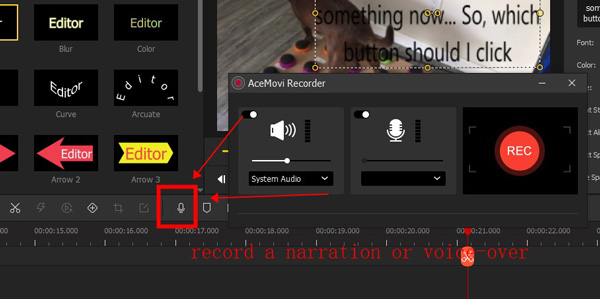 You can capture new voice-overs by clicking on the "Record" button from the toolbar. It's available to control the volume of the mic. All you need to do is click the "REC" to begin recording. AceMovi will save the recordings to the "Media" area. Changing the pitch, converting bitrate/frame rate, as well as de-noising the background are at your disposal.
Set the save path and exporting format. Then download your pet videos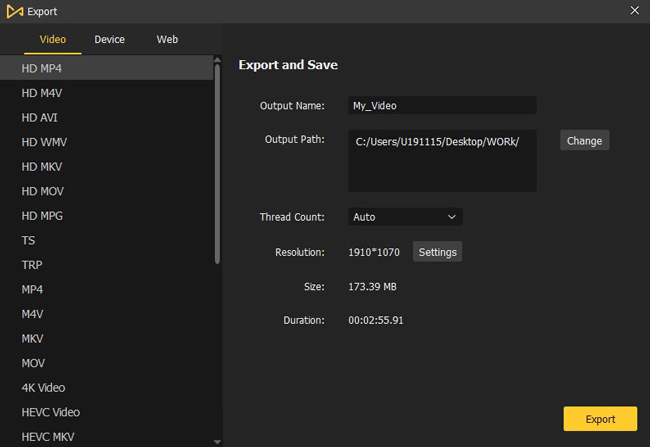 When it comes to the final step. You can click the "Export" icon from the interface. Then, you can decide the save path and output format, such as MP4, AVI, MOV, DivX, or WMV. For applying more features to enhance your video, choose TunesKit AceMovi.
6 Alternatives for Making Animal Videos with Ready-Made Templates
1. FlexClip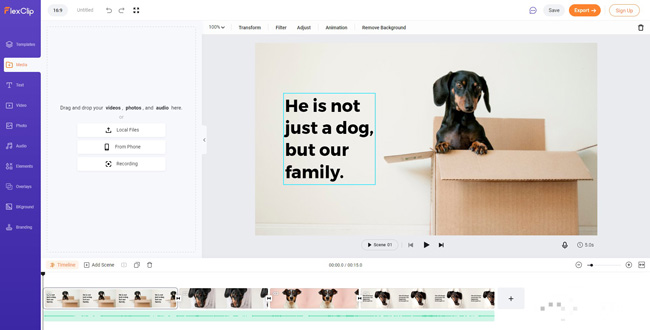 Want to try an online video maker for pets? FlexClip provides users with the convenience of creating amazing pet talking videos. With simple steps, you can edit your pet's recorded footage and photos and make pet videos that make you laugh. This program comes with amazing features like animations, images, texts, templates, music, filters, Full HD output, and other effects.
Use tools like a cutter and trimmer to cut out the funny moments from your recorded videos. And join them to make a compiled video. Add text to understand what your pet is trying to express. With FlexClip, you can create amazing videos of your pet talking and upload them on your social media platforms to gain popularity.
Pros:
Off-the-shelf video templates for making pet memorials, pet picture slideshow, pet supplies, and more
The modes of timeline and storyboard
Add texts or captions to the screen
Record a new clip easily
Free for exporting video in 480p resolution quality
Cons:
Registration is required
It's a bit unsafe because your videos will be saved online automatically
2. OpenShot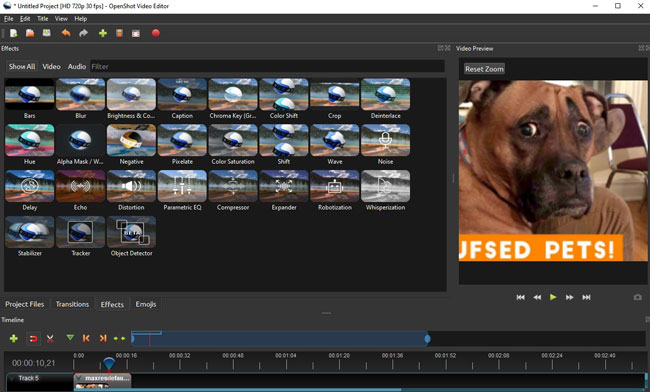 Another amazing video editor for making pet videos is OpenShot. You can transform your pet footage into a piece of art by using the amazing features and editing tools of OpenShot, which is open-source and free. The video editor is compatible with Windows and Mac devices and supports almost all video and audio formats.
The editor provides intuitive, fast editing, visual effects, transitions, and exporting files in 4K format. You can use features like adding a green screen, resizing videos, changing the motion, silence detection, audio dubbing, and video stabilization. But you will find it impossible to add background music to the video because there is no music resource at all.
Pros:
Cross-platform: Windows, Mac, or Linux
Add as multiple layers as you want for videos, songs, and texts
Dynamic text templates
Make slow-motion animal videos
Real-time audio waveforms
Cons:
No background music stock and sound effects
Some users say that OpenShot will become laggy when running on a low-end computer
3. Clideo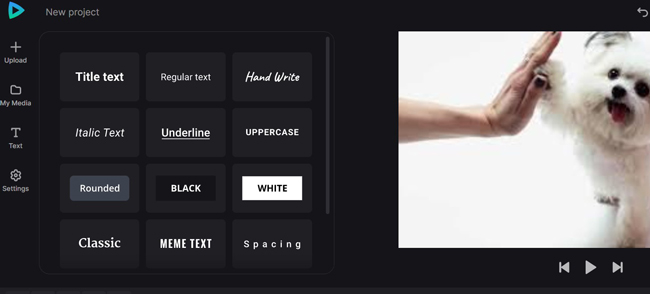 Clideo is an online video editor that makes pet videos that make you laugh as well as provides users the ease to make funny videos of their daily life with cute dogs or cats. Using the video editor is not difficult, and no technical knowledge or deep understanding is required to use the video maker. The editor is online, so you don't need to worry about your device's storage or platform.
Offering unique features and tools like cutting, cropping, merging, compressing, resizing video, adding text and music, and adjusting the speed and color according to the requirements, Clideo will give you a series of functions to make an engaging pet video. You can use these tools to create pet videos that make you and your friends laugh.
Pros:
Upload a number of videos to merge and combine
Add subtitles manually or via SRT files
Choose a template to make a funny pet meme/emoji
Specific workspace that simplifies the process
Apply slow-motion or fast-motion to your videos
Cons:
The free version comes with a branding watermark
Simple interfaces that does not provide advanced skills
4. VEED.IO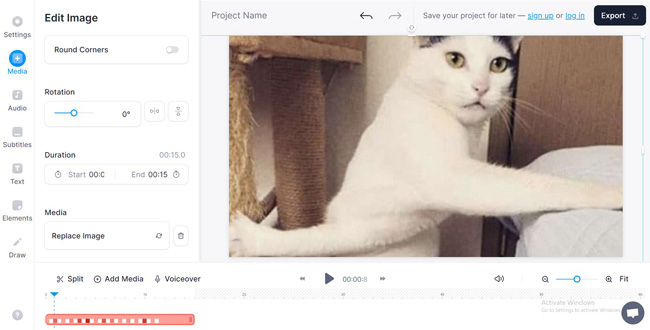 VEED.IO is an online video editing program for dogs and cats. The editor offers multiple templates, filters, transitions, and effects to enhance your pet talking videos. Templates are commonly used for growing your marketing and promotions. Add text and dubbed music to your videos and share them on social media quickly.
Other than your recorded footage, you can import videos from any platform, such as YouTube, Instagram, and Facebook, to the video editor. VEED.IO provides the convenience of altering your videos into the required category, such as trailers, promos, Ads, and tutorials.
Pros:
Auto object detection
Translate your subtitles after adding them to the frame
Live streaming or screen recording
Make an intro or outro with templates
Import videos or audio files by URL
Cons:
HD or higher resolution needs upgrading accounts
Watermarks will be added to all videos you download from it for free
5. InVideo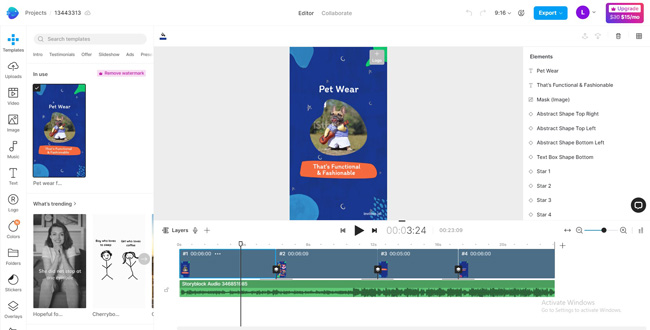 InVideo claims you can make a stunning talking video for pets in just 15 minutes. Users don't need to have design or editing skills in recording and cutting. The editor has an easy-to-use and friendly interface that lets you make amazing funny pet videos easily. More than 5000 customizable templates, a huge music library, and text-adding options in more than 70 languages are at your disposal.
To make a pet-talking video that makes you laugh, you need a video editor that offers you split, merge, crop, filters, music effects, and high-quality output. All these requirements are in the InVideo video editor, so you can use the video maker for funny animal videos.
Pros:
Intelligent text-to-video feature
Over one million video clips and pictures
5000+ well-prepared templates
Save and keep videos online for free
Add various effects to filter the content
Cons:
The channel to export video in HD quality will put a watermark on your videos
The Full HD option is supported by advanced licenses merely
6. Typito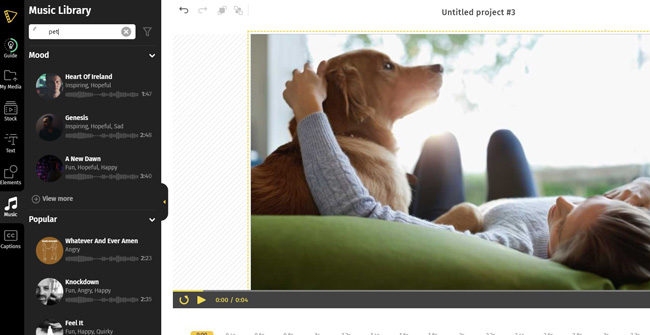 Typito is a free online video editor that offers many features and editing tools. Using the editor is easy; you all need to follow a few simple steps. You can import videos from any platform, such as Instagram, YouTube, and Twitter. For pet talking videos, add as many photos and video footage as possible so you can capture more funny moments.
Typito offers features like adding text, music tracks, templates, effects, filters, and captions, converting images and videos, and adjusting the speed to create slow or fast motion videos. This online video editor will help you create amazing pet-talking videos.
Pros:
A library of background music
Fantastic text templates
Extract the keyframes and detect them
Create on-brand captions
Workspace for clipboard and sequences
Cons:
The files will be laggy when exporting large file size videos
Typito needs to update green screen effects to edit video background
Lastly
Animal or pet videos are a great source of entertainment for social media viewers. People upload funny videos of their pets and get likes and promotions. With the advancement of time, many video editors are available on the internet. But a few of them are secure, helpful, efficient, and powerful.
If you want to know about the requirements for creating funny pet videos, the necessary tips were given initially. We've provided you with the best 7 video editors to make pet videos that make you laugh. Use the video editors, join funny moments of your pet and create an amazing video or slideshow.