Creating a slideshow is simple. However, when you choose free online tools, they leave a watermark, making the project a nuisance. Fortunately, some applications leave no watermark and offer free service.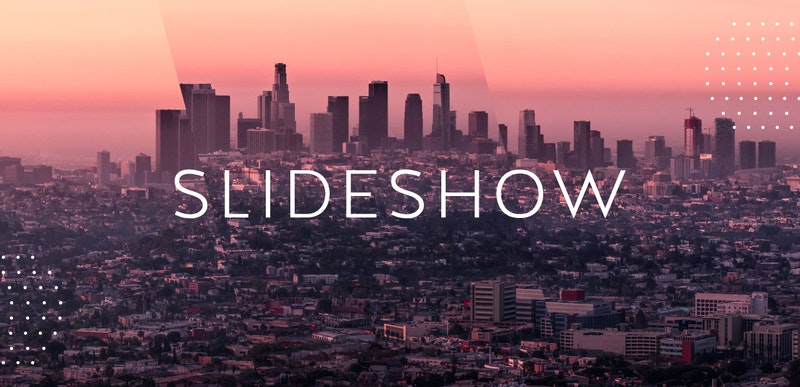 You can use a slideshow to present your project at your workplace, college, and several other areas. With the right program, you can create an outstanding project in a few minutes. A free slideshow maker without watermark helps you complete the assignment with ease by providing you with essential features.
With different slideshow makers in the market, it is tedious to choose the appropriate tool. The following information presented in this article will help you choose the right one according to your requirements. The tools mentioned here support different formats, making it easy to create your project in a required file extension.
Recommended Application – TunesKit AceMovi
If you need a slideshow maker without watermark, TunesKit AceMovi is a good pick. It is a simple and advanced video editing tool that helps both beginners and professionals. You can create projects, edit existing videos, create slideshows, add effects, and more.
The features present in it help you unleash your creative side. You can utilize everything it provides to create powerful and intuitive slideshows. As it supports both Windows and Mac, you can create projects based on your system and requirement.
You can use AceMovi to create slideshows, educational videos, capture memories, branding, sales, demo videos, and more. The following are the important features of the software: Screen recording, Audio, Text, Filters, Animations, Transitions, Split screen, Crop and zoom, Cut, Rotate, Flip, Fade in/out, Behaviors, Green screen, Change clip speed, Color match, Closed captions, Annotations, Keyboard shortcuts.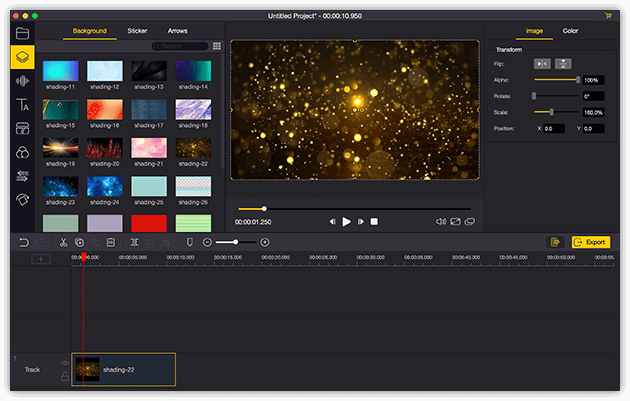 Pros:
Fast screen recording.
Multiple output formats.
Abundant sound effects.
Straight-forward and intuitive interface.
Cons:
Not many advanced video editing features
Guide to Use TunesKit AceMovi to Create Slideshow Without Watermark
Before starting with the actions, ensure that you have installed the appropriate software version according to your OS.
Step 1: Adding Media Files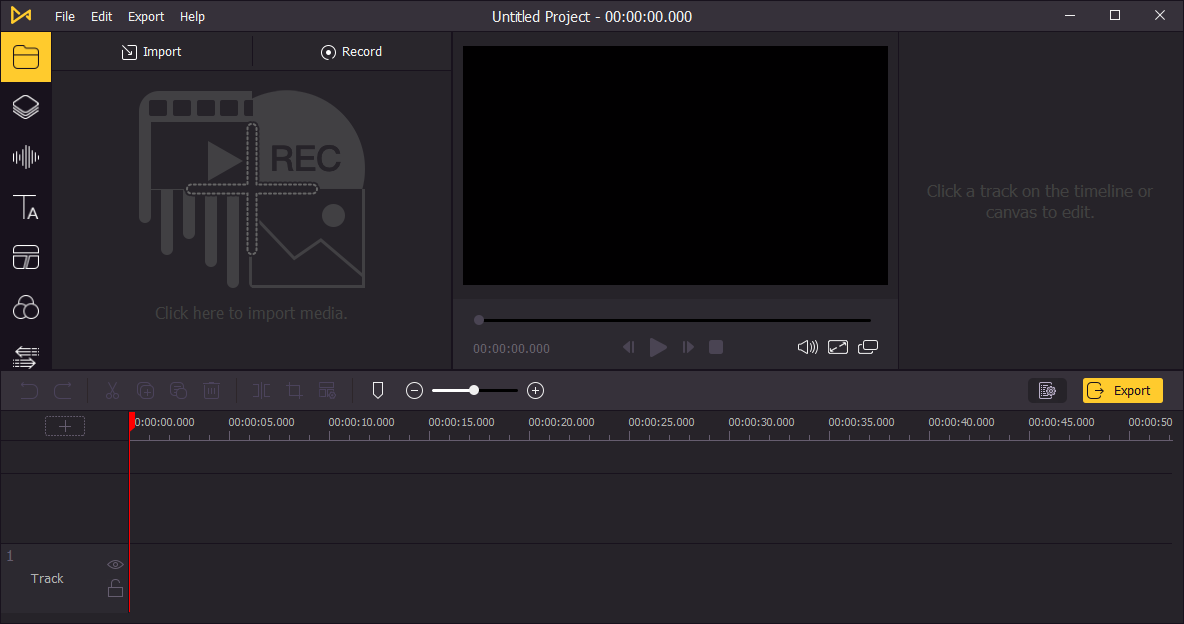 After completing the setup of AceMovi, launch it using the icon from the desktop. You will notice the "Import" and "Record" features present under the main menu bar on the screen. You will use the "Import" feature if you already have the images, audio files, and videos to create stop motion videos. If you do not have any of the files, use the "Record" feature, which allows the program to record your computer screen. You can later add audio files to the media.
Step 2: Editing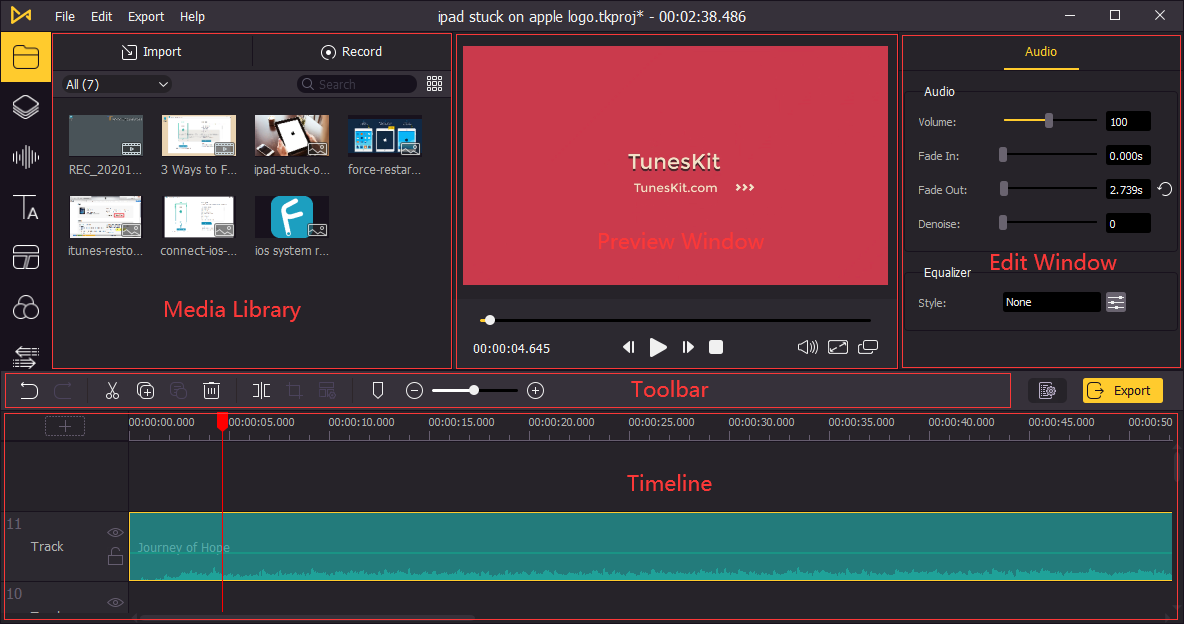 The process involves video editing, where you will arrange the images, audio files, music, voice comments, and much more. You can use the Timeline and monitor the activity while you adjust the files you can see on the preview screen. Additionally, the software allows you to adjust volume, brightness, contrast, hue, saturation, and much more.
Step 3: Export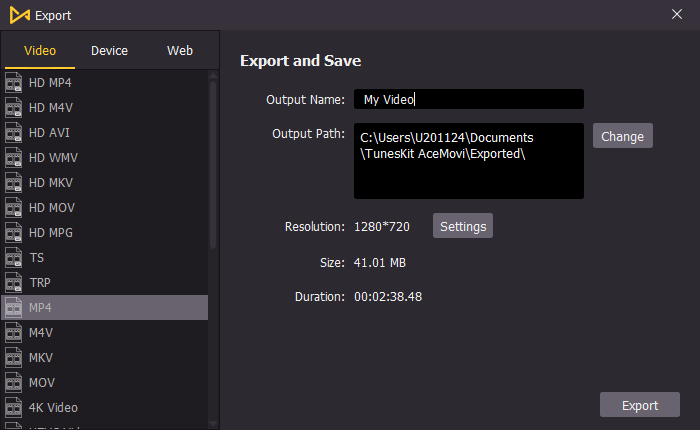 Upon completing the editing, you can save the file on your computer in the required file format. You can also choose a device to save the file automatically. You can customize the path, video quality, codec, bit rate, and more.
Top 2. MiniTool MovieMaker
It is the best free slideshow maker without watermark in its class. MiniTool MovieMaker is suitable for beginners and has all the features to create amazing slideshows and videos.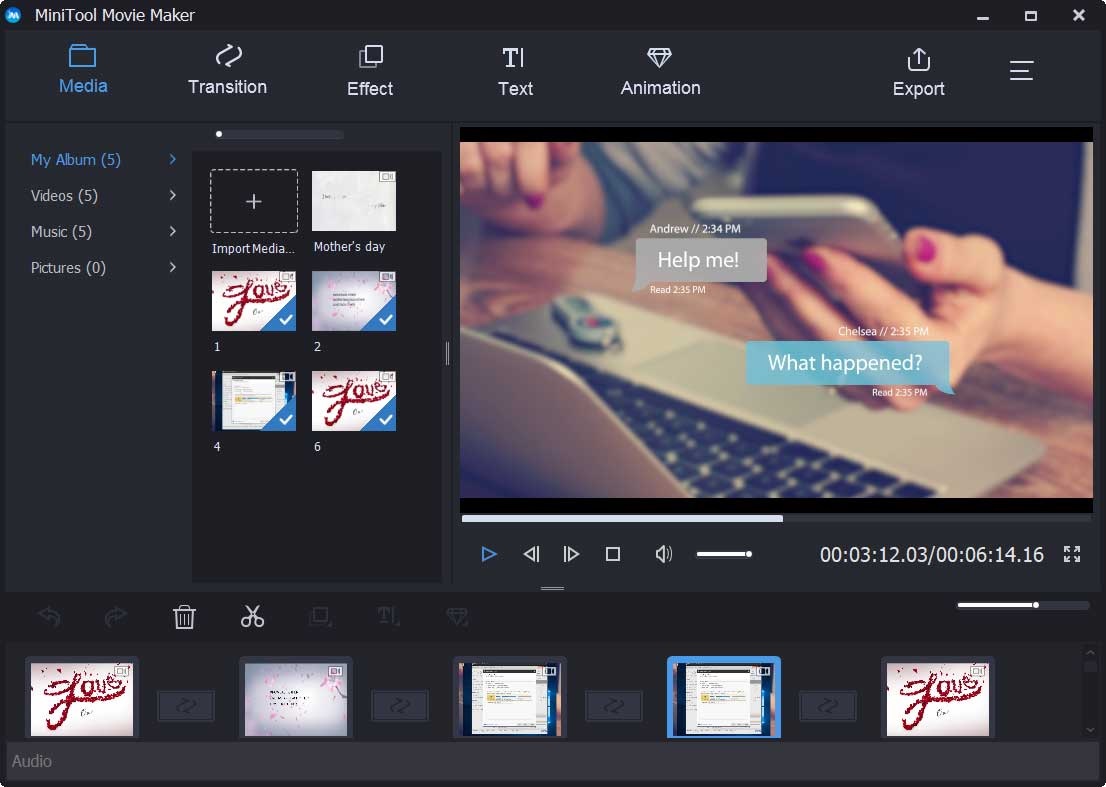 Pros:
Free and simple-to-use
Plenty of transitions
Ready movie templates
Cons:
It does not support screen recording
Top 3. Windows MovieMaker
If you are considering a free slideshow maker with sound without watermark, use Windows MovieMaker. Created by Microsoft, it provides everything you need to create and edit video files.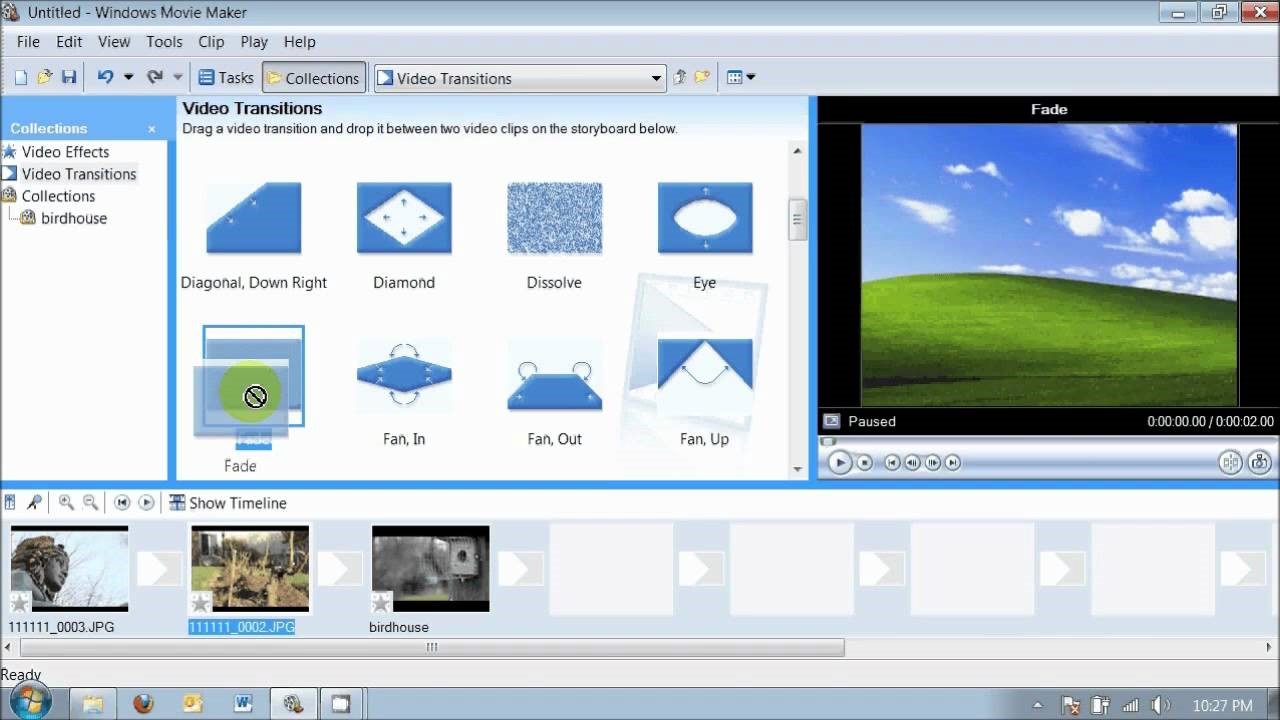 Pros:
Decent transition effects
Voiceovers
Preview transitions, effects, and themes
Cons:
Discontinued
Cannot change effects, saturation, and contrast
Top 4. Movavi Slideshow Maker
Movavi slideshow maker is a slideshow maker without watermark app. You can create projects both on Windows and Mac. It has all the tools and features to create slideshows and polish images for your task.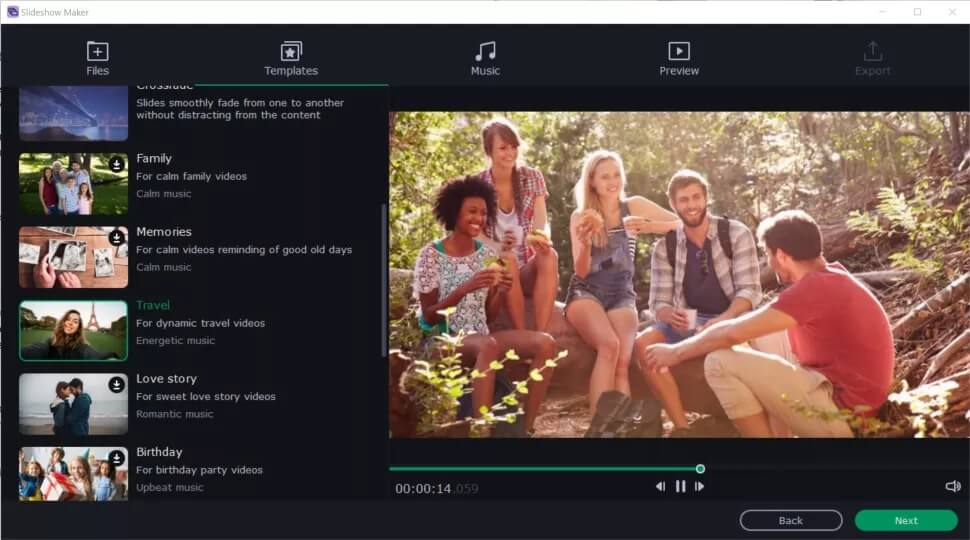 Pros:
Mac compatible
105 transitions
Captures screen
Cons:
Cannot post directly to Facebook, Twitter, or email
Top 5. Icecream Slideshow Maker
You can rely on a free slideshow maker without watermark to create excellent videos. The Icecream slideshow maker helps you create videos according to your need. You can create playlists, add multiple audio tracks, texts, and more.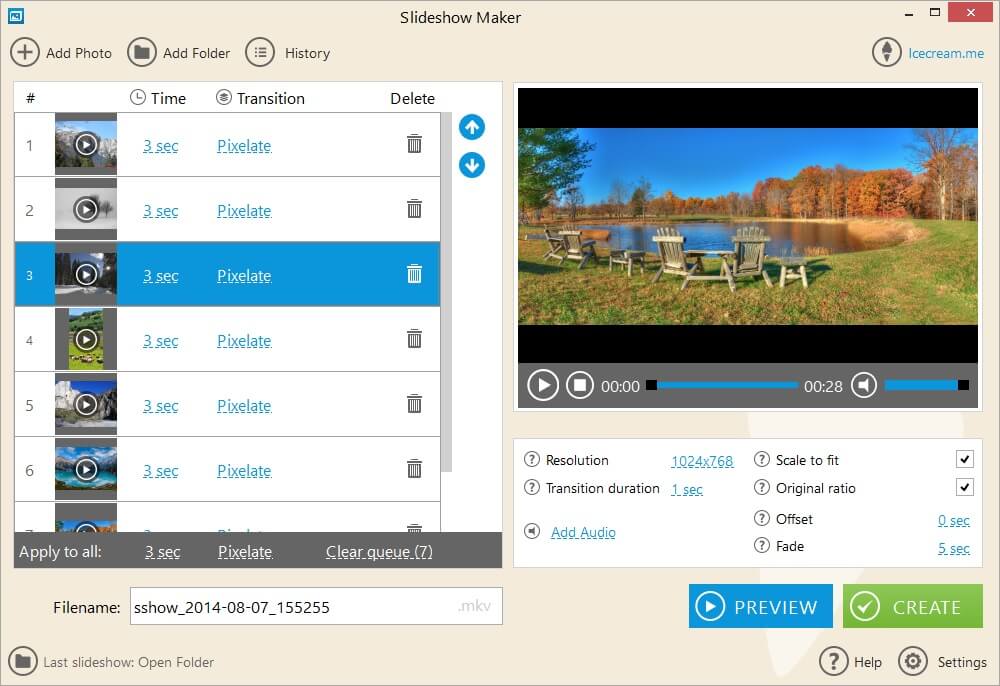 Pros:
Online support
Saves project after slideshow creation
Secure storage
Cons:
Limited output formats
Limitations on trial edition
Top 6. Proshow Gold
You can use the Proshow Gold slideshow maker without watermark to create wonderful videos. It has professional-looking transitions, effects, backgrounds, and more. Beginners can use the wizard to create a slideshow easily.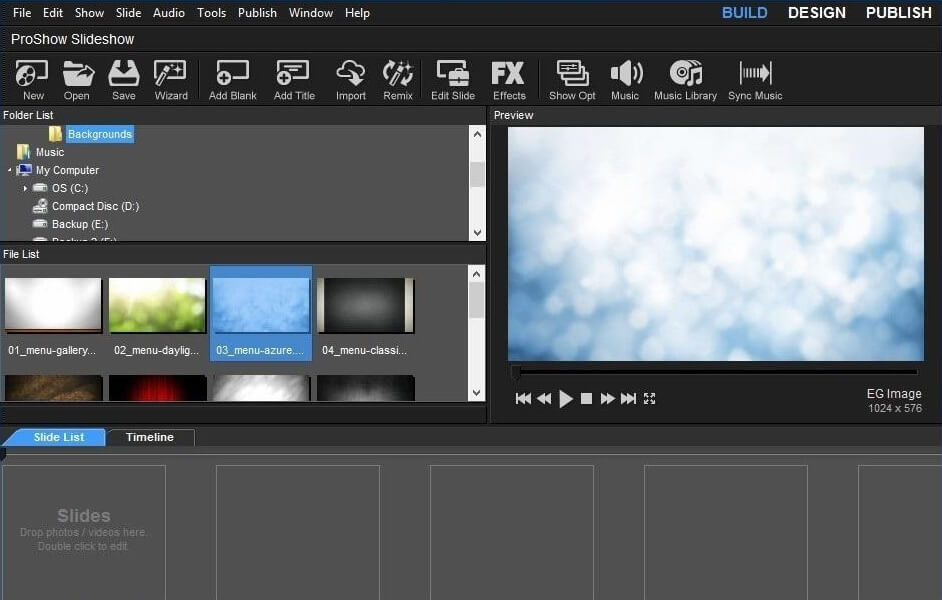 Pros:
Extensive options
Suitable for beginners
Matches video editing tools
Cons:
The music generator is absent
Lack of official forum
Only 15-day trial
Top 7. PhotoStage Slideshow
The best free slideshow maker without watermark helps you create excellent projects in a few simple steps. The PhotoStage Slideshow has everything you need, right from effects to transitions and more.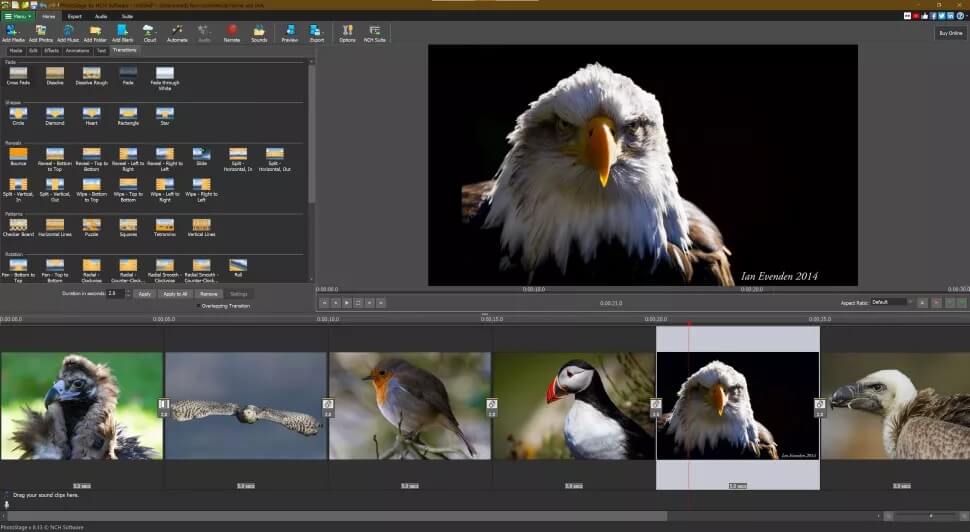 Pros:
Simple to use
Intuitive interface
Multiple effects and presets
Cons:
The free version is for non-commercial use
You must buy technical support plans
Top 8. CyberLink MediaShow
CyberLink MediaShow is a free slideshow maker with sound without watermark tool. You can create, tag, and categorize projects. It has 31 transitions and allows the addition of audio tracks for entertaining touch.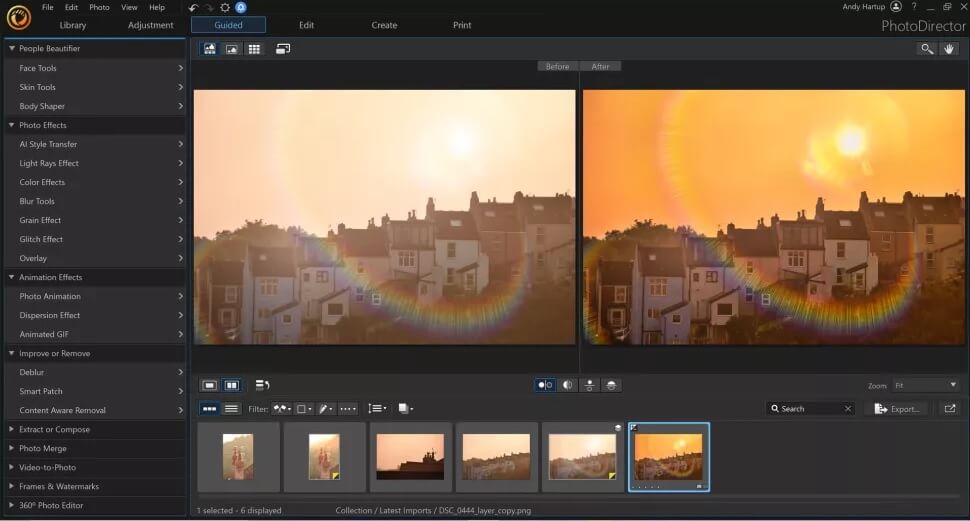 Pros:
Powerful and versatile application
Share media with websites
Cons:
Occasionally crashes
Chargeable phone support
Top 9. Photostory Deluxe
Use the slideshow maker without watermark app to create entertaining videos. Photostory Deluxe gives you access to everything it has, such as extensive editing tools, transitions, adding audio tracks, and more.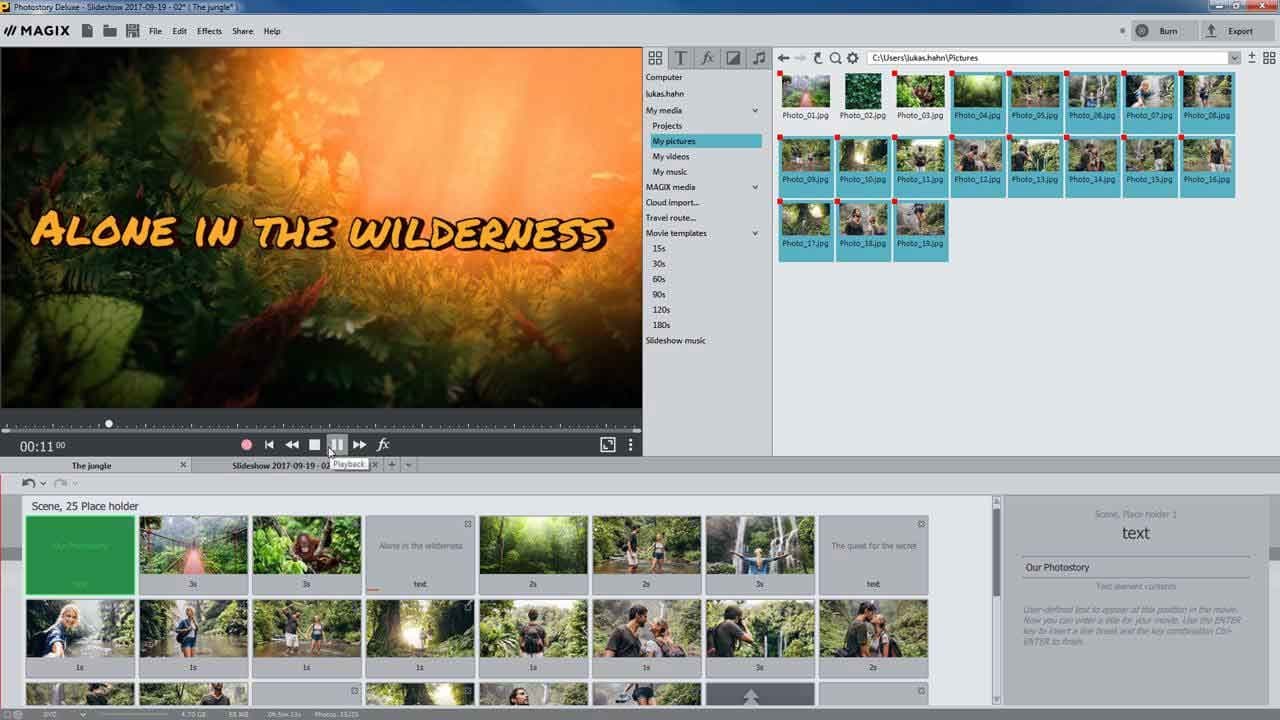 Pros:
300+ transitions
Advanced editing features
Cons:
In-store purchase
Chargeable technical support
Top 10. Photostory Easy
It is the simplified version of Photostory Deluxe. The free slideshow maker without watermark gives you 27 backgrounds, 72 transitions, effects, and more. You can also adjust color, hue, saturation, and record music.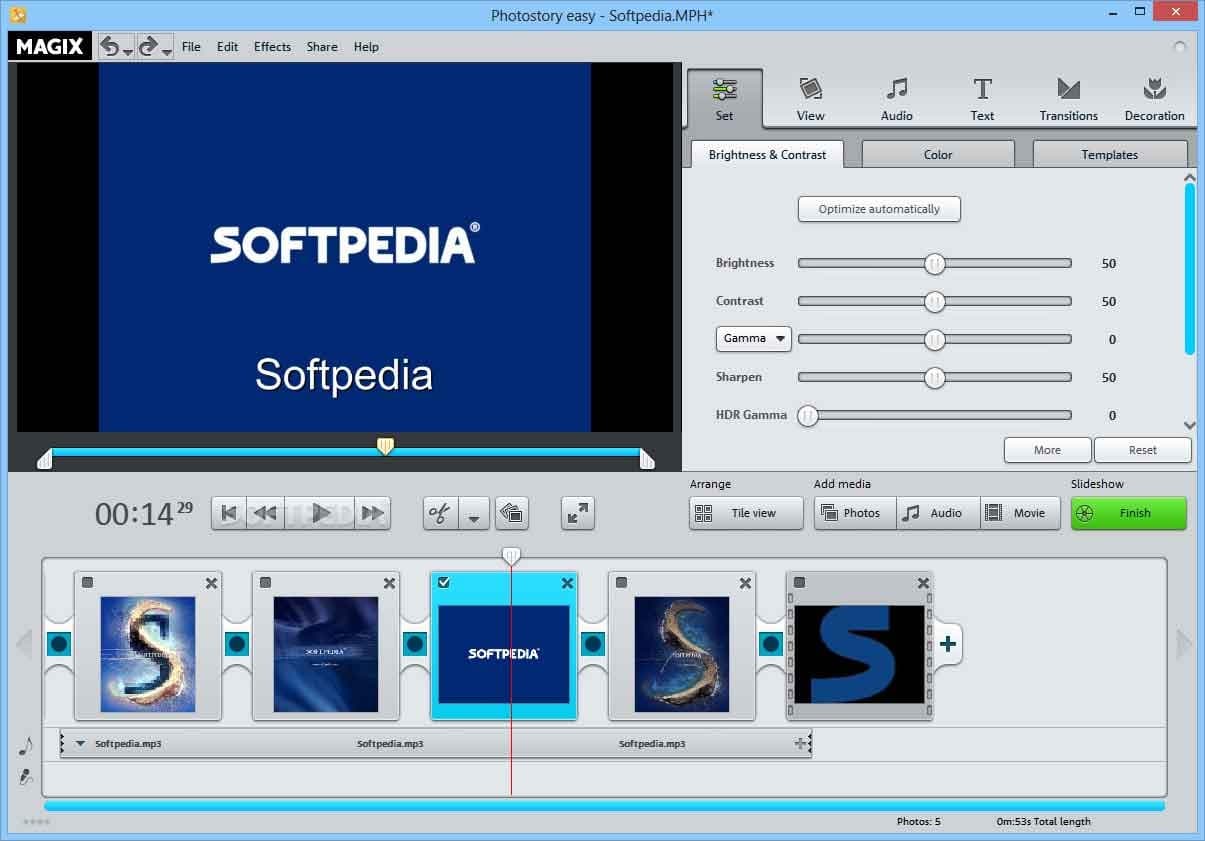 Pros:
Simple interface
Compatible with standard file formats
Burns DVDs and Blu-rays
Cons:
Direct posting is absent
Support options are difficult to use
Summary & Extra Tip
The free slideshow maker without watermark is the need of the hour. You can use them to create intuitive and entertaining presentations according to your targeted audience. It has become essential to develop compelling presentations for everybody.
You will need an outstanding program to create a slideshow that allows you to customize everything. In addition, it should support different file formats, give you usable features, technical support, and more. The above content will help you choose wisely the software to create amazing slideshows whenever needed and share across different platforms.