Even though providing relevant and exciting YouTube content determines your YouTube career's success, availing high-quality videos to your audiences ensures that your audience follows up your content. On the other hand, the YouTube algorithm will always give priority to high-quality videos on each topic. Therefore, you cannot afford to compromise on your video quality. Remember, YouTube has over 2 billion users and 250 million hours of live watch every day. With such big numbers, you would not want to miss out on a chance to impress and grow a loyal fanbase.
To realize top-quality videos, attractive and stunning videos for your fans, it is imperative that you have the right video editing tools. This article will list top 6 YouTube Video Editor alternatives that will help you achieve high-quality and eye-catching videos for your YouTube channel.

Top 1. TunesKit AceMovi
Topping our list is an all-time professional video editor- TunesKit AceMovi. It is a simple to use program with a straightforward interface. The software incorporates powerful and unique video editing features design to help unleash your imagination. With the TunesKit AceMovi, you can effortlessly achieve top-quality videos on Mac and Windows. TunesKit has a massive library stock of images, templates, and music tracks that you can use to create fascinating videos.
TunesKit also equips you with basic editing features such as crop, split, rotate, and joiner. You can also use advanced effects, filters, transitions, and audio to create YouTube videos for your audience. After editing, you can directly upload your video to YouTube.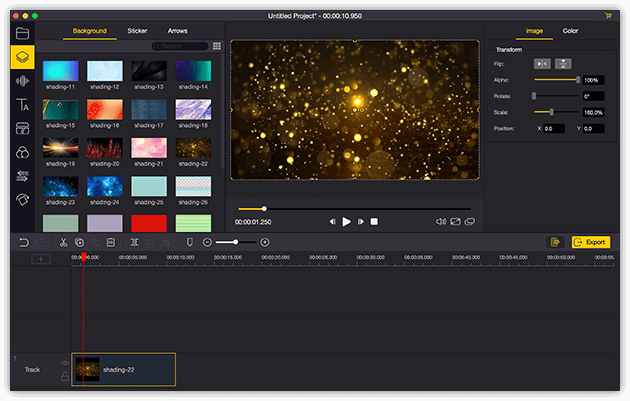 Pros:
Easy to uses
Intuitive interface
Plenty of filters and video effects
Flexible video import and export options
Facilitates direct online upload
Cons:
Only English UI available
Top 2. Adobe Premiere Pro
You probably have heard of Adobe Premiere Pro - it is a famous video editing tool and has dominated the video editing industry for quite a long time. Developed by Adobe Systems, Adobe premiere is an intensive video editing tool with a variety of editing abilities.
Adobe is available for iOS, Mac, and Windows users. The software features editing tools such as Slip Tool, Ripple Edit, and Rolling Edit Tool. It also has a clean interface and runs smoothly on conventional operating systems. Users can access and enjoy multi-sequence support, audio mixing, color correction, and time remapping with the app, making it a popular alternative to YouTube Video Editor.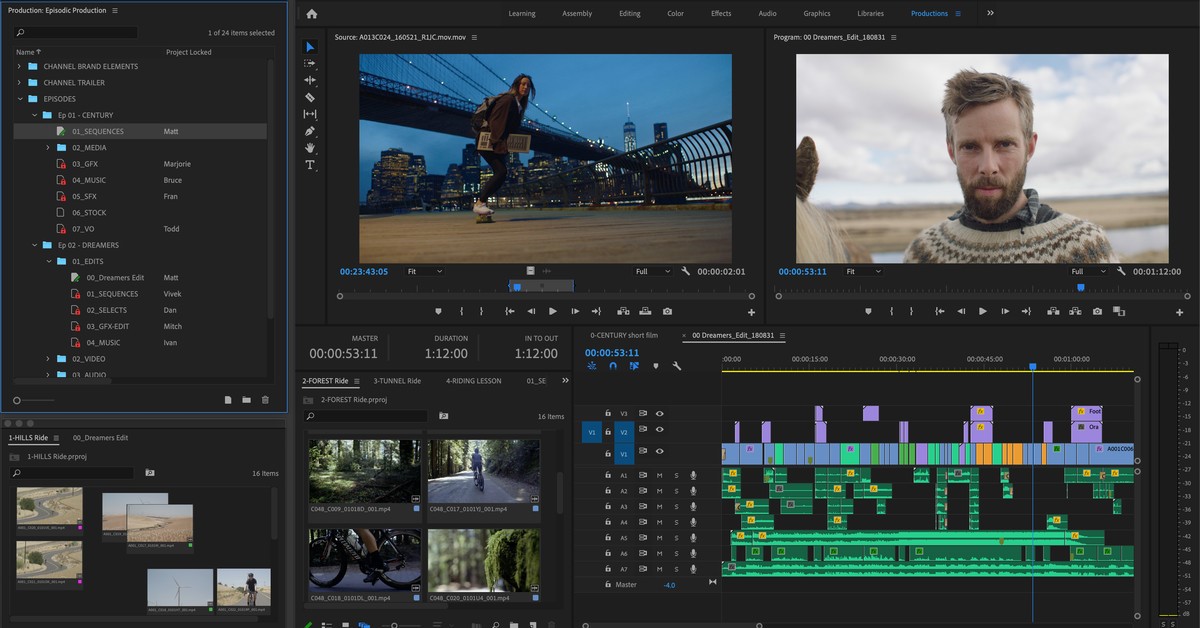 Pros:
Customizable features and plug-ins
Convenient user interface
Easy and flexible video export options
Multi-cam editing, 3D editing
Variety of organizational tools
Top 3. CyberLink PowerDirector
CyberLink is presumably one of the best YouTube editor alternatives available to YouTubers and professional video editors. The software comes at an incredibly affordable price and not only provides you with basic editing function but also features top-regarded abilities.
Besides providing trimming, joining, and overlaying functions, CyberLink also supports video effect addition, supports H.265 video and 360-degree footage, and has a 99-track timeline. It has quite a complex interface that may sometimes prove challenging to use, especially for beginner users.
However, it has a whole load of features that you can implement to spice up your YouTube videos.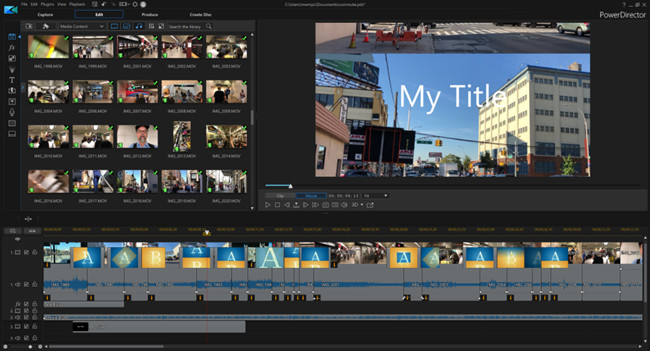 Pros:
Extensive effects package
Fast rendering
3D and 4K support
Supports a variety of video formats
Cons:
Interface may be challenging for beginners
Lacks many UI customization features
Top 4. Pinnacle Studio 23 Ultimate
With an advanced tool kit, Pinnacle Studio 23 Ultimate is now among the topmost regarded YouTube editor alternatives. It is, in fact, the latest version of Pinnacle's flagship and one of the most powerful video editing tools available in the market.
Pinnacle Studio 23 Ultimate takes pride in its flexible keyframe-based controls, creative effects, streamlined timeline editing, Video Masking, and pro-caliber Color Grading abilities. It is the perfect YouTube Video Editor alternative, especially if you aspire to increase your creative opportunities for your YouTube videos. Among its notable feature include 4K and HD support, dynamic transitions, stop motion animation, etc.
Pinnacle Studio is now available in 13 main languages in the world.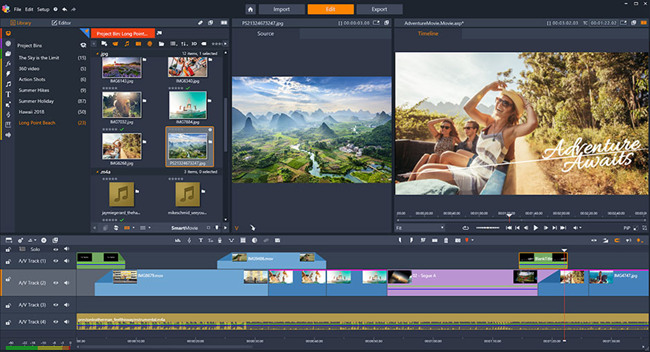 Pros:
Enhanced color grading tools
Overhauled video masking
Supports 4K, HD, and 360-degree video
Enhanced effects
Improved export options
Cons:
Lacks 3D editing
Occasionally crashes
Top 5. Movavi
If you are looking for a remarkably easy-to-use video editor, then the Movavi video editing software should be at the top of your YouTube Video Editor alternatives list. The software is designed to run on both Mac and Windows operating systems. The software may seem quite basic, but there is more to that. Movavi has an easy-to-use software layout, an intuitive interface, a lot of ready-made video effects, transitions, filters, backgrounds, stickers, etc. The software also provides a Quick Video mode that allows users to make a quick video from pictures. Among its other remarkable abilities include video quality enhancing through adjusting the contrast, saturation, chroma-key effects, video speed adjustment, among others.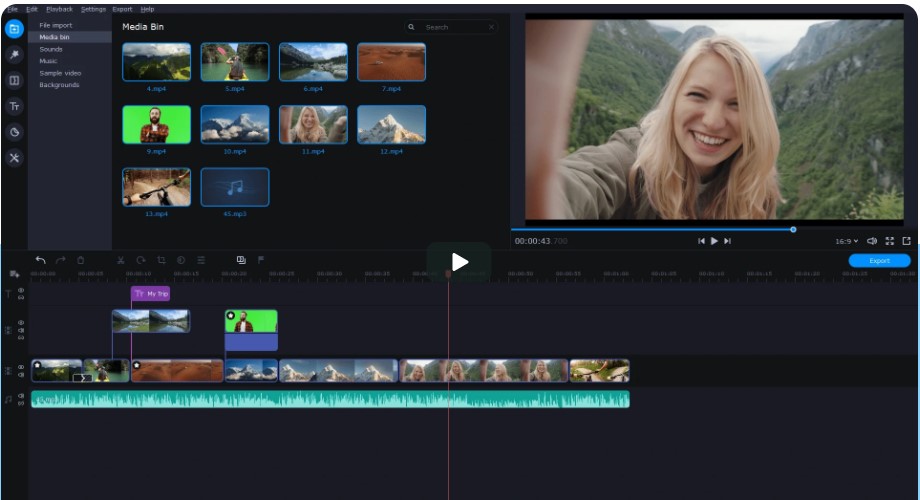 Pros:
Simple interfaces
Chroma key effects editing
Rich video editing toolbox
Different tracks for audio, video, etc
Cons:
Free trial version is limited.
Top 6. Vegas Pro
Previously known as Sony Vegas Pro, Vegas Pro is a top professional video editing tool developed by MAGIX. The software is very intense can be used to author DVDs and Blu-rays. This goes to show how professional also why you should consider it among your YouTube Video Editor alternatives.
Vegas offers far more innovative tools, a customizable workspace, and an intuitive interface. With the app, you can add subtitles, filters, effects, optimize images, adjust the white balance, among others. This powerful video editing option offers video editing abilities such as Multicam editing, masking, image stabilization and also supports HD, 4K, and 8K resolution footage.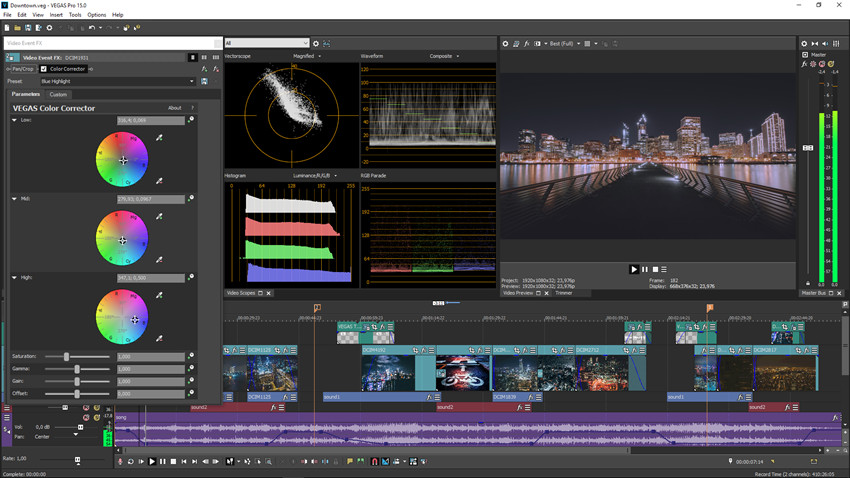 Pros:
Edit within the timeline
Supports FX plug-in
Great video effects
Fast processing
Supports HD videos
YouTube Video Editor Alternatives Comparison Table
| | TunesKit AceMovi | Adobe Premiere Pro | CyberLink PowerDirector | Pinnacle Studio 23 Ultimate | Movavi | Vegas Pro |
| --- | --- | --- | --- | --- | --- | --- |
| Pricing | $19.95/mo. | $19.99/mo | $19.99/mo. | $129.95/yr. | $39.95 1 PC | $19.99/mo. |
| Download Titles | √ | √ | √ | √ | × | × |
| Frames | √ | √ | √ | √ | × | √ |
| Chroma Key | √ | √ | √ | √ | √ | √ |
| 3D Editing | √ | × | √ | × | × | × |
| Zoom | √ | √ | √ | √ | √ | × |
| Batch Capture | √ | √ | √ | √ | √ | √ |
| Custom Menus | √ | √ | √ | √ | × | √ |
| Email Support | √ | √ | √ | √ | √ | √ |
| Live Support | × | × | × | × | √ | × |
| Forums | √ | √ | √ | √ | × | √ |
| Windows | √ | √ | √ | √ | √ | × |
| Mac | √ | √ | √ | √ | √ | √ |
| Linux | × | × | × | × | × | × |
| Motion Art | × | √ | √ | √ | × | √ |
Conclusion
There are many YouTube Video Editor alternatives out there, but the most important thing is that you find that which suits your need best- that which will provide you with desired results for your YouTube videos. Luckily for you, we have evaluated and featured the top YouTube video editing software that guarantees you quality, flexibility and are affordable. All you have to do is try them out and find which works for you best. Let's go!