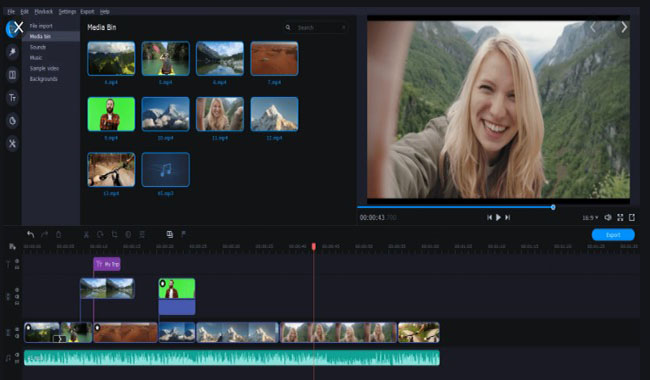 Movavi, as one of the best video editor, is used by most people to edit videos. However, as we all know, every sword has two edges. Movavi video editor also owns its pros and cons. Here, I'll firstly give you a brief Movavi video editor review and then offer you with 5 best Movavi video editor alternative in 2021 for reference.
Movavi Review
Features
Firstly, Movavi is a great video editing toolkit that is suitable for everyone. It can be used to create videos, edit videos, record screens, convert video files, and much more. With Movavi video editor, you can easily do some edits to your videos. For example, you can cut and crop a video, reverse or flip a video, merge several videos into one, and other things like that. Also, background music, transitions, stickers, titles, and some amazing video effects can be added to video files in Movavi video editor plus.
Pros of Movavi
1. Easy to use.
2. Premium features.
3. Support Windows and Mac OS.
4. Build-in Training.
Cons of Movavi
1. A little bit slow.
2. Limited features for free trial.
3. Limited control over some effects.
Price
$39.95 for a year; $59.95 for a lifetime.
Top 5 Movavi Video Editor Alternatives
Since we've just finished Movavi review, now we can draw a clearer picture of Movavi in our mind, especially for its pros and cons respectively. So in this part, I will share with you the 5 best alternatives to Movavi video editor in 2021, some of which are even Movavi free alternatives. By referring to the comparisons, you can choose the right video editing software that suits you.
Top 1. TunesKit AceMovi - Best Movavi Video Editor Alternative
When it comes to the best Movavi alternatives, TunesKit AceMovi is definitely one of them. It stands out from other video editing programs for its intuitive and user-friendly interface. Leading by the idea that video editing tool is committed to helping everyone to explore digital life easily, TunesKit AceMovi allows its users to edit their video files without wasting lots of time to learn this program.
No matter you are a video editing expert or a complete video editing beginner, you can successfully do most of the basic edits to videos without any stress. For example, you can rotate, flip, resize, and split your videos. If you are not satisfied with these basic edits, you can also add text, audio, transition effects, mosaic, stickers, filters and so on to the video files and make them more engaging. You can both choose to add these elements from the built-in resource library and import your own element files to AceMovi. By the way, it's also acceptable for you to adjust the effects you've added to this program, such as changing the color, saturation, position and so on.
Apart from boasting multiple versatile features, TunesKit AceMovi is also mounted with several powerful and interesting functions that distinguish it from other video editors. To take it more specific, AceMovi comes with a built-in screen recorder. By clicking the "record" button, you can easily record the screens on your device along with the sounds that comes out of it. What's more, AceMovi also provides a "snapshot" button for its users to take screenshots quickly. Therefore, you don't need to worry about how to save some beloved video clips that surprise you when watching movies on the device next time.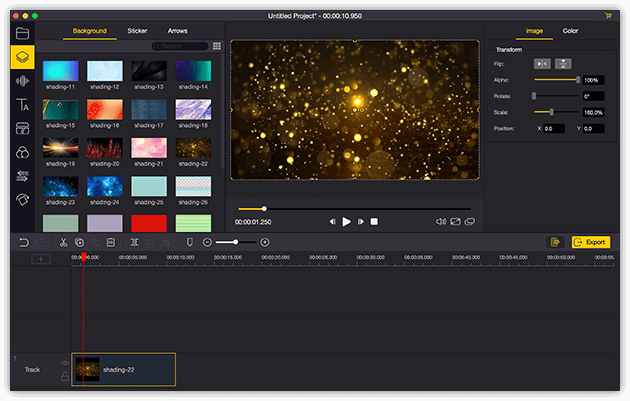 Pricing
Free trial; $19.95 for one month; $39.95 for one year; $59.95 for lifetime.
Pros:
Simple and intuitive interface.
Rich resources.
A variety of powerful features.
Preview while editing.
Support recording media.
Support a lot of formats.
Cons:
Can't edit subtitles.
Only support English in UI.
Top 2. Filmora - Another Movavi Video Editor Alternative
Another Movavi video editor alternative is Filmora video editor. This video editing program works on both macOS and Windows. Likewise, it also provides users with multiple features to help edit video files. It has a clean user interface as well, which means there is no extra element that will bother you while editing, especially for fresh video creators.
One thing that is worth mentioning is that Filmora is user-oriented. Most of the edits can all be achieved by dragging and dropping directly. Additionally, it allows you to enhance your video editing plan by making a face-off or using a green screen feature. Besides, Filmora is so efficient that it can cut out repetition so that you can move on to your next creative breakthrough.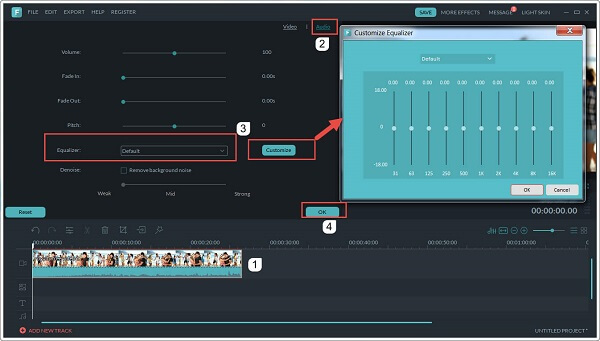 Pricing
Free trial; $39.99 for one year; $69.99 for a lifetime.
Pros:
Simple to use.
Speed control.
Create without limits.
Clear user interface.
Cons:
Automatically renew, cancel any time.
Watermark in an obvious place for free trial.
Top 3. Camtasia - Alternative to Movavi Video Editor
Among all the best Movavi alternatives, Camtasia can also easily take a place. Camtasia is an excellent screen recorder and video editor. Users can record videos of what's on their computer screens to make lessons, tutorials, or product demos. And they can then customize and edit these videos.
It is noted that Camtasia is a little different from other Movavi video editor alternatives. It tends more to be used as an excellent screen recorder. It supports you to turn your presentation into a video, which is of great help to those person who want to make instructional lessons. Most importantly, Camtasia supports interactivity. Users can share their user experience or discuss some using methods, which is very useful and interactive.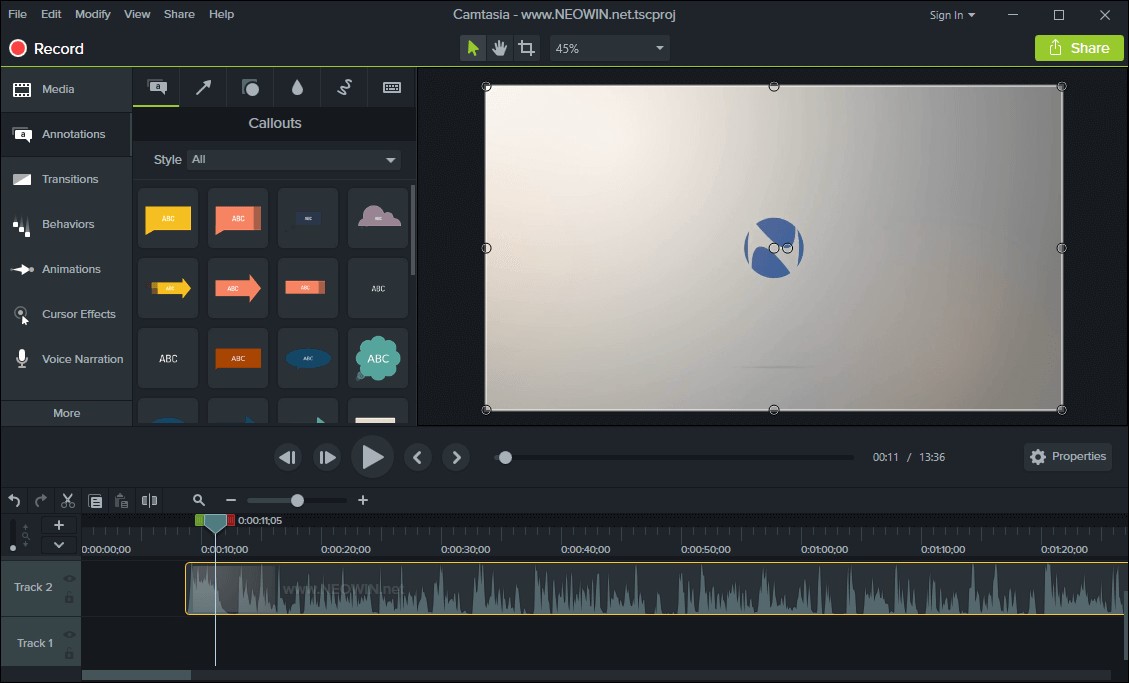 Pricing
Free trial; $49.75 for one year; $249 for a lifetime.
Pros:
Quick to learn.
Multiple and powerful functions.
Cloud connectivity.
Interactive.
Cons:
More biased towards screen recorder.
Noise reduction complaints proposed by users.
Top 4. VSDC Free Video Editor - Free Movavi Video Editor Alternative
VSDC Free Video Editor is a Movavi free alternative. This free multimedia toolkit brings a set of tools which can be used to edit video, improve audio, capture desktop screen, and more. It comes furnished with a lot of essential tools such as zoom, charts, color correction and video editing. Besides, VSDC free video editor provide a powerful function to stabilize shaky footage. It can fix a jittering video that was recorded on the travel trip without any special equipment.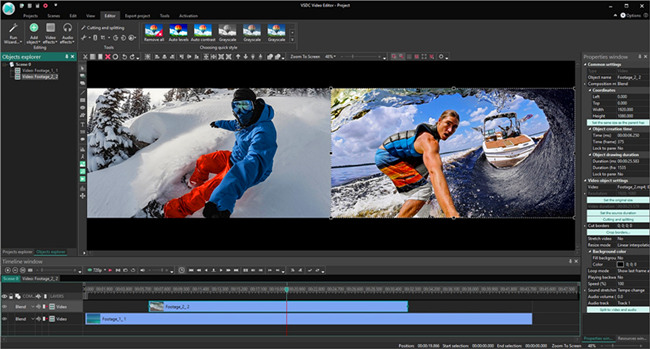 Pricing
Free.
Pros:
Tons of control and editing power.
Free.
Some unique while versatile functions.
Lower system requirements.
Cons:
A relatively complicated UI.
It doesn't produce HD videos.
Difficult to grasp all the features.
Top 5. iMovie - Movavi Free Alternative for Mac
The last Movavi free alternative here is iMovie. This is also a video editing tool that enjoys a reputation. But it is just for iOS and macOS. Compared with the above professional alternatives to Movavi, iMovie is a rather easier video editor. It doesn't provide so many editing features as others. But if you are just looking for a video toolkit to do some basic edits like trimming or adding some texts to a video, then iMovie can be your ideal choice.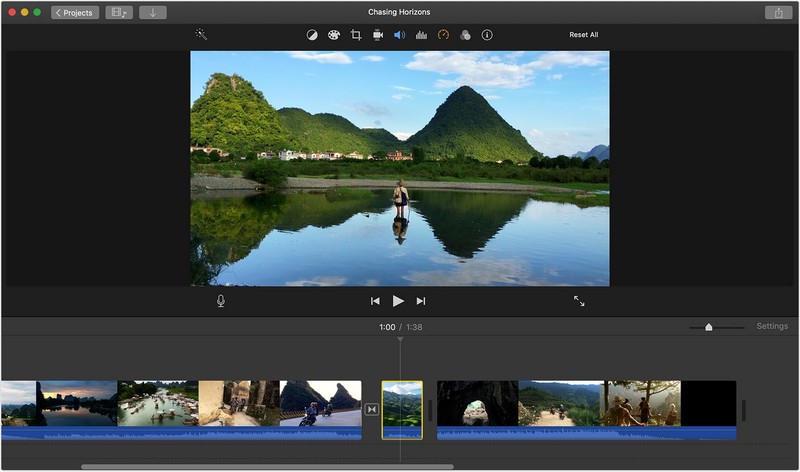 Pricing
Free.
Pros:
Extremely Easy.
Simple and clear interface.
Free.
Cons:
Not a good choice for professionals.
Limited editing features.
Bottom Line
So far, we have gone through the top 5 Movavi video editor alternatives updated to 2021. You can take a look at the pros and cons of each one and choose the one that you prefer most. Kindly remind you that please be careful of the supporting systems, since some work on Mac only.
If you don't want to waste time to comparing them one by one, then TunesKit AceMovi is kindly recommended to you for its easy-to-use as well as powerful features. You can give it a try. And hope that you'll enjoy it.