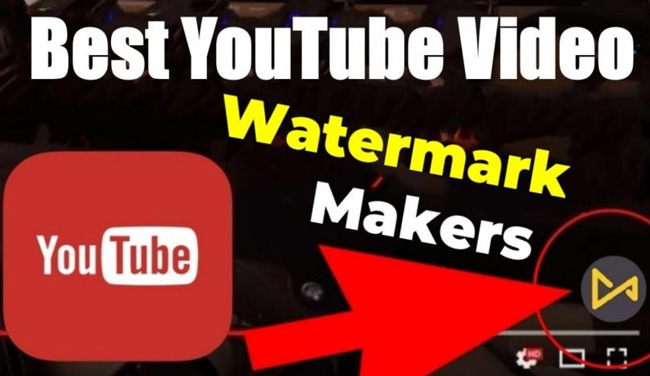 The YouTube website has become one of the most popular video-sharing platforms around the world. At present, millions of people are creating content on YouTube TV every day. It's common to see that most of those YouTube videos are marked with custom and exclusive watermarks, which can be designed as a logo set on the left above or the right bottom, or even appears as a banner taken half of the window.
Why do we make the watermark on videos? It lies that a watermark can symbolize a brand, make content more professional, then increase subscriber base, and most importantly, show the legitimate copyright to protect our content. So if you're trying to find the best tool to add watermark on YouTube videos, just step into today's sharing, herein we'll introduce the 10 best YouTube video watermark makers for PC, Mac, and online.
Top 10 Best Free/Paid YouTube Video Watermark Makers for Windows, Mac, & Online
Top 1. AceMovi Video Editor [Discover & Deal!]
Free Version: Easy-of-Use, No Expiration Date, Branding/Custom Watermark Templates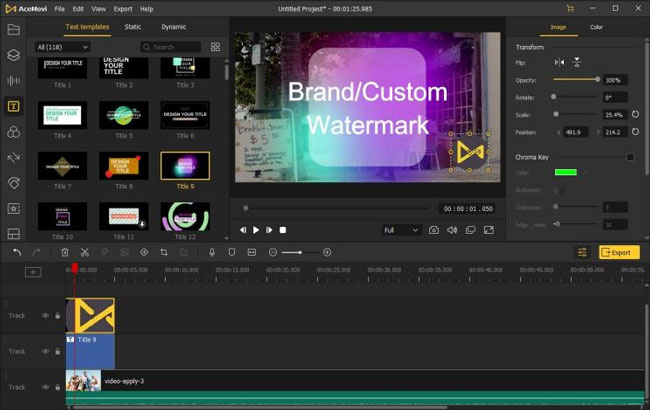 Over 100 million users around 150+ countries are using TunesKit AceMovi Video Editor, which is famous for ease-of-use and multifunctional editing features for videos imported from YouTube TV, Facebook, Instagram, or other popular social webs. Speaking of the watermark-marking service, AceMovi provides users with 115+ ready-made watermark templates, 45+ static watermark genres as well as 15+ dynamic watermark genres.
In addition to customizing watermark logos or banners on YouTube videos, AceMovi empowers you to trim, record, cut, split, chop, compress, converse, convert, and crop YouTube videos as well.
More importantly, in your YouTube video editing process, you won't worry about how to do it and what to do because the main function buttons are available on the default user screen and you can apply them to the wanted YouTube videos even just by shortcuts. Surprisingly, you can use all of the watermark templates on AceMovi's trial version for free. So just click the downloading button to get AceMovi on your desktop.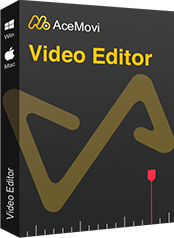 Key Features of AceMovi Video Editor
Security Verified. 5,481,347 people have downloaded it.
Pros:

160+ branding/custom watermark templates
You can add the watermark logo or texts in the YouTube videos' beginning or ending
All of the watermark templates are free-to-use
Applied to most YouTube video editing projects
Easy-of-use, even you can use advanced effects without reading any tutorial
Download for most Windows (XP, Vista, 7, 8, 8.1, 10, 11) and Mac (macOS 10.8 and higher) systems
Most the video/audio/image formats included
Here Is the Step-by-Step Guide to Make a Branding Watermark on YouTube Videos by AceMovi Video Editor
Download and Install AceMovi
AceMovi can be downloaded for free on both Mac and Windows. The program is just around 80MB. After installing, you need to click the AceMovi icon newly increased on your desktop to launch it.
Import YouTube Videos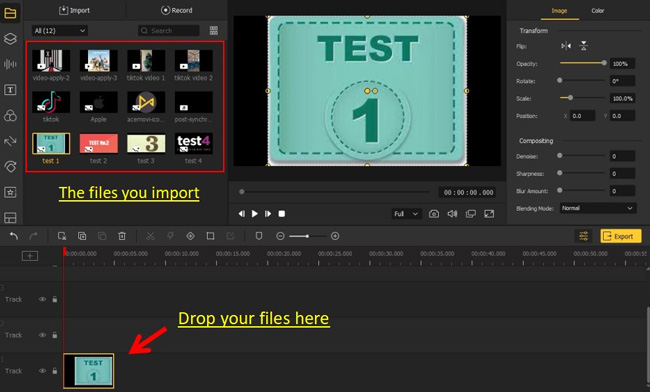 As the image shows, you can just drop the wanted YouTube clips under the timeline. When you want to reuse the video files you imported before, you can find the thumbnails from the Media area.
By the way, because of copyright issues, most offline YouTube video editors do not possess the URL-Inputting functionality and AceMovi is not the exception. So, you can try this on some web-based YouTube video editors like KAPWING.
Add a Branding Watermark YouTube Videos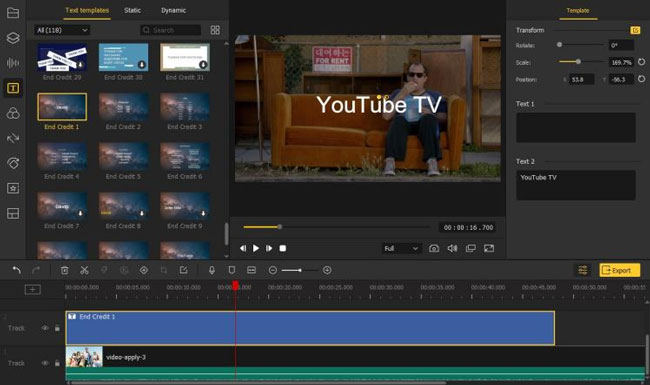 You need to: Select a watermark template from the Text panel > Drop the template under the new Track 2 > Lengthen the duration by dragging its edge outside > Input words on Blank Text 1 and Text 2 > Adjust the angles and scale.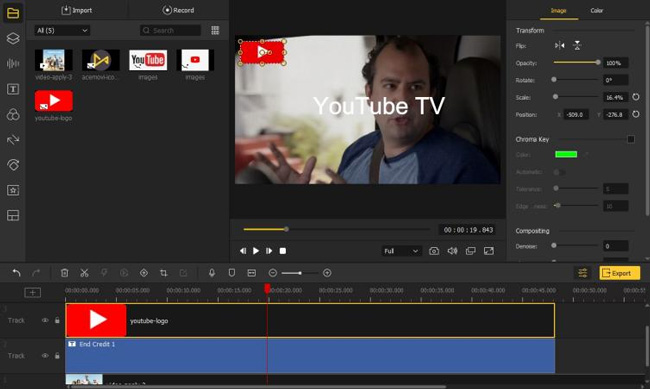 And when you'd like to add a logo watermark in YouTube video, you should: Input the logo watermark, which can be an image or GIF > Drop the logo watermark under the new Track 3 > Adjust its duration, size, opacity, and others just as we described before.
Export or Post Your Watermarked Video on YouTube TV
You can convert the video into the AutoFit format that YouTube Studio requires by clicking on Export > Web > YouTube. In this case, the watermark-marked video you'd like to upload will be automatically converted into an aspect ratio of 16:9 and resolution 1280*720.
Top 2. DaVinci Resolve 17
Free Version: No Expiration Date, No Watermark
DaVinci Resolve 17 is a Hollywood-standardized movie editor by which you can even import YouTube videos at 8K without any lag. DaVinci Resolve 17 also provides users with a professional color grading tool and audio balancing tool, just like the above image depicts, you can edit more parameters like Gamma and Gain except adjusting brightness, hue, pitch, or effects. DaVinci is also an excellent YouTube watermark video maker running for Mac, Windows, and Linux, you can use more than 50 different kinds of watermark templates within it.
To be detailed, you need to: Download DaVinci Resolve 17 (macOS 10.15 Catalina+, Windows 10+, Linux CentOS 7.3+) > Import the wanted YouTube videos > Add a text template > Adjust the font, color, size, and position.
Pros:

Loads of watermark genres for YouTube video
Advanced color grading feature
Export without watermark
Review the effects in real-time
Professional VFX rendering
Cons:

Requires higher OS & One-time purchase ($295)
Top 3. VSDC Free Video Editor
Free Version: No Expiration Date, No Watermark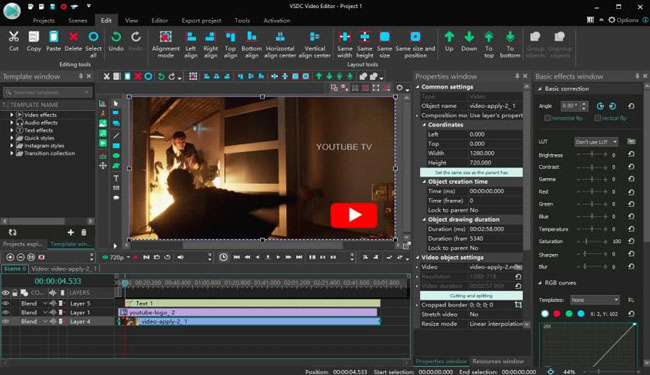 As one of the best YouTube video watermark makers, VSDC Free Video Editor can be only downloaded for Windows systems. But you'll find this is a technological YouTube video editor - At the first sight, 4 blank projects are listed as a queue for you to choose from, they're Blank Project, Slideshow Makers, Screen Recorder, and Camera Recorder; Below, you can find many advanced effects built-in VSDC includes 3D/360 Editor, Blending Mode, Motion Tracking, AI Art Generator, and UDH&HD, etc. But you need to order the pro subscription at $19.99 to get a full multi-media editing suite, hardware acceleration, sub-pixel resolution, and audio waveform.
To add a watermark on YouTube videos with VSDC, you need to: Download VSDC (Windows 2000/XP/2003/Vista/Win7/Win8/8.1/10/11) > Start with the Blank Project > Drop the YouTube video clips > Customize windows to input your brand name or add the logo > Set related parameters besides.
Pros:

You're allowed to mark custom watermark for YouTube videos
Professional Lut adjuster helps you change even temperature and gamma of the watermark
Export the best video format and video quality for YouTube TV
Preset the duration and position which locking to parent duration
Begin your YouTube video editing with four prepared projects
Cons:

Not friendly for new users
Top 4. Clipchamp
Free Version: No Expiration Date, No Watermark, Export 480p Max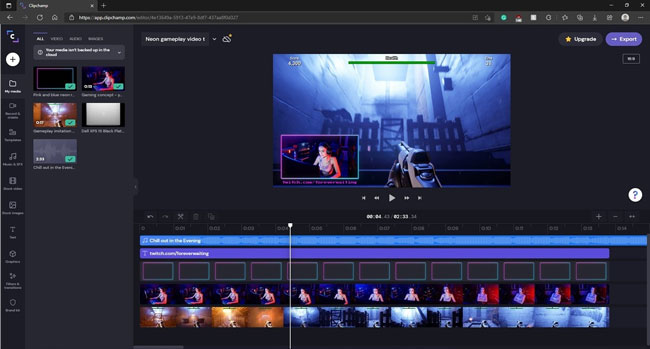 Let's come into the best YouTube video watermark maker online - Clipchamp, which is a very easy-to-manipulate YouTube video editor for both beginners and skilled men. Clipchamp attracts lots of loyal users for its ready-made templates no matter for video making or editing. For example, if you search for a YouTube video template and it later, you'll see all of the related video elements are embedded within it like texts, music, color grading, and more. Moreover, Clipchamp Can help you connect to YouTube TV and post the new-made on YouTube directly.
If you want to mark watermark on YouTube videos, Clipchamp can be a very good choice: Browse to Clipchamp > Register to get your account > Try a template or customize by yourself.
Pros:

Hundreds of attractive watermark templates
A powerful tool to edit YouTube videos anytime
Export without the watermark or logo embedded
Motion tracking feature
Cons:

Export at 480p mac freely
Top 5. Watermark.ws
Free Version: No Expiration Date, Watermark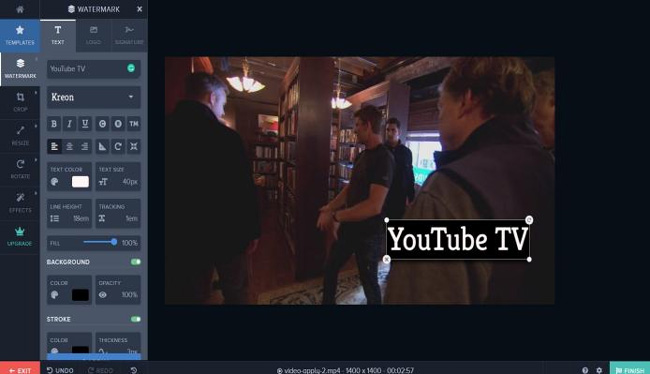 As one of the best YouTube watermark video makers working online, Watermark.ws., get an account is the first thing to do if you'd like to use this watermark adding tool. Watermark.ws. supports photo/video/audio watermark from the local hard drive as well as Internet stock. If you have a need to batch add watermarks, logos, texts, or watermark templates, then this online YouTube video watermark editor is enough. Running can be more smooth if you got a better network.
And this online tool is cheap only at $4.17 per month. To mark watermark online with Watermark.ws., you should register first and import videos naturally, then you can customize the watermark or choose a watermark template to add, lastly, try to alter the content, font, color, size, and more.
Pros:

More watermark templates for YouTube videos
You can import image/video/audio from the local hardware
Professionally being as an online YouTube video watermark maker
Not expensive
Cons:

Video will be printed with a brand watermark by this online tool on the free version
Top 6. WeVideo
Free Version: No Expiration Date, No Watermark, No Download Authority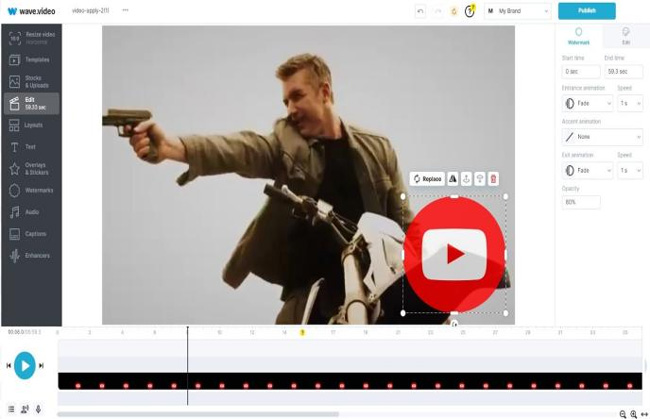 WeVideo is a multi-functional, free to manipulate, and wholly cloud-based collaborative YouTube video watermark maker. With 30+ million user accounts created to date, WeVideo is a good option for pro businesses, common consumers, even academic educators, and students, as well as being one of the backbones for lots of third-party platforms. YouTubers can easily and quickly make, edit, review, and share YouTube videos with this tool in the cloud. And when it comes to the pricing of WeVideo, you can use it free and share your YouTube video with a URL but you cannot download it. For download, $4.99, $7.99, or $17.99 month billed annually plans can be purchased.
To add watermark in YouTube videos online, with WeVideo, you need to: Register > Import YouTube videos > Select from the text types > Input content and change related parameters.
Pros:

Can add watermark in YouTube videos easily and quickly
Provides more text and watermark templates
Very easy learning curve
Unlimited tracks to add
No watermark left with
Cons:

You cannot download the watermark marked YouTube video on the free version
Top 7. Final Cut Pro
Free Version: 90-Day Expiration, No Watermark
FCP, fully known as Final Cut Pro, is a user-friendly macOS product with some of the non-traditional workspace elements that have become staples of FCP YouTube editing workflows, such as magnetic timelines, non-traditional audio characters to replace professional audio mixer tracks, and a specialized library system. This is also a powerful YouTube video watermark marking program that now includes advanced color grading & correction tool. But users will be expired after 90-day free use, in this period, YouTubers are available to export videos without watermark annoyed.
To mark a branding watermark in YouTube videos, you should: Download Final Cut Pro at the beginning (macOS 11.5.1 and later) > Drop YouTube clips under the track > Choose a watermark template and drop is alike > Adjust its position, duration, and more.
Pros:

Professional in YouTube video editing
Free for Apple fans and users 90 days
Video effect rendering is responsive
Export at HD, 4K, and even 8K
Cons:

90-day free use for each account only
Top 8. VLC Media Player
Free Version: No Expiration Date, No Watermark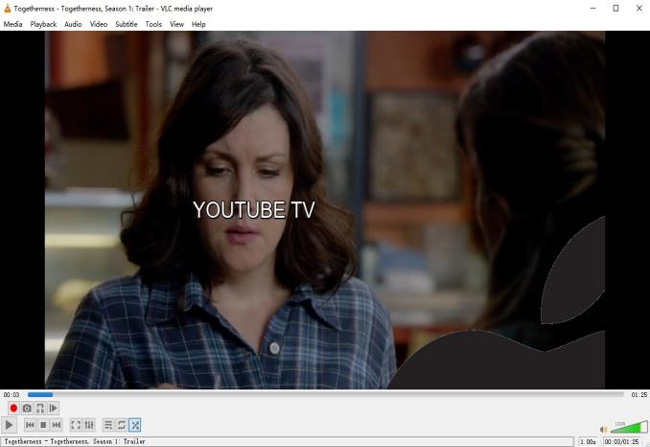 VLC Media Player belongs to one of the best media playback software products operating for both Mac and Windows. Capable of playing back vast selections of YouTube video clips, VLC is a hugely versatile player and maybe best of all in case you're familiar with it already, and most importantly, it's free completely. However, with VLC, unlike AceMovi or DaVinci, you have to go through lots of categories and subcategories again and again because the majority of video editing features for YouTube videos have been set within those menus.
And the process of adding a custom watermark on YouTube videos is a bit different from previous editors, you need to download VLC (macOS 10.7.5+, Windows XP SP3+) first > Drop YouTube clips onto the workflow editing window > Find menu and navigate to Tools > Effects and filters > Video Effects > Overlay > Add a logo or add text.
Pros:

Very powerful YouTube video editor for Mac and Windows
Free to use & without an expiration date and watermark
Includes hundreds of useful functions
A very big window to preview the video effect
Cons:

Not so easy to master
Top 9. Hippo Video
Free Version: No Expiration Date, No Watermark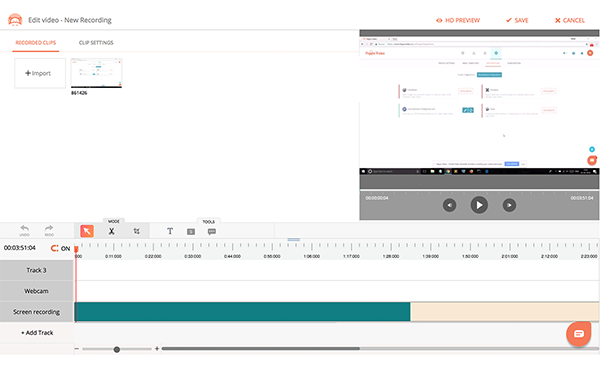 With a host of built-in tools, Hippo Video allows users to quickly create and edit YouTube videos and share them with multiple recipients in individual or active mode. Hippo Video users are allowed to track the performance scores of their content respectively, as well as customize the details of landing pages and other pragmatic assets to fit their brand needs. But One problem most Hippo video users reflect on is the glitches they encounter when using the software.
To add a custom watermark in YouTube videos with Hippo, you should: Log in > Insert YouTube files > Add a watermark/text genre > Set parameters like font, size, and color.
Pros:

Clean user editing interface
A powerful YouTube video watermark maker online
No watermark added in
You can see the effects in real-time
Cons:

Lack advanced tools like reverse and split-screen for YouTube videos
Top 10. KAPWING
Free Version: No Expiration Date, No Watermark, Export at 720p Max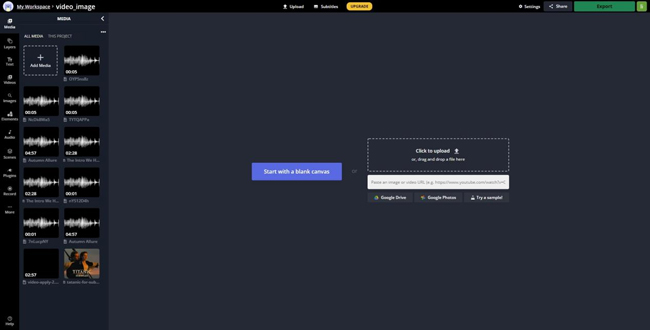 KAPWING is a fully-fledged online YouTube watermark maker for both individual and business use and is an online video editor that supports URL channels to import YouTube videos so that users can import and then edit the YouTube video without downloading in advance, which saves a lot of time. KAPWING also contains a plethora of watermark genres and templates for free and users can export at 720p most so 1080p should be bought if they require it at that moment.
To add a branding watermark online with KAPWING for YouTubers, you'd better: Visit it and get your account > Import videos by URL or dropping > Choose a text template > Do some settings like size and position.
Pros:

Export at 720p freely
Supports URL way to import YouTube videos
Lots of video templates for YouTubers
You can share the new-made video on YouTube TV
Conclusion
You can find that some of the YouTube watermark makers are easy to use while some are not because they also comprise other YouTube video editing features like trimming, cutting, cropping, reversing, speed changing, and so on. By contrast, if you'd like to use the YouTube watermark maker on Mac or Windows system, AceMovi can be a better option; while for online, just choose the Clipchamp.