"How do you edit someone else's YouTube video?"
It happens that when you find an interesting video on YouTube and want to download a certain or the whole part of that video for personal use or friends sharing. Whether to cut the video into parts, add some effects or captions, or upload it on your social account, all you'll need to do first is to get a proper YouTube video editor. In fact, YouTube was inherently built with the video editing features like trimming and cutting yet you'll find it complicated to use and the functions are in shortage.
So, in this post, I'll show how to edit someone else's YouTube video with an easy-to-use video editor. The tutorials given here include how to download, cut, shorten, reverse, and upload a YouTube video. Here we go!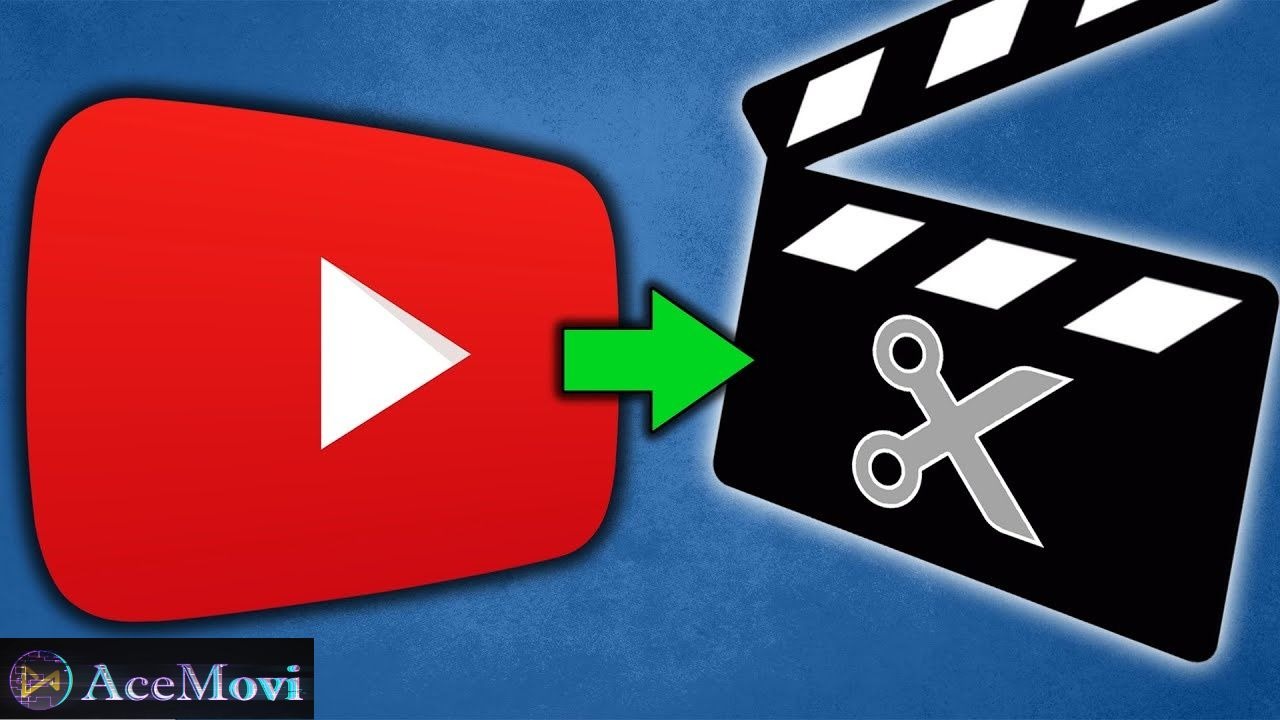 TunesKit AceMovi - Best YouTube Video Recorder & Editor
Usually, some apps and ads will ask you to install and buy their YouTube video downloader when you want to get the raw clips in YouTube Studio. But you'll find it time-consuming and complicated because not only it'll require you to deal with the copyright issue but also you need to copy-&-paste the URL and wait for a very very long downloading time. Is there any better way to download someone else's YouTube video?
Bingo! Of course, there is an laternative way. Just like making a snapshot when using a paid image editing app, you can record the other people's video while surfing YouTube TV. Here you can try TunesKit AceMovi, a clutter-free & easy video editor for all levels of YouTubers.
If you're a YouTube beginner, this tool can help you make edits like trimming, cutting, shortening, cropping, rotating, and more; If you're a skilled YouTuber, you can try advanced functions such as editing green screen video with Chroma Keying, making a PiP (React & Duet) video, creating a split-screen video, blurring video's black bars, etc. Here is the interface of AceMovi with which you can navigate to all the wanted features on one screen.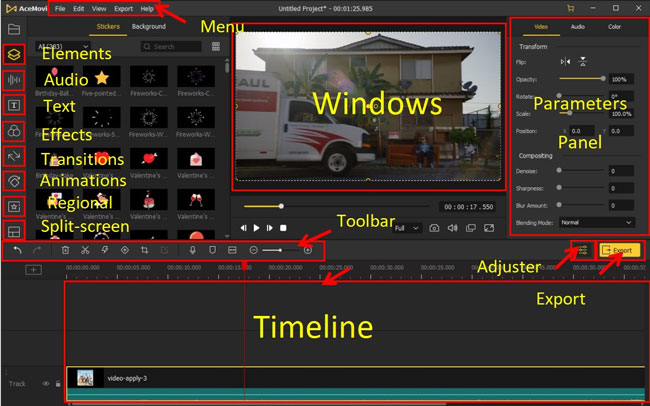 As a well-established video editor, AceMovi is mounted with video formats like HD MP4, HD WMV, HD AVI, HD MOV, HD M4V, 4K Video, MPEG-1, MPEG-2, DivX, WebM, etc. For uploading your video on YouTube, you can go to the taps of Export > Web > YouTube directly. In this case, AceMovi will download the new video in AutoFit format for YouTube Studio with a 16:9 aspect ratio, HD resolution, and h.2.64 codec. Now just go for AceMovi on your desktop!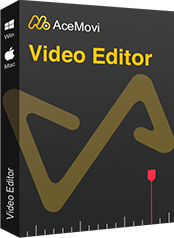 TunesKit AceMovi Video Editor
Security Verified. 7,455,164 people have downloaded it.
Reasons to Pick Up:

Download someone else's YouTube video by the pro built-in Screen Recorder
Recording YouTube video without duration limits and lags
A toolkit contains YouTube video cutter, trimmer, cropper, converter, sound equalizer, SloMo maker, etc.
Import as many photos or clips as you want
Create a split-screen YouTube video without any hassle
Customizable interface
Trial version without expiry
Cost-effective
Strikes:

The trial version has a watermark
No version for iPhone
How to Download Someone Else's YouTube Video
In the following, you'll learn how to download YouTube video in real-time with TunesKit AceMovi's Screen Recorder. Now, let's get started!
Download & Install TunesKit AceMovi
Right now, with TunesKit AceMovi, you can edit someone else's YouTube video on a Mac or Windows device. To enjoy the watermark-free VIP service, recommending the $59.95/Perpetual for you. The monthly plan ($19.95) and the annually plan ($39.95) are available as well.
Bgein to Record Others' YouTube Video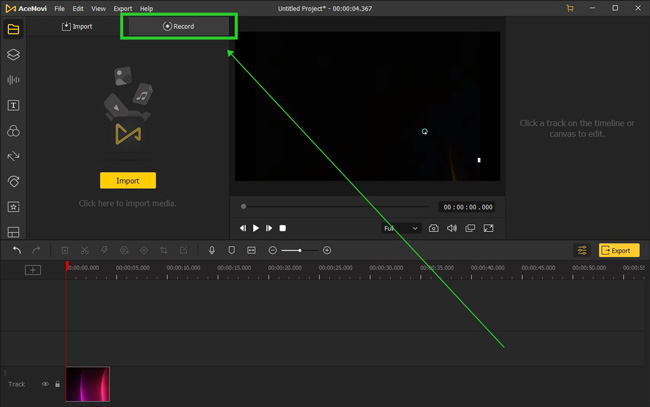 On the trial version, you don't need to register or download any plugin. Just go to the Record 🔘 on the Media plate. Then the recording screen will pop up.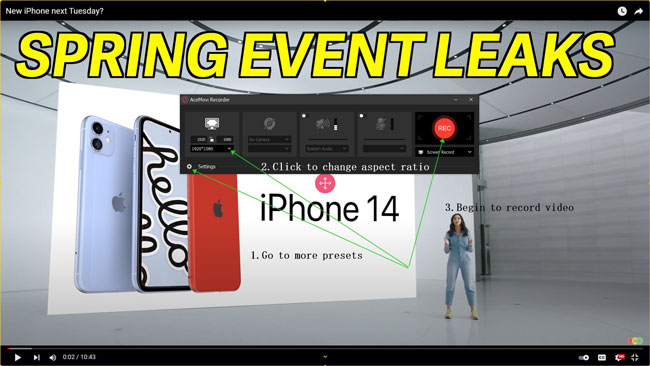 Go to the Resolution, you can set the aspect ratio at 720*480, 1280*720, 1920*1080 (the full screen), etc., or customize it to get rid of the black bars; Go to Settings, you can preset the output location, shortcuts, recording schedule, and cursor options. Once all are set, click the REC 🔴 to begin recording the video. And the ⏸, ⏹, & ✂, are used for pause, finish, and snapshot respectively.
To Edit the Recorded Video Directly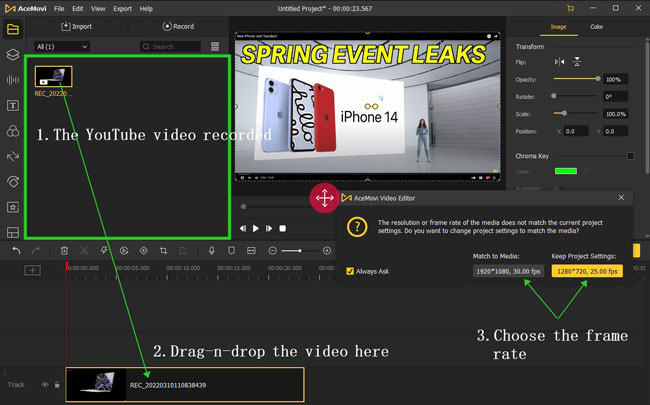 Wonderful! You just made the recording successfully. Here you can edit the recorded YouTube directly. First to find your wanted file from Media then drag-n-drop the file under a new track. After that, you can edit the YouTube video freely!
How to Download Someone Else's YouTube Video Online
If the YouTube video is a small file without any copyright issue, you can also try an online tool to download YouTube videos. Google "YouTube video download" and there are lots of search results. Here I usually use a YMP4 YouTube video downloader. Paste the URL of the video you want to download from YouTube, then choose the resolution. Click download, wait for a moment, then you'll get the MP4 file of the YouTube video.
See Also: 10 Best Free YouTube Video Downloaders
How to Cut a YouTube Video That's Not Yours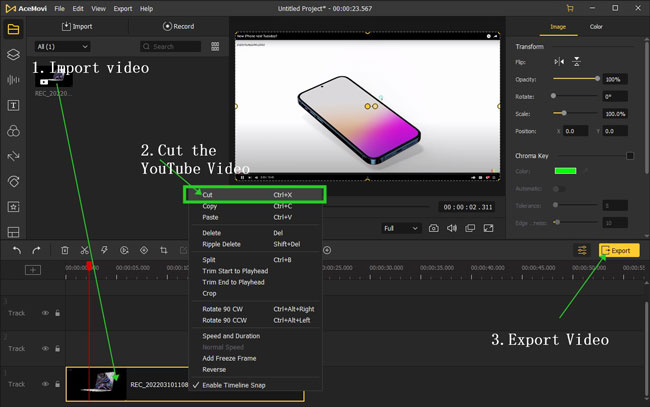 Cutting shortcut: Ctrl + X.
After importing the YouTube video clips under the timeline, right-click the clip and then go to the Cut option. You can add multiple files and cut them together with TunesKit AceMovi. When you paste them elsewhere, all the files will appear as before.
How to Shorten/Trim YouTube Video for Presentation
Shortening/Trimming shortcut: Ctrl + B.
To shorten a YouTube video for presentation, you need to put the playhead at the trimming point or wait for the hitting on the trimming point. Then right-click the clip to choose the Trim option.
With AceMovi, you can make endless video trims. Here just delete the unnecessary parts if you want to shorten the export file. And you're also allowed to change the sequences.
Video Tutorial: How to Trim a Video
How to Reverse Someone Else's YouTube Video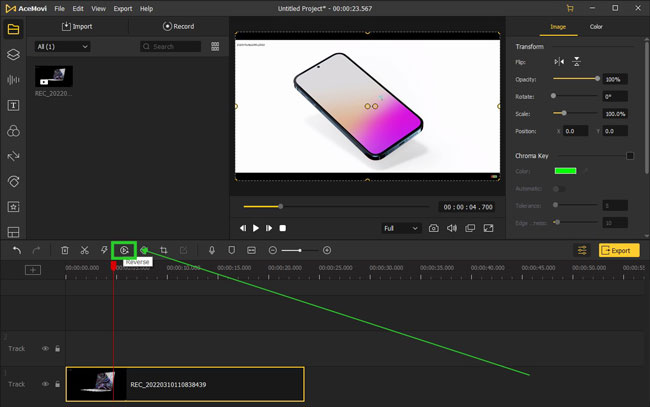 Video reversion is one of the most popular features to make your YouTube video go viral. With AceMovi, not only can you reverse the video clip, but also you'll find it easy to reverse the audio track.
To reverse YouTube video on the interface, go to the toolbar to find the 🔄 icon and click it. Likewise, you can make it by right-clicking the video clip to choose the Reverse option. If you only want to reverse the audio track, you need to detach the audio first (Audio Detaching shortcut: Ctrl+Alt+D) and then press the Reverse icon.
How to Reverse Someone Else's YouTube Video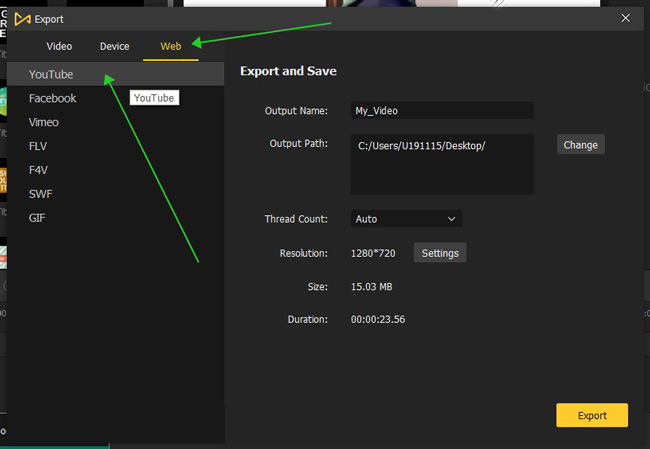 Brilliant! Now, it's time to download the new video with AceMovi. To export your video at in best format for YouTube, you can easily do this by going to Export > Web > YouTube. Then you'll find the file saved in the preset folder.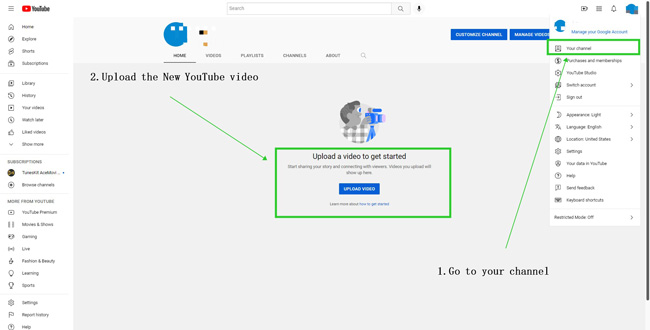 To upload someone else's YouTube video, just log in on the YouTube platform. Go to your profile and click the Your Channel. Then press the Upload Video option to upload your videos!
The Bottom Line
That's the whole instructions on how to cut a YouTube video that's not yours. To do this, you need to download or record his or her YouTube video first and then use a video editing tool to make edits. Besides cutting, trimming, and reversing videos, AceMovi is developed with numerous powerful features such as keyframing, VFX, overlays, transitions, filters, etc.