At the forefront of a productive marketing campaign, video has always been an effective option for catching folk's attention and making a profit. With the help of a beautifully crafted video, you can share your life around the world. But we all know how difficult and time-consuming the video editing process is.
But thankfully Android and Apple users have InShot Video Editor, which is the best video editing around. It makes video editing simple, fun, and more entertaining. Generally speaking, InShot is an app that has plenty of basic and advanced features for aesthetic video creation enthusiasts.
And the article below will give you a complete walk-through on how to edit videos on InShot. So, dive in and let's get started!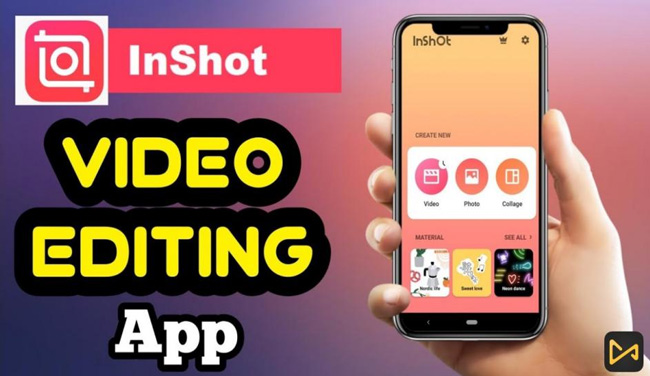 [2022 Latest Version] An Overview of InShot Video Editor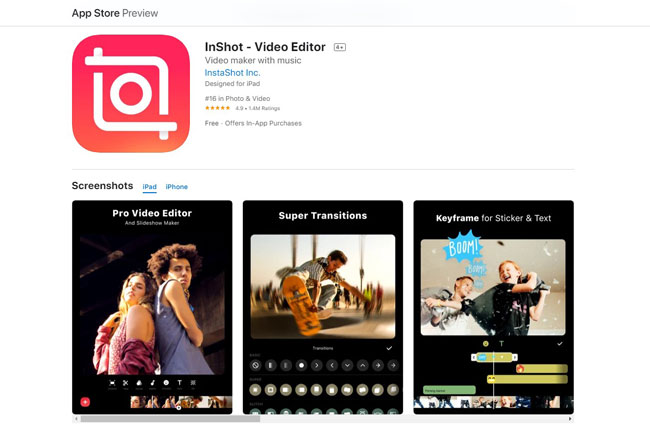 Launched on March 5th March 2014, InShot came with the basic idea of being the best platform to share and edit aesthetic videos. InShot is a free video editor available for both Android and iOS users.
With InShot, amateurs in the video editing business have all the basic and advanced photo and video improvement features at their disposal. From the basic cut, trim, split, adjust, convert, crop, export to advanced picture-in-picture videos and VFX, InShot has the power to create wonders.
However, the strikes of InShot are also obvious like it's unfit for batch video editing and you cannot find the version of InShot Video Editor for PC. Worse still, when sharing and saving, a watermark will be left with if you don't upgrade your account.
Pros:
User-friendly Interface
Free to use
Basic and advanced editing options in one place
Amazing filters and effects for quality results
A vast selection of music and sound effects
Full of VFX and SFX
Supports image and video sharing on all social platforms
Cons:
Supports image and video sharing on all social platforms
To unlock all the features you need a pro version
Videos edited in the free version have watermarks
How to Add Video Elements to Video in InShot App
We will give you a step-by-step guide on how to make video edit on InShot. You don't need to be an expert to understand the process. It is pretty simple. You can import or add all the basic elements in your videos such as texts, including music, and applying text using the InShot video editor. Just stay with us to learn everything!
Videos Import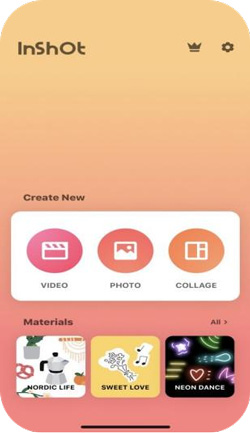 To get started, you need to import videos into the InShot video editing app. Open InShot and click on the "Video" option from the main interface. This will take you to your phone's gallery. Select the videos you want to edit and upload them into the editor. If you want to make videos in InShot with photos to create a slideshow, go to the Collage icon.
Aspect Ratio Select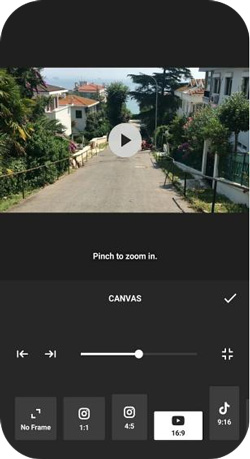 Then adjust the Canvas of the video. It refers to the size and ratio of the video depending on the platform you intend to share. Background adjustment options are also available within the app. Originally, InShot takes the aspect ratio of 1:1, so if you're making videos for other platforms you can change to YouTube 16:9, TikTok 9:16, or others.
Text Add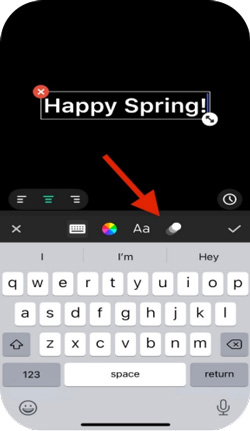 How to edit a video with Titler on InShot? Firstly, click on the Text option and add text to your videos. There are a lot of decent font options in the text menu and you can purchase more fonts to enjoy more choices.
Then you can edit the color and size of the font, and can also add transitions to make it more smooth. Text transition options include Tilt, Pop Up, Fade, Rotate, Spin, and more. You can also apply frame to the text and play with the opacity of the text.
Emojis Insert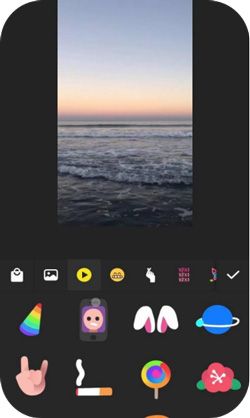 How to edit videos with emojis on InShot? In fact, stickers, emojis, and Gifs can also be added to edit videos using InShot. The selections of different stickers and emojis depend on the themes you choose. The sticker collection also includes inspirational quotes, labels, social media icons, and speech bubbles. Some stickers are free to use if you want more options click on the bag icon to purchase more.
Music Edit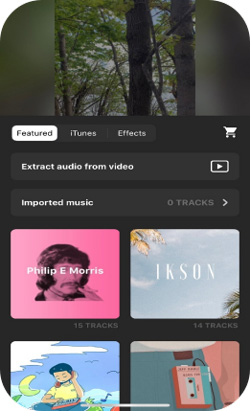 A video is incomplete without a good music tone playing in the background. So how to make video in InShot app with music? To edit video with music on InShot, click on the music icon at the bottom of the page at the very beginning and the app will give you access to the built-in music library. Here you can choose to extract audio from video in case two or more soundtracks are mixed together.
How to Make Basic InShot Edits: Easy Tutorials!
Only knowing how to import and add elements is not enough, and I guess now you want to learn how to make basic edits on InShot Video Editor like how to trim an MP4 video, how to crop a clip, or how to change the speed of a video, right? Here we go!
Videos Trim
How to trim video on InShot? Trimming a video means to shorten the duration of the video. To trim videos in InShot, you need to click on the ✂ icon. Extract the best shot from the video using the sliders. Then, click on the Checkmark icon to save the trimmed section.
Videos Split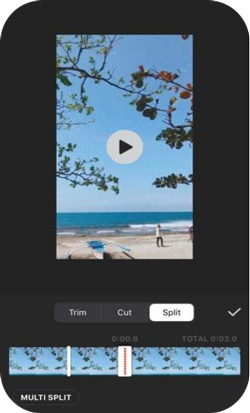 How to Splitting videos allow you to cut videos into two segments. The split feature comes alongside the trim option. Move the red dotted slider back and forth to select the splitting location of the video.
Voice-Over Record
Adding narrations to your videos is also possible through InShot. But before you can add a voice-over to your video make sure the volume of the video is down to zero. Then, from the list of tools select the music icon. You will have three options in the next menu. Choose the recording sign to start recording your voice. Click on the Checkmark sign to save the voice-over.
How to Do Interesting Edits with InShot (Include Best Alternative to InShot: TunesKit AceMovi Video Editor for PC)
Have you made it clear how to edit video in InShot? In this part, I'm going to share with you some of the most popular effects that video makers use when editing video in InShot like PiP and Meme.
Voila! As we all know InShot isn't good at editing multiple videos and still lacks advanced effects like Chroma Key and Video Equalizer, even fills up with annoying ads, so here comes the best alternative to InShot you can opt for. Let's go!
Picture-in-Picture Effect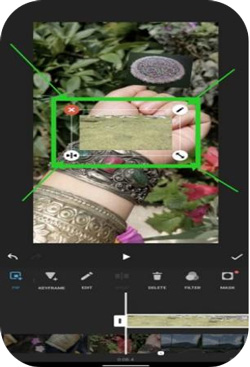 Open a video from the main user interface. Adjust the canvas of the video and edit it using all those tools. Then, click on the picture-in-picture icon from the toolbar. It will take you to your phone gallery. Choose another video and place it on top of the video. Click on the checkmark to save the video.
Meme Make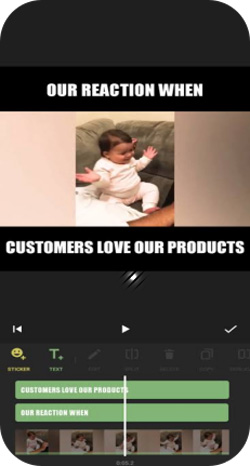 How to edit videos with memes in InShot video editor? Here's an easy guide!
Step 1. Change the background of the video;
Step 2. Use the multiple solid colors, blur, or gradient option;
Step 3. Apply black background before applying text;
Step 4. Use the text option to add a caption;
Step 5. Adjust the size and color of the font to make it more prominent;
Step 6. Save the video in 4K quality for better results. You can save videos in three different formats including 1080p, 720p, and 620p.
★ Best Alternative to InShot - TunesKit AceMovi Easy Video Editor for Windows & Mac
You have many reasons to edit video with TunesKit AceMovi on desktop: (1) Save Time; (2) Edit multiple videos; (3) Use advanced effects like Chroma Key, Slideshow Maker, Split-Screen, Duet, and React; (4) Go to professional video making; (5) Larger space to download and upload; (6) Learn more tutorials.
TunesKit AceMovi is a multifunctional video editing software that helps you create videos for all your social media platforms. The software is well-designed and has a simple navigating interface that makes video editing fun. There are tons of features within the software making storytelling easier for you. You have various filters, transition options, the options to cut a video, split a video into parts, trim unnecessary frames, and much more. You can also include audio and record voice to make videos more interesting.
Moreover, the software is with its timeline interface gives a clear preview of the video editing process. With streamlined video editing, you can produce better aesthetic videos. Besides, it supports a lot of output formats making it easier for you to transfer videos on any device of your choice like MP4, MOV, AVI, MKV, WMV, MPEG-1, MPEG-2, 4K Video, TS, DVD, YouTube AutoFit, Facebook AutoFit, Vimeo AutoFit, etc.
Conclusion
Making an aesthetically pleasing video isn't easy, but having a good video editor can do half the job. InShot for mobile and AceMovi for PC are great video editing tools. If you want to know more edits with both, send us your questions below!