Guess you're watching the recordings which have been shot just now and deciding whether or not to save and use them. Do you know that most camera rolls are good at capturing a video with all-sided presets but not splitting it? That is the reason why you need a post-production video splitter for further work. While some tools are so cumbersome due to the intricate interface and guides. You can solve the problem easily after reading this page herein we'll show you the 10 easiest video-splitting tools one by one. Now, come with me to pick up the appropriate helper and learn the skills: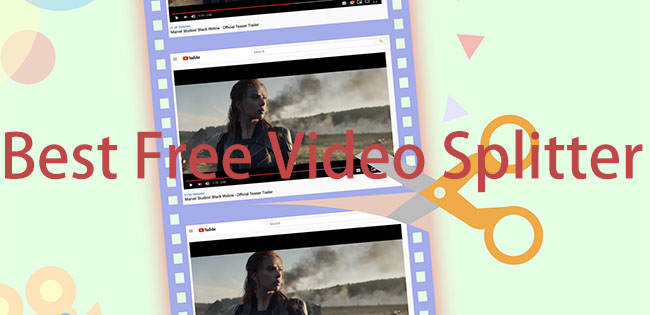 5 Best Non-Linear Video Splitting Software in 2022
Top 1. TunesKit AceMovi
TunesKit AceMovi is one of the best video splitters in the market. It supports a wide range of video formats such as MP4, M4A, DivX, WMV, MOV, M4R, AVI, and FLV among others. It is easy to use, allowing you to split multiple videos into small short clips for easy sharing with friends.
You can also use it to rejoin your videos, making it the perfect tool when you want to insert some new clip in another video. In addition, it is sixty times faster than popular video splitter software. Download AceMovi in the following!
AceMovi Video Splitter
Retains the original quality
A wide range of video sorts
Import and edit batch files
Split a large size video
1080p and 2160p download
All-sided features for editing
Plenty of music resources
Provided free demo version with no expiry
The Guides to Use TunesKit AceMovi to Split a Video
Launch TunesKit AceMovi. Add media files via Import in Media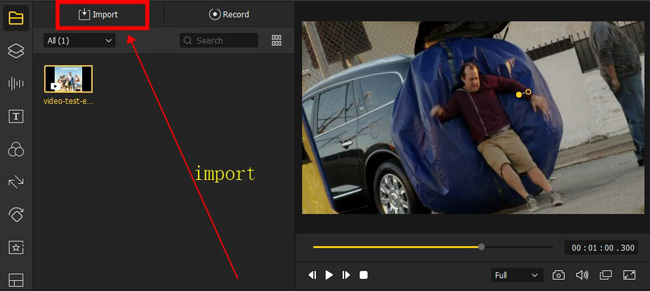 Download TunesKit AceMovi and install it. Import your video by directly dragging your video to the timeline or go to "File" - "Import" and choose the video you want to split.
Move the playhead first. Highlight the clip, then click Split from toolbar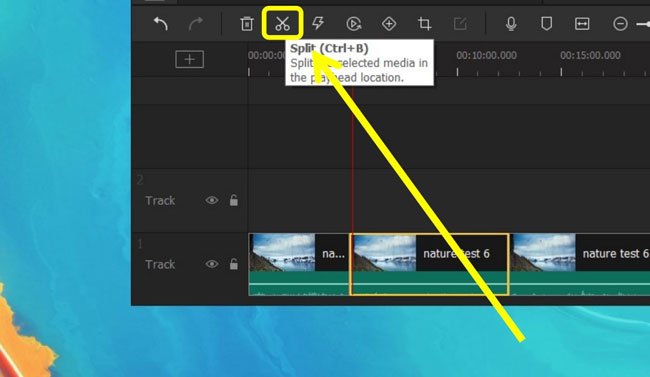 Move the playhead to the point where you want to split. Right-click your video in the timeline and then click "Split". Then your video will be cut into two parts. If you want to delete the unwanted part, simply click on the footage in the timeline and press the "Delete" button on your keyboard to delete.
Click Export, select the video format and the output path. Then download video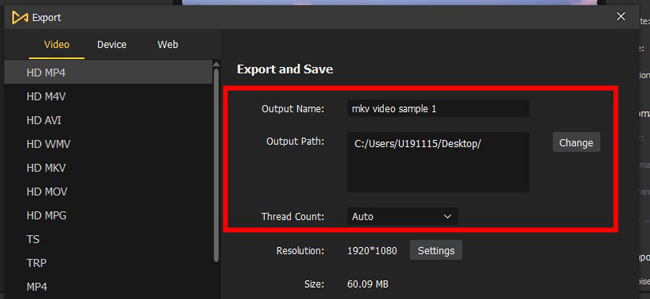 After finishing the split, click "Export". Choose a video format and select the quality and other parameters by going to "Settings". When you finish the settings, hit "Export" again to save the video to your computer. Download TunesKit AceMovi to start splitting your videos right here.
Top 2. iMovie for Apple
Want to find a free video splitter for mac? You can use iMovie. It is an awesome video editor for multiple purposes and is designed with powerful features to enable you to split and trim videos. On iMovie, users are also enabled to add captions and special effects to clips.
What makes it unique is that it was pre-installed in the Apple system. In other words, you don't need to download it extra. This easy video splitter is alive with sound effects. If you want to add them to your video, click "Music" > "Sound Effects" from the user interface.
Guides: Want to know how to split a video with iMovie? That is very simple. Upload files from local folders, then right-click the track and select "Split Clip". In that case, you see two clips under one track. Delete the unwanted one directly and get the result.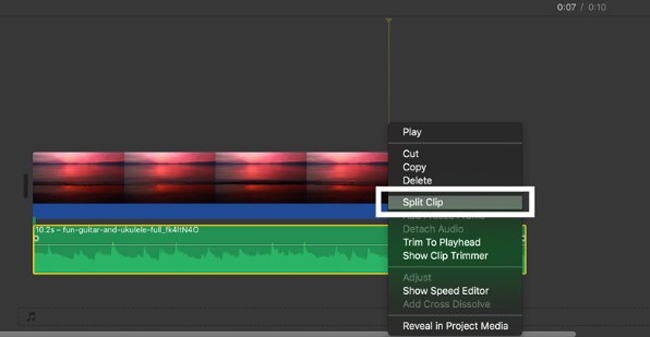 Pros:
Pre-installed in iOS/macOS
Motion tracking
Classic video transitions
Crop a video at any aspect ratio
No watermarks
Cons:
It may lags when handling MP4 files, so you;d better edit MOV files with iMovie
Has limited options for saving and editing work
Available on Apple devices merely
Top 3. OpenShot Video Editor
OpenShot is a powerful, open-source tool you can use to split multiple videos at once. It works on different operating systems, including Linux, Windows, and Mac, and therefore is perfect for everyone. You can use this tool to split your videos, merge videos, and edit videos with diverse subtitles for free.
One of the disadvantages of OpenShot is that you cannot find any background music and sound effects to enhance your video. As a result, you should download or record songs in other places, and add them to this program.
Guides: Compared to other video splitters, OpenShot is adsolutely free up to now. When it comes to the detailed workflow, you need to highlight the wanted clip and then pick "Split". There are different splitting modes for you in the next plate.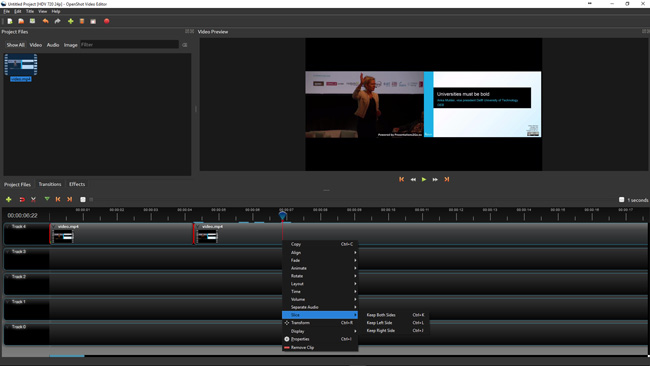 Pros:
Supports different formats
Linux, Windows, and Mac users can download it for free
Offers animation frame and video effects
Comes in a wide range of languages
Free for everyone
Cons:
It can get too slow
No music and sound effect stock
Top 4. MiniTool Movie Maker
You may find MiniTool Movie Maker is a great free video splitter program that you should consider. It is completely free with no watermark which makes it popular among armature video editors. It is easy to use allowing you to split, trim and rotate videos. You can also use it to change the video format of the video you are working on.
Guides: For splitting a video on MiniTool Movie Maker, the first thing you should do is add files to the interface and put them under the timeline. All the motions will be detected automatically by this program. You can click the scissor icon from the toolbar to operate splitting once the video hits the correct points.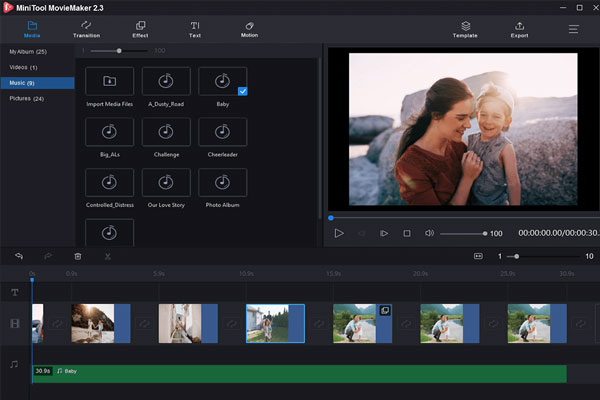 Pros:
Download video on 1080p resolution for free
Motion detection
Free music resources
Make a photo slideshow with ready-to-use templates
Beautiful video filters
Cons:
Only supports Window operating system
Not suitable for large file size video
Top 5. Bandicut
For those of us who use the Windows operating system this another great free video splitter worth considering is Bandicut. It enables you to cut, trim and edit videos. It also offers you many options when it comes to both editing your video and saving your output.
Guides: Bandicut allows you add multiple segment in a list. In other words, you can split a video into many parts and them change the sequences of those clips as want. As for splitting your video with Bandicut, you need to drag-n-drop the edges of the timeline, and export the file naturally.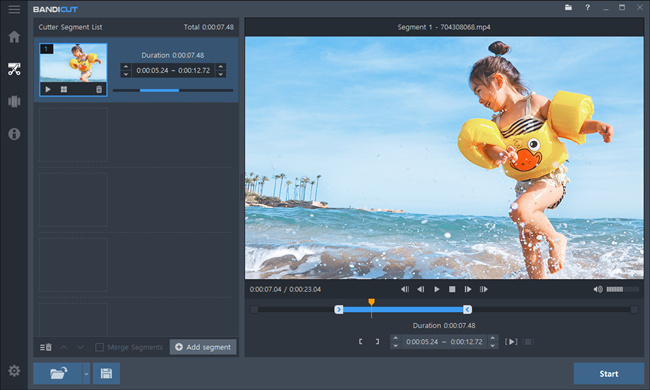 Pros:
Has a great interface that makes it easy to use
Offers several output resolutions
Add multiple segments
Accurate splitting timing setting
Responsive system
Cons:
It can be very slow when working on larger videos
Not perfect for anyone not using a Windows operating system
5 Best Linear Video Splitter Options That Has Easier User Interface
You've reviewed the top streamlined video splitters on the page. If you don't have many videos to deal with and want to use a much easy tool, then your target must be a linear program which will lead you to cut a video and save the files to a desired location.
Top 1. Joyoshare VidiKit
Joyoshare VidiKit - Video Cutter is among the best free linear video splitter software for both beginners and professionals today. It is easy to learn and ensures that you retain the high-quality of your video 100%. Furthermore, Joyoshare VidiKt supports a wide range of video formats making it easy to work on almost any video that you have.
Guides: Once entering into the interface of this software, choose "Video Cutter" and wait for the workspace. You can easily move the duration points from the timeline to adjust the splitting area. When finished, click "Play" to preview the effect in real time. If you want to export the splitted file, go to "Start".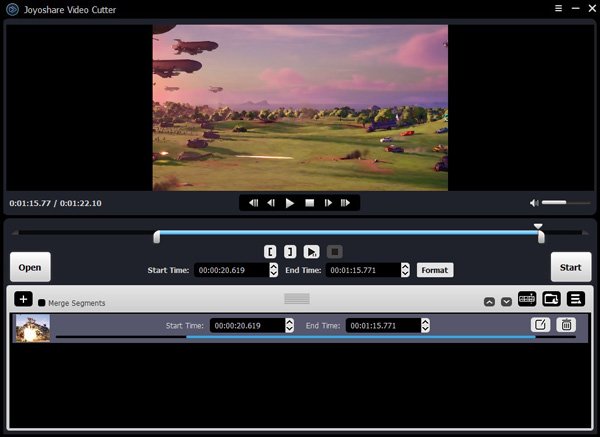 Pros:
Set accurate start/end time points
Convert video formats to MP4, AVI, DivX, MOV, etc.
Faster than average video editors
Not only for splitting videos but also for editing
Free demo version
Cons:
It is not completely free and the trial version is only for 5 videos
Top 2. Easy Video Splitter
Easy Video Splitter is a powerful video splitting and editing software that you can use for free. It supports several video formats and comes with great features that make your work easy. You can split multiple files at the same time. The performance monitor helps you play the video at its original quality without lagging at all.
Guides: You find two modes when you're ready to split imported videos. And that is the point why so many users prefer it. This program can help you split the source file automatically. Users will be asked to set the wanted clips that they need to split into and the bytes and duration. Once that is done, click "Split".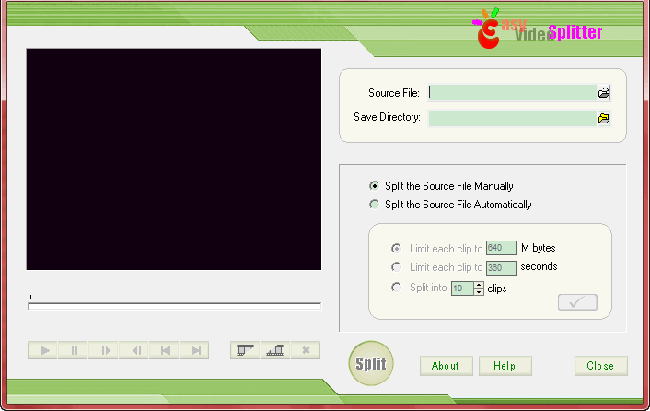 Pros:
Very clean interface
Supports several video formats
Automatically split videos
Real-time screen player
Set the clips you want to split
Cons:
You can only edit one file at a time
Not fast when working on large files
Top 3. Avidemux
Avidemux easy video splitter is an awesome free option that you should consider using. It is built with powerful encoding and decoding tools to enable you to split, edit and merge your videos. It also supports several video formats making it easy to work on several videos. You can convert audio into MP3, AAC, M4A, AC3, AIFF, and FLAC from the "Audio output" panel.
Guides: Once you need to split videos with Avidemux, the necessary thing you need to do is mark points A and B on the timeline. The part between the two points will be saved while the other parts will be deleted. "Ctrl+X" is the shortcut to cut the video. Or go to "Edit" and "Cut" on the menu plate.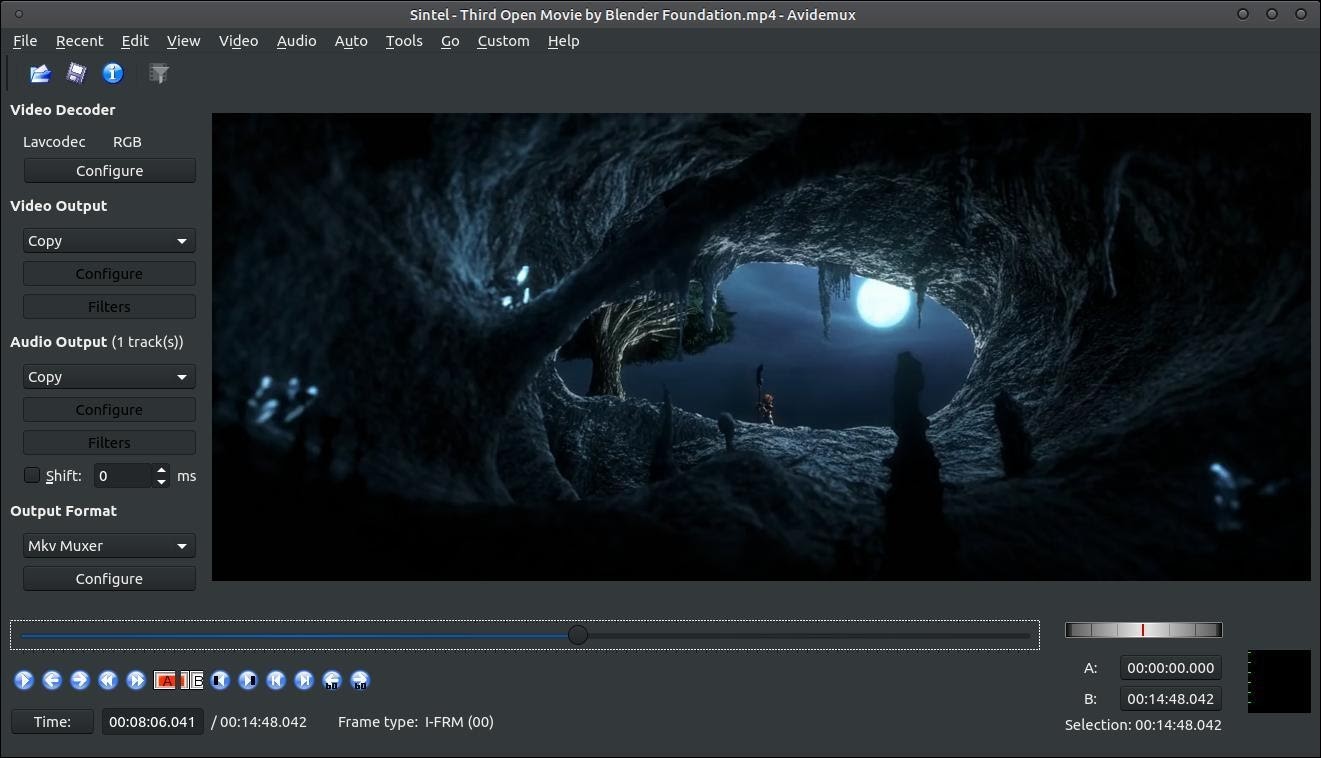 Pros:
Customizable toolbar settings
Auto 720p HD resolution
Powerful and can handle lots of video formats
Audio muxer and sound waveform
No paid version
Cons:
Not perfect if high-quality work is required, like 1080p or 2160p
Limited sound resources
Top 4. VLC Media Player
Many people know VLC as a popular, wonderful video player. The truth is that VLC is an open-source video editor too and it's free with basic editing features. You can use VLC to play, edit and split videos into segments. This makes it one of the best YouTube video splitters for people with YouTube channels.
Guides: The user interface style of VLC is very similar to the Avidemux's, but the different point lies in the pratical use. You click the "Record" button from the tool bar to set the splitting points. Then the recordings will be saved in a specific folder. You don't need to press "Cut" or other icon, just record it.
Pros:
Fll-scale video editing features built-in
Many aspect ratio options
Convert or extract audio track
Available on different systems
Covers plenty of audio sound effects
Cons:
Not perfect for professional-grade work
It is slower than most video splitters in the market
Top 5. MP4Tools
As a popular open-source free video splitter in the market, MP4Tools is easy to use tool that lets you easily split and join MP4 videos. It is fast and delivers great results. The clutter-free user interface help you find the buttons to do presets before trimming the file.
Guides: Users are supposed to import files by clicking on "Open Video". Select files to upload. Then set the cutting points with "Add split". You see the timing points from the panel in your right-hand place.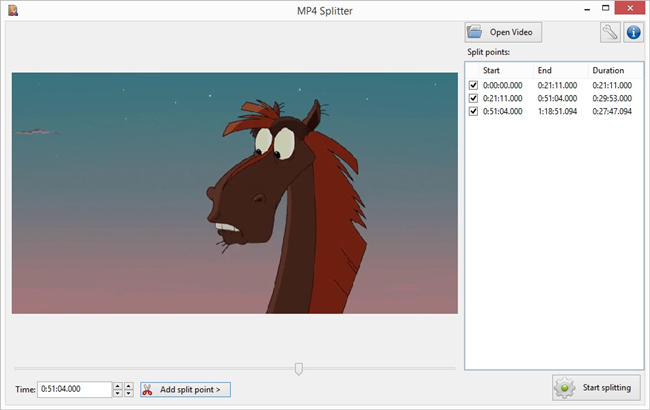 Pros:
Open and upload large files
lighting rendering and splitting
Retains high quality of your videos
Offers batch processing
Plain interface for new video editors
Cons:
Only supports MP4 format
Short in video effects
Conclusion
If you love working with videos then you will need to split your videos at some point. To do this you need a powerful tool to help you. In this piece, we have highlighted ten of the best free video splitting programs on the market. However, if you are doing batch work, then we recommend you use those streamlined video splitters.