MKV is one of the most underrated video file formats due to its large size storage-wise. It's why a lot of folks tend to stay away from these files. However, the fact is that the quality provided by MKV file formats is unparalleled to MP4 and other video formats.
So, if you're looking to crop out a certain part of an MKV file, you may need an easy-to-use MKV video splitter. It helps you crop down sections of a video file without any compatible issues while maintaining the high quality of video in that file. If you don't have much budget, you can take a close look at this post. Here are five of the best free MKV splitter apps in the market.

AceMovi Video Editor – The Best Overall MKV Splitter
This TunesKit AceMovi MKV Splitter is probably the best in the market. It's one of the unique editing software on the market for one special reason: convenience.
One of the major reasons why people don't like premium editing software is its complexity. At the same time, if you're working with a simpler video splitter/editor, you're just not getting as much control over the whole editing process, which makes the quality of the final product significantly mediocre.
AceMovi provides the best of both worlds by giving you software with minimalistic features with the power and flexibility of a premium editing and splitting tool.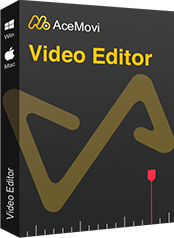 AceMovi Video Editor Key Features
Security Verified. 5,481,347 people have downloaded it.
Best easy to use video editor and MKV splitter
Provide lots of useful editing tool and advanced features
Offer abandant free resources and templates
Available for both Windows and Mac computers
The interface is simple and user-friendly
Here are the steps to split an MKV file using AceMovi Video Editor.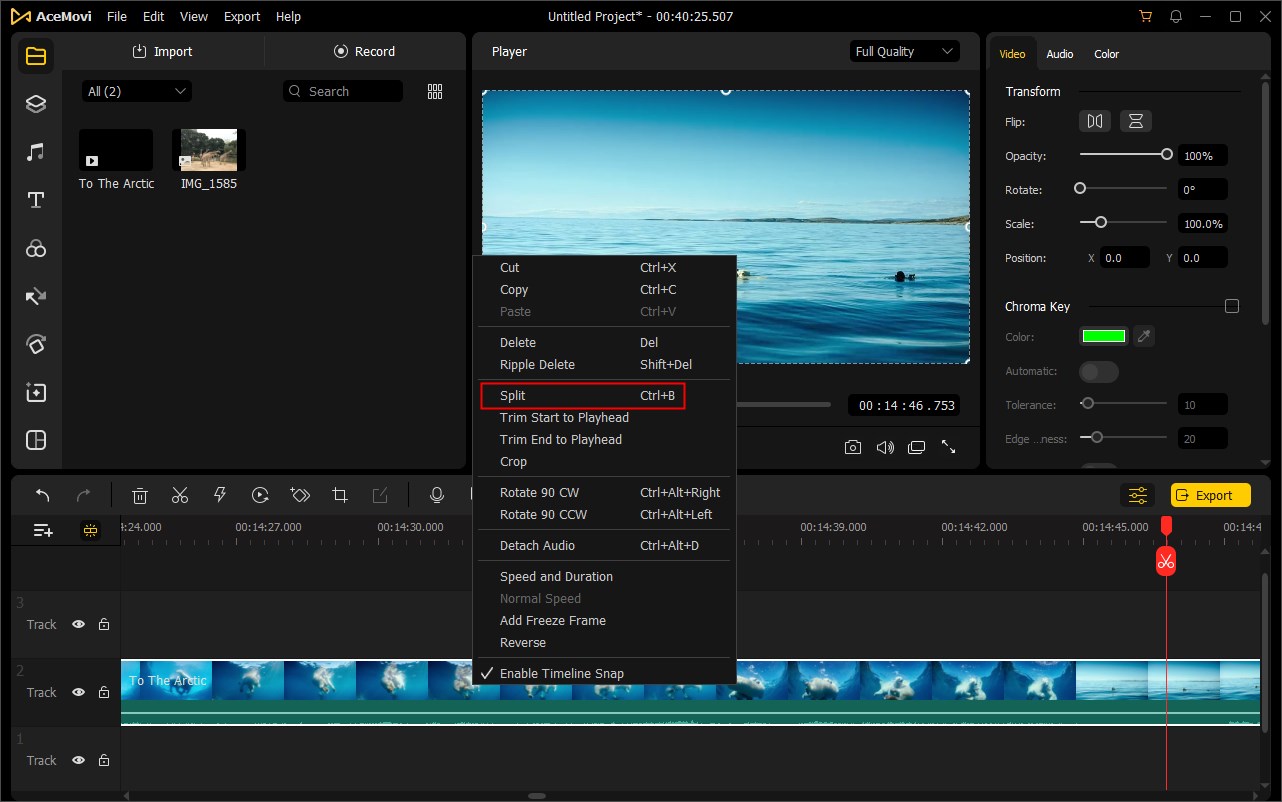 Step 1: Import the video file by dragging it onto the editor window.
Step 2: After the video is imported, it'll begin playing automatically. Use the slider bar to select the part of the video you want to split. Repeat the process to determine the end to split.
Step 3: Once you're done selecting the trimming duration, you have to pick the format for the output video.
Step 4: Click the Export button, and AceMovi will begin trimming the segments of the video and export it to your local computer finally.
5 Best Free MKV Splitters for Windows and Mac
1. Moo0 Video Cutter (Windows)
Moo0 Video Cutter is a simple and extremely intuitive free MKV splitter that keeps things concise. There's no additional functionality to the application. It cuts MKV files, and it does so brilliantly. The UI is fairly simple and won't take more than 2 minutes to get used to. The best part is that it's an video splitter that ends up generating output with zero quality loss.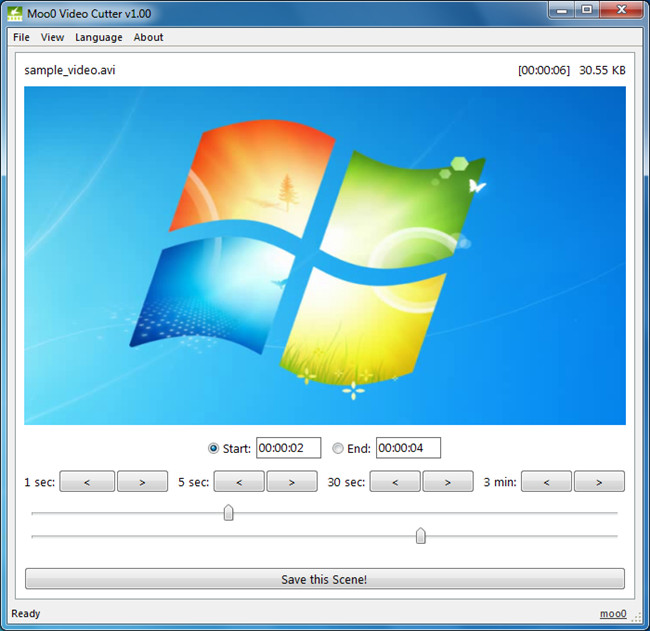 Pros:
• Simple UI
• Focused on video splitting
• It supports tons of different video formats
Cons:
• Only available on Windows
2. VSDC Free Video Editor (Windows)
This app isn't just a simple MKV video splitter, but it also offers other useful editing features which make it a pretty amazing all-rounder tool. It has a friendly UI and is powerful in terms of functionality. The best part is that the app is totally free. Yes, there are other platforms on this blog that are free, but they're making money through some means. Either they are showing ads to make up the revenue, or they are slapping a huge watermark on your output video. VSDC does neither and gives you a seamless experience through its free services.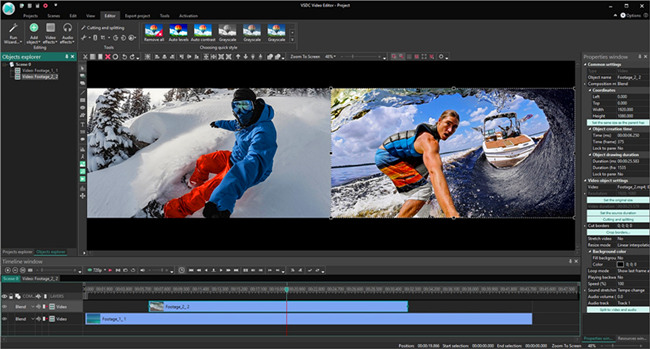 Pros:
• Completely free
• Easy to use interface
• More than just a splitting software
Cons:
• No hardware acceleration tools
3. Avidemux MKV Splitter (Windows & Mac)
Avidemux is another really popular MKV file splitter being used in the market. It's completely free, which is why people are using it for splitting MKV. It's a pretty versatile tool and is decent when it comes to supporting various formats. However, it doesn't provide native MKV support, so there is going to be some quality loss during the splitting.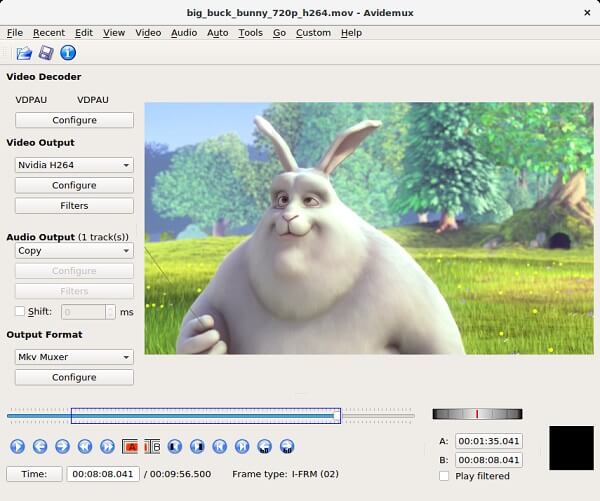 Pros:
• Free tool
• Available across multiple platforms
• Support for various file formats
Cons:
• Prone to video quality loss
4. Gihosoft Free Video Cutter (Windows & Mac)
This is another tool that's extremely useful in MKV video splitting. However, it makes the same mistake as the Solveig trimmer by giving you an unusably funky UI. It supports four different formats, which include MP4, AVI, WMV, and MOV. Even with its limited UI capabilities, the app is available for Windows and Mac. It also offers support for Windows XP for some reason. That's not really something a lot of people are looking for in their video cutting software. But, if you're still running the OG Windows XP for whatever reason, this is probably the best tool to install on that outdated OS.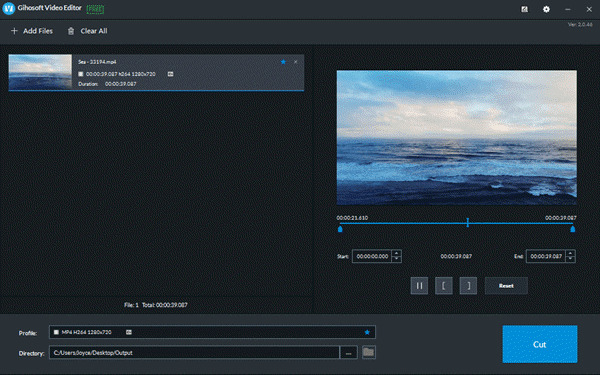 Pros:
• Zero quality loss
• Available on Mac and Windows
• It supports four different types of video formats
Cons:
• Terrible UI makes it hard to use
6. VideoPad (Windows & Mac)
VideoPad is an free MKV splitter Mac and Windows app that is more on the professional side of things as compared to the other products on this list. It's a video editing app with a real-time preview of what you're editing, which makes it very easy to create precise segments of your video. You're also able to share the MKV videos directly after editing, which makes the app that much more convenient.
Pros:
• Various supported file formats
• Real-time video playback for better trimming
• Powerful functionality
Cons:
• Most features come in the paid version
Final Verdict
So here are 5 totally free MKV splitters you can reply on, along with its advantages and disadvantages. You can try them one by one to split your MKV files on Windows or Mac computer. With that said, the best MKV Splitter on the market is, by far, the AceMovi Video Editor. It's extremely functional and comes with every single tool a person would want in an MKV splitter. With that said, feel free to install it today and get one of the best video editing tools on the internet.