MKV is one of the most underrated video file formats due to its large size storage-wise. It's why a lot of folks tend to stay away from these files. However, the fact is that the quality provided by MKV file formats is unparalleled by MP4 and other video formats.
So, if you're looking to trim out a certain part of an MKV file, you may need an easy-to-use MKV video splitter. It helps you cut down sections of a video file without any compatible issues while maintaining the high quality of the original metadata in that file. If you don't have much budget, you can take a close look at this post. Here are six of the best free MKV splitter picks in the market.

AceMovi Video Editor: An All-in-One & Easy MKV Splitter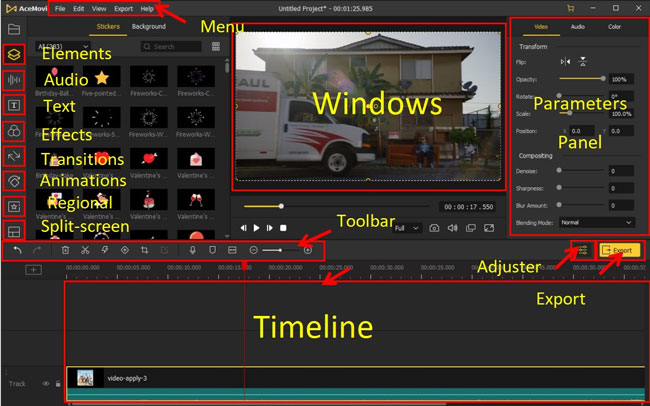 This TunesKit AceMovi MKV Splitter is definitely the best in the market. It's one of the unique editing software for one special reason: convenience. You can try all the built-in tools without expiry.
One of the major reasons why people don't like premium editing software is its complexity. At the same time, if you're working with a simpler video splitter/editor, you're just not getting as much control over the whole editing process, which makes the quality of the final product significantly mediocre.
AceMovi provides the best of both worlds by giving you software with minimalistic features with the power and flexibility of a premium editing and splitting tool. Manipulate the MKV videos with splitter, recorder, cutter, converter, compressor, speeder, reverser, and more commonly-used tools at your disposal. Now, download this software on your computer.
AceMovi MKV Splitter
Split multiple MKV files on one page
Include MKV, MP4, AVI, DivX, WMV, etc.
Released versions for Windows and Mac
Alive with stickers and text templates
Extract the background music only
Screen and webcam recorder to make voice-over
Increase the quality of the MKV output
How to Split a MKV Video on Computer with AceMovi
Once you've finished the TunesKit AceMovi Video Editor downloading on this page, just follow the below video or text guides to splitting your MKV videos step by step. Here we go!
User Guides: How to Split MKV Viedos for PCs & Mac
Click File > Import Media to import your MKV videos to AceMovi
If you want to complete this mission quickly, you'd better try the Auto-Compression feature, which is set under the "Export" > "Settings" > "Small File Size". AceMovi will smartly adjust the parameters of your audio file. You can preview the final size from the window.
Highlight the track and right-click it to choose Split, or use Ctrl + B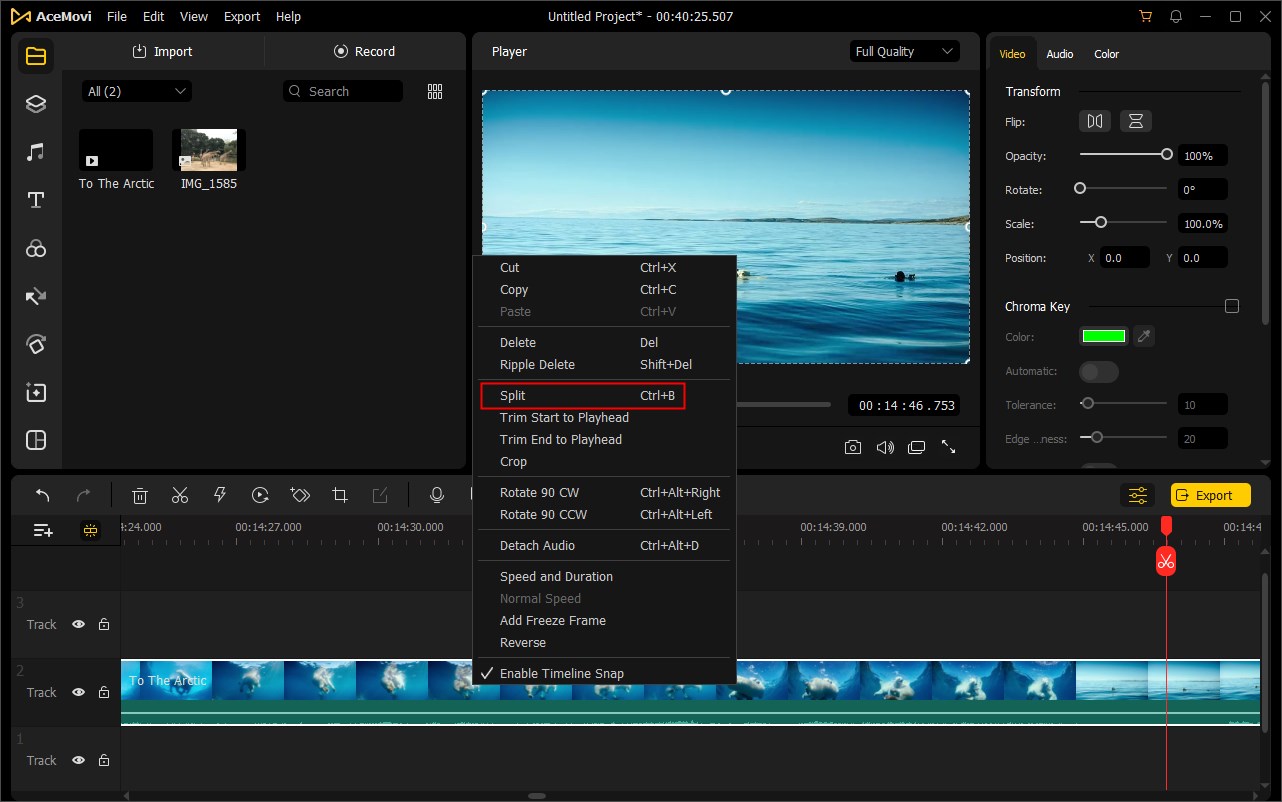 After the video is imported, it'll begin playing automatically. Use the slider bar to select the part of the video you want to split. Repeat the process to determine the end to split. All you need to do is launch the "Split" option from the toolbar, or press the shortcut "Ctrl + B".
Go to Export. Select output format and set save path
Once you're done selecting the trimming duration, you have to pick the format for the output video. Click the "Export" button, and AceMovi will begin trimming the segments of the video and export it to your local computer finally. If you're going to continue editing the MKV files like music and file quality, get AceMovi and discover more!
5 Best Free MKV Splitter Alteratives That Are Powerful
1. Moo0 Video Cutter (Windows)
Moo0 Video Cutter is a simple and extremely intuitive free MKV splitter that keeps things concise. There's no additional functionality to the application. It cuts MKV files, and it does so brilliantly. The UI is fairly simple and won't take more than 2 minutes to get used to. And you can preview the effects in real-time for checking the final work.
The best part is that it's a video splitter that ends up generating output with zero quality loss. You can choose the start and end time with a specific number. You will see the file size change in the upper right place. On top of that, users don't need to log in or buy the premium versions to enjoy the built-in features.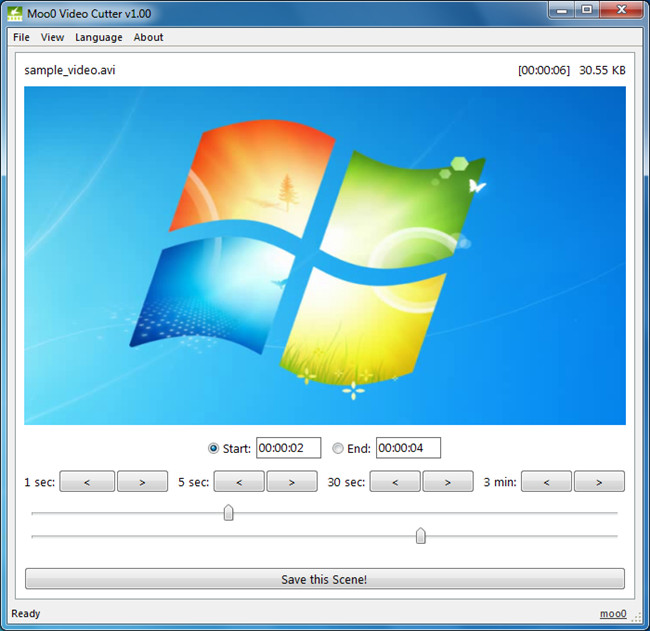 How to split videos with Moo0 Video Cutter:
Step 1. Click "File" to import your media into the interface;
Step 2. Slide the timeline to adjust the duration depending on your requirements;
Step 3. Set the start and end time with an accurate number to split the unwanted MKV video parts.
Step 4. Hit the "File" menu once again for exporting your files.
Pros:
Simple user interface
Focused on video splitting
It supports tons of different video formats
Multiple languages
Play the MKV video in real-time
Cons:
Only available on Windows
Plain features and effects
2. VSDC Free Video Editor (Windows)
VSDC software isn't just a simple MKV video splitter, but it also offers other useful editing features which make it a pretty amazing all-rounder tool. It has a complicated UI and is powerful in terms of functionality. So beginners need to learn the tutorials first before using them.
The best part is that the editor is watermark free. Yes, there are other platforms on this blog that are free, but they're making money through some means. Either they are showing ads to make up the revenue, or they are slapping a huge watermark on your output video. VSDC does neither and gives you a seamless experience through its free services.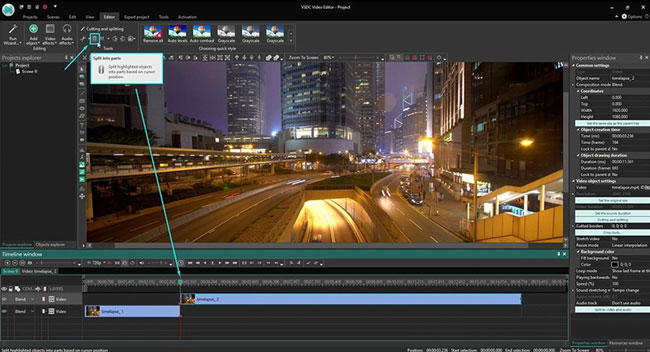 How to use VSDC to split out unneeded MKV videos:
Step 1. Drag and drop the MKV video under one of the tracks;
Step 2. Find "Split" from the toolbar when the playhead hit the cutting points;
Step 3. Delete the trimmed parts and go the "Export" to set the output parameters, like resolution, format, and bit rate.
Pros:
Ready-made slideshow templates
Provide meticulous metadata
Exporting for YouTube and more platforms
Unlimited tracks for batch file splitting
Pro green screen to change video background
Cons:
Only for Windows
It needs high-end computers
Some features are paid, like 360-degree editing and hardware acceleration
3. Avidemux MKV Splitter (Windows & Mac)
Avidemux is another really popular MKV file splitter being used in the video editing field. The good news is that it's completely free, which is why people are using it for splitting MKV and converting between different files. You can even change the background music with this software. The bad thing is that there are only one track for your workflow, which means that you cannot process batch files.
Besides that, Avidemux is a pretty versatile tool and is decent when it comes to supporting various formats like MKV, MP4, and AVI. However, it doesn't provide native MKV support, so there is going to be some quality loss during the splitting.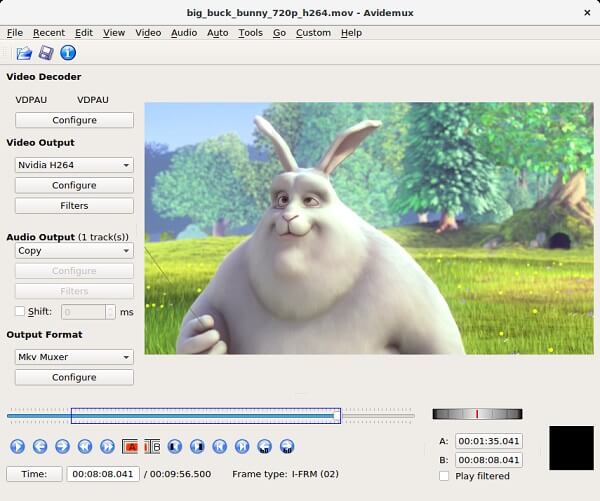 How to make your MKV video splitted with Avidemux:
Step 1. Import the designated MKV files to it through the menu;
Step 2. Find the "A" and the "B" from the toolbar. Use the two icons to select the duration you want to split. Once you see a green box, press "Ctrl + X", or go to "Edit" > "Cut";
Step 3. Save the edited MKV video by "File" > "Save".
Pros:
Completely free
Available across multiple platforms
Change background music
Support AVI, WMV, MKV, and MP4
720p resolution available
Cons:
Lacks advanced features and music resources
Only one track for video editing
The interface is a bit outdated
4. Gihosoft Free Video Cutter (Windows & Mac)
Gihosoft is a powerful tool that's extremely useful in MKV video splitting. However, it makes the same mistake as the Solveig trimmer by giving you an unusably funky UI. It supports four different formats, which include MP4, AVI, WMV, and MOV. Even with its limited UI capabilities, the software is available for Windows and Mac.
This program offers support for Windows XP for some reasons. That's not really something a lot of people are looking for in their video cutting software. But, if you're still running the OG Windows XP for whatever reason, this is probably the best tool to install on that outdated OS. Different from Avidemux, you can split many MKV videos at once by Gihosoft.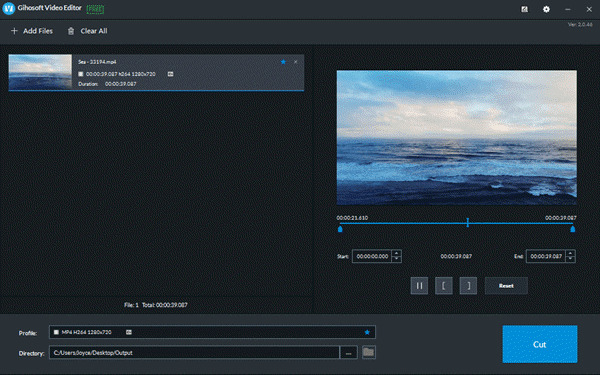 How to trim a part of MKV video with Gihosoft:
Step 1. Click "Add Files" to import your media into the interface;
Step 2. Play the video and hit the "[" and "]" icons when it comes to the cutting points you want;
Step 3. Press the green icon "Cut" to split the video. Then find the saved files under your preset folder.
Pros:
Zero quality loss
Batch file editing
Preview videos smoothly
Cut out a MKV video in a couple of clicks
For Windows and Mac
Cons:
You cannot edit MKV videos with subtitles
It needs to update the screen recording feature
5. VideoPad (Windows & Mac)
VideoPad is a free MKV splitter Mac and Windows app that is more on the professional side of things as compared to the other products on this list. It's a video editing software with a real-time preview of what you're editing, which makes it very easy to create precise segments of your video.
You're also able to share the MKV videos directly after editing, which makes the app that much more convenient. More than that, VideoPad is streamlined and comes with a library of transitions and SFX for advanced editing. You can edit MKV videos like a pro without ay trouble.
How to split many MKV videos with VideoPad easily:
Step 1. Click "Open" for importing files;
Step 2. Play your MKV video, and click "Set Start" and "Set End" when the playhead hits the splitting points;
Step 3. Delete the unnecessary parts of the video. Fina the "Export" from the menu to set the downloading channels.
Pros:
Record a voice-over or a new clip
Motion tracking
A plethora of video effects and audio effects
Add subtitles to the frames
360-degree video editing
Cons:
You will be expired if you don't buy the premium accounts
The Final Verdict
So here are 5 totally free MKV splitters you can rely on, along with diverse advantages and disadvantages. You can try them one by one to split your MKV files on Windows or Mac computers. Those tools are extremely functional and come with every single feature a person would want in an MKV splitter. With that said, feel free to install them today and get one of the best MKV video editing picks on the internet.