The WMV is named Windows Media Video which is a combination of three different video codecs and is used to stream video online or share media by HD DVD and Blu-ray Discs. Compared to other formats such as MP4 or AVI, WMV is a compressed video container for the fabric of Windows Media. If you want to edit small file video content in the Windows system, WMV will be one of the best format options to be imported or exported. Today, we'll have a thorough review of the best WMV splitters without re-encoding. They allow you to choose which part to dump and keep in the process of splitting.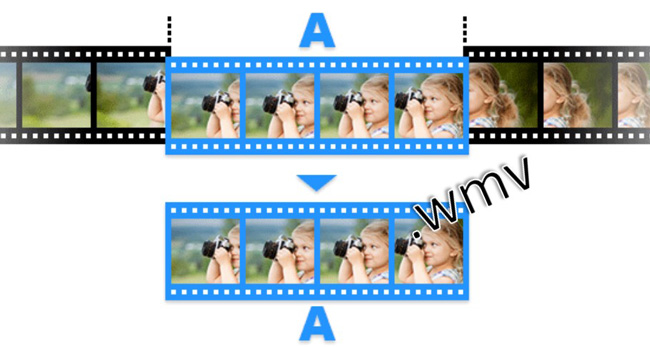 The Best Free WMV Splitters and Editors in 2023
Top 1. AceMovi WMV Video Editor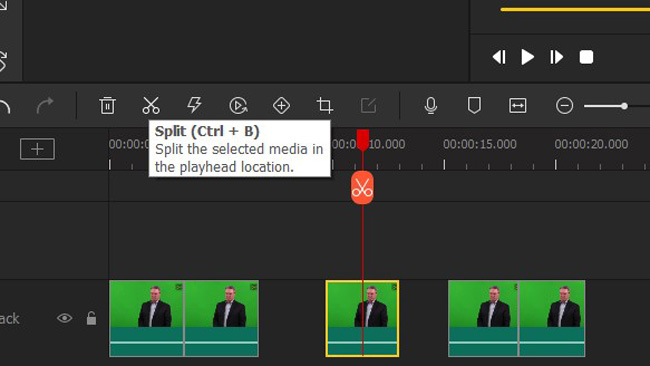 Splitting 100+ video formats or audio, GIF, and image is one of the basic functions in AceMovi, which is a wonderful video editor for trimming, cutting, speeding, recording, converting, compressing, cropping, and more. Add batch .wmv files to the interface, and then commence splitting them as you see fit.
In addition to splitting a WMV video, AceMovi is able to convert WMV to MP4, WMV, AVI, MOV, MKV, DivX, M4A, or other video format within seconds. During the process, you can preset the video resolution, codec, frame rate (FPS), sample rate, channel, save path, and thread to deal with advanced adjustments in parameters. Here to use it and enjoy its full features.
AceMovi WMV Splitter
Clean and user-oriented workspace and panel
Convert WMV formats to other videos professionally
A bulk of video editing functions like recording
Great color correction and color grading effect
Free to add background music or sound effects
Beginners can master it without too much effort
The Best Video Splitter to Split Your Video into Parts
Top 2. Windows Movie Maker
Windows Movie Maker is a sought-after Windows video maker with basic and advanced functions, splitting, recording, filtering, texting, converting, and format converting included. Since the official channel to download Windows Movie Maker has vanished because it has been discontinued by Microsoft, so you need to download it on other websites. If you think the interface of it is dated, try the best alternatives of Windows Movie Maker.
The good news is that you can quickly get familiar with how to split your WMV video with it. Simply put, drop your media under the timeline in which you can see the frames, then move the pointer (playhead) under the clip place you want to split, and click the "Split" icon from "Edit" on the menu bar. Choose your desired video resolution and format when downloading.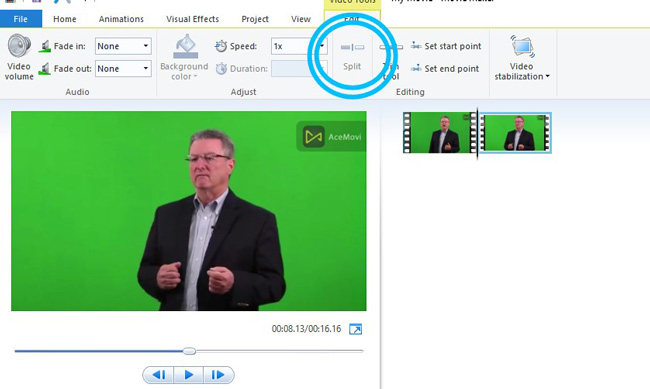 Pros:
One click to split WMV video
Add subtitles with font and color
Built-in filters and transitions
Export video without watermarks
Apply slow-motion or fast-motion effects
Cons:
The official versions has been discontinued
Windows support only
Top 3. FormatFactory
As the name shows, FormatFactory supports hundreds of popular or unusual video, audio, text, and image formats in the responsive system. When it comes to converting WMV videos to other videos, only a couple of clicks are needed. If you need to split your video, you should find and click the "Split" icon from the layout in the first place. In the workspace for splitting, you're empowered to set the start and end time up to milliseconds. There is a performance monitor overlaid to help you play the effect in real time.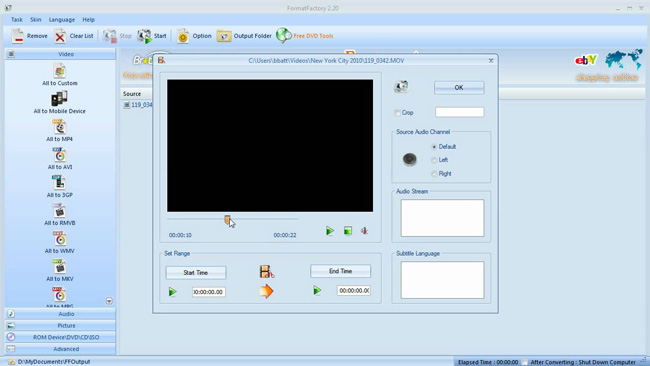 Pros:
Excellent media format support
Options to change FPS and codec
Split video up to millisecond
Export on high-quality video resolution
Add multiple WMV files to the Media for splitting
Cons:
Premium accounts needed when using advanced tools inside
Lag occurs sometimes
Top 4. Avidemux
Avidemux works with Windows, Mac, BSD, and Linux, which is a multiple video format splitter and converter with a big-sized canvas where you can compare more details without lags. Concerning splitting WMV by Avidemux, you should play the video or control the playing pointer, then hit the "A" and "B" icons when the pointer moves to the locations you want to split the video into parts.
On the interface Avidemux allows you to change video output filters and configurations based on specific requirements. The exporting formats are diverse, and you can change them with a couple of clicks. Apart from that, audio mixing, editing, and equalizing are provided by this video maker. Once you have your video downloaded, there is no watermark remaining on the screen.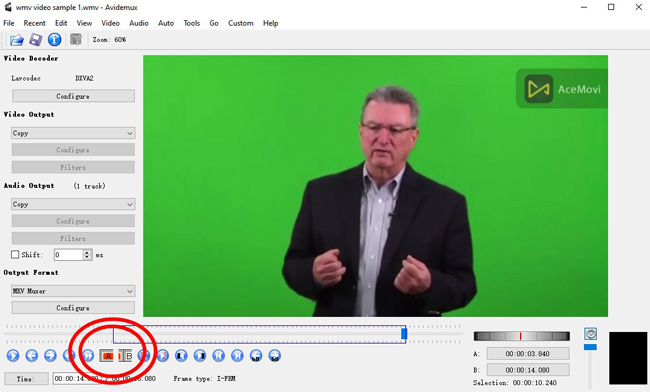 Pros:
Professional file configuration
Audio enhancement
Linear and easy video editing design
Watermakrs won't be added to your video
Convert video speed and format
Cons:
Few video resources such as music and transitions
No preview panels for most built-in effects
Top 5. OpenShot Video Editor
Need a video editor with fantastic and customizable using profile and eye-opening video effects? OpenShot is made for Windows, Mac, and Ubuntu Linux for editing, splitting, and adding elements to a video.
The basic process to split WMV files is the same as other tools such as TunesKit AceMovi and Premiere Pro, but in fact, users are offered to choose to keep both sides, keep left side, or keep right side. For instance, if you select the "Keep Both Sides" icon when slicing the video file, you will see the original video has been divided into two parts.
OpenShot is alive with a trackless timeline as well as vast libraries of classic transitions and effects. To use effects built-in AceMovi, click the button on the toolbar. In the leftside bar, more precise parameters can be executed. To be detailed, if you crop a video, there are exact variables about height and width.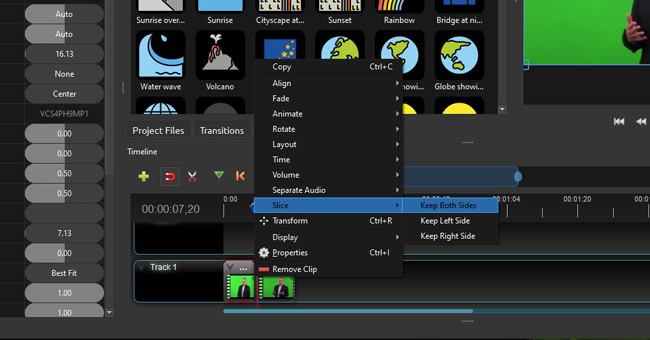 Pros:
Device-friendly compatibility
Export video up to 4K resolution
Color grading is advanced
Trackless timeline to split WMV in bulk
Classic video transitions for smoothing your video clips
Cons:
This software is easy to go crush if your system is low-end
It is a bit intricate to use
Top 6. Premiere Pro by Adobe
In technical terms Adobe Premiere Pro is a nonlinear video editing software for generating eye-popping content with high-quality video. You can use this tool for free for some days and after that, you can pay $20.99 per month or $239.88 per year to continue to use it. When you split a WMV video with Premiere Pro, you need to add the video to the interface and use the "Razor" tool to trim out unselected parts.
Premiere Pro empowers users to add a new layer on the screen to enhance the color, sound, and frame. Hundreds of video effects are supported by this toolset, you can search for a wanted effect and crop in the blank dialogue. Besides that, it was made to convert the video resolution and format with meticulous settings in the downloading panel.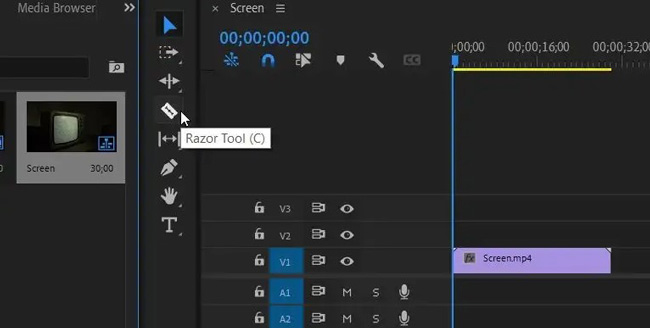 Pros:
Professional WMV video editor
Unlink audio and video
Convert video formats
Smart layer-editing function
Libraries of effects
Cons:
Buy the premium version to get the full services after the expiry of the demo
Hard learning curves for beginners
3 Tricks to Split WMV Video Files with WMV Splitter
1. Make sure the output format is your desired one
Each video format comes with its own quality, frame rate, size, and flexibility. In the whole process of splitting WMV videos, you can choose other video formats to download on your device. You can click the leftside related topics to see which video format is fit for you.
2. Use playhead or set end/start time
To make the WMV-splitting work more efficient and easy, you'd better learn to use the playhead and timestamp instead of hitting the splitting points when the video hits the points. Some WMV splitters give you buttons to set the trimming time up to millisecond.
3. Choose the correct WMV splitter
There are different WMV video splitters provided and introduced in the market, and only some of the best tools were selected by us. If you're willing to buy the premium accounts of a product to split your WMV file and enjoy other captivating effects built-in and better customer service, choose AceMovi Video Editor or Premium Pro by Adobe. Whereas OpenShot Video Editor and Windows Movie Maker were designed without watermarks but they are limited in other features such as a dated user interface and slow feedback.
Summary
Get started to split your WMV files with the proper software after reviewing these products given in this sharing. A good video splitter also plays the role in recording, converting, combining, speeding, and compressing, that is to say, an all-in-one video editing tool may be your best option for making content that can go viral in a short time.