Windows users like using Windows Movie Maker for editing video clips and movie effects. However, the program, which was part of the Windows Live Essential package, no longer exists as of January 2017, meaning that no one can officially download it from the Microsoft Software Store. Luckily, we can still find links to complete the Windows Movie Maker Download mission. This page gives your guides to downloading that video editor and complete tutorials on how to use it for making great video clips. If you do not know whether your computer is compatible with Windows Movie Maker, check the specs first.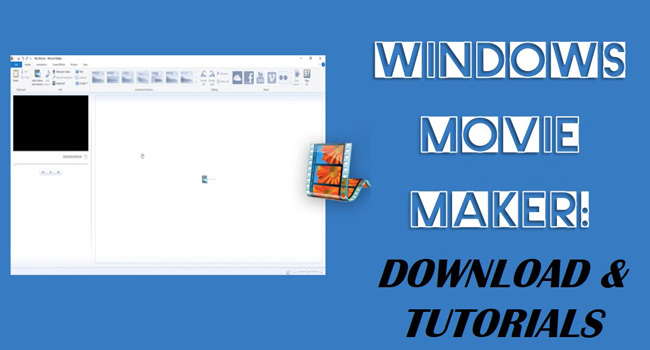 Windows Movie Maker Downloading Specs
In this part, you can review the Windows system requirements for Windows Movie Maker from sorts of aspects like OS, Processor, Memory, Graphics, and Resolution.
| Items | Details |
| --- | --- |
| OS | Windows XP, Vista, 7, 8, 8.1, 10 (32- or 64-bit) |
| Processor | 1 GHz or above with SSE2 |
| Resolution | 1024*576 or above |
| Memory | 256 MB of RAM or above |
| Graphics Card | DirectX 9.0c or higher and Shader Model 2 or higher |
| Free Hard Disk | Installation needs 300 MB |
Windows Movie Maker Free Download for Windows 7, 8, and 10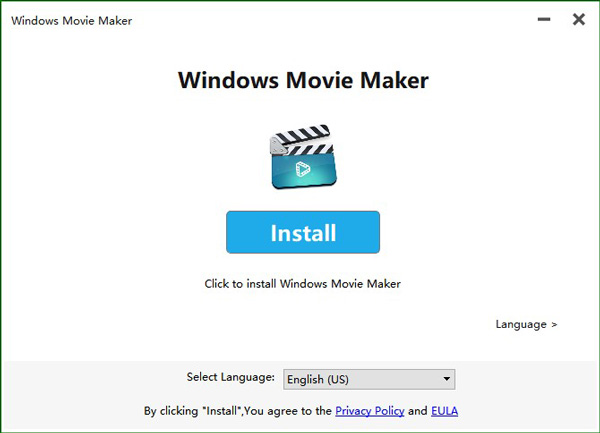 As a part of the Windows Essentials 2012 software package, the previous official downloading channel of Windows Movie Maker is unavailable to find. Still, there are websites that you can download this software on your PC for free, such as Windows Movie Maker Download Winodws 10/8/7 on TopWin. The downloading file size is small and you can get it in a couple of minutes. On that web page, another way to get this Windows video editing tool is to download Windows Essentials 2012 as well.
The Best Guides to Make a Video with Windows Movie Maker
For each project on Windows Movie Maker, users are able to edit only one video on the linear video editing interface. Besides that, the soundtrack won't appear in the interface, that is to say, basic features for video-making are the main goal of creating Windows Movie Maker.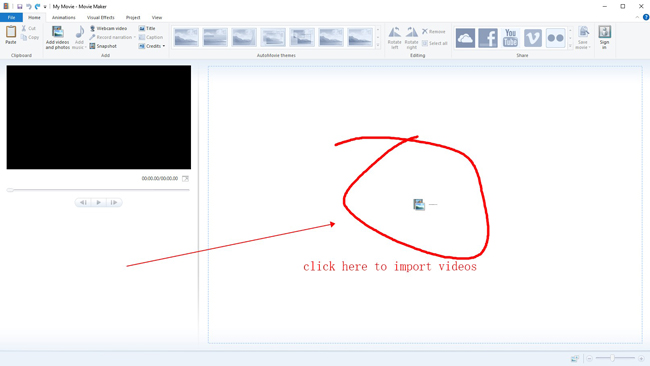 The commonly-used functions include cutting, splitting, rotating, adding music, webcam recording, titling, etc. Here are tutorials on editing a video with this tool. Before that, click any place on the right part in the profile of Windows MovieMaker.
Edit videos with Cutter, Splitter, and Subtitler
You need to highlight the video clip under the timeline first. Move the playhead and right-click the clip to choose the function. If you select "Cut", then the video will be divided into two parts and the latter one will be deleted. If you click "Split" many times, the imported video will be separated into parts but still appear on the track. Now, you can change the queues of each split clip as want.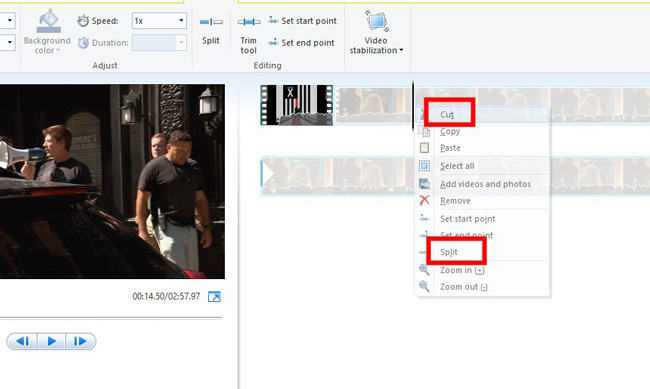 Click "Home" > "Title" to edit your video with subtitles or captions. In any part of the video, you can click the "Title" button. Then the text template appears on the screen. Afterward, edit the text with personalized color, size, font, underline, alignment, and more in "Format". Text effects like animations are provided by Windows Movie Maker.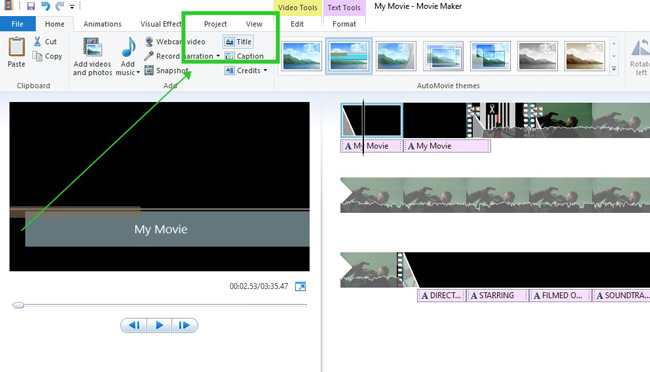 Apply video effects and animations to a video clip
The video effects in Windows Movie Maker are the same as video filters. There is a specific workspace for visual effects under the menu. You click the wanted one and it will apply to your video automatically. The "Brightness" button set in your right-hand help you brighten the video when it is dark.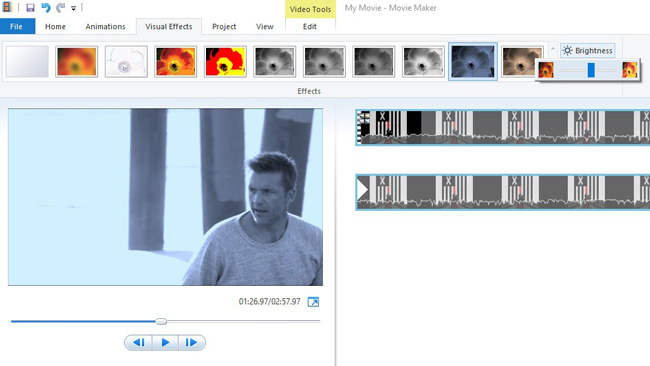 Animations are the same as transitions. When your video contains two or more scenes or you've split it into a few parts, adding animation to the video is a wise option to make it smooth and high-quality. When it comes to the settings, Windows Movie Maker allows you to customize the duration of the animation and choose to apply it to all.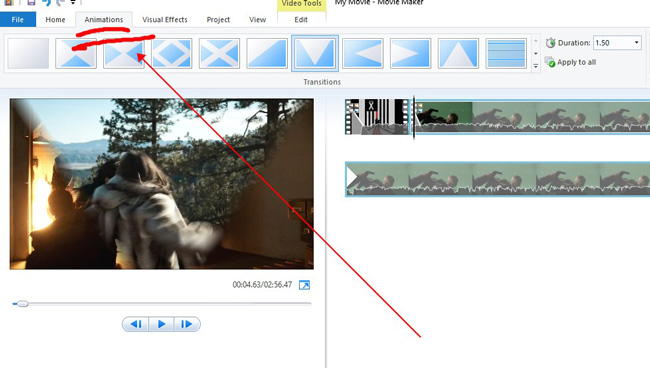 Enhance the background audio with speeder and fading effects
Audio editing is one of the most essential parts of the post-production of a video clip. With that said, Windows Movie Maker does not display the soundtrack under the timeline, but it is alive with useful functions to edit it. In the "Edit" panel, you can fade in or fade out the audio, change the playback speed to be faster or slower, as well as increase/decrease the default volume as per practical needs.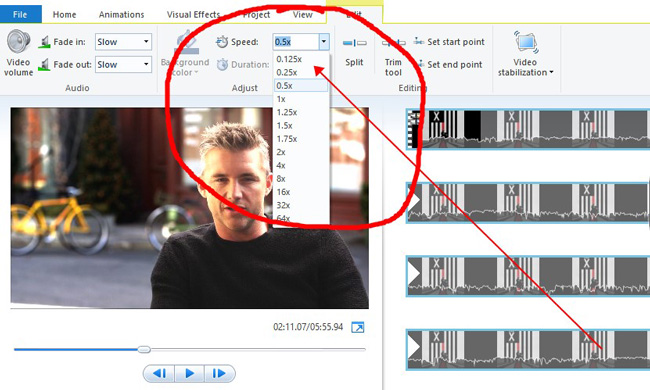 Set output file parameters or post on social media
Windows Movie Maker offers downloading channels to export a video on computers, websites, mobile phones, and tablets. To be specific, the supported output websites include Facebook, YouTube, Vimeo, and DailyMotion.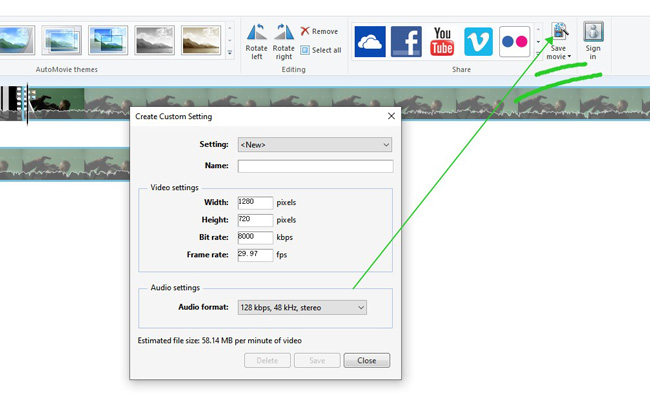 For users who have make Windows Live Movie Maker downloaded and now want to personalize the settings, you need to enter "Save Movie" > "Create Custom Setting". The frame rate, bit rate, resolution, file name, and format settings are provided on the next page. As regards the resolution, Windows Movie Maker supports 720p and 1080p, meaning 4K/2160p or higher is unavailable.
Windows Movie Maker Alternative - AceMovi Video Editor for Creations!
The disadvantages of Window Movie Maker include an out-of-date interface that only supports one track, lacking advanced features like green screen and keyframes, and no 4K or higher resolution output channels. Those are reasons why Microsoft Windows discontinued it. However, users can turn to find a good alternative for video editing like TunesKit AceMovi, which is compatible with low-end Windows.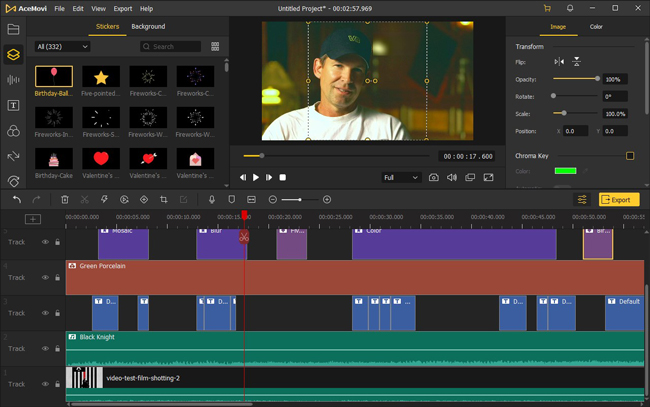 As for other features of this recommended software for you, multiple file editing, music enhancement, color grading, green screen, split-screen, and many more are great to apply. The built-in library stock offers dynamic/static text templates, transitions, animations, overlays, and filters.
AceMovi Video Editor
Applied to low-end Windows systems
Provide all basic video editing features
Streamlined timeline to import batch files
Render 720p, 1080p, and 2160p resolutions
Add subtitles to your video clip effortlessly
Pro features like keyframes and reverse