The internet fills with many video content people upload for different purposes. One of the best strategies to acquire more views, shares, and followers on social media platforms is to upload fast-motion video files, as people tend to share daily stuff according to the appetites of audiences.
With a good helper pick, speeding up or slowing down video clips or footage is not a difficult task. This article provides you with information about the fast motion effect. You'll get to know about the 7 best fast motion video editors that assist you in making attention-grabbing results for your communities and sites. Read the article, get details about the editors, and choose the one that suits you!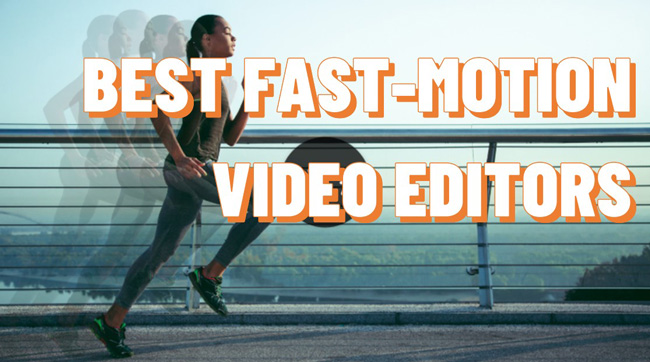 How to Define a Good Fast Motion Video Editor
Defining a good fast-motion video editor is not a difficult task. With some basic requirements, a video editor can be great. Many tools in the market edit your video with easy trimming or cropping but can't turn it into fast-motion video due to a lack of speed changer features.
To make such a fast or slow motion video, an editor should have editing effects such as speed adjustment and reduced size features that can speed up your importing. The speed changer or adjustment function enables users to control the speed of the recorded footage in detail.
In most cases, you won't be limited in changing video speed if you plan to make wonderful uploads. A good fast motion video editor should compromise SFX, VFX, transitions, voice changers, background music, and in-built graphics. The editor is preferable if it provides you with all the required editing options and tasks. Here are the best picks for you!
3 Best Fast Motion Video Editors for PCs
1. TunesKit AceMovi Video Editor for Windows & Mac
TunesKit AceMovi Video Editor is the top fast-motion tool that provides users with stunning editing options. The software is a tested secure, reliable, efficient, and powerful video editing software that is designed to speed up the whole or only parts of a video. The in-built recorder that records your device's photos, videos, and sound can be launched from the interface.
The amazing features of AceMovi include filters, animations, a music library, texts, and a split-screen effect apart from making video become fast motion.
Due to its user-friendly, interactive interface, you're not required to get technical knowledge to master the software. The speed changer feature of TunesKit AceMovi enables you to edit, speed up your video, and turn it into fast-motion footage. Get it first!
AceMovi FastMo Maker
Speed a video fast up to 100x
Upload unlimited tracks on the timeline
Compound video trimmer and cropper
No file size is required, even edit a movie
Export your FastMo videos up to 2160p
Crop files at 19:6, 16:9, 1:1, 4:3, or others
Background music resources and SFX
2. VSDC Free Video Editor for Windows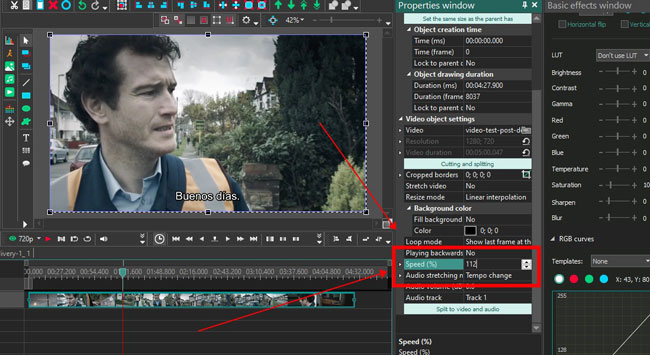 Want to find a pro, free fast motion video editor? VSDC is one of the best video editors for changing the playback speed of videos. The process requires you to follow a few steps to alter fast-motion videos. VSDC has various visual effects such as soundtrack creation, PIP effects, and color correction that enhance your videos.
VSDC supports Windows devices only and all common video file formats, such as MP4, AVI, MKV, M4A, WMV, and MOV. The editor is free, but you can upgrade your account to get the acceleration hardware and 360-degree editing. The drawback is that the interface is complicated. Also, you cannot export and save the video on TikTok.
Pros:

Pre-made projects for screen recording and slideshow creation
Vast picks of filters to enhance background color
Motion tracking feature
Export for YouTube, Instagram, Facebook, and Twitter
Pro color grading with LUTs
Cons:

The hard learning curve for beginners
Incompatible with Mac and cell phones
3. VideoPad Video Editor for Mac & Windows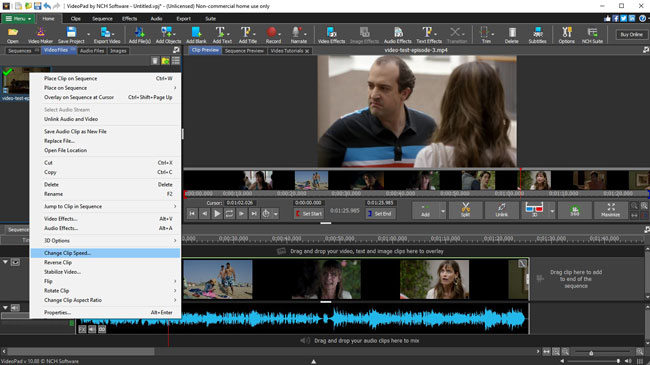 VideoPad is a free, open-source video editor that is compatible with both Windows and Mac. The fast motion video editing software with a nonlinear interface is one of the best tools for video content creators. With a pro workspace, you can create an amazing video to share on any social medias like YouTube, Google Drive, and Vimeo.
One of the software's unique features is that you can combine more than 200 videos and photos to create a single exceptional project. The fast motion video editor has a wide variety of themes and other additional features like speed enhancing, adding music, transitions, and filters.
Pros:

Create a video with intro/outro templates
Manipulate speed manually while keeping the audio pitch unchanged
Record a video or capture a snapshot
Turn your video into 360 view
Speech-to-text subtitles
Cons:

File formats are limited by the unlicensed version, for example, you need to get the opportunity to convert 20+ video file formats with the Plus Edition
2 Best Fast Motion Video Editor Apps for Cell Phones
You may find a lot of apps to apply fast-motion effect to your video yet some of them have purchases and cannot export your video without watermark. That bothers you right? Don't worry. In this section, you'll review 2 apps that offers a plethora of SFX apart from fast motion, including blurring, curve shifting, filters, and split-screen. Let's move on.
1. Vlogit Video Editor App for Android & iPhone
Vlogit is a fast-motion video editor app that provides help to video creators such as YouTube and Vloggers. It has all the video creating, editing, and customizing features that enable them to create amazing stories.
Users are empowered to easily export files from any platform or their phone's storage into the app. And use the options like cropping, trimming, and cutting to remove unnecessary parts.
The editor is compatible with Android and iOS devices and supports all common video file formats. Also, you can alter the speed of a fast-motion video to your required playback speed. The editor shows the side panel changes so you can preview the video. Moreover, you can share the file on all social media platforms with one signal step.
Pros:

Edit batch files at once
Apply the picture-in-picture effects
Lots of stickers and emojis
Process the screen playing in real-time
Popular video and audio reversion effect
Cons:

Some users say that the audio and video won't be in sync with each other after cropping
2. VideoShop Video Editor Free for Android & iPhone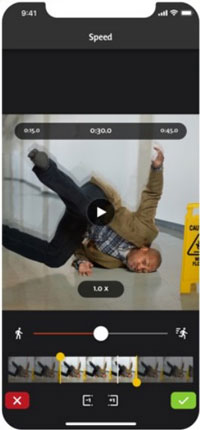 Videoshop is a fast motion video app that performs advanced video editing skills and creates amazing content. It has a variety of voice-overs, audio effects, and other additional features like reverse options and animated titles with which you can customize your videos. The editor goes with iPhones and iPads with its iOS version.
This app supports all popular video file formats and mobile devices such as iOS and Android. You can merge, cut, crop, and copy your footage to paste on any social media platform with video editing tasks. With an easy-to-use interface, VideoShop enables you to create slow-motion or fast-motion videos with simple steps.
Pros:

Video effects: Silt-Shift, FastMo, Reverse, and Rotate
The linear file editing interface
Speed up the video by controlling the lines
Choose high or low file quality to set
Vimeo, Instagram, Facebook, YouTube, and Snapchat uploading channels are supported
Cons:

Some intuitive nature of the control buttons is lost after you get into the basic editing interface
2 Best Online Free Fast Motion Video Editors
Want to find an online fast motion file generator to make your job easy? There are two of the best tools you must pick up. And we'll show you in the following.
1. Online Video Converter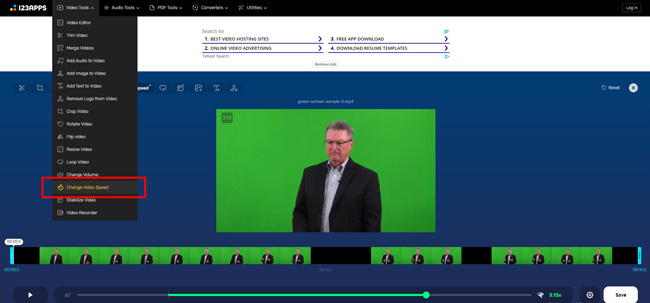 Online Video Cutter is a simplified, multifunctional video speeder. You can use it on any browser. OVC is best for recording, creating, and editing HD videos. Also, the speed adjustment feature to slow down or speed up your footage comes with a slider bar. After adding your video to the interface, you need to choose a specific speed degree.
The editor offers more than 30 areas for editing videos, audio files, and PDFs. A wide sound effect library with rich music can be trimmed or equalized. In addition, you can use the recording features to create a new file instantly.
Pros:

Easy for newbies to learn how to make a video fast motion
Simplified object detection
Convert video to MP4, MKV, MOV, or the original type
Switch to another mission on the same page, such as flip, change resolution, change volume, or loop
No watermarks
Cons:

It's unfit for batch files
No music resources
File size limit (less than 200MB)
2. Fastreel Online Video Converter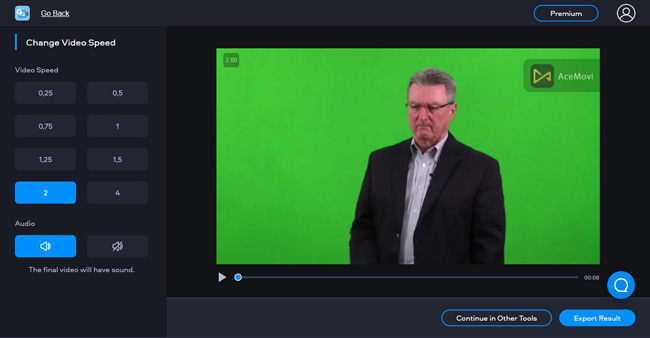 Another fast motion video editor online tool that enables you to use amazing features and create unique video content is Fastreel. Users can export files from any platform into this program. The fast-motion video speed presets include 4, 2, 1.5, and 1.25. On the interface, users can create such an effect with only one click.
Continue with other tools are supported, such as video trimmer, converter, and compressor. With Fastreel, you can control the audio pitch, manage the aspect ratio, and alter your video in a specific area.
The tool's drawback is that it does not provide a service to export video without watermarks. Also, you cannot share the edited file directly to your social accounts.
Pros:

Preset degrees for fast motion
Choose to mute/remove the sound
Play the file to check the effect in real-time
Save and keep your videos online
Continue to edit videos with video merger, compressor, cropper, or slideshow maker directly
Cons:

Get the premium accounts to remove watermarks
File size limit that bothers users who want to edit large file-size content
The Bottom Line
Video playback speed is a common editing option that enhances the quality of the file. All the above-mentioned fast-motion video editors for PC, online, or mobile phones are powerful and secure and generate slow-motion clips with great ease. With some of them, users can try to use options like speed adjustment, video cutting, audio effects, template themes, and animated titles to make videos exceptional to others.