Being a device-friendly video editing app for both Android and iPhone, Splice Video Editor is now prevailing and attracting more and more users who prefer to add effects to their videos just on a mobile phone rather than on software in order to promote efficiency and use diverse video elements such as emojis and stickers. FastMo, also called video-speeding-up, is one of the commonplace skills for making content captivating, here are the step-by-step guides to speed up a video on Splice, with alternatives of Splice including iMovie (free of charge & pre-installed on iPhone) and others.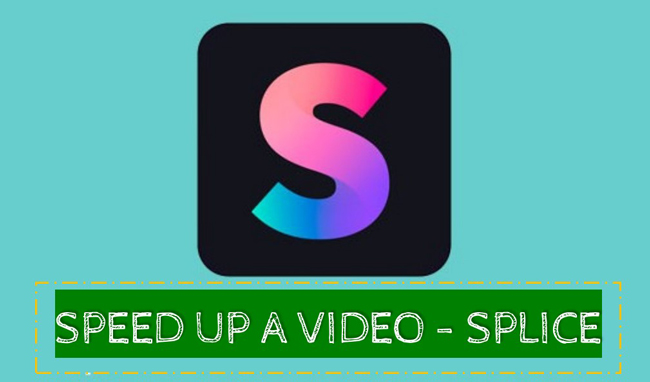 How to Expedite Your Video in Splice
Downloading and operating Splice on your mobile phone is the first thing to be done if you need to edit or speed up a video with this app. As said before, Splice works with both iOS and Android so you can download it for free without considering the systems. Aside from making a video faster than before on your phone, trimming, recording, rotating, adding texts, adding music, changing video resolution, overlaying filters, and more functions are incorporated in Splice. Let's dive into the guides below.
Click "New Project+" to add your video clips to Splice. Tap on "Speed"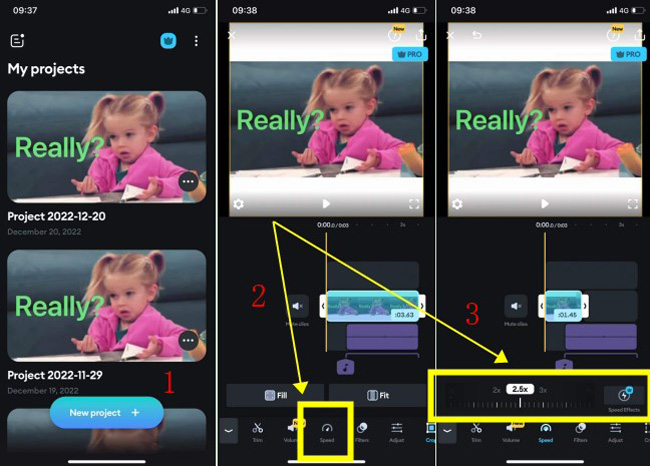 First thing first, starting with a new project on the user interface of Splice where you can choose a concrete video resolution to definite the scale of the screen played on devices. When you enter into the main video editing workspace, slide the toolbar at the bottom of the screen and then select "Speed". Without delay, select a speed number as you see fit. Splice empowers you to adjust the video speed while playing it. In addition, it is fun to add speed effects but they need premiums.
Change the speed of the audio. Export your video with settings and share it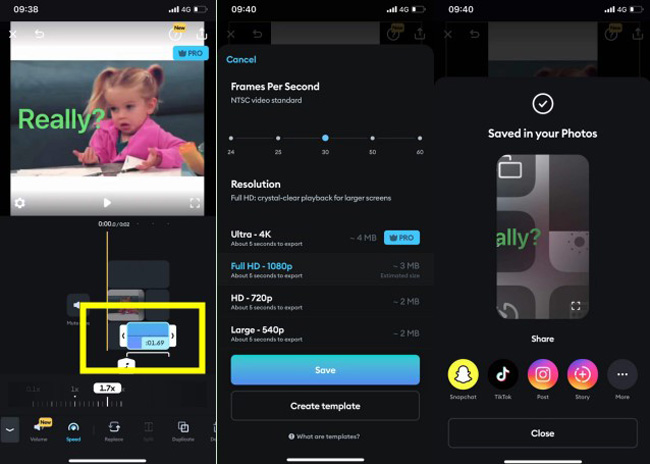 To sync the background audio with the accelerated videos, highlight the music track from the timeline and adjust the speed variable in the same steps. Likewise, you can play the current project to reach the best effect.
Click on the "Export" button in the top-right place when you need to download it. 1080p, 720p, and 540p now are available on Splice. However, 4K resolution output isn't free for users. After that, the video will be saved automatically on the phone album. You can share it on Snapchat, TikTok, Instagram, or other platforms with one click.
How to Make a Fast Motion Video by iMovie for iPhone or iPad
If you are using iPhone and want to create an eye-grabbing video with speeding-up effects to attract other people, then iMovie is recommended to you, which is pre-installed on your iPhone or iPad and totally free, with a bunch of text templates and music mixing functions. It is one of the best fast motion video makers. If the version of iMovie is outdated, you'd better update it at the moment to get the full experience. Read the following content to speed up any video with iMovie for free.
Run the iMovie app first, create a new project by clicking on "+ Movie"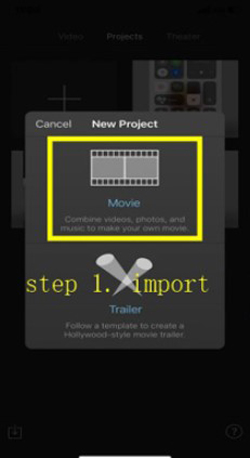 iMovie was pre-installed on your device, as a result, you can search for and open up it directly. Any length of your video is accessible to be imported into the app. To edit or create a video, go to "+" in the first place.
Choose "Speed" from toolbar. Change video speed to make it faster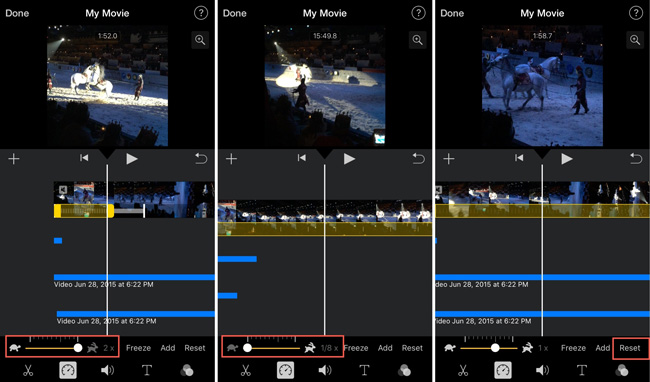 Click the "Speed" icon from the toolbar on the workspace for video post production. Drage the speed to the "Rabbit" direction which will speed up your video instantly. If you're unsatisfied with the speed, reset the speed and adjust it again until you like the effect.
Save the video on high quality, or share it via social media platforms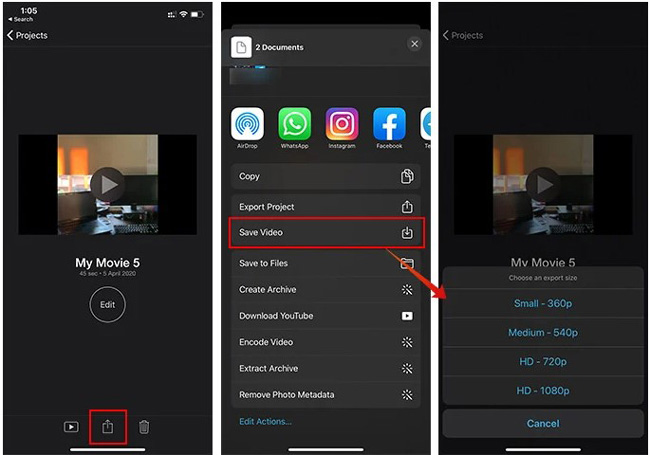 It is allowed to save the video in Full HD or lower video resolution with iMovie. You can either download your video or share it with friends or on social media platforms as you like. More options such as archive creation, YouTube downloading, and video encoding are included.
AceMovi Video Editor Software: Speed Up Any Size or Format of Video
Choose AceMovi to supersede Splice in speeding up your video or audio media is easier for this software supports large file sizes as well as multiple file formats. The speed variables can be adjusted from 0.01x to 100x, customizable or automatic, to be specific, in the process of making a video faster, you use AceMovi to fine-tune the speed value at a certain degree.
Different from Splice and other video editing software, AceMovi Video Editor is not merely a fast motion video creator, that is to say, users can use it to record screen with background music, capture screenshots, rotate the upsidedown camera, convert video resolution, add subtitles or transitions, and more. Download AceMovi to get started.
AceMovi Video Speeder
Bisect or split video by trimming
Increase or decrease sound volume
A bunch of filters and overlays
The UI is favored by beginners
Use the demo version for free
Record a new video or song using mic
Fast speed in importing and exporting
Learn how to make a fast motion video with the speed change feature
In the following, you will see the text tutorials on speeding up a video with the built-in playback speed converter tool. First thing first, launch AceMovi and import your media to the timeline. This page provides you with free access to download it. Click its icon to operate and begin to increase the speed of your MP4 video.
Pick up "Timeline" > "New Project" from Media panel or use "Command + N"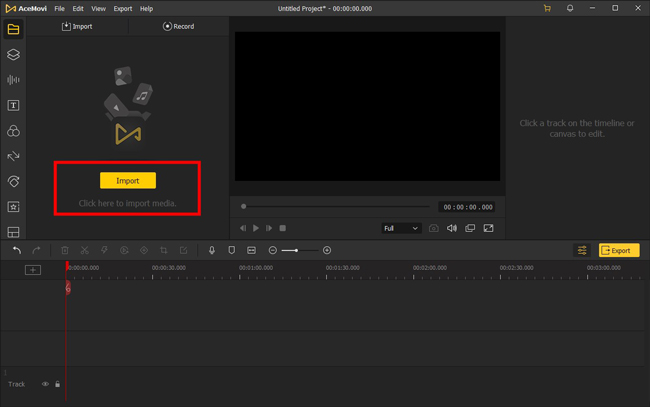 Click the "Import" icon to upload your materials by selecting. Or you can drag and drop the media under the Media panel directly. The timeline supports unlimited tracks including text, audio, and video. It is no need to worry about the file size and video resolution, as you can edit them or other relevant variables professionally.
Commence speeding up the video you import through "Speed" from timeline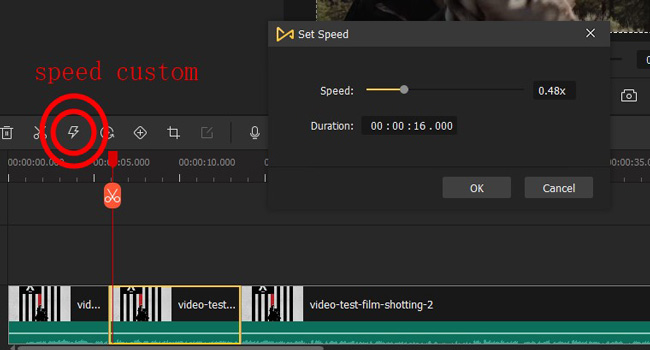 Before each video editing or effect adding, you need to highlight the clip you want to render. In such a condition, choose the video and tap on the "Speed" tab from the toolbar, then you're empowered to adjust the speed of the video based on your requirements. Both ready-made and customizable speed editing options are provided, for example, you can set the speed at 2x by choosing "2x" from "Fast".
Export video with your wanted video resolution, FPS, quality, and file format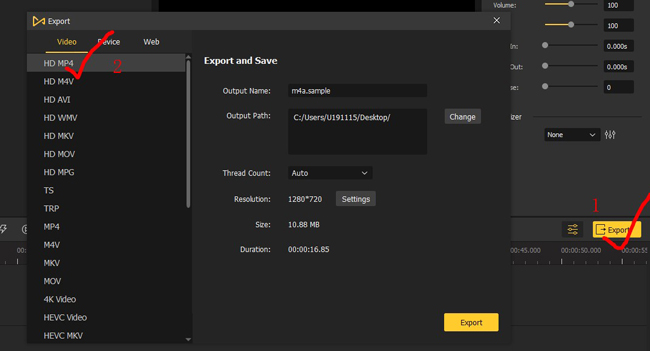 In the final step, press the "Export" button to convert the video format and adjust other parameters including quality and video resolution. A lot of media exporting channels are listed, including but not limited to common video formats, social media platforms, phone tablets, and GIFs. To manipulate advanced variables, get into "Settings" on the popup plate.
Speeding Up Single or Multiple Videos on Splice Related Questions
Q1: Is Splice Video Editor free to download or use?
Splice is free for creating a video with simple functions, such as trimming, speeding, slicing, slideshow, adding text, adding music, or converting video resolution. Surprising that users can export videos without watermarks up to 1080p by Splice. Nevertheless, a portion of the built-in video elements and effects need in-app purchases, and video speed effects are included.
Q2: What is the difference between Splice and iMovie?
Both belong to video editing apps, with miscellaneous text fonts and colors, sound effects, filters, transitions, and parameter settings. Splice is compatible with Android and comprises premium services, in comparison to iMovie. By the way, iMovie is pre-installed and works not merely for iOS, even mac OS has embedded it initially.
Q3: Can we speed up video on Splice in Windows or Mac?
It is not possible now, as Splice was released for mobile phones. Taking AceMovi Video Editor or other software into consideration is a better idea in condition that you'd like to edit the speed of a video on PCs.
Conclusion
Playing the video effects or elements you add after editing is a good habit in the video editing field. When it comes to speeding up a video, you may need to edit the speed of the audio as well to make them in sync with each other. In addition, splitting a video into different parts should be performed beforehand when you only scheme to speed up parts of the video.