As the hidden video editing tool in Microsoft, Windows Movie Maker has come into existence for two decades. It is designed to deal with a battery of works, including but not limited to adding titling, captions, and background music, overlaying visual effects, splitting, making video slow motion, and converting video formats. Windows Movie Maker alternatives are various in today's video-making field because it has been discontinued but there are still some platforms to download it for free. In this posting, learn how to create slow motion video in Windows Movie Maker with me.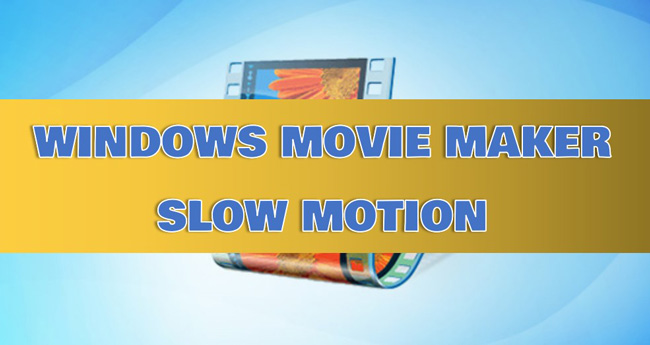 How to Slow Motion a Video in Windows Movie Maker
If you're editing videos with Windows Movie Maker, then you will know that it is a royalty-free video producer for Windows systems including Win XP, 7, 8, 8.1, 10, and 11. All of the built-in functions such as webcam recorder, narration recorder, video filter resources, animations, and exporting resolution choices are at your disposal within Windows Movie Maker. The dated user interface and no multi-track timeline for batch editing are the demerits of this tool. Now, let's learn how to generate a slow-motion video with Windows Movie Maker.
Download Windows Movie Maker and operate it. Add videos to slow motion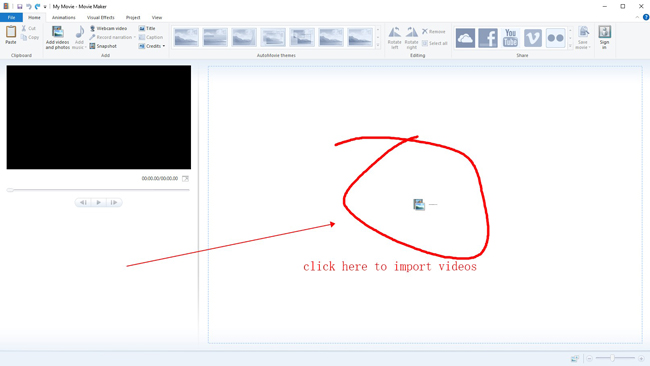 Windows Movie Maker can be downloaded as a single installation. Or you can first download Windows Essentials, then get Windows Movie Maker within it. If you haven't installed this video maker, go to part two in which you can find the safe website to download it for free. On the user interface of Windows Movie Maker, drop your videos directly.
Find "Edit" > "Split" from menu bar. Trim out the part you want to slow motion
Skip this step if you want to slow motion the whole video file. If it is needed to make a part of your video slow motion in Windows Movie Maker, you have to split the wanted clips from the original footage. First of all, move the Playhead (Pointer) to the splitting place, then click "Split" from "Edit" on the menu bar. The result is that the video is split into parts.
Find "Speed" from "Edit", then choose speed value at 0.125x, 025x, or 0.5x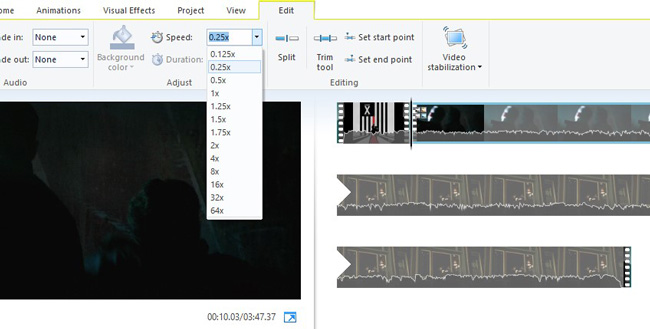 The slow-motion effect was set on the same editing panel beside the "Split" icon. You simply select a ready-made speed option to make your video slow motion, such as 0.125x and 0.25x. If you want to customize the SlowMo speed, you can enter a specific speed degree to the blank like "0.3x". Keep in mind that only a number less than 1x can it make the video slower than before. Luckily, you're able to play the changed video in real-time with this software.
Click "Home" > "Save Movie" to set video file at wanted format and quality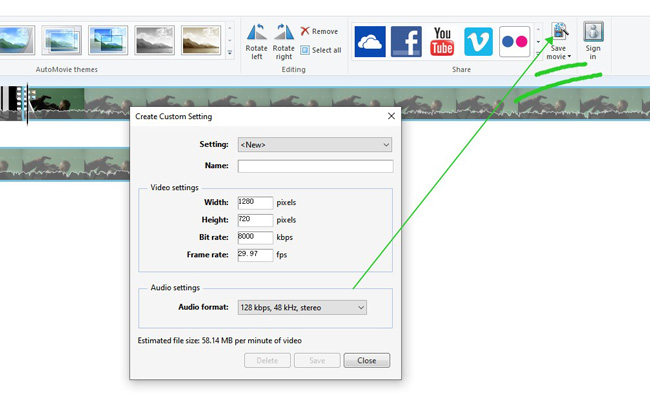 It is quick to share your video for YouTube, Vimeo, Facebook, or other media platforms with Windows Movie Maker. To do it, choose "Save Movie" from "Home". The file name, format, video aspect ratio, bit rate, frame rate, and audio settings can be manipulated according to your requirements. Once it is finished, it offers the file size and saves your video to the place you set beforehand.
Windows Movie Maker Download for Free
Since Microsoft officially removed Windows Movie Maker from downloading on January 10, 2017, you can still find websites to download it. Many websites provide you with links to download Windows Movie Maker. If you don't trust them or think their installation files come with bugs, it is advised to download Windows Movie Maker alternatives, such as AceMovi Video Editor, Adobe Premiere Pro, OpenShot Video Editor, Final Cut Pro, or else. One of the best websites to download Windows Movie Maker is Topwin-movie-maker.com, you can search for it to download Windows Movie Maker directly. Now, this software is compatible with Win XP to 11.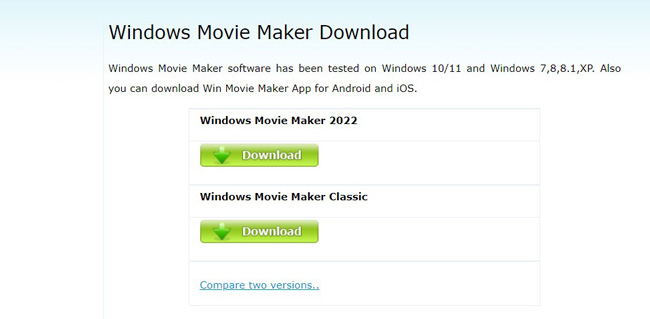 AceMovi SlowMo Video Editor for Windows & Mac: Best Alternative to Windows Movie Maker
Want to know which is the best Windows Movie Maker Alternative? To download a fully-fledged, lightweight video editing software, you may need to compare the services and video editing functions the tool provided, in this case, AceMovi Video Editor is powerful enough to meet your requirements.
Compared to Windows Movie Maker, AceMovi comes with more elements (royalty-free music, sound effects, animations, stickers, text templates) as well as video effects (green screen, slow-motion, fast-motion, format conversion, keyframes). The demo version supports you to edit 720p, 1080p, and 2160p resolution video files. Below is the tutorial on making a slow-motion video with AceMovi easily.
Click the buttons to download AceMovi for free. Add your videos to timeline
It is 100% safe to download AceMovi Video Editor in the following. You will find it lightweight and all-in-one to use. On the drag-n-drop user interface, you can put the videos that need to be slow-motioned under the track.
Move the pointer to the place you want to split. Click "Split" from the toolbar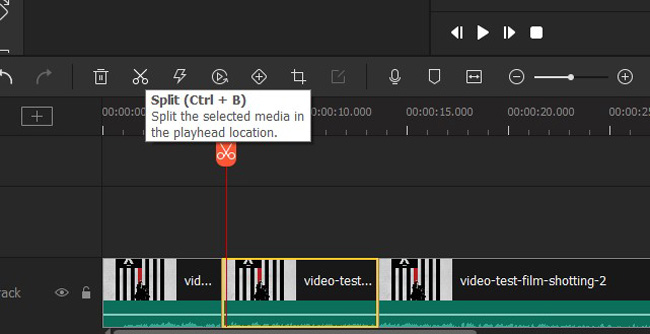 You can directly review the next step if you want to make the whole footage slow motion. To slow motion some parts of your video, you should split out the parts at the very beginning. The tutorial is easy, which needs you to move the pointer to the trimming points, and then click "Split" from the toolbar. It allows you to split as many parts on the track.
Highlight the video clip, and choose the slow degree from "Speed" > "Slow"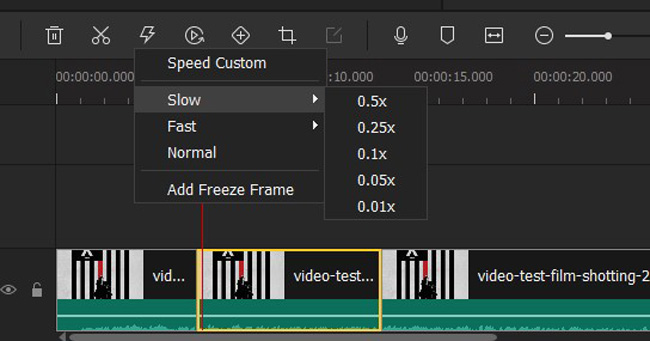 You can opt for a specific speed slow-motion from "Speed" > "Slow", including 0.5x, 0.25x, 0.1x, 0.05x, and 0.01x. After that, the edited clip will be shortened based on the duration.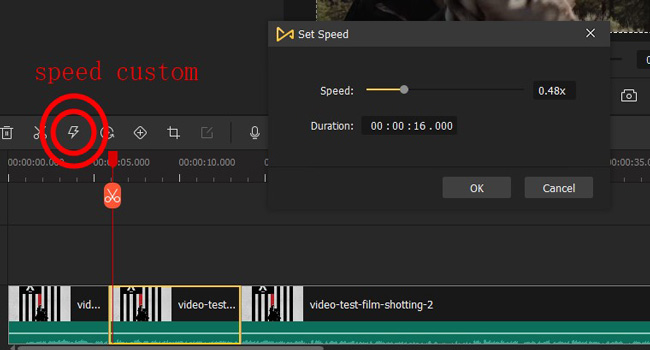 Apart from applying a ready-made slow-motion value, you can customize the speed from 0.01x to 100x with the "Set Speed" panel from "Speed". In that case, you can adjust the speed bar as you want freely. If you like the speed, click "Ok" to save the editing.
Go to "Export" to choose output settings like format and video resolution
When it comes to exporting your videos from AceMovi, just click the "Export" icon from the profile. You are empowered to choose from a host of video output formats and device channels. If you want to apply professional settings such as bit rate and frame rate, click "Settings" on the screen.
Video Guides: Use AceMovi to Make Perfect Slow-Motion Videos
The Bottom Line
Here are the guides to using Windows Movie Maker slow motion effect and download Windows Movie Maker for free. With it, adding subtitles and captions is easy to be operated. If you want a multi-track video editing tool, then AceMovi can be one of the best options to choose because it has eye-grabbing VFX and free demos that allow you to change video speed from 0.01x to 100x to make your video slow motion or fast motion within a few minutes.