VFX (video effects) are the first elements Facebookers, TikTokers, and YouTubers take into account for crafting fantastic content. Compared to animations and text designs, video effects like slow-motion convert impossible into something that can be reached with our eyes. Normally, if you control the playback speed of a video to 0.75x, 0.5x, 0.25x, or slower, the original codecs will be altered at the same time, so you can preview the slow-motion effect embedded within the video. Not every video editor is offering such VFX, but, here you'll see the 5 methods to play video in slow motion without decreasing the file quality. Select the way based on your platforms and begin to release creativity!

How to Play iPhone Video in Slow Motion with VN
Want to know how to play a video in slow motion on iPhone or Android? First thing first, you need to find a slow-motion video maker that is compatible with the phone platform. For example, if you choose iMovie, then you cannot operate it on your Android devices.
I'll introduce the VN app for you, which is now embedded with splendid features for trimming, texting, color grading, speed changing, and file quality enhancement. You can freely download it on the App Store. Now, try this to view the video in slow motion:
Download VN app and create a new project on the profile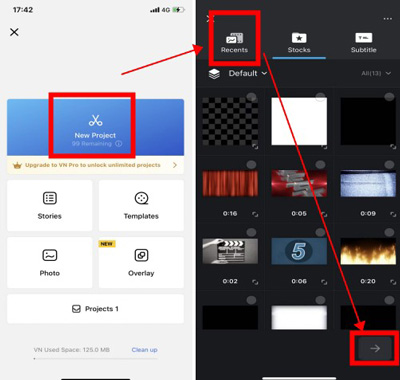 Many pre-designed projects are made for specific purposes, such as Stories, Templates, Photo, and Overlay. Here you just click "New Project" to commence a fresh project. Then upload files from "Recents", "Stocks", or "Subtitle".
Slide the toolbar and choose Speed, then control speed from Regular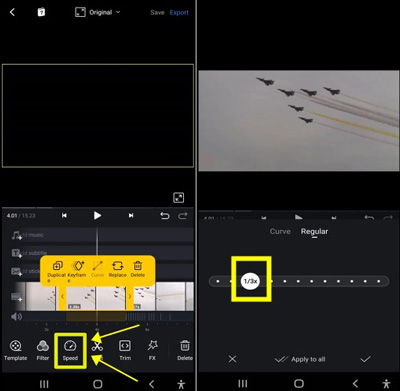 You see multiple tracks from the timeline for texts, videos, audios, and photos. Slide the toolbar to find the "Speed" button and click it. After that, you will see "Curve" and "Regular". Control the playback speed from the "Regular" panel.
Click Export in the upper place. Set the output resolution, FPS, & bit rate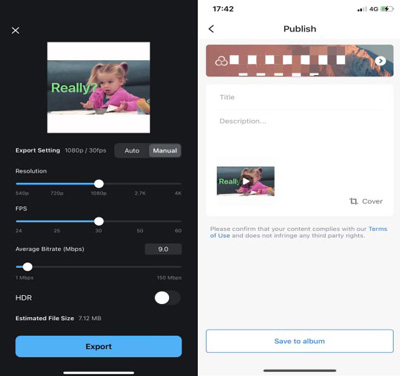 In the final step, you're empowered to change the resolution, FPS, average bit rate, as well as HDR. If you want to share the video on social media, you can add a tilte and description before publishing.
Play Video in Slow Motion with TunesKit AceMovi in Windows/Mac
Why choose TunesKit AceMovi for playing your video in slow motion? For the simple reason that you can find the button and apply such speed effect with one click. That speed presets include 0.5x, 0.25x, 0.1x, and 0.01x, if they're not in your range, you can customize the speed on the professional workspace from 0.01x to 100x.
If you choose the YouTube platform to play the video in slow motion, you may find that the speed of the raw video won't be changed. It means that way is temporary. But with TunesKit AceMovi, either you can watch a video in slow motion or you can make a permanent slow-motion video in various formats, like MP4, AVI, WMV, MKV, MOV, DivX, M4A, etc.
AceMovi SlowMo Maker
Customize the playback speed from 0.01x to 100x
Presets for slow-motion effects like 0.5x
Streamlined (NLE), pretty easy user interface
Amazing split-screen and green screen
Convert a slow video into a normal one deftly
Multiple video and audio formats contained
Reverse, crop, trim, convert, compress, record
User Guides: How to Make a Slow Motion Video with TunesKit AceMovi
Download TunesKit AceMovi Video Editor. Click "Import" to add files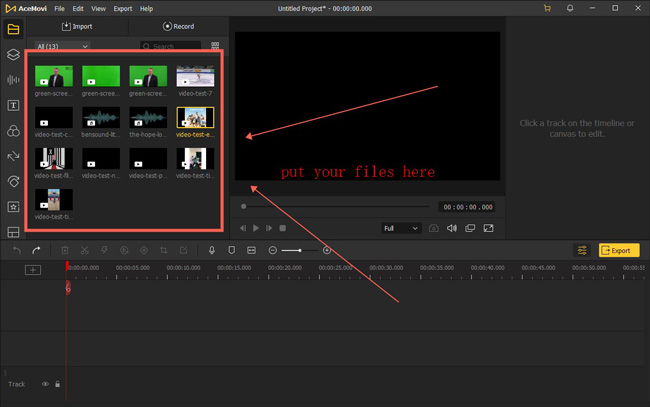 On the drag-n-drop user interface, you can put all your files under the timeline track. Or click "Import" to select the videos from the local folders.
Use the Lighting icon and then choose the precise speed from the Slow panel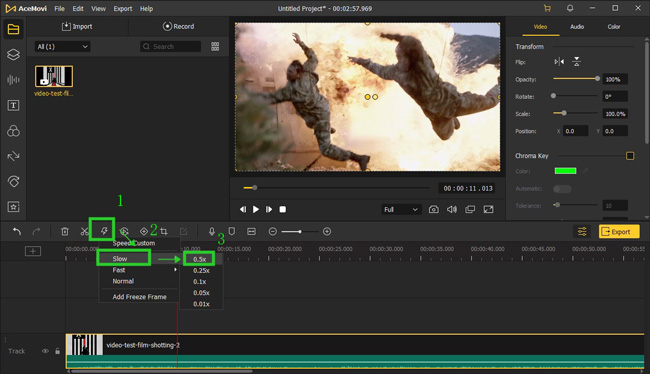 Just press the "Lighting" icon from the toolbar, then go to "Slow" and pick the speed you want. It can be 0.5x, 0.25x, 0.1x, 0.05x, or 0.01x. Surprisingly, you can customize the speed by clicking on "Speed Custom", then you will see a pop-up workspace.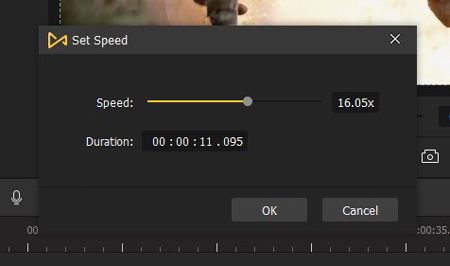 On the plate, you can slide the slider to control the speed in real time. You can play the video to render the effect and check the result per your needs. Once done, click "OK" to save the settings.
Choose video format and output settings. Click Export to download video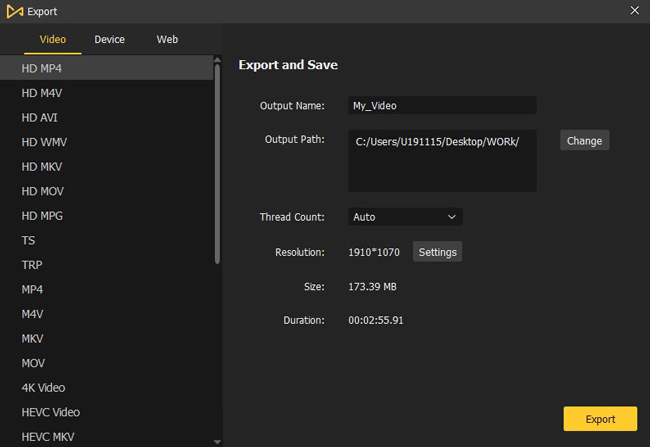 There are various downloading formats for you to select, such as MP4, MPG, MKV, 4K Video, WMB, and AVI. Then go to "Settings" to fine-tune detailed parameters of codec, bit rate, and sample rate. The resolution can be converted into 720p, 1080p, or 2160p. And you can remove the watermarks after buying the premium accounts.
If you want to learn more about how to make a slow motion video in easy steps, just dive into TunesKit AceMovi.
How to Play Video in Slow Motion in YouTube
The YouTube website is able to play video in slow motion using the speed-changing feature on the performance monitor. In fact, you can operate slow-motion effects for YouTube videos without spending too much effort.
But with that said, you cannot use it to create a slow-motion video like TunesKit AceMovi or VLC Media Player. In other words, if you download the video, it still remains at normal speed. Now, let's see how to play a video in slow-motion on YouTube.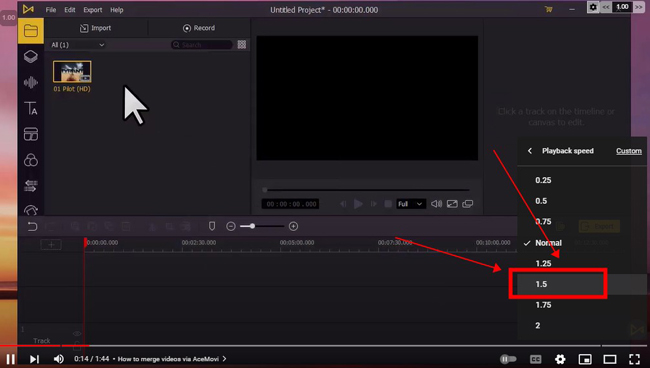 When watching a video on the YouTube webpage, click the "Gear" icon in the bottom right place. And choose the playback speed from 0.25x, 0.5x, or 0.75x. After choosing one of the speed presets, you can view the YouTube video at a different speed. Alternatively, you can set the customizable playback speed by pressing the "Custom" button. However, you find the original video file is still at normal speed once download it.
How do I Play a Video in Slow Motion with VLC
If you're discovering the slow-motion video editor that is alive with free plans and cross-platform features for Linux, Mac, and Windows. Then you will find VLC Media Player is definitely worth a try.
This software contains an inspiring array of video effects, such as Motion Blur, Clone, Anti-Flickering, De-noiser, and Mirror. You can find the feature to change the playback speed from the menu. Here is the guide.
Get VLC Media Player. Go to Media > Open File from the menu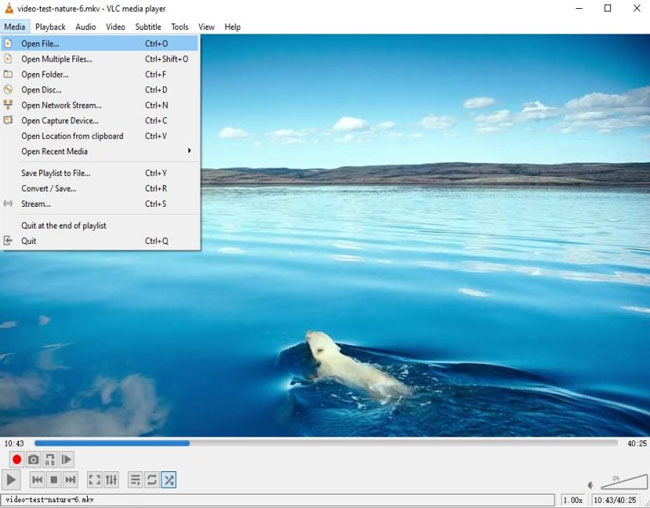 You need to add your files to play it with VLC. To make it possible, click "Open File" and "Media" from the menu bar. Then select your files from local folders. Use "Play" to watch the video on the performance monitor.
Navigate to Playback > Speed > Slower. Or cutomize the speed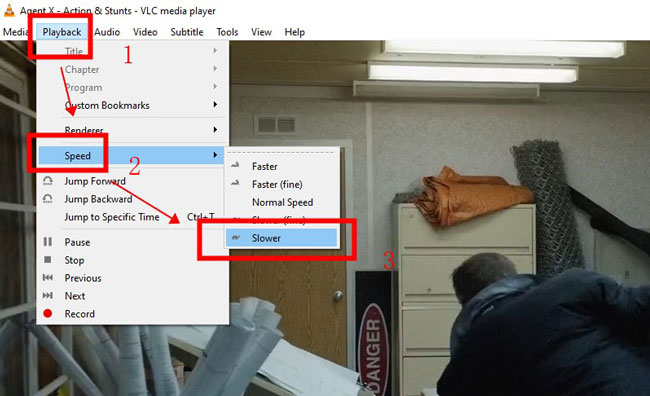 It is easy to find the function for changing the playback speed of a video with VLC. You need to select "Playback", "Speed", and "Slower". You see the rendering results in real time. You can click that button again if you're not satisfied with the speed.
As for downloading the video, click Media > Convert/Save from the interface
Export your files from VLC is different from TunesKit AceMovi or VN, you should first click "Media" and "Convert/Save". And you need to choose the output format for video and audio. Set the file destination and download that video.
How to Play Videos in Slow Motion Online Free by Online Converter
Want to know which one supports you to watch and play a video in slow motion without downloading and installing? Ah, in this case, you need an online video effects provider and editor. We believe you will get the best answers from the Online Converter website, which is free of use because some advertisements are floating over the web pages. And your file size is 200 MB maximum. We're about to play a video in slow motion online with this program. Ready? Let's hit the road!
On Online Converter, go to Change Video Speed from Video Converter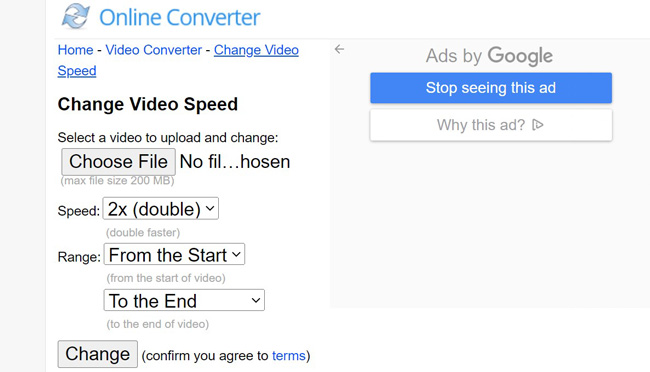 Visit the Online Converter on any browser. Go to "Home" & "Video Converter", and find the "Change Video Speed" panel from built-in features, meaning that you can switch to other functions like trimmer and cropper afterwards.
Use "Choose File" to add materials. Set speed/range and download the video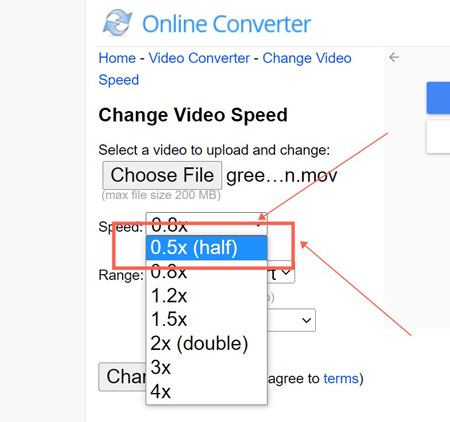 Click "Choose File" to add your videos to Online Converter. Set the speed at 0.5x (half) or 0.8x. Control the range per your requirements. When all are okay, click "Change" and then download your slow motion video online for free.
Wrap Up
You learned the 5 methods to play a video in slow motion with ease. For making a SlowMo video, you cannot depend on the YouTube website. All you need to do is download the YouTube video and add it to video editors like TunesKit AceMovi and Online Converter. They're capable of creating a video with more fantastic effects like blurring, green screen, and keyframe.