Changing the speed of a video is not the same as controlling the playing speed while watching the video content. That's the reason video speed booster is also called the fast-motion generator that subtracts frames into quicker movements in movies like Everything Everywhere All at Once (2022) and Spider-Man: Into the Spider-Verse (2018).
The purposes of speeding up a video comprise making your output supernormal as well as attracting audiences by the breathing-taking focus on the current actions. You may want to figure out how to speed up video online without complicated steps. In the following, we're about to show you five ways to complete the mission without changing the pitch.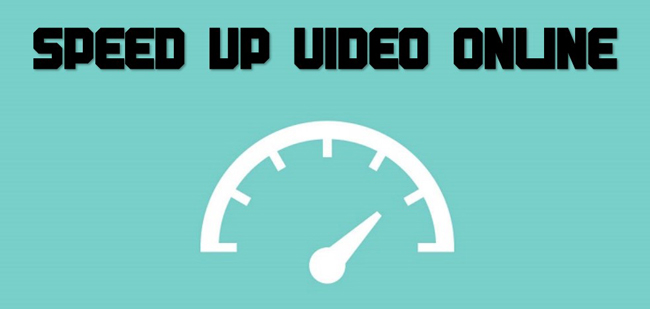 How to Speed Up Video by 5 Video Speed Changers (2022)
1. Online Video Cutter (123APPS)
The max speed value you can apply on the Online Video Cutter website is 4x, meaning that "1x to 4x" is the range for converting video playback speed into a faster result. Like most online video editors, the program offers a series of video editing features like video compressor, video cutter, video merger, audio reverser, music volume changer, and more. But the standout points of it include easy guides and no registration. Also, you find the built-in panel for specific missions is multifunctional.
Free for: 480p and 720p outputs
File size max: 4 GB (It may take 10 minutes to upload)
Why choose it: No watermarks for HD, multi-functional workspace, & simple interface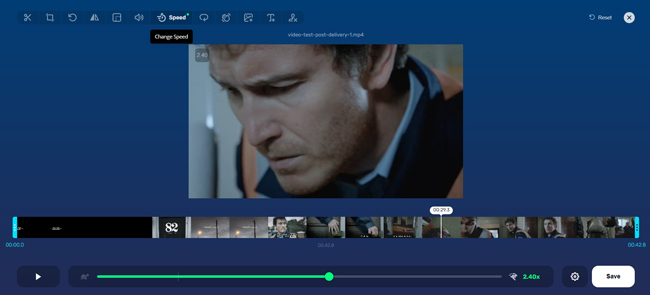 How to Speed Up a Video Online Free by 123APPS
Step 1. On the interface, navigate to "Video Tools" > "Change Video Speed". In the playback speed workspace, click "Open File" to import your files first. The source includes local video, Google Drive, Dropbox, and URL;
Step 2. Manipulate the speed-changing slider on the screen. You can play the video in real time to check the effect rendered by this program. The speed is range from 1 to 4x;
Step 3. Set the file format in MP4, MKV, MOV, or Auto. An option to re-encode the file is offered. Then, go to "Save" for downloading the video online.
2. EZGif
As a free, fully-featured tool to speed up a video online, EZGif is made for editing and converting GIF files, but an amount of users find this program is perfect for handling short clips in various ways like rotation, crop, speed, convert, resize, and merge. No premium accounts are needed to unlock some advanced services on the interface. One of the issues is that only short-duration clips are available to upload. Don't worry about the processing efficiency using EZGIF. Besides, the supported formats include MP4, AVI, MOV, 3GP, WebM, FLV, and more.
Free for: All outputs
File size max: 100 MB
Why choose it: Easy-to-use, editing GIF, & no registration (safe)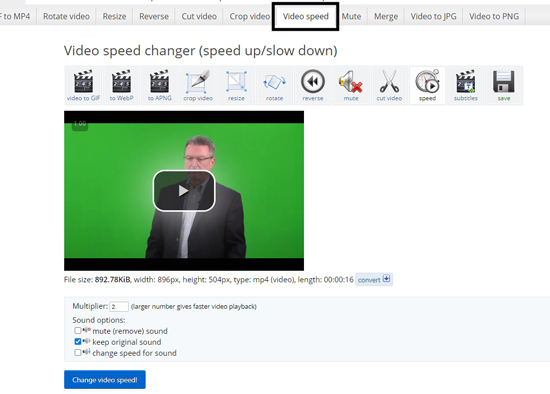 How to Increase the Playback Speed of a Video Online with EZGif
Step 1. Search for EZGif and get into it. Choose the "Video Speed" option from the video-making panel. Input the playback speed number in "Multiplier" and play the clip to preview;
Step 2. As regards the audio, it allows you to mute/remove the background soundtrack, keep it as original or change the music speed at the same time. Just tick the dialogue you want;
Step 3. Click "Change video speed!" to perform the editing. Scroll down and find the toolbar on the interface. If you want to continue to enhance your content with tools like cropper or trimmer, click their icons. If not, tap on "Save" to export the speed-changed video.
3. Clideo
Another video speed changer for online use we're going to introduce is Clideo, which is great for speeding up videos for social media. You may need to make a video for Instagram, Facebook, YouTube, TikTok, or other platforms. The website covers all pre-made aspect ratios to change the width and height of your video after you speed up it. However, you need to log into this website before downloading and choose whether or not to remove the watermarks by upgrading your account. By the way, Clideo offers an all-sided workspace for pros compared to other tools.
Free for: No (All free outputs come with Clideo watermarks)
File size max: 500 MB
Why choose it: Full aspect ratios, no ads, & multiple formats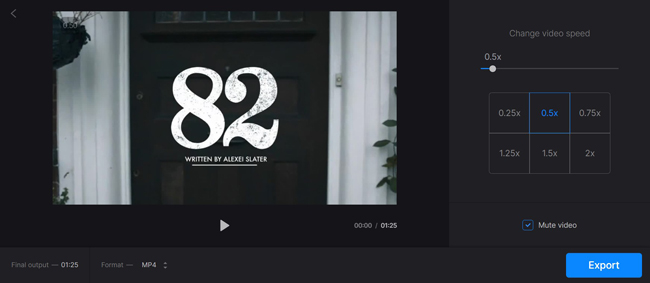 Speed Up a Video Online for Social Media on Clideo
Step 1. You can select the "Video editor" mode or the "Tools" > "Speed Video" from the menu on the user profile of Clideo;
Step 2. Go to "Choose file" to import your videos from local portofolio, Google Drive, or Dropbox. Keep in mind that the file size should be limited to 500 MB;
Step 3. After a while, you see the specific webpage to change the video speed. Slide the bar or use the pre-made speed degrees depending on yourself. In the process, you can mute the background sound, preview the video clip as well as change the format at MP4, AVI, FLV, M2V, M4V, 3GP, or others.
4. Media.io
Media.io is a one-stop and cloud-connected video editor, with which users can download or share their video at any time on their free account without watermarks. But the file size for audio editing is so mall that only 20 MB music files can be imported and edited. Videos can be edited twice times for each account without watermarks. Luckily, the pricing is not expensive and there is no ad on the interface bothers you with editing a video. However, switching to other features cannot be operated on one screen.
Free for: All outputs
File size max: Conversion (> 100MB); Compression (> 500MB)
Why choose it: No ads, cloud-based, & quick downloading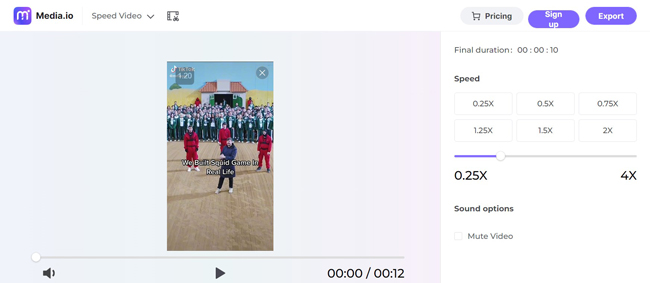 Speed Up Video Online without Watermarks and Logos on Media.io
Step 1. Once you're on Media.io, go to "Pop tools" > "Video Tools" > "Speed Video". Drag and drop your video files under the interface or click "+ Choose Files" to pick up the files from the computer, Google Drive, or Dropbox;
Step 2. It won't spend too much time in processing. You set the speed value and choose to mute the sound or not;
Step 3. Once the work is finished, click "Export" in the right upper place. Here is an excellent point. You see the video has been saved to the cloud for your account and you can edit it again or download it right away.
5. Kapwing
The biggest difference between Kapwing and other online video speed up tools is the interface - Kapwing has a streamlined (nonlinear) video editing operation interface. In other words, users perform all small and advanced edits on one page, which requires you to know basic video-making knowledge before using it. But do not look down upon this website. URL quick importing, color grading, video templates, multi-track mixing, as well as VFX are at your disposal. Before the beginning, create your account.
Free for: No (All free outputs come with Kapwing watermarks)
File size max: 6 GB (Paid)
Why choose it: Quick importing, multi-track editing, & video templates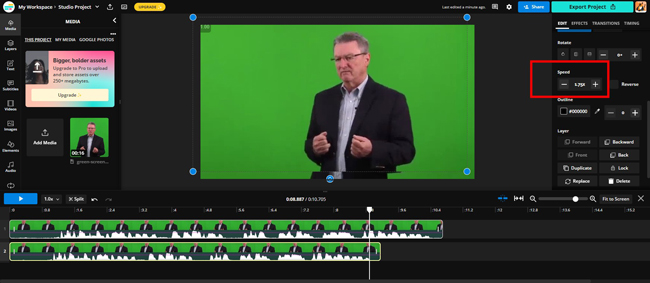 How to Speed Up a Video Clip Online by Kapwing
Step 1. On Kapwing, many importing channels for you, like video URL, drag-n-drop, select local files, video templates, etc. But you should log in first;
Step 2. Put the imported video under the track. Then, go to "EDIT" > "Speed" in your right-hand place. Click "+" to boost the speed. Only some fixed speed numbers like 1.25x, 1.5x, and 2x are provided;
Step 3. When the editing is done, go to "Export Project" in the right upper place. Choose the output format and quality based on your requirements. All the downloadings come with Kapwing logos if there is no premium account.
Which Is the Best Online Tool to Speed Up Videos
Speaking of the pros and cons of each program introduced here, you cannot decide which one is better easily. Since requirements vary from each other, you'd better compare them before making the decision.
| | 123APPS | EZGif | Clideo | Media.io | Kapwing |
| --- | --- | --- | --- | --- | --- |
| User Experience | Super Easy | Easy | Super Easy | Easy | Medium |
| File Size Limit | 4 GB | 100 MB | 500 MB | 500 MB | 6 GB |
| URL Upload | × | √ | × | × | √ |
| Quick Import/Export Speed | × | √ | × | √ | √ |
| Multiple-Functional Panel | √ | √ | × | × | √ |
| Cloud Conntection (Registration) | × | × | √ | √ | √ |
| Speed Presets | × | × | √ | √ | × |
Speeding Up Videos Online FAQs
1. Is there an extension to speed up videos?
Yes, you can use Video Speed Manager or Video Speed Controller from the chrome extension store for speeding up the video you're watching. But the playback speed of the video won't be changed permanently, in other words, the change in speed is only functional one time. You still need a video speed booster to convert the original speed to make a fast-motion effect.
2. How to just speed up a part of the clip?
The first step you need to do is split the video. You find separate clips from the track after that. You highlight the designated part and control the speed value. In this case, the video speed editing tool will help you boost the speed of that part. When it comes to downloading the video, the clips will be exported as a whole part automatically.
3. How to speed up movements in After Effects?
After Effects provide the Time Stretch feature for rendering your video with the fast-motion effect. To begin with, operate this program and start a new project. Add your videos to the timeline and perform layer adjustments as per your needs. Right click the layer and choose "Time" > "Time Stretch". Enter the stretch factor and play the clip for checking. Lastly, click "Save" to download your file.
Summary
Online video speed programs provide users with simple ways to convert the playback speed of a clip, but you need to worry about the safety and file size limit. When using video editing software, those won't be any problem, and you can use many more features like multi-track designing and vast libraries of music and titles. With TunesKit AceMovi, work will be easier. You can watch the tutorial below and begin to speed up your video with it directly.