What are the differences between the format of WMV and MP4 in video editing, saving, and sharing? Both of them are container formats, MP4 is indubitably used more worldwide for its device-friendly characteristic as well as the better-quality output. While you can save more files if the format is .wmv because it has been compressed to smaller sizes. If you plot to share videos on miscellaneous social media or improve the quality of your video playback, choosing to convert WMV to MP4 may be your need. We'll provide you with the best WMV to MP4 converters to help you finish it.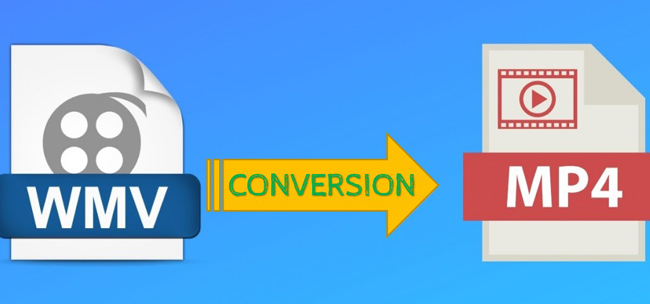 TunesKit Video Converter: Morph WMV into MP4 Up to 60FPS
As a specific video conversion software provides demo versions for both personal and commercial and alive with assorted video formats for media-sharing plaform such as YouTube, TunesKit Video Converter is powerful enough to convert WMV from MP4, with your wanted output codec, frame rate, video resolution, save location, and some audio parameter variables. Exporting and importing is responsive on this video converter.
After you download TunesKit Video Converter. Add videos and select "MP4"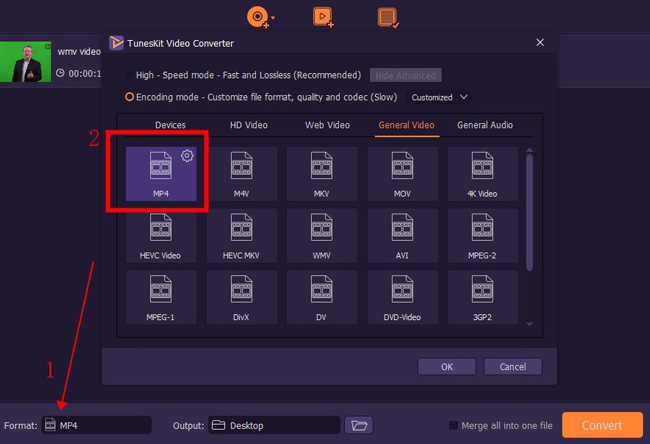 On this webpage download TunesKit Video Converter's latest versions for 100% safe. It is a lightweight and low-end specs requirement software for both Mac and Windows.
From the toolbar set at the bottom line click "Format" and choose "General Video" > "MP4". In this case, the output format will be .mp4.
Go to "Settings" to control download video and audio parameters like codec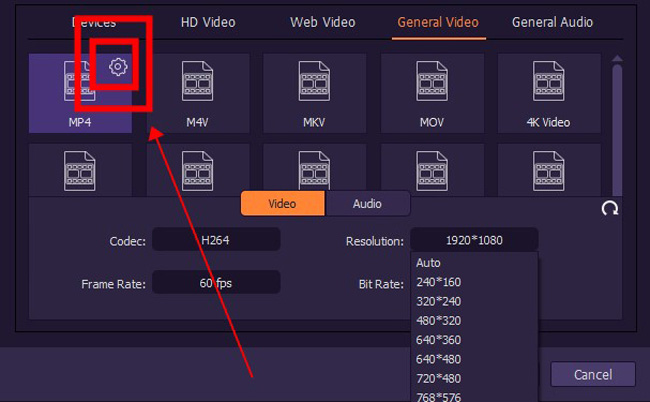 To apply advanced parameters, click the scissor icon beside the "MP4" icon. On a popup window for setting adjustment, choose to fine-tune the codec, frame rate, resolution, and bit rate of the video and audio as you see fit.
Use your own output location. Or edit the video with built-in functions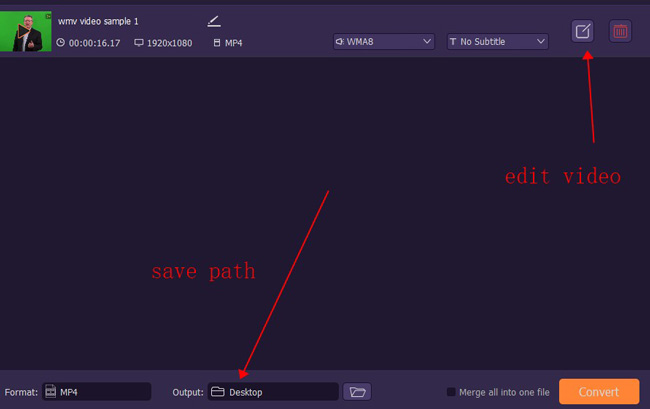 Before clicking on the "Convert" icon to get started converting, you can choose the correct folder for saving your media by clicking on the "Output" button on the toolbar at the bottom place of the user interface. Besides that, trimming out unwanted parts from your video, overlaying logos or watermarks on the screen, changing video playback speed, filtering with effects or different colors, and more functions are set inside this software as well. Just click the "Edit" icon from Media.
AceMovi Video Editor: Convert WMV to MP4 Video Easily
AceMovi is one of the most popular tools to edit and convert video in Windows and Mac, which was released with demo versions that come with the full features without in-app purchases like DaVinci Resolve. As a video converter for MP4 to WMV, users can set the video resolution (up to 2160p), frame rate per second (FPS), codec, channel, file size, and bit rate.
Parallel to converting your videos with AceMovi, which allows you to record, split, trim, speed, reverser, compress, resize, add subtitles, add background music, overlay filters, insert transitions, etc. That is to say, this software is alive with diverse video-making technologies for multiple purposes.
AceMovi Video Converter
MP4, WMV, DivX, MOV, MKV, & more included
Support video resolution from 480p to 2160p
Add watermarks, logos, text, filters, and music
Motley video transitions to make a photo slideshow
Windows and Mac users can use the free demos
Video conversion render and speed is quicker
How to Convert a WMV to MP4 on Mac or Windows by AceMovi
Run AceMovi from your computer. Begin to add video files to timeline
In the following directly download AceMovi Video Editor and Converter to start your work. Choose the Windows or Mac channels as per your needs. After that, launch it. Upload your WMB videos to the timeline by drag-n-drop.
Click "Export" from UI. Choose "Video" > "MP4" as the output format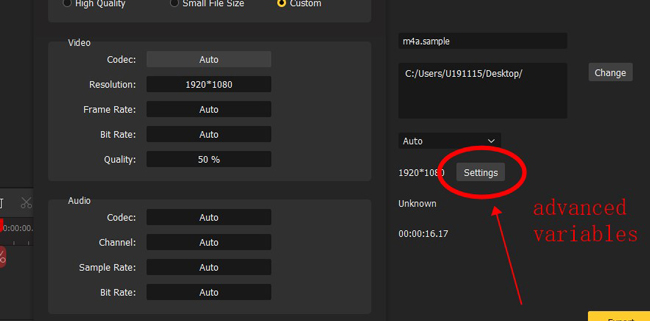 If there is no need to record, trim, speed, reverser, correct, or crop your video, go to the "Export" icon on the UI directly. Once a window pops up, choose "Video" and "MP4". In this case, the video will be saved in .mp4 format. Simultaneously, it allows you to choose the output name, path, thread count, and resolution.
Press "Settings" to choose file size and the parameters of audio/video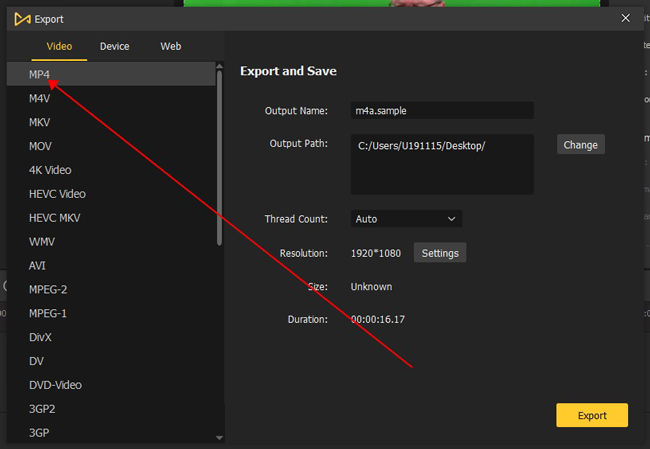 Talkig about the advanced settings during the conversion between WMV and MP4, click the "Settings" icon, then select your video file size that can be high quality, small file size, or customized. For customizing the video and audio variables, you can adjust codec, resolution, frame rate, bit rate, and quality.
How to Convert WMV File to MP4 Online by CloudConvert
Online tool is one of the fastest solutions to convert among video formats. To be specific, if you need to convert WMV to MP4 online, you need to choose a proper video conversion website that supports both .wmv and .mp4 formats. Apart from that, users are empowered to deal with more settings in the process of version, for example change the video frame rate from 30fps to 60fps. Let's use CloudConvert to convert your WMV to MP4.
Land on the CloudConvert website. Choose import and export video formats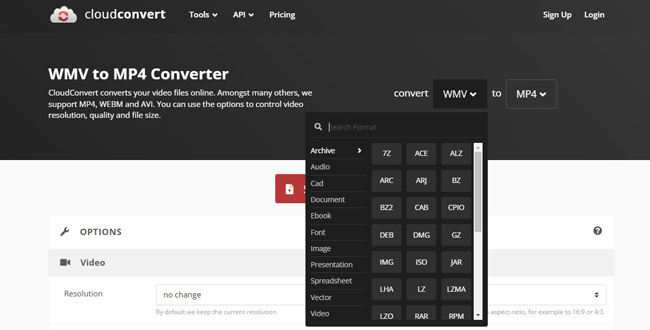 CloudConverte is an all-sided video media converter, you need to choose the right function in the first place. On the blank dialogues, choose "WMV" as the video format that is going to be uploaded and the "MP4" as the output option.
Edit video, audio, watermark, title, or other elements of your media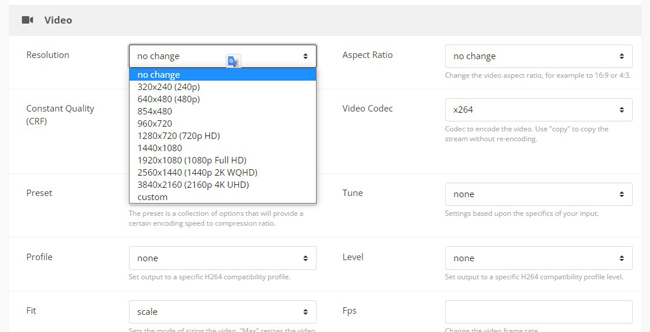 On the same page, scroll down to edit other video parameters such as resolution, aspect ratio, constant quality, codec, preset, tune, profile, level, fit, and fps. At the same time, it gives you access to manipulate audio, watermark, subtitle, and other elements.
Add more files from your computer or other sources. Click "Convert" to begin

The importing sources are diverse, apart from choosing videos from the local folder in your computer, you can use URL, Google Play, Dropbox, or OneDrive to upload more files to the website for converting WMV to MP4 in bulk. When you finished it, click the "Convert" icon to commence the process.
How to Convert WMV to MP4 in Windows Movie Maker
As the name shows, WMV is also called Windows Media Video, that is to say, Windows Movie Maker is bound to convert and edit WMV media professionally. In fact, .wmv and .mp4 are two of the formats supported by Windows Movie Maker. Pity that it has been discontinued since the year of 2017, but you can free download Windows Movie Maker by other tools and use it to split, convert, title, or edit video in your Windows.
Download Windows Movie Maker. Drop your video under timeline workspace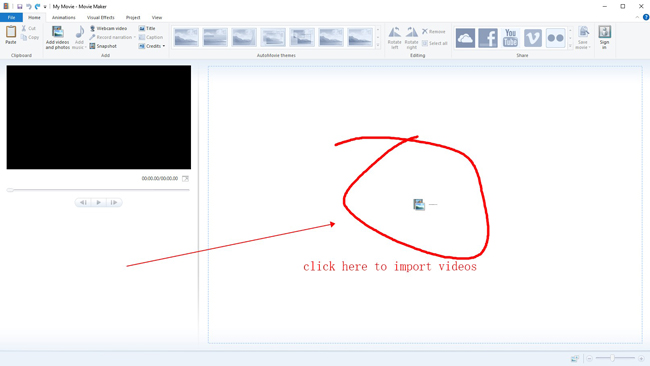 Windows Movie Maker is one of the easiest video editing programs at present. To begin with, you're needed to upload your video files under the user interface, which is drag-n-drop and multi-format supported.
Choose "File" > "Save movie" > "For computer" to complete converting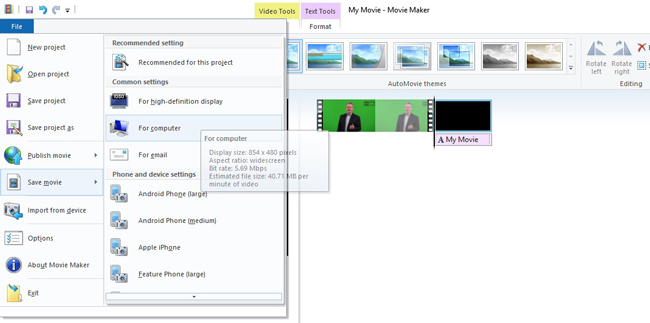 The conversion from WMV file to MP4 requires users to choose "Save movie" from the menu bar, Then navigate to "For computer" to choose the save location. If you need advanced variables, click the "Save movie" icon from the user layout.
How to Convert WMV to MP4 in VLC Media Player
Aside from being a cross-platform video player, VLC also plays a role in editing and converting video formats flexibly. This option for conversion is available on Windows, Mac, and Ubuntu, and free of charge for users all the time. This is a linear video editor for you, so it is not advised to convert batch files once. Aside from converting, you can use VLC for recording, trimming, adding special effects, as well as doing some color grading. Here are the steps to convert WMV to MP4 video by VLC.
Use VLC Media Player. Click "Media" > "Convert/Save..." from the menu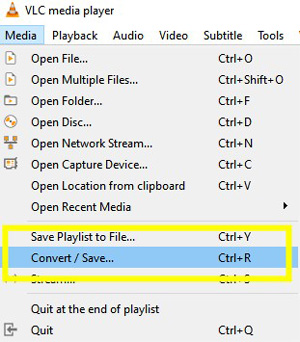 With that said, VLC works with the majority of devices. Download and use it from your screen of computer. Click "Convert/Save..." from "Media" on the menu bar. Then this software will lead you to a specific window.
Click "+Add..." to import WMV files to VLC for converting, select "Convert"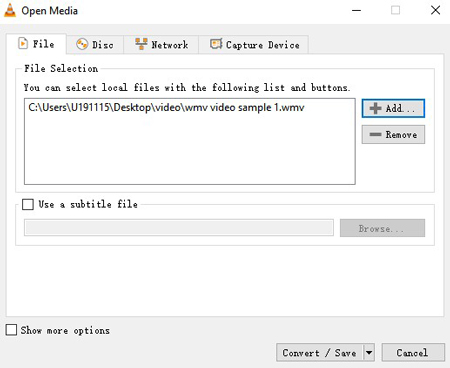 Click "+Add" from "File" on the layout to import your WMV files to the Media panel, other video or audio formats are supported at the same time. Use "Show more options" to perform or apply advanced parameters. Later, go to "Convert" at the bottom.
Select "Convert" > "Video - H.264 + MP3 (MP4)" and start to convert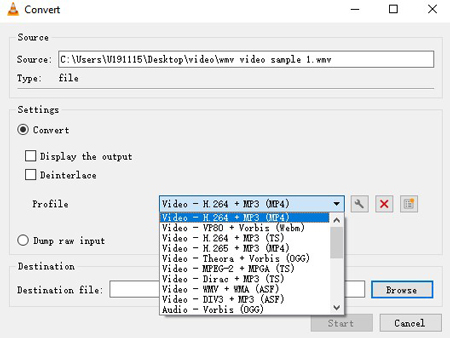 The next window will pop up after you hit "Convert", which is mainly used for setting the file format and the save path. To convert the imported WMV to MP4, choose "Video - H.264 +MP3 (MP4)". After a while, find the saved MP4 file from the place you set before.
Sum-Up
Many WMV to MP4 converters are eligible when it comes to converting multiple WMV files, but few of them belong to one-stop video editing tools to help you enhance the output media in other aspects like cropping or speeding. On this page not only can you download the best converter for WMV to MP4 conversion but it is possible to discover strong video editing software with easy-to-learn tutorials such as AceMovi and VLC.