An AVI file without audio will always lose its charm in most cases. To elevate engagement, we sometimes need to figure out how to add audio to AVI file. If you haven't found a satisfying audio and video maker for this job. You can read this post because we're devoted to sharing with you some effective ways to help you insert background music to AVI video on PCs, online, and mobile phones, along with editing the songs with fashionable SFX (sound effects). Besides that, one-by-one tutorials will be provided to help you better understand. Just go on and start to edit your AVI video!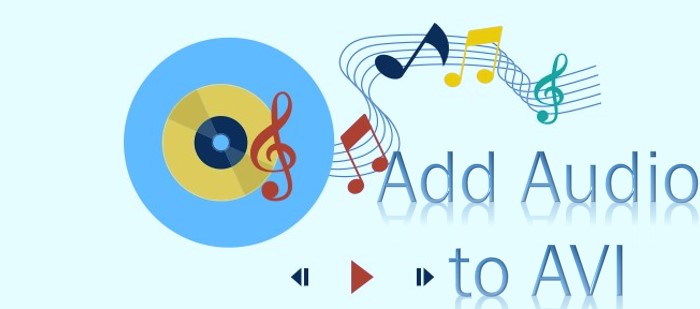 TunesKit AceMovi: How to Add Audio to AVI in Mac & Windows
TunesKit AceMovi is an advanced video editor which is alive with ingenious features to help users to edit AVI files. First and foremost, it is a highly compatible software that supports lots of video formats like MP4, DivX, WMV, MOV, and M4A. So you don't need to worry about whether it can support AVI file format or not. Secondly, you can add multiple audios to an AVI file without any issues.
No matter whether you want to add music to the video, overlay text to video, or remove the original background music of it, you will be all satisfied with AceMovi. Additionally, you can also crop or split a video, rotate a clip, or zoom in on a file. It's also accessible for you to add transitions, mosaic, or filter effects to your video files.
Then you might wonder: is it complicated to use this app for it has such a great deal of advanced functions? Don't worry. AceMovi puts its users first. So, it is equipped with an intuitive and easy-to-use interface, which means you won't come across any problems in this regard while editing videos.
AceMovi AVI Editor
Convert MP4 or other formats to AVI
Extract the original soundtrack
Royalty-free music stock and SFX
Boost file volume, change playback pitch
The provided bitrate up to 320 Kbps
Edit batch AVI files at once
Export audio track only with wanted size
The free trial version is open to everyone
AceMovi's Users Guide: The Steps to Add Music to Your AVI Video
In this part, step-by-step tutorials will be provided to help you add music to AVI. But before that, please don't forget to check your device to see whether you have installed TunesKit AceMovi. If not, you can find the 100% safe downloading channel, just get it for a try.
Upon the interface, click Import to upload your AVI files to the timeline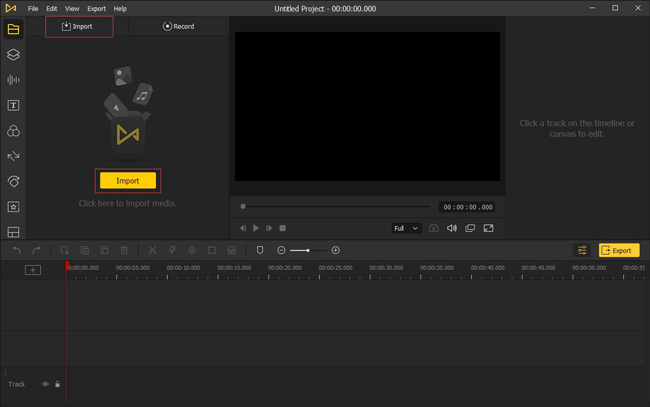 You will have two choices for uploading. To begin with, open AceMovi, click the "Import" button to import AVI video file, and then drag it to the timeline. Second, drag and drop AVI file into the media box directly and then put it in the track area.
Detach the original music from AVI file (if necessary)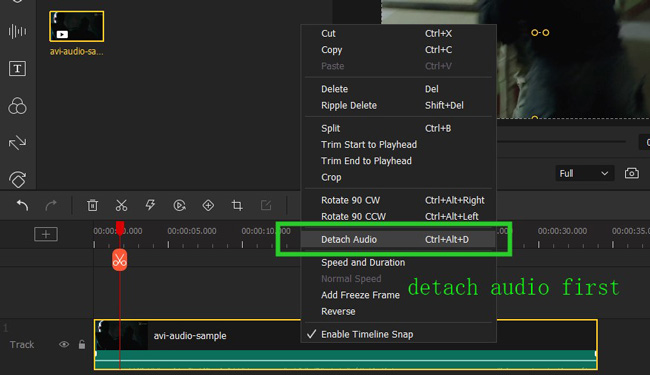 This step is just for those AVI videos with unpleasant original background music. For those AVI files, AceMovi allows you to remove the background audio you don't like. Firstly, move the cursor to the video on the timeline, and highlight it. And then you will see a pop-up window with some options. Choose "detach audio" and then it's done.
Add the prapared audio to AVI and cut out unneeded parts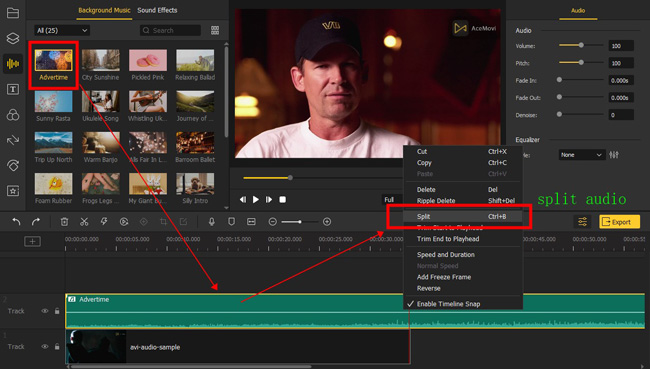 Click the "Audio" icon on the left bar and search for the music library. Pick the one you love and then drag it to the timeline. Although there is so much preset music for you to choose from, you may just want own songs. Can this be achieved? Yes!
AceMovi permits you to import local audio from your device. Just as importing AVI video, you can click the "import" button to put the audio and then add it to the timeline. After that, you can use the Video Trimmer to cut out unwanted parts.
Edit the volume, background noise, and more of the audio added to AVI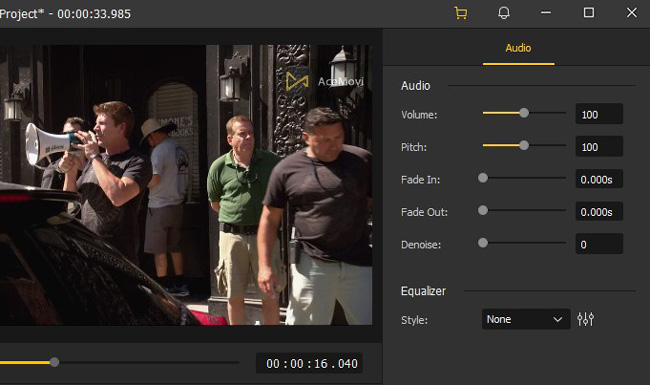 After adding music to AVI video, click on "Music" and adjust it to better match your need. On the upper right panel, it is available to fine-tune the volume. Or you can directly type in the volume. By dragging the markers, you can fade in and fade out the song.
What's more, if you find the background audio of AVI video contains some background noise, you can use the "Denoise" feature to filter out the noise so that the audio will be clearer. Additionally, TunesKit AceMovi offers you a built-in equalizer with 6 presets to adjust the frequency of the audio.
Match the audio with AVI video by controlling the edges of the track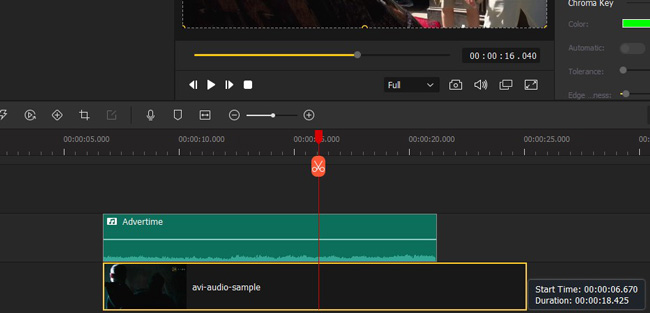 You may not want one song to last the entire video, then you can hover your mouse over the start and the end of the audio track and adjust the length of it. Or you can move the audio track to another place. Then, add another song to the AVI file for another playing clip.
Set the save path and related parameters. Export the edited AVI video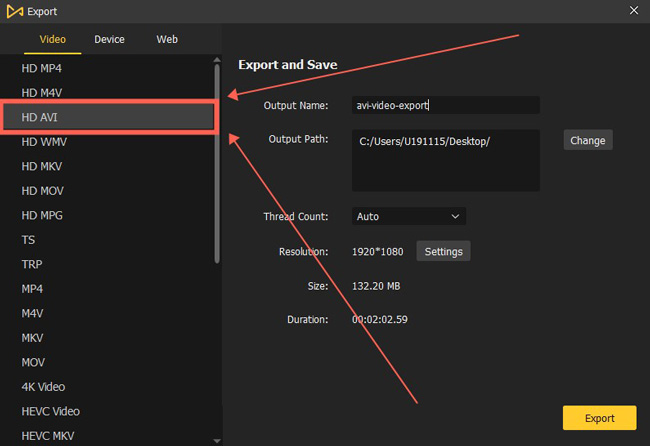 After finishing the above steps, you can now preview the final video to check if it is perfect. Then you can export the video by clicking the "Export" button. Also, you can edit the output name and select the save path as well. Here to download AceMovi for more creations!
Avidemux: How to Add Audio to AVI on PCs with Watermarks
Want to find a professional AVI video editing software to make quick and fast music addition? If you often edit the AVI files, then the Avidemux must be one of the best picks. As a free tool designed for quick filtering, encoding, converting, and cutting, Avidemux supports a vast library of file types like DVD, MP3, ASF, AVI, MP4, and DivX. In the following you'll see how to use a different way to edit your video with music.
Download Avidemux on your computer. Click File > Open to upload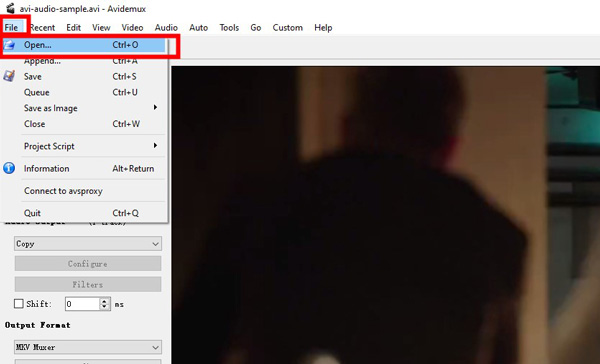 Avidemux is released for both beginners and professionals, which provides watermark-free service and 720p resolution output. The shortcut for opening a video is "Ctrl + O". Alternatively, you can press the "File" and "Open", then select the file that you want to edit.
Navigate to Audio > Select Track. Enable the soundtrack and add a new one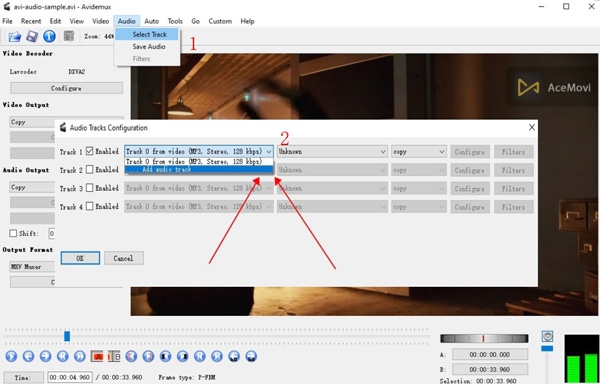 Different from linear video editing software like TunesKit AceMovi and Final Cut Pro, Avidemux contains a linear interface with which you need to complete the mission by following the guides.
For adding the music to the video, you should find "Audio" and "Select Track" from the menu. Enable the audio track and select a new audio file.
Convert output format to AVI. Find File > Save to download your new video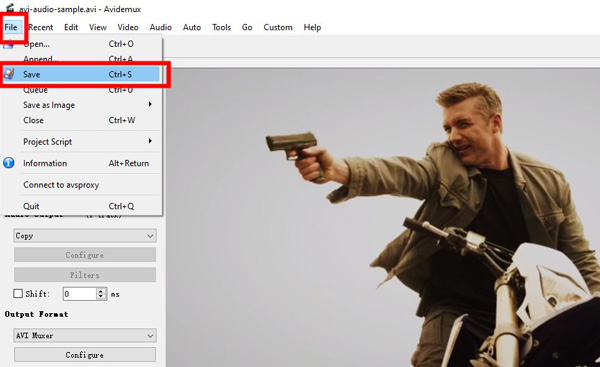 You need to convert the videos under the interface, just choose the "AVI Muxer" from the output format and press "Configure". Other formats you can set include HEVC, MPEG-2, MPEG-4, AVI, AVC, ASP, etc.
Then go to "File" and "Save" to save the video to your computer. If you are planning to edit the videos and audio files, you can try the new features from the interface, such as filters.
Clideo: How to Add Audio to AVI File Online
Considering some people may just need to add music to AVI one or two times, here I will also tell you how to add audio to AVI file free online. Clideo, as a linear, online tool to add audio to AVI file, provides users with a series of video editing effects that are set separately so you need to operate each of them for a specific mission, such as subtitling and trimming. Follow me to master this tool.
Open Clideo.com and click Choose File. Import AVI video files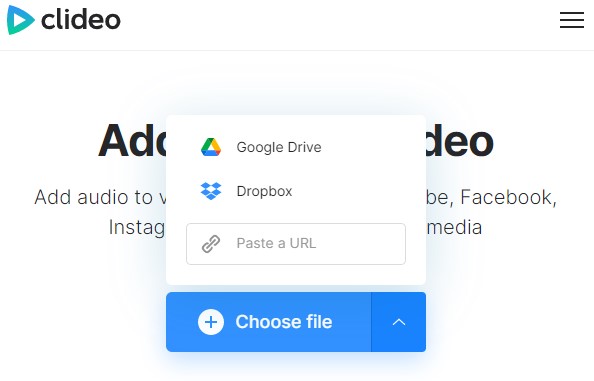 Import AVI video file to this free online tool. You can upload your local AVI video to Clideo or you can paste the URL of the AVI video online.
Click "Add audio" to add the background music, or paste the URL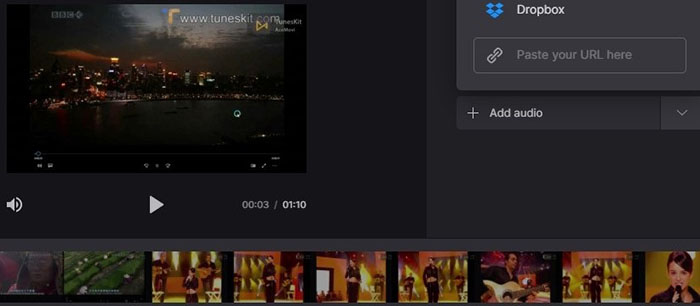 As we can see, Clideo doesn't provide a built-in music library. So, you need to upload your audio file to it by hitting "Add Audio" or pasting the URL of the audio file. Then the audio will be automatically added to the track of the AVI video.
Edit the audio track volume and video sound volume, then trim audio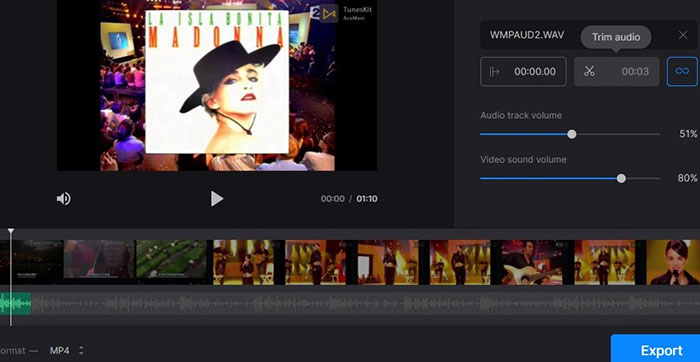 When it comes to further editing, you can adjust the volume of the audio track by dragging the slider. Or try to trim the audio and set the start time of the audio with Clideo.
Choose to remove the branding watermark by upgrading. Download the music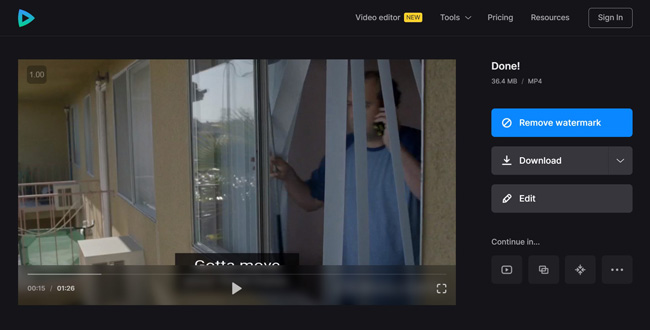 Once finished with your edit, click the "Export" button.
Small tips: at last, remember to set the output format as AVI, or it won't be an AVI file.
Something needs to be noticed here. Although Clideo can support you adding audio to AVI video files free online, it indeed owns some drawbacks, for example, it only supports files smaller than 500M, no preset audio resources, limited adjustments available, some kind of slow to export, and watermark.
Splice: How to Add Audio to AVI File on iPhone & Android
Want to find an app to edit AVI videos on mobile phones? Splice is one of a one-stop video editing apps for both iPhone and Android devices. You can use it for recording, cutting, cropping, speeding, and converting. On top of that, Splice is a stream-linear app, so users can process and edit multiple files at once. Now, find your answer with Splice!
Start and name your project. Choose Music and pick the background music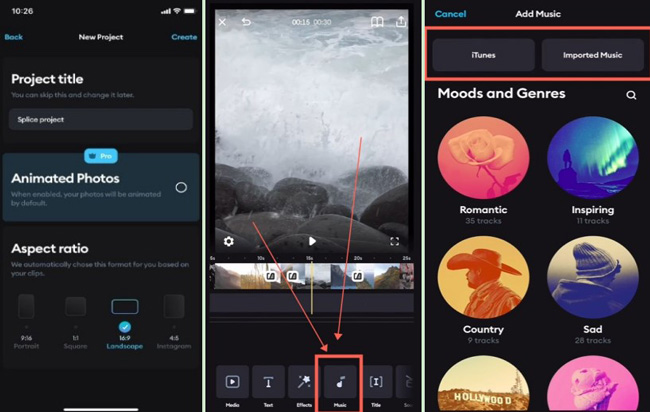 On the panel for creating a new project, you can name the file and set the aspect ratio of 9:16, 1:1, 16:9, or 4:5 for applying to different platforms. There are libraries of music resources in iTunes, the moods and genres include Romantic, Inspiring, Country, and Sad. Or you can select music from the local files.
Edit the volume, add sound effects, trim out unneeded parts, and export video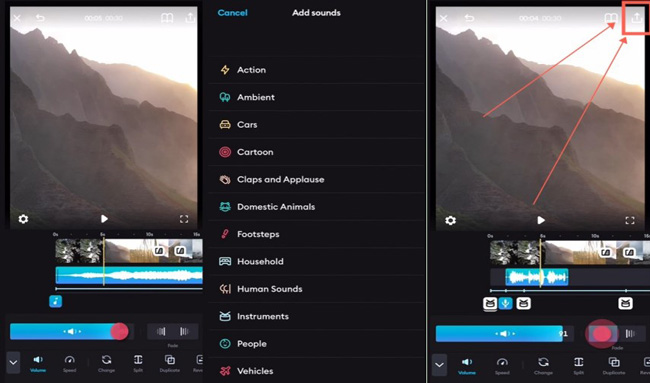 It's accessible to edit the music with speed, volume, format, bit rate, and file size by sliding the slider. You can add engaging sound effects, such as Action, Ambient, Cars, Cartoon, and Claps and Applause. Once over, click the "Export" icon from the right upper place.
What is the AVI Video Format
Bonus tips! In this part, I will introduce to you what is AVI.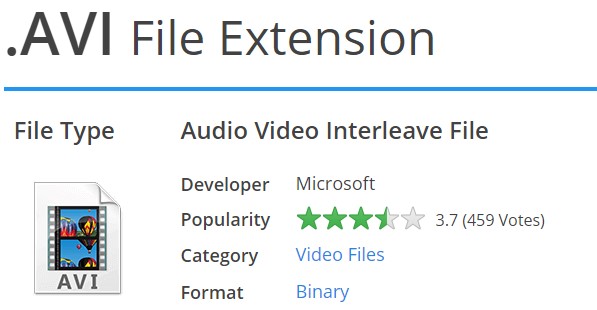 What is an AVI file? It is a video file saved in the Audio Video Interleave (AVI) multimedia container format. This format was introduced in 1992 by Microsoft. It can be used to store high-quality video as well as audio data. That's why AVI file format is still commonly used today and a large number of video players can support AVI format.
The Final Words
Believe that now you have a better understanding of how to add audio to AVI file. Two tools and their operating steps are given unreservedly. Now you can pick the one that matches your requirements most and start to add music to AVI. Looking forward to your marvelous AVI videos!