TikTok is a social media app where people showcase moments of themselves lip-syncing, dancing, or playing. Many people use TikTok for entertainment purposes, but the app can also be used for marketing purposes. If you're manipulating TikTok for business or downloading it to share, you may want to remove the TikTok logo from your videos so that they look more professional.
There are a few different ways that you can try whether the TikTok video has been uploaded or not. The first thing you'll need to do is find the best TikTok logo remover and learn how to use it quickly. In this article, we'll show you the greatest options that most TikTokers prefer. Here comes the listing!
TunesKit AceMovi - The Best TikTok Logo Remover for Windows & Mac
Are you looking to remove the TikTok logos and watermarks? If so, then you need to use TunesKit AceMovi. This is a powerful yet easy-to-understand software that can help you remove watermarks from videos without hiccups. It is a versatile tool designed to unleash imagination and creativity. You can use it to create, edit, and convert TikTok videos for any purpose.
With TunesKit AceMovi, you can remove watermarks from TikTok videos without compromising quality. The software is equipped with a wide range of video editing features that will help you achieve professional-looking results like green screen and split-screen. On its streamlined interface, you can add more than one TikTok videos to edit. Now, let's learn tutorials.
AceMovi Logo Remover
Clean, user-oriented interface
Multiple video formats supported
Streamlined, trackless timeline
Pro color grading and compositing
SFX: Bleep, Shot, Clapper, etc.
Ready-made text templates
Increase resolution and bit rate
Apply slow-motion/fast-motion
How to Remove TikTok Logo from Video Step by Step in AceMovi
Now, you've grasped the best TikTok watermark remover on computers with which you have three ways to remove the logo from TikTok videos, they're cropping the logo areas, replacing them with your own logos, as well ass blurring or mosaic the watermark portions. Here are the details.
Get AceMovi via "Try it Free" from this page. Then import TikTok videos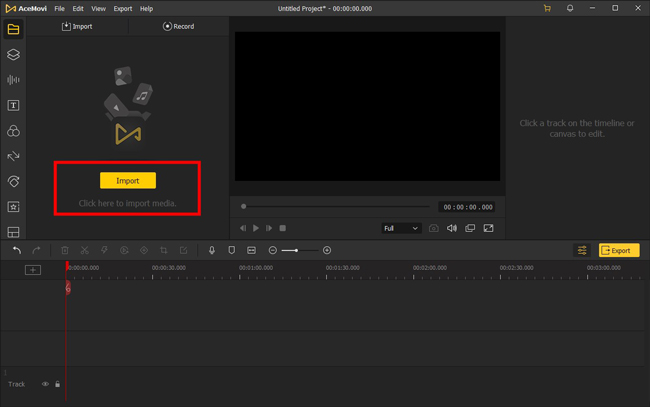 TunesKit AceMovi provides you with a free trial no matter whether you're a Mac or a Windows user. If you want to try it for free, just click "Try it Free" directly. After a while, install and operate it on your computer.
When it comes to importing videos, you can choose to click the "+" button on the Media plate, or drop your TikTok videos under the timeline.
Begin to remove the logo from your TikTok videos with built-in features
There are three ways to remove TikTok logos from video. By the way, don't forget that every TikTok video has two logos.
Way 1. Crop out the logo area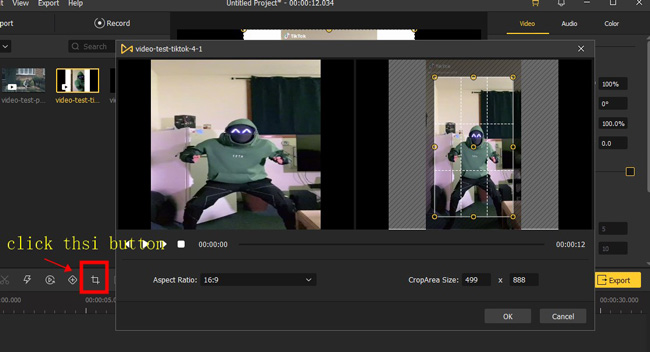 You need to pick on the TikTok clip from the timeline first. Then hit the "Cropper" icon from the toolbar. When you see a workspace for cropping, you can customize the size or choose a predesigned aspect ratio. Then crop out the logo from your videos by dragging its edges.
Way 2. Replace the logo with your own logo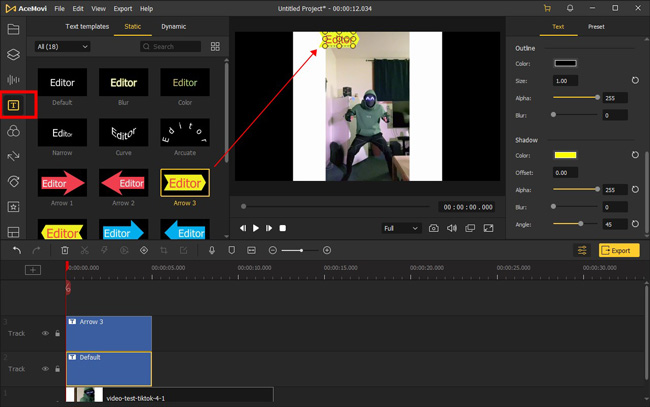 You can add your own logo to replace the original one in AceMovi. In this case, try to select a subtitle template from the "Text" plate and directly drop the picked template under the canvas. Then input your texts and fine-tune font, size, color, etc.
Way 3. Blur or mosaic the logo portion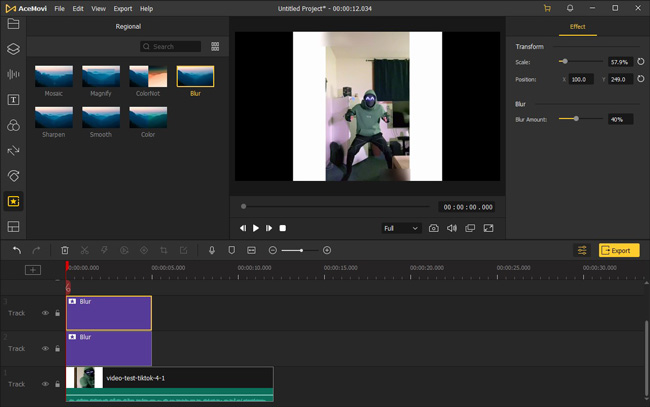 You can apply effects with AceMovi to remove watermarks, which needs you to select the "Blur" or "Mosaic" effect from the "Regional" plate. Then add it to the logo area and edit the effect scale and amount.
Improve video quality and download the logo-removed TikTok video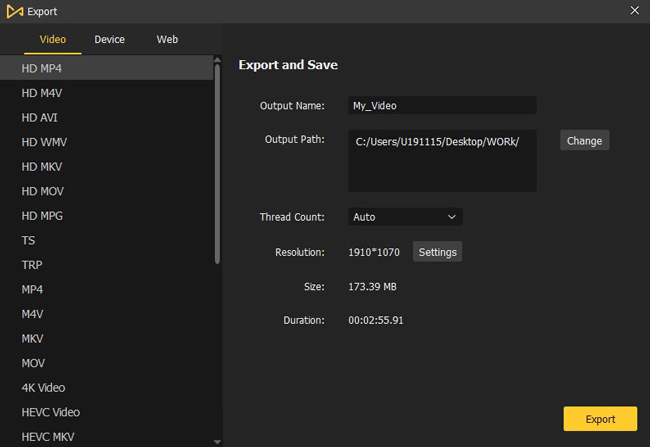 When it comes to enhancing video quality in AceMovi, users can click the "Settings" and navigate to changing the file resolution, bit rate, frame rate, or other parameters. After that, click "Export" to download your video from AceMovi. For more features, download this software.
5 More TikTok Logo Removers for Mobile Phones & Online
If you want to remove the watermarks or logos of a TikTok video on your mobile phone or online, you'd better choose from the below 5 options. They offer you easier user experience and smart effects. To be secific, with some of them, you can add video links to import and remove logo with one click. Keep reviewing!
1. SaveTok (iPhone/Android)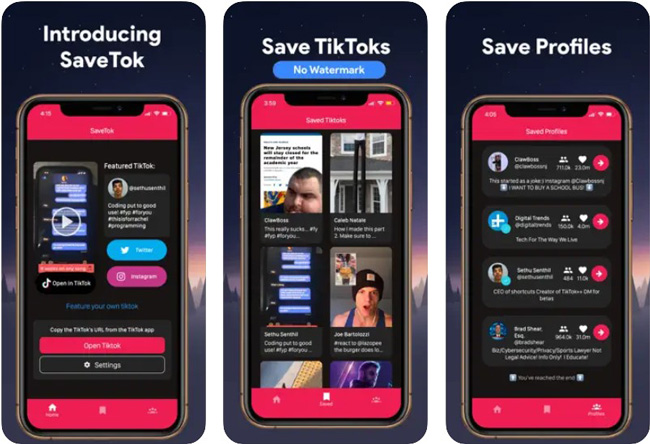 SaveTok is a smart TikTok logo remover app that offers an easy and convenient way to edit TikTok videos. It has a full series of TikTok video-saving features that will allow you to save any file size of TikTok videos without spending too much time, along with saving profiles and creating playlists.
You can use the elements feature to mask the logo watermark or zoom it out until it disappears. Being an app to remove TikTok logo and watermark, you can access it on both iPhone and Android. Most importantly, you can remove TikTok logo from video with one click. Also, users do not require registration to use the app.
Pros:
It's compatible with both iPhone and Android
Free for all licenses
Save profiles easily
Create shareable video links
Easy for fresh TikTokers
Cons:
You cannot use it to edit TikTok videos with music, texts, filters, and more effects
2. SnapTik (Online)

SnapTik is an easy-to-learn TikTok logo remover online option. Besides being accessible via a browser, you can download the Android version to your phone, meaning that it's also a TikTok logo watermark remover app as well. After downloading, not only there won't be any watermark, but you will find the quality has been improved.
Ideally, this tool is designed to download TikTok videos without watermarks, including the logos above and below the screen. Most notably, the tool is free, safe, and fast, and you can download unlimited logo-free TikTok videos with it. And any further development is free as well.
Pros:
Add URLs
Improve video quality up to HD
Download its app version on your phones
Multi-language program
Free to use
Cons:
You will see a lot of advertisements even after you click the "Download" button
3. MusicallyDown (Online)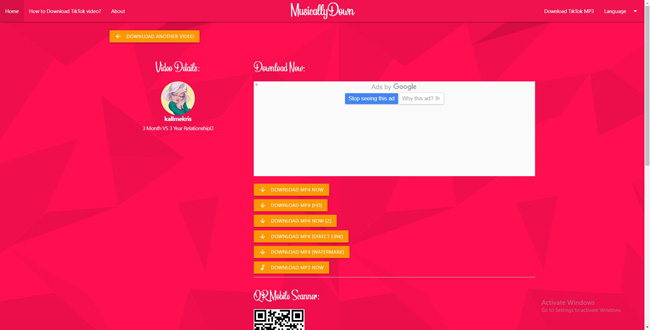 MusicallyDown is arguably one of the best online TikTok logo remover selections. The website is available for all platforms. It's an excellent tool for downloading TikTok videos without watermarks. The interface is very similar to SnapTik in terms of features and functionality.
One of the best distinctive things about MusicallyDown is that it's an entirely free tool, and you can download as many videos as you want without any restrictions. It has an additional feature that allows you to get the MP3 version of the soundtracks in TikTok videos. To download logo-free TikTok videos, simply paste the video link, hit the download button, and select the "no watermark" option.
Pros:
Download TikTok MP3
Various output options provided
Enhance the quality of your TikTok videos
Paste video URLs
Remove multiple TikTok videos' logos
Cons:
Full of advertisements
It's unable to increase or decrease video volume
4. Media.io (Online)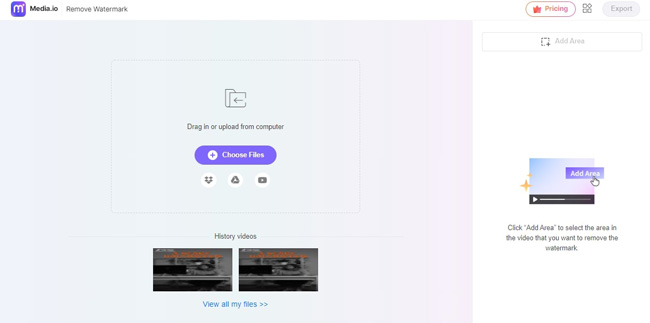 Medio.io is an all-time favorite when it comes to TikTok video logo removal. This option is easy and very user-friendly so you can master it even if you're an entry-level TikTokers. With Media.io, you can remove watermarks from videos in just a few clicks. As a linear video editing tool, you can import videos from Dropbox or YouTube as well.
Moreover, the software supports the most popular video formats such as MP4, AVI, WMV, MOV, etc. Besides erasing watermarks from videos, you can also use Media.io to edit videos, crop videos, add subtitles, and more. What makes it different is that you need to select the logo area to remove rather than just waiting for the results after importing.
Pros:
Add more than one area to remove
Upload files from Dropbox or YouTube
Linear video editing workflow
Save editing videos automatically
There are no advertisements
Cons:
This program doesn't allow users to paste URLs, so you need to download TikTok videos on your device first, then upload it from local folders
5. TikMate (Online)

TikMate is a powerful tool that can help you easily remove watermarks from your videos. The interface is very straightforward, and the process is pretty simple. Apart from removing TikTok logos from a video, you can use it to extract the soundtrack of your TikTok video and download it directly.
The program doubles as a downloader and watermark remover, so you can easily download your favorite videos from TikTok and remove their logos in one go while maintaining the quality of the video. TikMate is available for mobile devices and PCs, so you can use it on your phones as well.
Pros:
Paste the TikTok video link to remove logos
Download the soundtrack from a TikTok video
You can set it as a Chrome Extension
Available for both PCs and mobile phones
Cons:
You will encounter a few ads
This program should update more features to enhance video quality right now
Which TikTok Remover Fits You the Most?
Since those TikTok watermark removers vary from each other in aspects of features and effects. You can compare them in this table and decide which one to choose from. Here we go!
| | OS | Logo-Removal Ways | Download MP3 from TikTok Video | Improve Video Quality | URL Link | Advertisements |
| --- | --- | --- | --- | --- | --- | --- |
| TunesKit AceMovi | Windows & Mac | Crop/Replace/Effect | √ | √ | × | × |
| SaveTok | iPhone & Android | Auto | × | × | √ | × |
| SnapTik | Online | Auto | × | × | √ | √ |
| MusicallyDown | Online | Auto | √ | √ | √ | √ |
| Media.io | Online | Regional-Removal | × | × | × | √ |
| TikMate | Online | Auto | √ | × | √ | √ |
Conclusion
With millions of active users, TikTok is one of the most popular social media platforms, which is a great way to showcase your talent and creativity. We've discussed six of the best TikTok logo remover tools in this article to help you download and save TikTok videos without watermarks by the way of area-removal, cropping, blurring, replacing, and auto-removing. Choose the remover that best suits your needs and start creating amazing videos for your TikTok account.