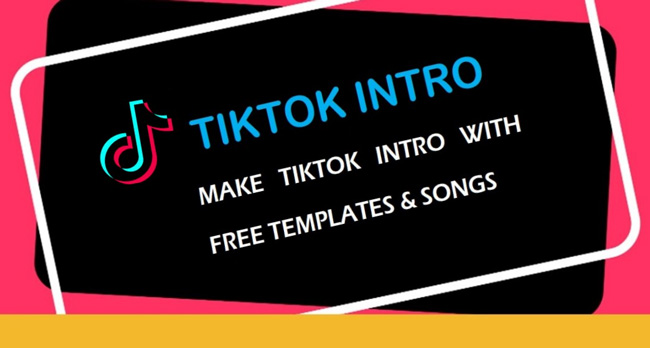 Before getting into the video-sharing & social communication journey in TikTok, there's one thing you must do: Make a TikTok introduction video. The TikTok intro video normally comprises who you are, where are you from - your city or company, what have you gained, and what will you share or make later in TikTok. And in this process, not only should you combine lots of video elements like music, text, color, filter, and so forth, but you need to make your TikTok intro looks good and interesting. Seems a little hard? Not at all! Actually, you can make a very attractive TikTok intro video in a few minutes just by suitable video editors, and here you're in the right place because we'll let you know the steps to make the best TikTok intro video with a plethora of built-in templates and songs for loyalty-free.
Best TikTok Intro Maker | Make TikTok Intro on AceMovi Video Editor with Free Templates & Songs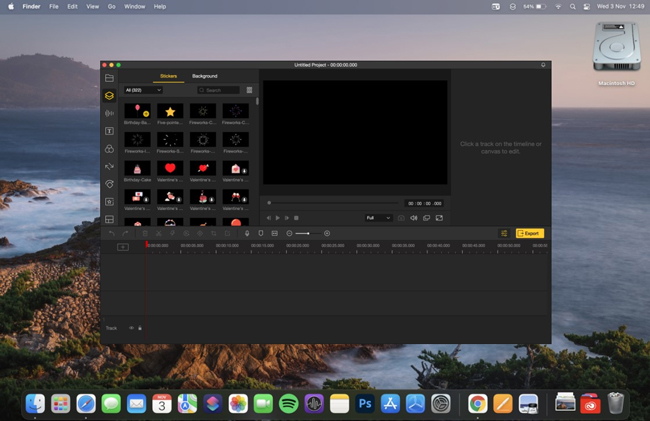 No matter you are a Mac or Windows 10 user, you can download and use AceMovi Video Editor on the desktop to make a TikTok intro video for free. To be detailed, AceMovi is able to operate on Mac 10.8+ and Windows XP+ (All Windows System).
When all are set, you can launch AceMovi and begin your TikTok intro video making, viz., you can apply a slew of basic/advanced features and video elements. By the way, you don't need to worry about importing and exporting video, audio, or image files because AceMovi supports most of the currently-used formats and you can preset the intro videos in HD(1080p) or 4K(3840*2160) resolution including MP4, M4V, MOV, WMV, MPG, DivX, WebM, GIF, FLV, & DVD-Video, etc. Now, click here to try AceMovi.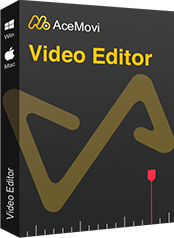 TunesKit AceMovi Video Editor
Security Verified. 5,481,347 people have downloaded it.
Basic and advanced features that make your TikTok intro video better
Multiple built-in filters, transitions, text, sound effects, music
User-friendly interface & very easy to learn
Import as many photos or footage as you want
Edit TikTok Intro in high-quality
Run AceMovi & Import Video Clips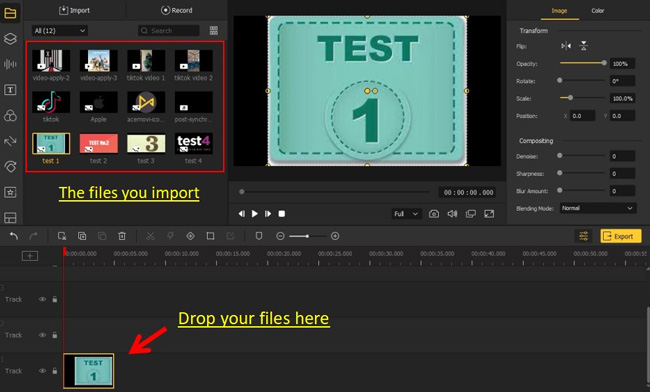 The files you import will become thumbnails located in the Media place, you can use them repeatedly at any time. To apply them in your TikTok videos, you can drag and drop the files under the timeline or click the Import and right-click the thumbnail to choose the Add to Timeline. Note: The file added in Track 2 will cover Track 1 by default, so you'd better arrange the tracks well when dropping more than multiple files in the TikTok intro.
Add Stickers & Background Color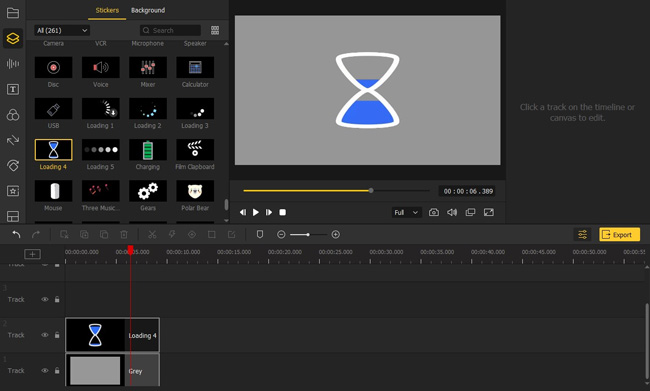 AceMovi provides 250+ different templates of stickers and background colors, now you need to apply some of them as the front to begin your TikTok intro. Here you can pick the Loading 4 sticker and Grey background and if you want to increase or decrease the duration, you can slide the slider of that target element in the right settings panel or resize its edge directly in the track.
Edit Your TikTok Intro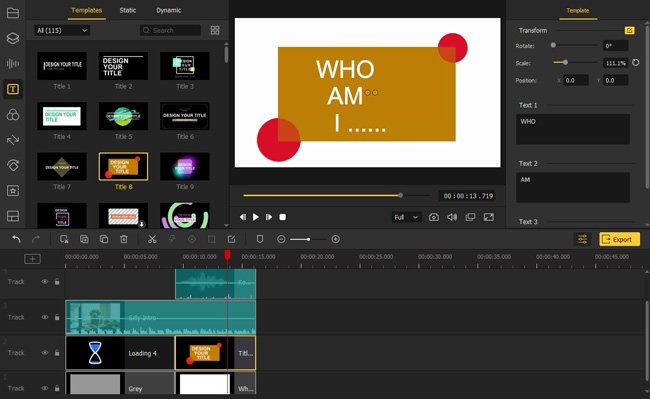 You're allowed to use 60+ kinds of background songs and effects in the TikTok intro, now you can select the Silly Intro music and Keyboard effect from the Audio plate. Then to click the next icon Texts, you will find hundreds of ready-made text templates including static and dynamic styles, here you can apply Title 8 and input the words you want to tell to attract your TikTok audiences.
Add Animations & Transitions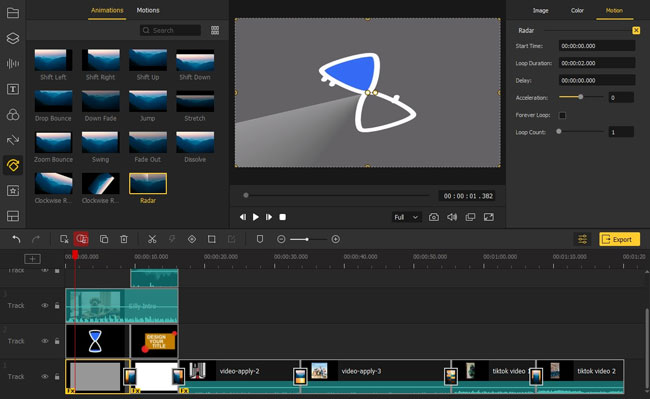 Open up the Animations area you'll find many interesting video animations and motions, to apply them in your TikTok intro, for example, you can drop the Radar under the video clip, later, the clip will be printed with Fx.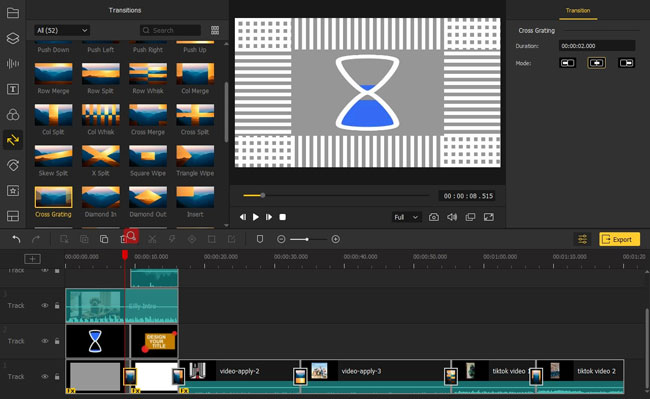 Next, you can add Transitions to smooth your TikTok intro video and you need to apply the wanted transition between the adjacent videos, then AceMovi will help you adjust its real effect and position. If you want to increase or decrease its duration, try to find the Transition Adjuster in right-hand.
Export Your New-Made TikTok Intro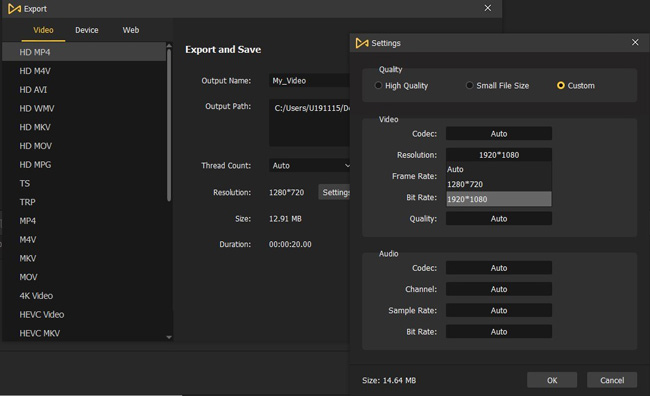 Congratulations! You just made your TikTok into videos, and in the last step, you should export your new-made videos in the TikTok app. Firstly, click the MP4 or HD MP4 and press the yellow button Export again; Secondly, if you want to change the resolution, click the Settings > Customize > Coded, Resolution, or Frame Rate.
How to Make TikTok Intro with Clipchamp Online [Without Watermark]
Want to know how to make the TikTok intro online? Here we got a very nice online TikTok video editor: Clipchamp. You can now use it for free without watermark, but the log-in with Microsoft, Google, Facebook, Dropbox, or email is needed. Let's dive into it!
Browse to Clipchamp & Use TikTok Templates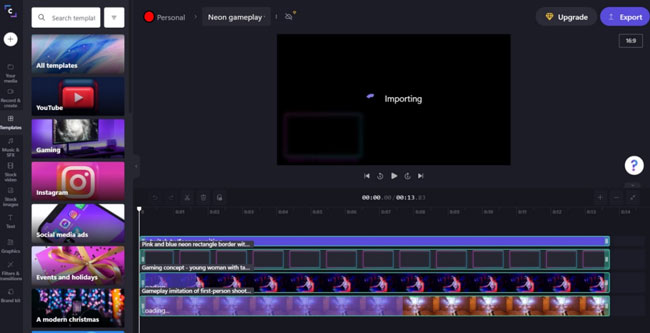 Click here to Clipchamp online. Clipchamp provides thousands of ready-made templates and brand kits in its stock like TikTok, YouTube, Gaming, Instagram, Social Media, Ads, and Events & holidays, etc. You can use it as your TikTok intro for free and then edit the video, song, & images.
Begin TikTok Intro Video Editing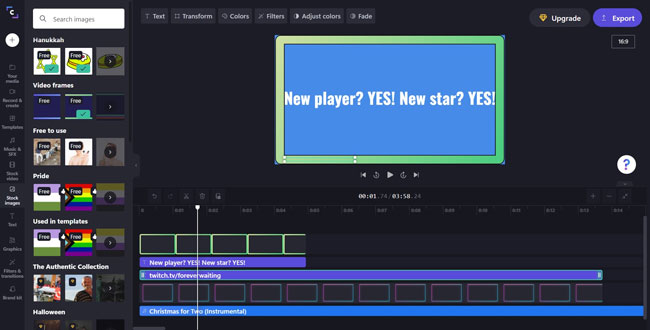 In the left item trays, you can use songs & SFX, stock images, texts, graphics, filters & transitions, etc. For example, when getting into the Text place, you can find many sorts of titles in one-line, two-line, caption, or other shapes. After you add the preferred text in your TikTok intro, you can double-click the text on the windows to tell what you want to say. Besides, have you seen the Filters panel? Clipchamp designs many special and captivating transitions like Ink, Glitch, Spin, and Reveal, etc.
Post the Intro Video on TikTok Directly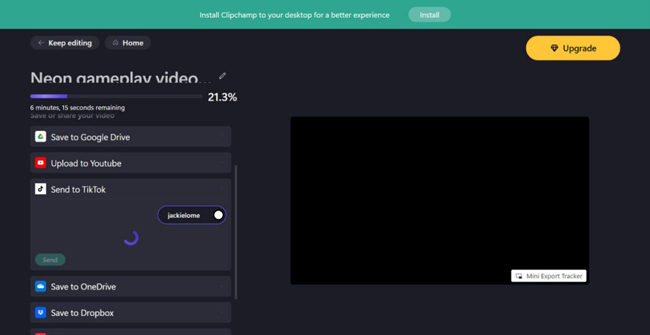 You can only export the TikTok intro at 480p for free ($9 to get the 720p or 1080p service every month), and here you can send it to your TikTok account to upload the intro video. Note: Before sending the TikTok intro video to the TikTok account, your video should be in portrait 9:16 or square within 3-60 seconds.
How to Download TikTok Intro Templates & Songs
In the following, we're going to show you the way to download some free cool-looking and compelling TikTok intro templates and songs.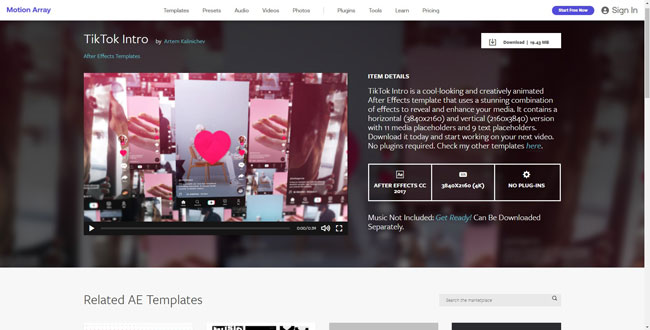 You can search for here to get TikTok intro templates online: Motion Array. You can use more than 20 types of AE templates like TikTOk Promo, Shaps Logo Reveal, Simple Logo, and social Media Promo, etc. Besides, the horizontal version (3840*2160) and vertical version (2160*3840) with no plugins can be downloaded right now.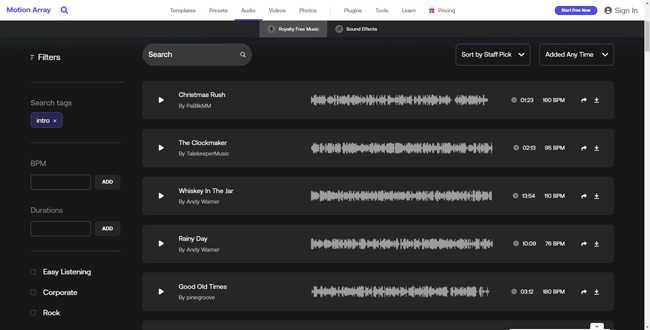 Crolling upper you can see the menu Audio, and here you're allowed to download a vast library of royalty-free TikTok intro songs, for example, by searching for TikTok intro you can see Breaking News, Last Story, Upstoppable, and Run Away From My Way, etc. Besides, Motion Array also supports you to copy the URL to use your wanted TikTok intro song in the video making.
Final Words
Now, I believe that you have made a wonderful TikTok intro to start your TikTok life. Lastly, if you want to make the intro video on Mac or Windows, AceMovi TikTok intro maker must be the best choice and now you can get all the features on the trial version, however, you need to pay for the full version just for removing the little watermark. While Clipchamp is a brilliant online video editor but you're required to register and better prepare a high-quality internet. For more service and features, download AceMovi below!