There is an unlimited variety of voice over video editors available online. In case you need one, then you can easily find it with the help of a few clicks online. If you need to go for some of the best options out there for you to pick from them, you have landed on the right place. Do you know what exactly this is and why we use one?
You can say that there is this tool that allows you to add voice over narration to the video. In this piece of information, we will recommend some of the best options to look forward to. Please read this article until the end to learn what we have for you regarding these voice over video editor apps here.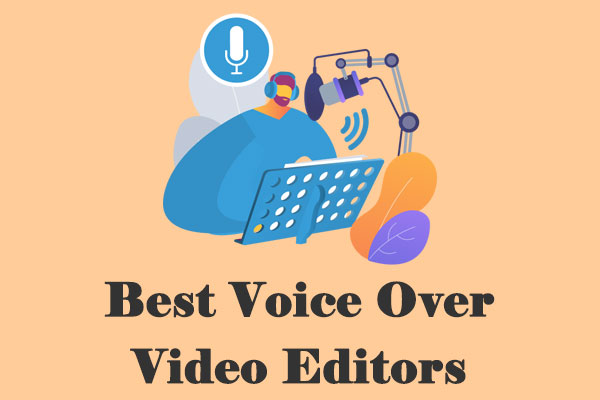 Part 1. TunesKit AceMovi
TunesKit AceMovi Video Editor is a fantastic video editing tool that helps you create and improve any stylish video, including clips from social media, videos on product training, and a lot more in an easy way with an unlimited number of templates, video effects, filters, and much more. This video editor with voice over is best for both newbies and experts.
Users can easily record screens with customized resolutions and cut, rotate, merge, and crop them the way they like. This appealing video solution is for work, academic purposes, and personal entertainment. It gives an extensive stock library for all kinds of projects, and you can export and share video whenever you need to, or to any social media platform within an instant.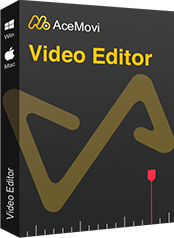 Key Features of AceMovi Voice Over Video Editor
Security Verified. 5,481,347 people have downloaded it.
Various editing features, such as filters, transitions, text, sound effects, etc.
Clean and intuitive interface pleasing both beginners and professionals
Records audio and screen while editing videos
Export and share video creations instantly to any social media site
Adding Voice Over with the Help of TunesKit AceMovi
Step 1: At the start, when you see AceMovi Video Editor's main interface, there are multiple features for you, including text, effects, animations, split-screen, stickers, audio, and transitions.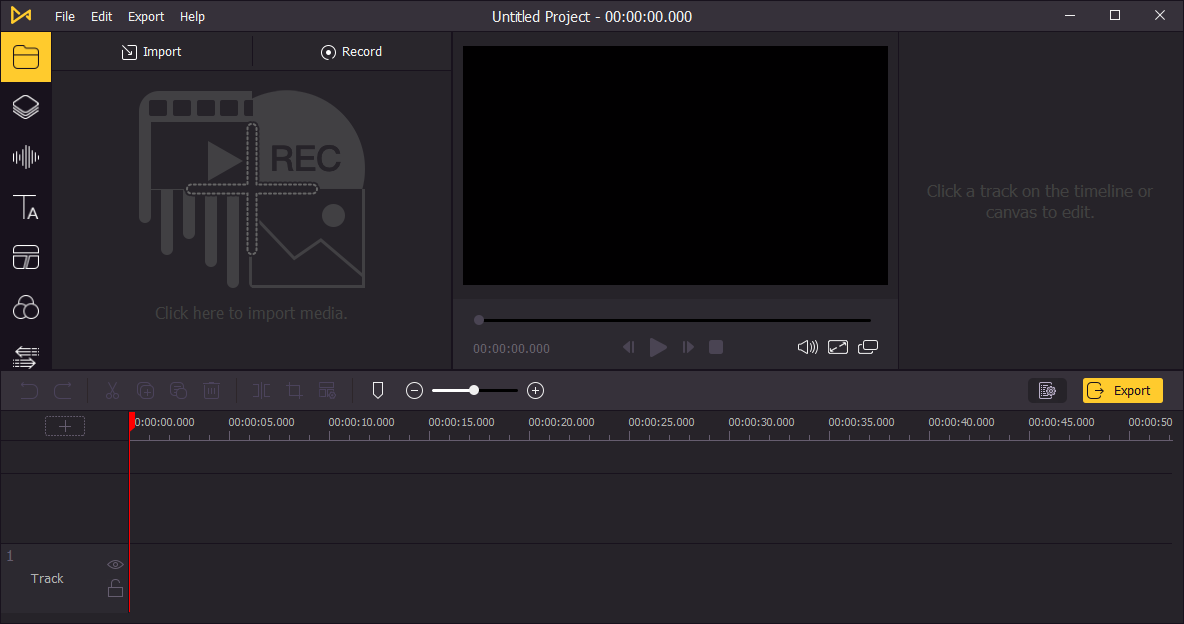 Step 2: Tap the Record icon, and a window will open. From here, you can see many icons on the top panel. Press the microphone icon to utilize the function of voice recording. You can adjust the basic record options the way you like, such as record time and cursor options. Then press on the red round REC icon to launch the recording.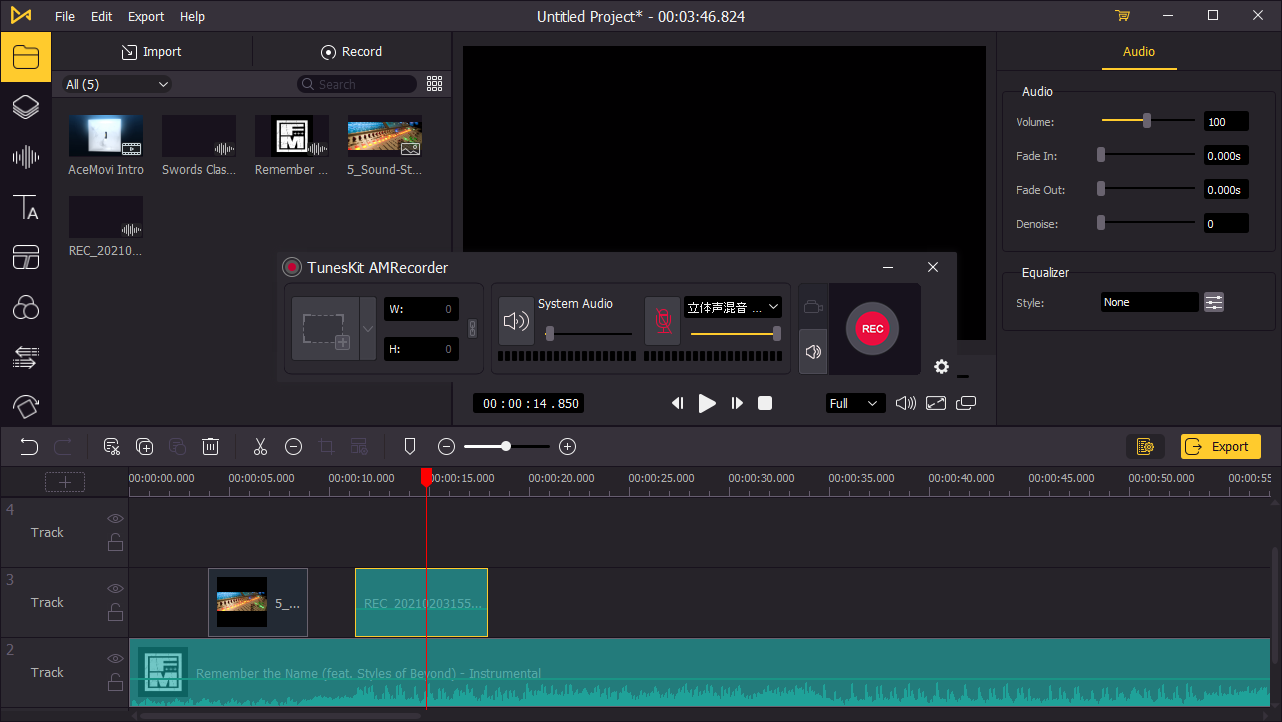 Step 3: Now drag and drop the video files to the timeline, where you can edit the voice-over volume, fade in, fade out, denoise, and style on the top-right panel. If you need to edit the video, you can utilize the built-in features.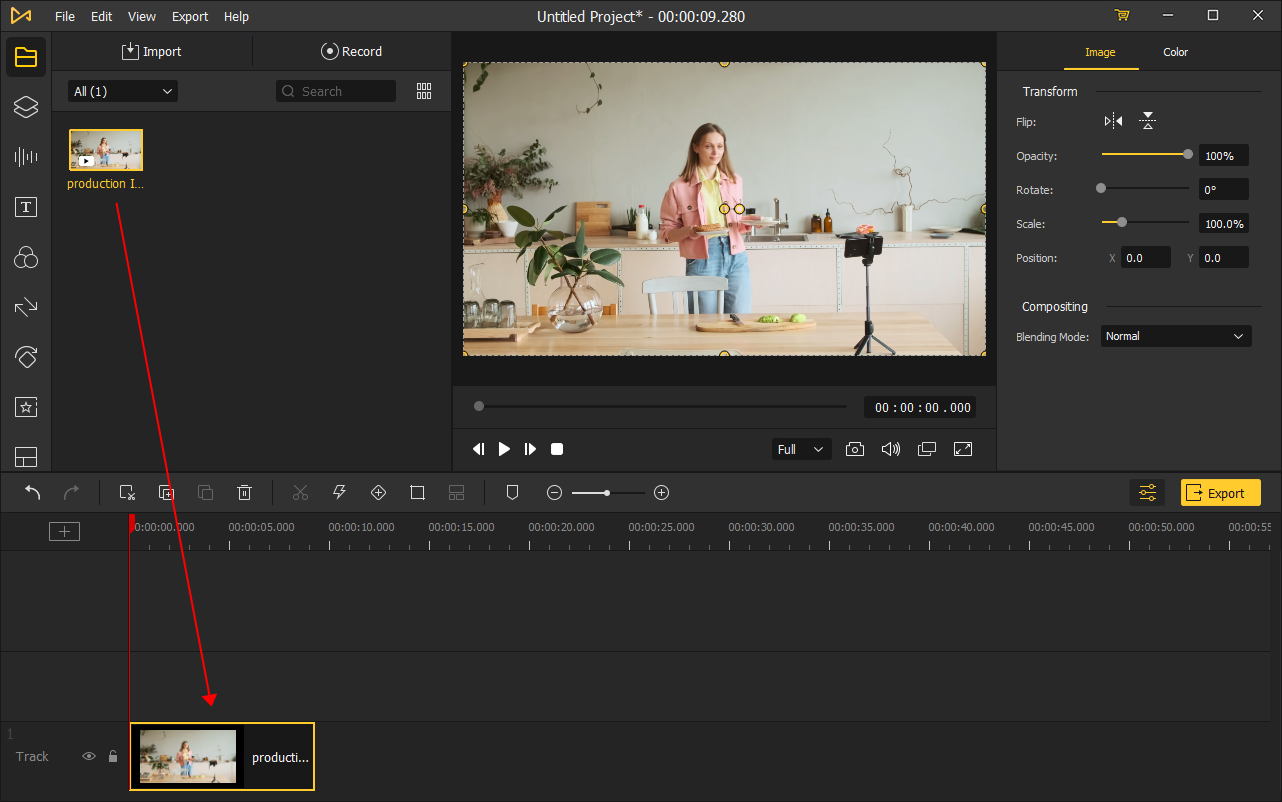 Step 4: Tap the Record icon near the red round REC icon. There are two buttons - Camera and Sound. Just hit the Sound button and then start the recording.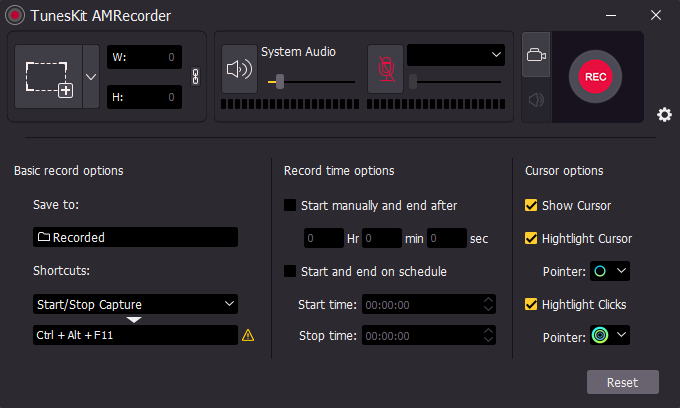 Step 5: Here drag and drop the video file and audio file to multiple tracks. Users can mute the video file by using the top-right panel as well.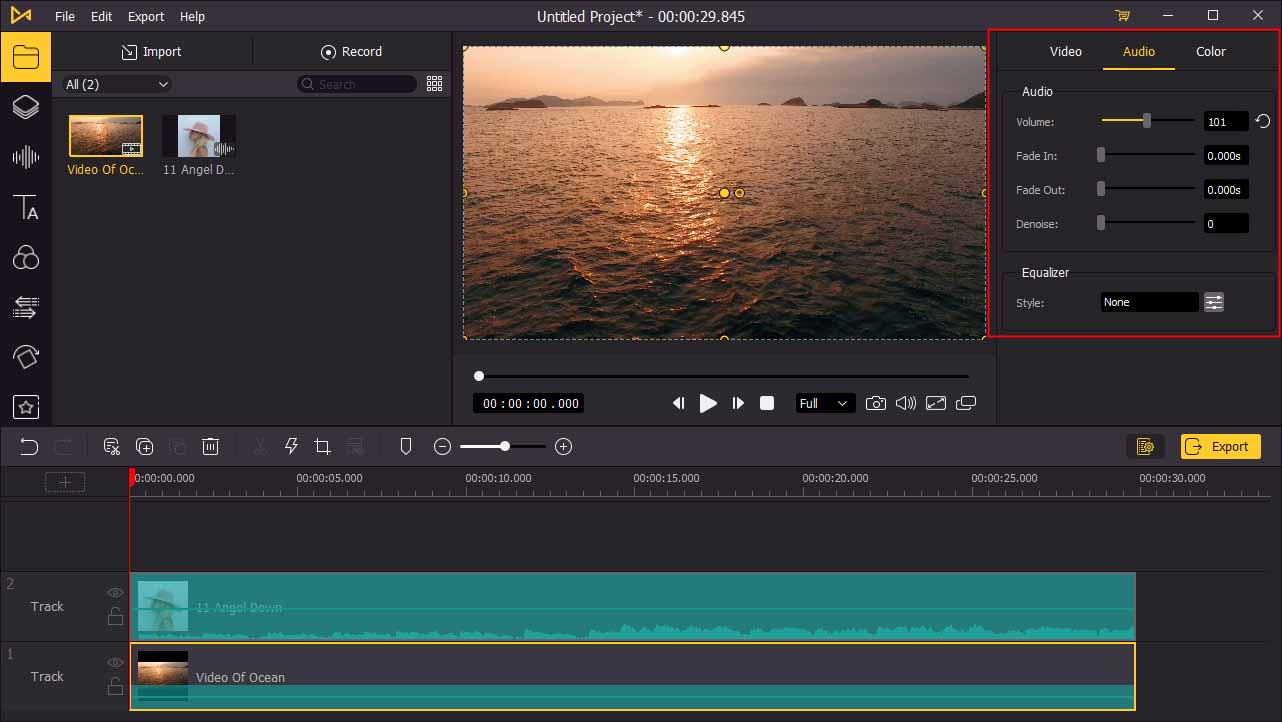 Step 6: In the end, tap the Export button to export your video in different formats. You can also rename the video and change the location in this pop-up window.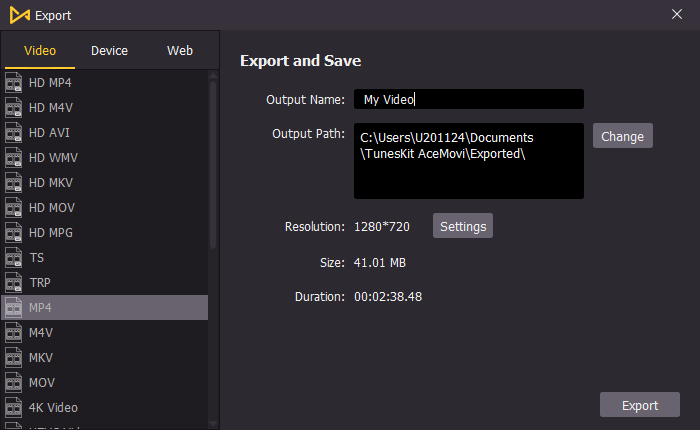 Part 2. 6 Best Voice Over Video Editors Tools
Below enlisted tools are some of the best voice-over video editor tools that you can choose from.
1. Windows Voice Recorder
This is a free-to-use and voice-over recording software that is best for Windows. It allows you to mark key moments to your recordings to help you remember significant parts with multiple functionalities. The tool lets you begin and pause your recording to minimize the no sound recording emphasizing the section you need to focus on.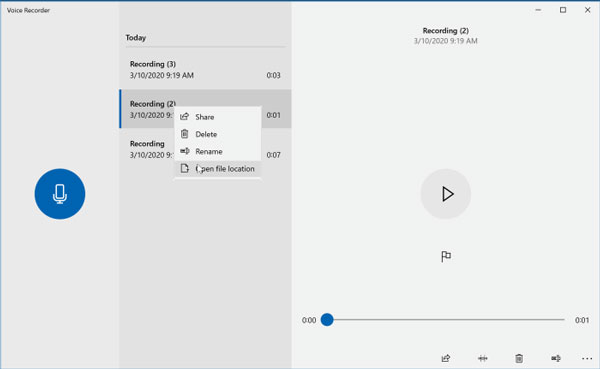 Pros:
Users can share their recordings with other applications with a few taps
You can highlight important sections that help you track them without any trouble
Cons:
It is compatible with Windows 10 devices only
2. Audacity
This voice-over video editor tool is one of the best ones that you can lay your hands on. Unlimited users and well-praised widely use it because of its unlimited features and options. It is best for everyone, including professionals and newbies.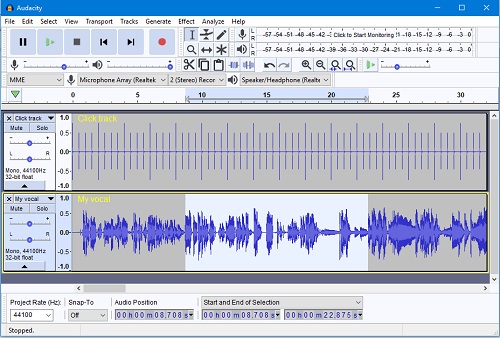 Pros:
This is an easy-to-use tool, and if you are a beginner, you can still make it work
It comes along with multiple features that can be used according to the requirements
Cons:
Its multi-track audio support is very basic
3. Ocenaudio
Ocenaudio is a trusted and powerful voice editing software that functions across multiple platforms and lets you mix your record voice, audios and edit them when you need them on your PC. It comes along with many features such as real-time previews, so you know how your voice recordings will sound like.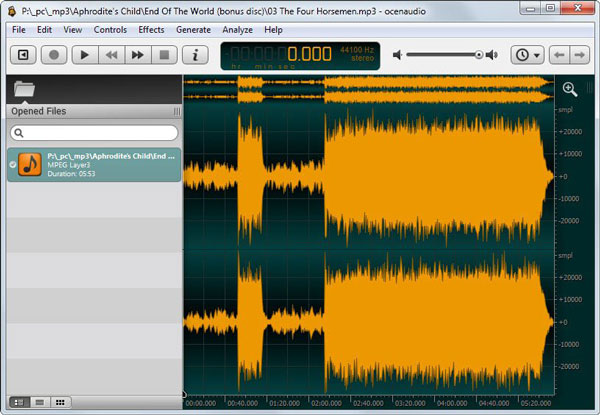 Pros:
Users can choose multiple files at a single time
You can easily edit large voice recording files
Cons:
The tool doesn't offer multi-tracking editing
4. WavePad
This tool is famous because it is easy to operate. Here you can record and edit audio files, music, and voice. It supports many file types such as OGG, WMA, FLAC, and many others. While editing audio files, users can cut, copy, and paste sections of recordings and add effects such as amplification and echo.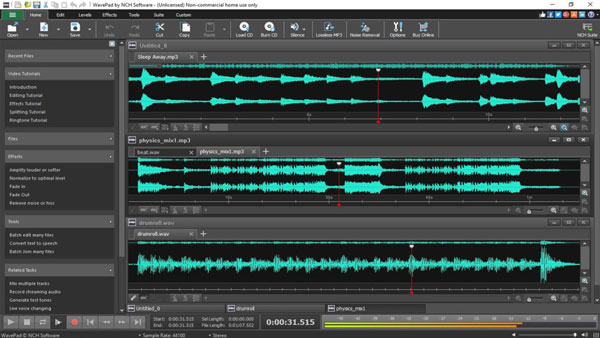 Pros:
The tool offers forty supported formats of file
There are multiple packs of filters and sound effects for the users
Cons:
The tool is not capable of processing batch files
5. Logic Pro
Logic Pro gives you an advanced-level audio recording that lets you create multiple samples before you are about to record your audio. It has a wide variety of professional users worldwide which amplifies its demand, and users love to try this out.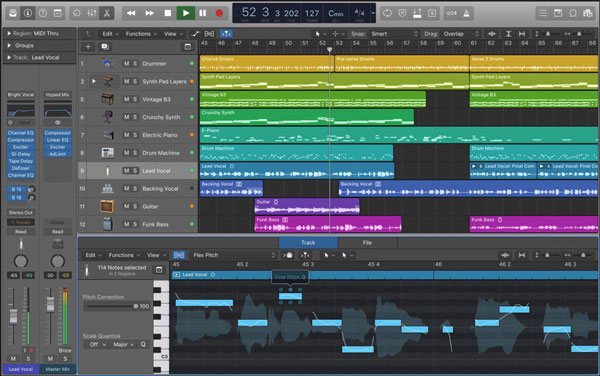 Pros:
Many voice actors and former musicians utilize this software to edit their voice recordings which explains its high-quality skills
The tool comes along with video support to improve the experience
Cons:
You need to know the editing. Otherwise, it would be tough for you to run the tool
6. Reaper
This is the last best video editor for voice over that helps you create and edit music without any limits. When you install the software and use it, you get an idea that this is one of the best options that you were lucky enough to trust. It gives you more creativity where you can do whatever you need with your voice recordings.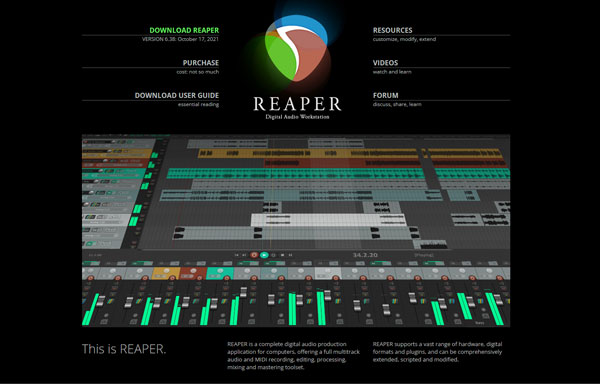 Pros:
Here you will find hundreds of effects to include voice recordings
You can embed plugins into the software
Cons:
Its dropdown is very lengthy
Part 3. Final Words
The above-stated video editor voice over is one of the best options that one can try out in personal or professional usage. In case you need to know anything else, then comment and share your reviews with us. We would love to learn more about your experience.