Now that video sharing has become immensely popular, people look for videos that they can share with the world via social platforms like YouTube and Facebook. However, whenever you download an exciting video, you will see that it comes with a branding watermark or a logo. Watermarks can be the uploader's name or the app that they have used. Seeing a watermark on a video never feels good, and that's why you should get a free video watermark remover that will let you remove the watermark from the video without any hassle.
If you have recently downloaded a video with a watermark and want to get the right tool, you have come to the place, I must say! This article will share the 9 best free video watermark removers for you.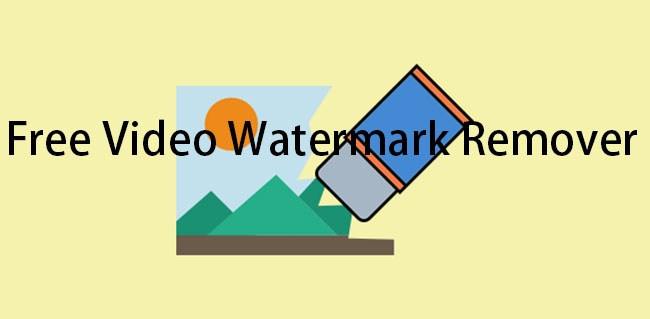 (2022) Top 9 Best Free Video Logo & Watermark Removers
Top 1. AceMovi - One-Stop & Friendly Video Watermark Remover
When it comes to the best video watermark remover software, TunesKit AceMovi stands out to be the best smart one, which is an advanced video editing tool and will even let you enhance the video by adding transitions, music, text overlays, animation, filters, and more. The best part about this tool is that it comes with robust features and offers you three ways to remove watermark from the video. You can follow any one of these methods and easily remove watermarks from the video.
Additionally, AceMovi accepts multiple video formats and lets you convert your video to different formats as well such as MP4, 4K Video, MKV, WMV, MPG, MOV, AVI, DivX, iPhone, iPad, YouTube, Facebook, etc. It is available for both Windows and Mac users. Now download AceMovi for creating masterpiece!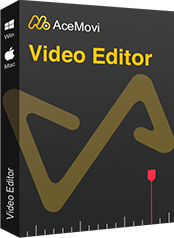 TunesKit AceMovi Video Editor
Security Verified. 10,269,300 people have downloaded it.
Reasons to Choose:

Remove watermark from videos completely
Multiple filters, music, sound effects, text, transitions
User-friendly layout design
A variety of output options to choose from
Slow-motion effect, split-screen effect, and green screen effect
Edit HD and 4K videos
Easy tutorials to learn
Download AceMovi's trial version for free
Downsides:

Stay tuned for the boxing(covering zone) feature to remove video watermarks
Guide to Using TunesKit AceMovi to Remove Watermark from Your Videos
You must ensure that you have downloaded TunesKit AceMovi by clicking on the correct version before the tutorials. It's advised to use the latest version all the time.
Launch AceMovi & Import Files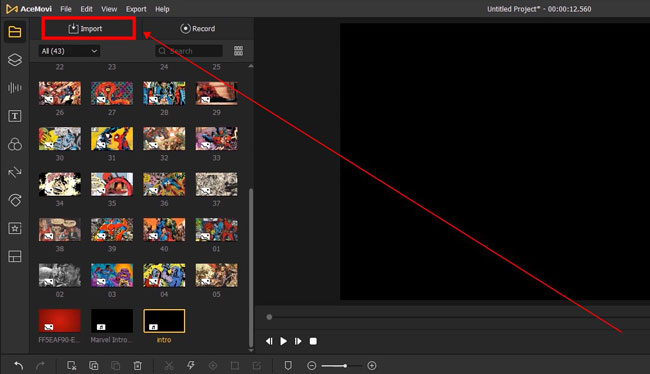 After downloading and installing TunesKit AceMovi, launch the software on your computer. The main interface will show you the import tab; please click on that and upload the video you want to edit. Drag and drop the video to the timeline. The timeline is the place where you will be editing your video; for example, remove the watermark.
Commence Removing Watermark in Videos in 3 Methods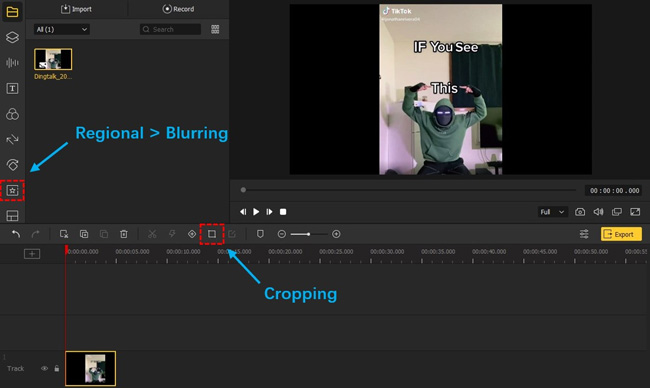 M1: You can remove the watermark by cropping the video. Just drag the edges of the video and accordingly adjust the watermark by going to the tap Video Cropper from the toolbar.
M2: The main interface has the regional effect tab, just click on Regional > Blur and drop the effect under a new track. Now, you can blur the watermark.
M3: For the last section, you can cover the watermark with your logo as well. Just drag your logo from the media box, adjust the position and scale, and cover the previous watermark.
Export the Watermark Removed Video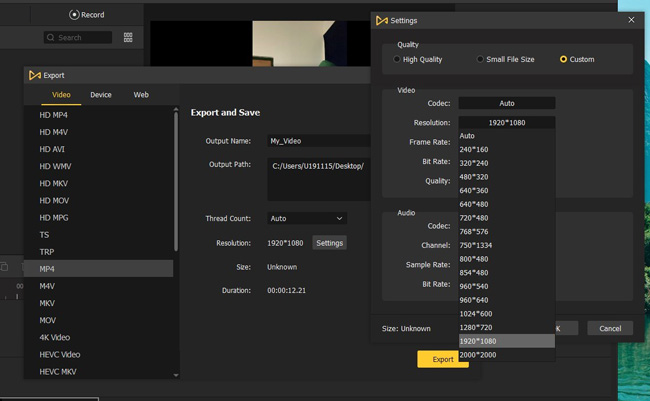 After the whole process of video editing is completed, you can click on the Export button. Here select the output name and path. Choose the folder where you want the edited video to be saved, and finally, hit the Export button. And that's it!
Top 2. iMovie - Multi-Functional Video Watermark Remover
If you are a Mac user, you already have a video editing tool to remove the watermark from a video. iMovie is one of the best watermark remover tools, and it comes pre-installed on your Mac computer. This fantastic tool makes everything easy for us content creators. The feature-rich tool will let you create a movie trailer, edit the audio of a video, add stunning effects, remove the watermark, and more. Additionally, after the video gets edited, you can directly share it from the tool to the social media platforms.
Yet, iMovie makes the video cropped to fill rather than using the area feature to remove the watermark. You can download the video without a watermark for free.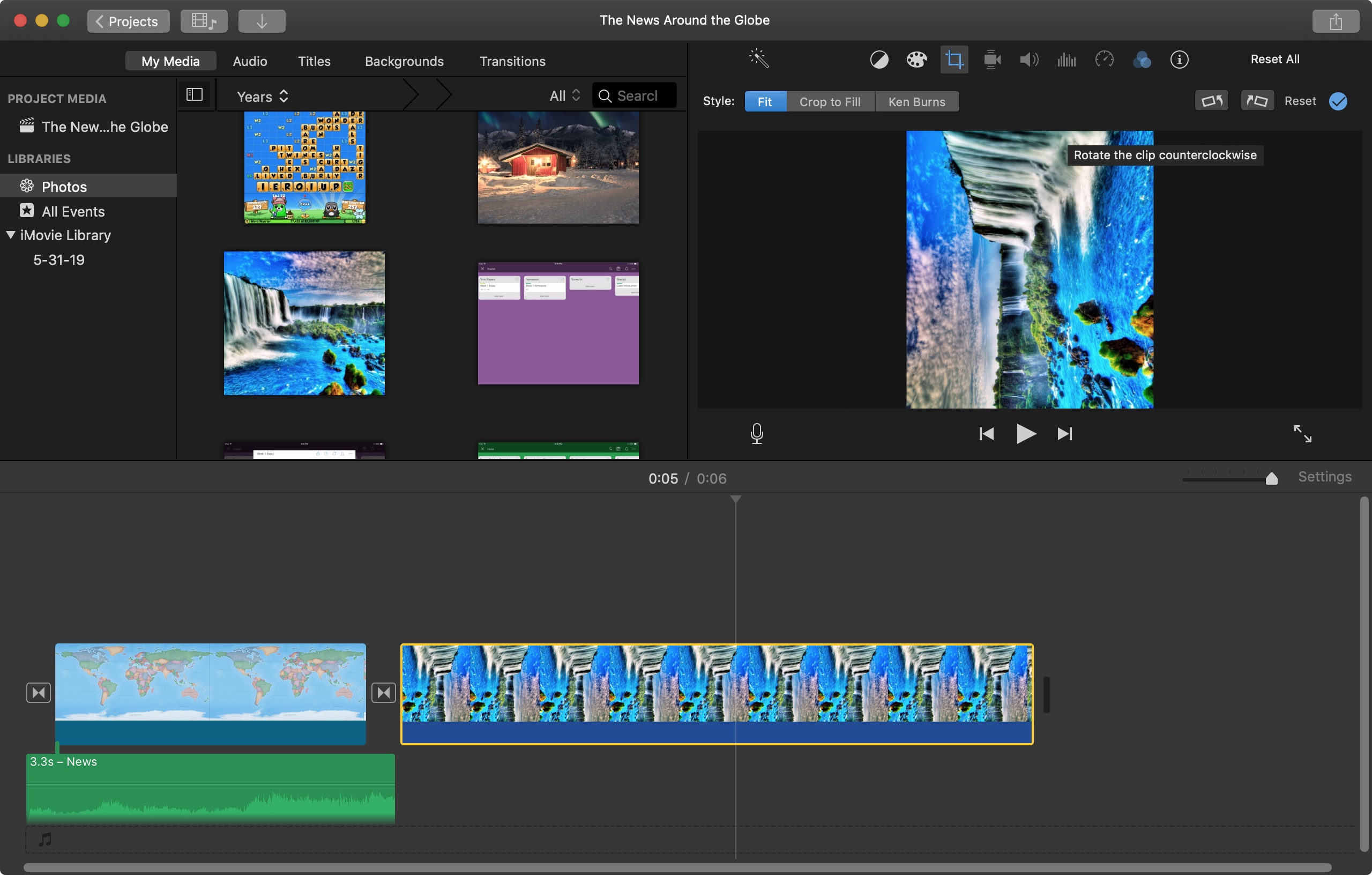 Pros:
Available in Mac, iPhone, and iPad
Easily imports video from different sources
Make the trailer of the year
Intro stickers abound
Unlimited tracks
Watermark-free
Cons:
Unavailable for Windows & Android
Require high-end OS
Top 3. Olive - Open-Source Cross-Platform Video Watermark Remover
For all Windows, Mac, as well as Linux users, Olive Video Editor is a tool dedicated to Windows PC. It's a free video watermark remover and features with excellent video editing tools like Node Compositing and Color Grading. You can get the software on your computer and start removing watermarks from an endless number of videos whenever you want. It's an easy-to-use tool and lets you edit videos stunningly.
Now with Olive 0.2, you can edit the watermark with the tool Disk Cache. Even 4K quality videos can be edited smoothily with this program. Yet the Olive 0.2 version is still unstable so you will be faced with crashes to some degree.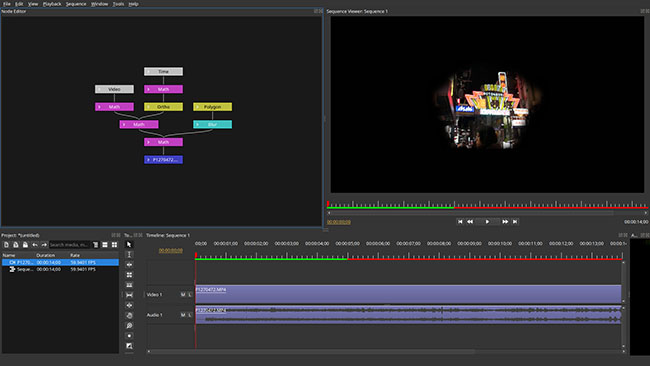 Pros:
Offers multiple ways to remove watermarks
Very easy to edit video
Exports watermark-free videos instantly
Disk Cache tech
End-to-end color management
Cons:
Sometimes unstable
Only has basic editing features
Top 4. OpenShot - Simplified Video Watermark Remover
For the last best free video watermark remover software, we have OpenShot. A free Windows and Mac compatible video editing tool that can remove watermark from any video with just a few simple steps. Moreover, the advanced video editing features will make your video look like a professional one. OpenShot designs with a quite user-friendly user interface so that you can navigate to all built-in effects quickly.
You can download OpenShot, import the video, and start removing the watermark by the Video Cropper right away. Some of the video editing tools you will find here are usually offered by expensive video editing tools. And yes, it's easy to use and free.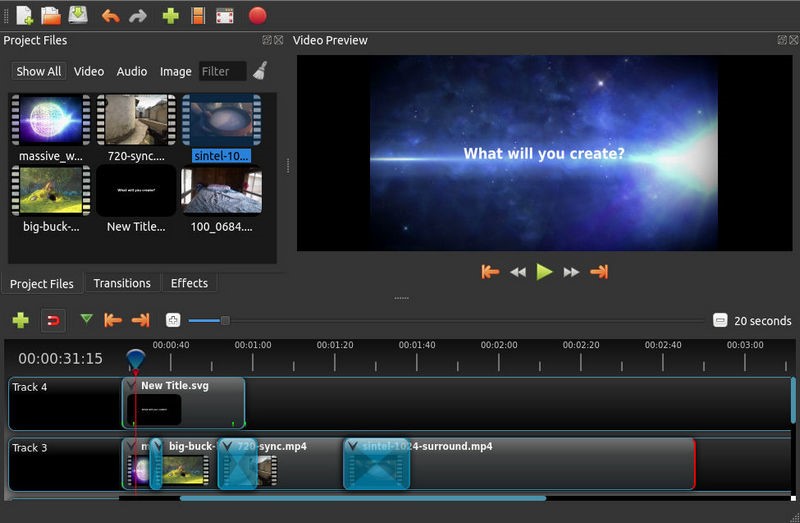 Pros:
Advanced-level video editing tools are available
It's an open-source video editing tool and is 100% free
Supports multiple formats
Edit batch videos
Quite easy learning curve
Cons:
Might not be suitable for beginners
Limited effects
Top 5. 123APPS - Flexible Online Video Logo Remover
In case you want to use an online watermark remover that is also able to make a set of edits like trim and convert, 123APPS must be one of the best options. Without hassle, you can directly go to the 123APPS video watermark remover. It allows you to open local files or upload files from Google Drive, Dropbox, and URLs.
Without exception, 123APPS masters the skills of erasing logos, watermarks, as well as dates from your video. Switching from different tools is avalialble and all of the workflows will be gathered on one page. Supported formats include MP4, MKV, MOV, and the original.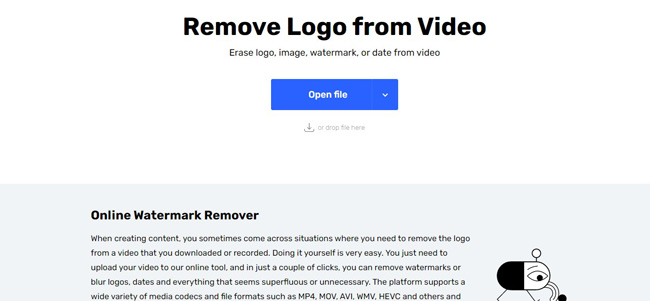 Pros:
Tools for videos, audios, and PDFs
URL import
Make loop videos
Switch from functions
Easy to use
Cons:
Lot of website Ads
Limited formats
Top 6. Kapwing - Powerful Online Video Watermark Remover
Another excellent online video editing tool is Kapwing.com, which is an video editing toolkit. This robust tool not only lets you get rid of the pre-existing watermark but also empowers you to add music to your videos, apply subtitles and edit the videos in the best way to make them look better. This is a website-based tool, which means you don't need to download or install anything.
There are limits to using Kapwing as your video editing helper. For example, you can download the video up to 720p for free, in other words, the 1080p downloading service is paid. Moreover, the video duration should be controlled within 7 minutes on the free version.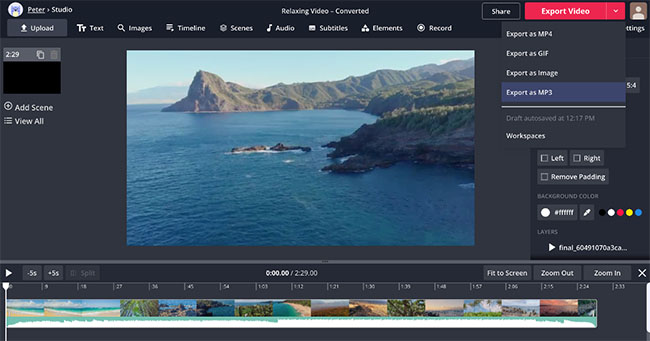 Pros:
The interface is attractive
Multiple options are available to remove watermarks from a video
Accepts numerous video formats
A vast selection of video templates
Export video without watermark up to 720p
Cons:
The free version will have a file upload limit
You cannot export more than 7 minutes long videos and edit 4K videos
Top 7. Apowersoft - Direct Online Video Watermark Remover
If you want to find an online tools that is capable of removing watermark from both videos and images for the sake of individual and commercial, just choose the Apowersoft. This an overwhemlingly simple website and surprisingly, without Ads. There are unlimited boxes to add to remove the video watermarks. Especially if you are TikTokers, you can remove all of the watermarks that embedded with your downloaded TikTok videos.
Rather than taking advantage of Video Cropper or Video Blurring, Apowersoft will remove a watermark from a video for free via built-in area removal features. That is to say, you can drop the removal area to remove the watermark from videos easily.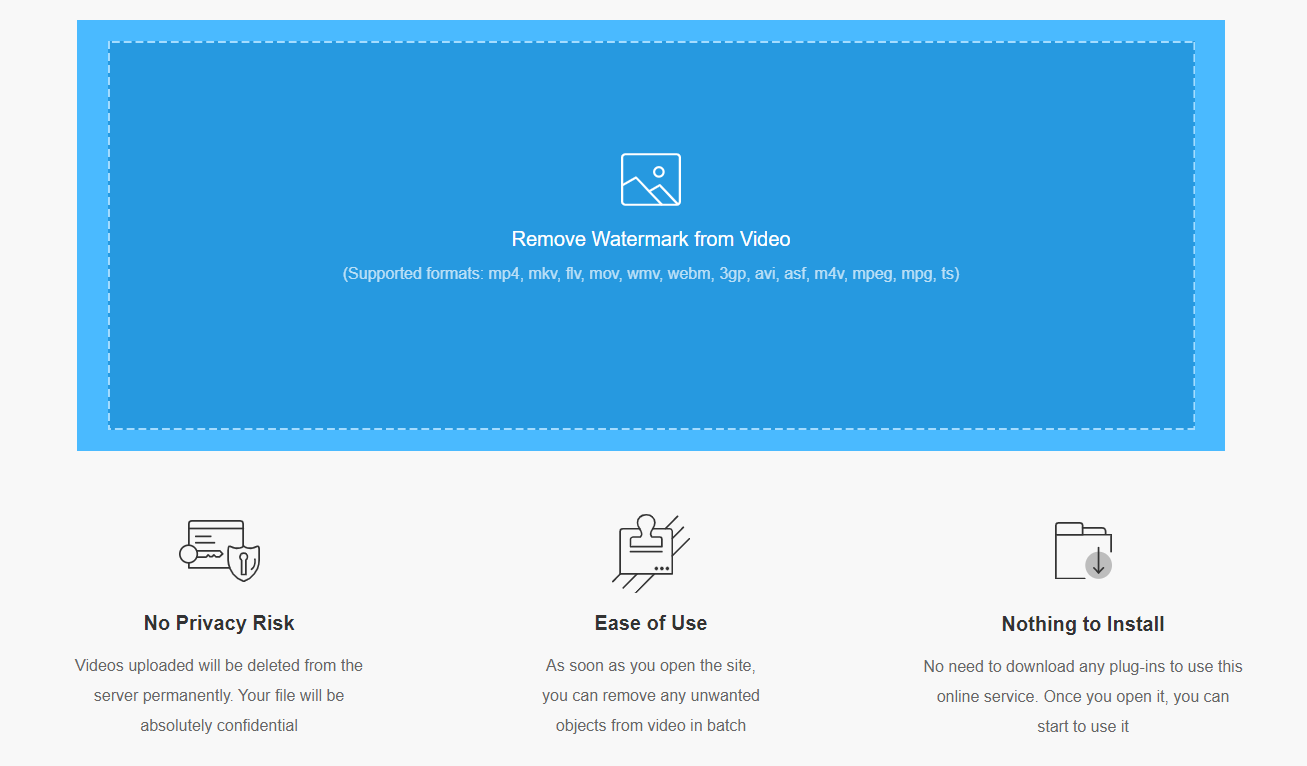 Pros:
100% online video editing tool
Supports multiple video formats
Removes watermarks by the Area Remover
Clean interface
Without Ads
Cons:
Cannot turn to other tools
File size is limited
Top 8. Video Eraser - Multi-Functional Video Watermark Remover App
Trying to get an app that is designed to remove watermark from videos free and easy? This recommended application is called Video Eraser - Remove Logo, which has released versions for iPhone and Android. It is deft to download this app from the app store on your device. No matter logos, texts, or watermarks are exposed to be removed with it.
Apart from making video watermark removed, more edits like trimming out clips, cutting videos, adding texts, and inserting emojis are easy to run. The video formats supported include MP4, MOV, M4V, and 3GP.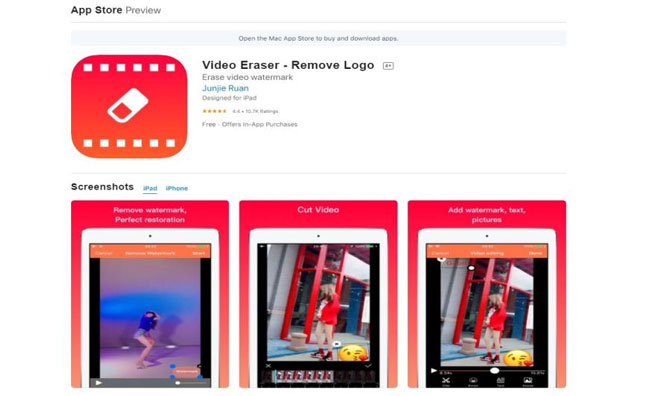 Pros:
iPhone and Android watermark removing app
Add emojis and texts
Stable system
Many formats are propped
Quickly epxorting speed
Cons:
Cannot make video slideshow
Unfit for batch video editing
Top 9. SaveTok - Professional TikTok Video Watermark Remover App
As we all know, TikTok has been rolling out trends around the world. More and more people tend to create their TikTok accounts, scroll down others' TikTok videos, and DIY their own content to share on this app. However, there are two watermarks in the downloaded TikTok videos that are troublesome and hard to remove. So here I recommend one of the best and most direct tools to remove watermark from TikTok videos - SaveTok.
You need to copy the TikTok video URL and paste it into this app. Then click the Save icon and wait for a moment. Lastly, you can download the edited video and check whether the feature is applied to your videos.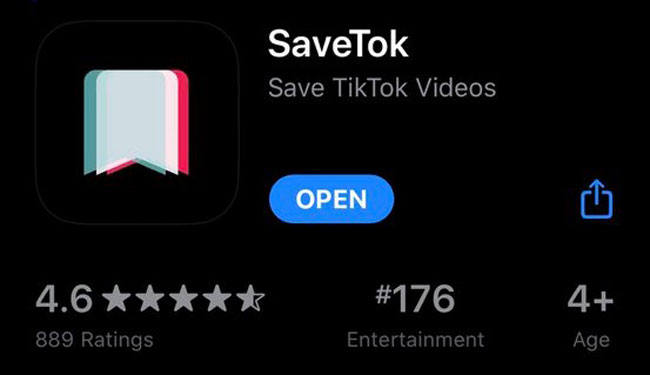 Pros:
URL copy and paste
Applicable for all levels of TikTokers
Has both iPhone and Android versions
Free & without watermark
4K video management
Cons:
Only TikTok video watermark removel feature is possible
Comparison of All Specifications in 9 Tools
If you want to know more differences and specialties among the 9 mentioned video watermark and logo removers, scroll down to check the table below.
| | OS | User-Friendiness | Removel Techs | Images/Videos | Formats | Advanced Tools |
| --- | --- | --- | --- | --- | --- | --- |
| AceMovi | Windows, Mac | Easy | Cropper, Text Replacer, Blurring | Both | Almost all | Split-Screen, PiP, Chroma-Keying, Color Grading, Soound Effects, Mosaic, Mirror/Flip/Clone, Reverse, etc. |
| iMovie | Mac, iPhone | Medium | Cropper, Text Replacer, Blurring | Both | Less | Chroma-Keying, Slideshow, Focus Shift, High-Fidelity Filters, Simplified Soundtracks, Color Grading, Mosaic, Reverse, etc. |
| Olive | Mac, iPhone, Linux | Complicated | Cropper, Text Replacer, Blurring | Both | Medium | Node Compositing, Color Management, Disk Cache, etc. |
| OpenShot | Mac, iPhone | Easy | Cropper, Text Replacer | Both | Less | 2D/3D Animations, Keyframes, Audio Waveforms, 70+ Languages, Slow Motion, Time Effects, etc. |
| 123APPS | Online | Easy | Area Remover | Both | Less | Video Speed Changer, Loop Video Maker, Video Stabilizer, Video Converter, etc. |
| Kapwing | Online | Medium | Cropper, Text Replacer, Blurring | Both | Less | Green Screen, Video Flipper, Color Grading, Video Templates(Into/Outro), etc. |
| Apowersoft | Online | Easy | Area Remover | Both | Less | / |
| Video Eraser | iPhone, Android | Medium | Area Remover | Video Only | Less | Titler, Trimmer, Emoji Maker, etc. |
| SaveTok | iPhone, Android | Easy | Area Remover | Video Only | / | / |
Conclusion
You just need a perfect free video watermark remover to remove the watermark from the video. Please note that each of them will come with pros and cons, but these tools stand out as the best when it comes to removing watermarks from the video.