Speech-to-text software is also known as the dictation tool for speech recognition or computer speech recognition, which enables the translation and recognition of spoken language into text by computational linguistics. It works by listening to audio and then delivering a verbatim transcript that is editable on a device. Two types of technology are used in this software: speaker-dependent and speaker-independent.
The best software is categorized by assessing if it requires any additional software or not and what is its accuracy level. A reliable speech-to-text software should have multi-language support, so you don't face language limitations. Here are the best tools to convert speech to text with smooth and natural voices embedded within them.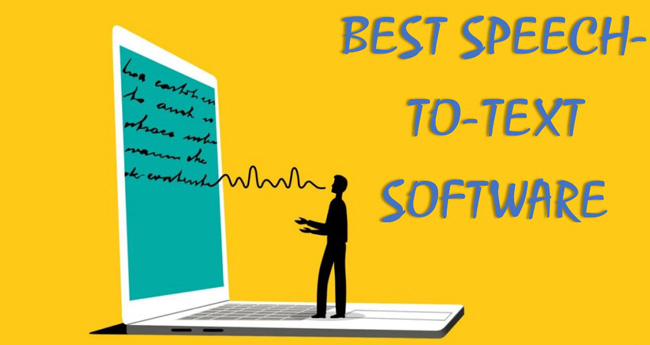 Top 6 Best Speech to Text Software for Windows 10 and Mac
You must be looking for some reliable software to transfer your voices into texts. Below, some of the top-rated and innovative speech-to-text software are listed:
Top 1. Braina – Speech Recognition Software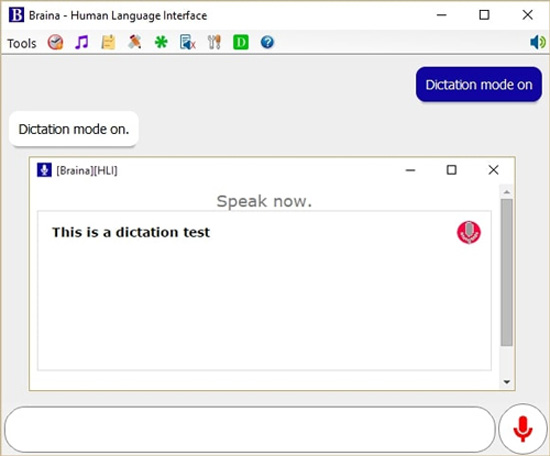 Available for: Windows, iOS, & Android
Braina is the answer if you want to work with voice recognition tools that can accurately dictate text in over 100 languages. Whether you want to play songs, open videos, update your social network status, launch websites or search for information, this speech-to-text software free can help you. There is no need for specific voice training, as you can set this up accordingly without any problem.
It is also compatible with Android and iOS operating systems, so you can use it on many devices. You can speak into built-in speakers to write the text. This software can be customized, and you can easily use specific words and templates. On the user-friendly workspace, background music can be added to the current project with one click. But this software is incompatible with macOS up to now.
Top 2. Converse Smartly – Speech-to-Text Program

Available for: Windows, iOS, & Android
With this speech-to-text program, you can make your conversation and writings more intelligent and productive. Converse Smartly is powered by cognitive learning and renders the most innovative neural network algorithms for voice typing. This software is so advanced that it can fully transcribe any text with top keywords.
Furthermore, highlighting themes and topics is also fun when done with this tool. Speech and text analysis and multiple speaker detections are also great features of this tool. The technology used for creating this tool is Google Speech and IBM Watson. With Conversely Smart, you can create a word cloud from input text and speech. Specific projects including medical transcription and local accents can be handled by it at a high conversion speed.
Top 3. Dragon – All by Voice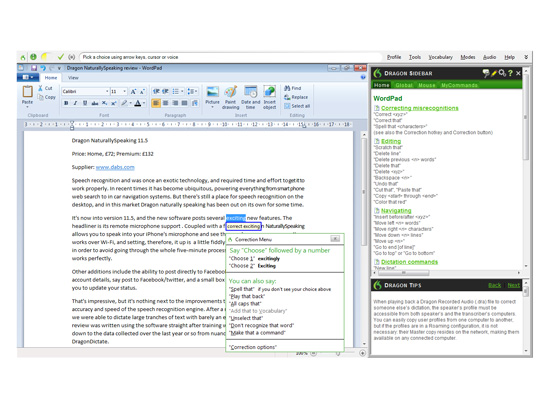 Available for: Windows & Mac
You may want to work on emails, reports, or forms, Nuance Dragon voice typing software can help you with all the work. You can also use this best speech-to-text software to create form-based templated and fill-out forms. The popular cloud-based formats can be easily exported and imported with this tool. This tool can help you with formal and informal writing, so there is nothing to worry about.
The transcribing speed of Dragon is ultra-fast, and you can perform any task with the highest accuracy. Moreover, every industry has its own terminologies that this tool strictly follows while writing. No matter whether you are a student, small business owner, or author, you will find Nuance Dragon saves a lot of time when generating texts based on the words you're speaking near the recipient.
Top 4. Apple Dictation – Voice Control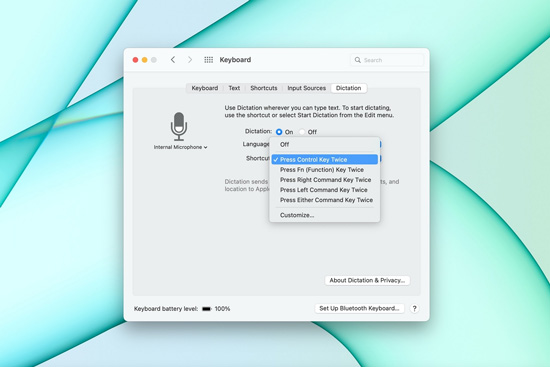 Available for: Mac
Apple Dictation – Voice Control app specifically created for macOS and iOS platforms can make all of your writing tasks easy beyond expectations. It is a built-in feature in Apple devices that runs on Siri's servers and can work with or without the internet. With this feature, you can add basic navigations like the open and close page. Furthermore, you can also restart your device or choose any option from the menu bar.
Adding numbers and grid overlays in any file with voice control are easier than ever with this voice-to-text feature. You can also enhance the productivity of any file by adding symbols, punctuations, or emojis just by your voice. This is an assistive feature that also allows you to customize your dictation vocabulary. You can get your text written by speaking in the built-in or external mic.
Top 5. Microsoft – Speech Recognition Software
Available for: Windows
This is an add-in for Microsoft Office, and you can use it on your Windows or MacBook device. It is one of the best speech-to-text software by which you can respond to emails and white documents. It is also very assistive for communication purposes. There is no limitation of speech text, so you can speak as much as you want, and it will; be transcribed properly with this tool.
The accuracy ratio of this software is very high, and it supports 29 spoken languages for your ease. However, the real-time translation is for 60 languages. You can also give commands like start dictation and enter or pause dictation.
Top 6. Google – Voice Typing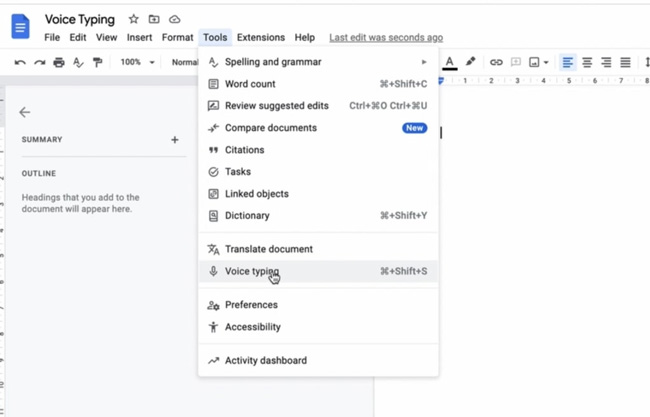 Available for: Windows and Mac
Google never fails to amaze and assist with its exciting features. One can use the voice type feature of Google Docs to make typing easier and more efficient. Multiple languages work with voice typing, so you can use all of them with ease. If there is any mistake in the voice-typed content, you can correct it by the list of suggestions.
Moreover, you can also use this software to add punctuation to your documents. This software also allows you to use commands like underline, bold, italic, align center, decrease indent, and many more. You can use this software on any device running the Google Chrome browser.
What Are the Purposes of Speech to Text Software
Day by day, the load of work is increasing on every person. Everyone wants a shortcut by which they can accomplish their tasks swiftly without compromising on the quality of work. There are several uses of speech-to-text software, and some of them are discussed here:
1. Reduces Time and Effort
Every student, researcher, or professional has to work on multiple content types. Searching content and merging it into a specific file is a hectic procedure. In scenarios like this, one can use software like speech-to-text by which they can find something by saying it instead of writing it down every time.
2. Assist in Multiple Industries
Speech-to-text software is not limited to a specific place or a device. That is why it is widely used in several industries, including healthcare, banking, and marketing. With this software, anyone can accomplish their tasks efficiently.
3. Writing Legal Document
The format of legal documents never changes but only the information of a person changes. The speech-to-text software is used in the legal transcription process of automatic typing. This software can also transfer recorded information into a written and editable format.
4. Customer Support Services
A nice speech to text option is widely used in machine-made transcriptions to understand customer needs and queries. You can make further changes to make the service more efficient and engaging.
The Best Software to Enhance Speech and Text in Your Video - AceMovi
If you want to edit and enhance the transcribed text content in your video, the software for speech to text is not enough. You need a text generator with a host of animated text templates, fonts, and colors. AceMovi Video Editor is an excellent tool to edit the background audio and text content in your videos or images. Aside from that, the built-in system empowers you to add a new voice-over with dubbing features. And the text templates are designed to help you produce an intro for a movie.
AceMovi Video Tutorial: How to Customize Text Template | Text Animation