In this era, when every problem has its digitized solution, it is smart to save time writing long paragraphs using the speech-to-text app. All Android and iOS devices are loaded with numerous free apps that come with speech-to-text functionality, but some things can bother you. For example, not all of them support multiple languages, or there may be some device limitations.
Therefore, we will talk about certain text-to-speech apps that help with speech conversion into text. Moreover, some of them are purposely designed with advanced features to boost workplace productivity such as document dictation and auto-template insertion.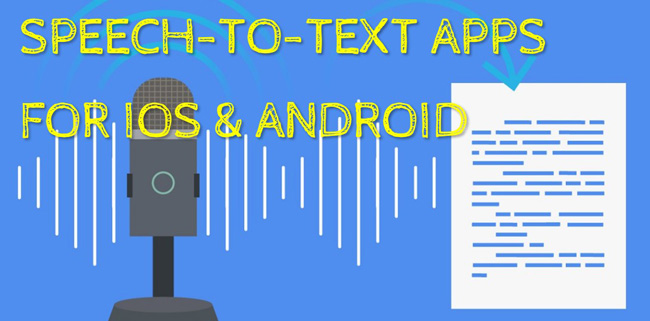 General FAQs Related to Speech-To-Text Apps
Many have general questions regarding the text-to-speech app for iPhone and Android, and you may be cautious about using these options because your queries still need to be answered. Here are some of the frequently asked questions about these applications:
Q1: What are the advantages and disadvantages of speech recognition?
No matter what voice typing app you use, it always has good and bad effects. Just like this, speech recognition apps also have advantages and disadvantages, and some of them are listed here:
Advantages:
● With powerful text-to-speech apps, you can save time and effort because there is no need to write everything. It allows you to give commands and type by using your voice.
● It is very assistive for many jobs in a big industry, e.g., customer support services.
● These apps are intended to boost productivity levels. The time you were spending on writing notes, you can now use that time to do other tasks.
Disadvantages:
● Although they are quite innovative, there can be some errors and misinterpretations that you will face when using them.
● If you are working with a voice recognition app in a noisy environment, the chances of errors are high. Thus, working in a calm and quiet environment while operating these apps would be best.
● Everyone has a different accent of speaking, so it is advised to ensure that your accent is simple. Moreover, users have to work on their pronunciation.
Q2: Is there a free speech-to-text app?
Yes, there are free speech-to-text apps for every platform, for example, Apple Dictation for Mac, Windows Dictation for Windows, Gboard Voice Typing for Android, and Speech – Voice Dictation for iOS.
Q3: Are speech-to-text apps safe?
The safety of any application depends upon what app you choose. Moreover, check data policies and charging statements before using any text recognition app. Read the comments and reviews to get a purer idea about the usability and security of an app.
The Best Speech to Text Apps for Android and iPhone
You may encounter many speech-to-text applications on both App Store and Google Play Store, all of them will claim to be the best. To make your work easy, here are the top 6 reputable speech-to-text apps free that you can use to minimize your time and effort:
Top 1. Speech Notes – Speech-To-Text N (Android)
If you are looking for speech recognition that can allow unlimited dictation with a proper data policy, Speechnotes is the answer. This dictation app comprehends improved transcription algorithms so you can have the best user experience. The interface of this app is very neat and organized, and you can easily use every feature.
Speechnotes is the best speech-to-text app that can enhance the productivity and outlook of any document. Moreover, this application can do its best with or without the internet. You can also use an external mic for voice typing, which makes the work 2x easier.

Pros:
Non-stop dictation
It does not stop listening when taking a break to breath or think
Fast timestamps
Works offline
Reduces errors when typing or spelling
Cons:
No auto-save or temporary text/recover
It cannot be downloaded on iOS
Top 2. Otter: Transcribe Meeting Notes (Android/iOS)
Otter speech to text app is perfect for transcribing voice notes with free and paid versions. Whether you wish to take Zoom, Microsoft Team, or Google Meet notes, this best speech-to-text app can help you with all. With the help of Otter, you can stay connected and active even while staying at home. This app always creates a searchable and shareable transcription, so you don't have to worry about anything.
Otter is perfect for carrying out tasks like taking notes, sharing summaries, and recording interviews. This is an assistive application that also provides live captions for deaf people.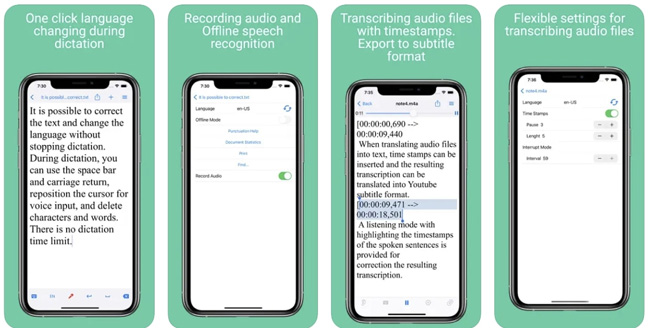 Pros:
Auto-notes for Zoom or other meetings
Record and transcribe conversations
Live captioning for anyone with accessibility needs
Key points highlighter
Sync calendars to be reminded
Cons:
No one-time purchase services
The subscription is far too expensive
Top 3. Transcribe – Speech-To-Text (iOS)
If you are the type of person who wants to level up their functionality while being active, this application is right for you. With Transcribe, you can convert videos and voice memos into text proficiently. This application can also help with creating subtitles and translating a foreign language.
This wide-ranging speech-to-text application supports more than 120 languages to make your task easier. This speech recognition app also allows users to export files from different apps and Dropbox.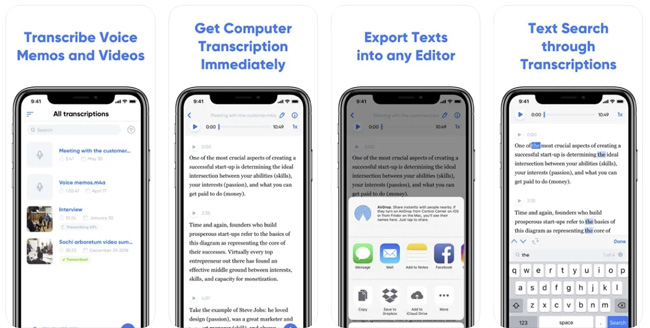 Pros:
120+ languages and dialects
Ad-free
get 15 minutes free transcription
TXT, PDF, DOCX, SRT files
5 extra hours of transcription for free every month
Cons:
The source of a voice may influence the transcription quality
No Android support
Top 4. Voice Notebook – Audio to Text (Android/iOS)
Compatible with Android and iOS devices, this speech to text app is perfect for carrying out audio-to-text tasks. You can use unlimited voice inputs and save the file to add more text. Changing languages without stopping dictation is also a great feature of this app. This tool also allows users to sort voice notes by dates and alphabet, thus showing great functionality.
Moreover, this speech-to-text application supports dark mode so you can work without hurting your eyes. As for the printing and locating notes option, you can do this efficiently with this app.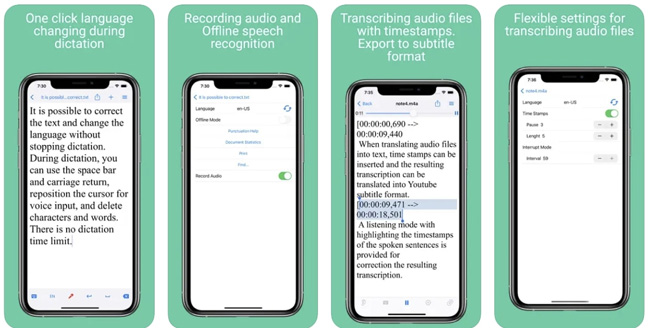 Pros:
Input your voice from Google
Much more time for speech recognition
Bluetooth device support
Share or send voice notes via email
Standalone input method
Cons:
Your device (phone/tablet) must have Google App installed and updated
It is needed to install a language pack for local voice recognition
Top 5. Notta – Transcribe Voice to Text (Android/iOS)
Whether you want to record discord chats, zoom classes, or your favorite podcasts, this application can help you. Notta also allows its users to convert audio into text and import audio files to get transcripts. With this, you can play your conversations on multiple speeds, including 0.5x, 0.75x, 1x, 1.25x, 1.5x, 2x, and 3x. This application makes adding notes, marking folders, and transcriptions easier.
Above all, you can export the transcription files into multiple formats, including TXT, DOCX, PDF, and SRT, to access them offline. Notta is perfect for language learning, job interviews, video conferences, and live captions for deaf people.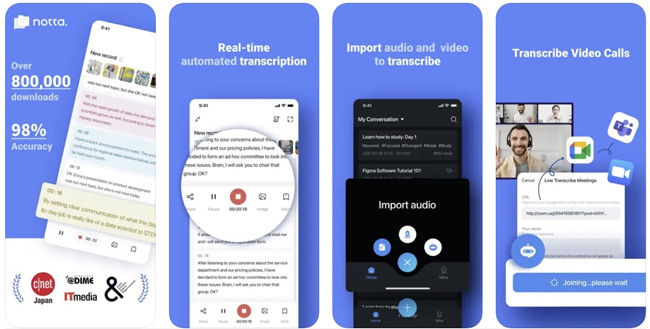 Pros:
Playback conversations at customized speeds
42 languages allowed
Keyword summary viewing
Download transcript to TXT, DOCX, SRT, PDF format
Stream live transcription via a sharing link
Cons:
It may cut off transcription and try to force users to subscribe
The meeting recording is limited to half an hour
Top 6. Dragon Anywhere (Android/iOS)
With more than 100K downloads, this speech recognition application never fails to amaze its users with its exciting features. With this speech-to-text app, you can create customized templates and words to make your task easier. In particular, this app will dictate all your spoken words swiftly. One of the most exciting things is that you don't have to mind your accent because it can easily adapt to any accent.
This application also offers users a free trial, so they know how effective it is. There are no restrictions on time and length, and you can speak as long as you wish to. With Dragon Anywhere, you can create forms, short-cut repetitive words, underline and bold texts and add standard clauses to any file. This best speech-to-text app is compatible with both Android and iOS platforms.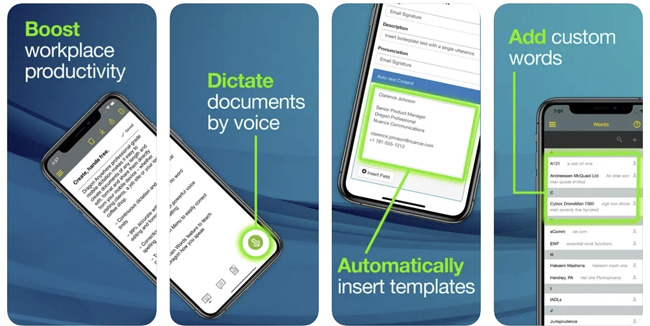 Pros:
No time or length limits
Form-based templates like client in-take forms
Choose words or sentences to edit, correct, or delete
Cloud-based voice recognition
Accurate dictation
Cons:
The technical support is not 24 hours
It does crash sometimes
Add Narration/Text on Video or Record Meetings for Zoom/Webex - TunesKit AceMovi
Since there are so many options to transcript speech to text on mobile phones, you'd better compare their differences before making the final decision. If you need to record narration from headphones or add text templates to beautify the subtitles in a video or image, then it is a good option to choose AceMovi Video Editor. Overlaying static or animated text, customizing the font and color from the library, or highlighting the video with presets or caption templates are easy to edit with it. Moreover, this software is able to record Zoom meetings with the wanted format and video resolution.
How to Record Screen with AceMovi Video Editor - Tutorial For Beginners