iPhone is steadily gaining traction with enhanced hardware supported and an improved operating system. Today, the device can handle multiple applications simultaneously and execute intensive tasks without lag. Similarly, Apple strengthened the cameras on the phone and can now capture HD, 4k footage, and images. Not only can you shoot high-quality videos but also edit them on the phone.
Today, we will be discussing the best video editing app for iPhone with music, transitions, texts, and more features you'll like. We came up with 11 apps considering individuals' different tastes and requirements. So, let's get started!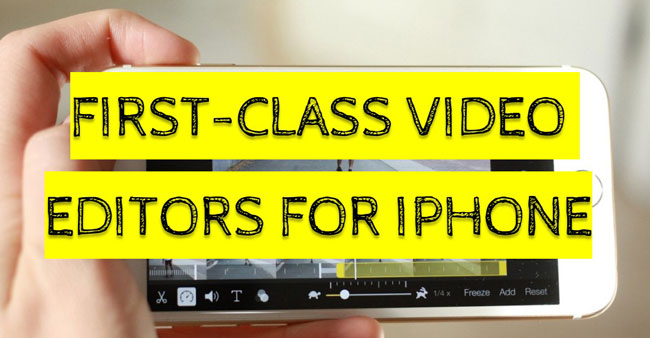 Videoshop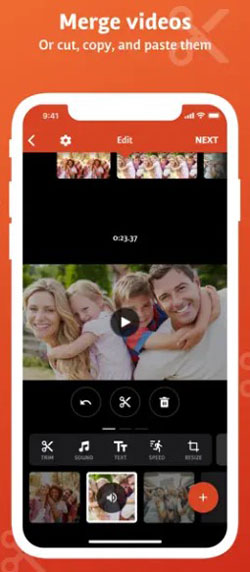 As one of the simple-to-use video editing apps for iPhone, Videoshop has tools that make it easy to edit high-quality footage with minimal effort, including trimming, splitting, cropping, and converting. There is a quick preview of your finished video at the end.
Videoshop app has an impressive feature list with tools such as audio and narration, text boxes, titles, and generators for creative effects. You have access to a vast collection of ready-made templates and visual effects. These can be customized to fit an individual project from Instagram, Facebook, or TikTok.
Pros:
Fast-motion and slow-motion feature
Save videos to camera roll or your social account
Tilt shift, rotate, undo, filters, and animated texts
Crop clips with the ready options, including 9:16, 16:9, 1:1, etc.
Record a new narration or voiceover
Cons:
Limited tracks for multiple video editing
They raised the premium cost to a high price
Splice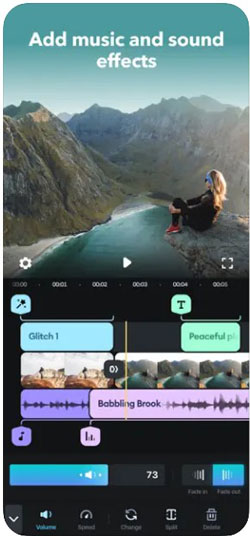 As a nonlinear & professional video editing app for iPhone free, Splice can be used to edit and create videos from clips that are stored in your camera roll. It allows you to upload and edit videos from other sources such as YouTube, Vimeo, Dropbox, or Instagram.
The app is intuitive and attractive to use. You can add music from your iTunes library and then chop, blend, and trim clips with the built-in awesome array of free video effects. There are numerous tutorials on how to create different types of videos, such as Instagram stories videos and YouTube intro movies. Besides, the 4K definition is one of the options that you can choose.
Pros:
Imports media quickly, even a file that is over one GB
Exports video on HD and 4K definition
Slow-motion moving texts
Add a vantage filter to create old-time air
Streamlined trackless to edit batch audio, video, and image
Cons:
The audio track may be lost and crash sometimes
You may find the video uploaded on YouTube has copyright issues and receive a notification from a third party that tells you it is forbidden to make profits from this clip
VivaVideo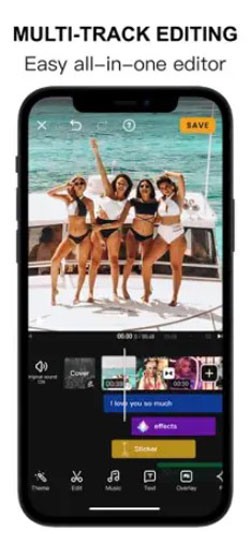 VivaVideo is an iPhone app for video editing and audio enhancement that comes with various filters, transition, and overlays. It provides an intelligent plethora of photos that can be applied to the timeline without delay. You can remove the background noise, alter the video's speed, add filters, and more.
The app has a simple interface and makes it easy to use. Some features include creating widescreen videos, adding stickers, shifting the frame rate, and adding transition effects. Moreover, you will find it is outstanding to make your animations with built-in keyframes.
Pros:
A vast bunch of stickers, emojis, and photos
Fade in and fade out audio in one click
Picture-in-picture in your video
0.1 to 10x video speed change range
Cinematic filters and mosaic effects
Cons:
No motion tracking feature
iMovie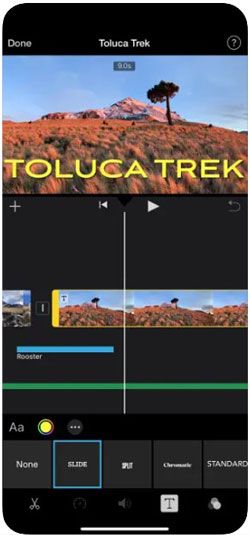 iMovie is a watermark-free, streamlined, and multifunctional video editor with music and transition for iPhone and iPad. You can quickly and intuitively create a film complete with titles, transitions, and soundtracks. In addition, the app has excellent tutorials to help you learn about editing and clever features for adding effects to your films.
The features include adding voice-over to your videos, trimming videos to any length and duration, exploring multiple video effects presets with just one click, splitting your video into different scenes using the new editing tools, and taking live photos from your iPhone's camera roll or from within the app.
Pros:
Pre-installed on your iPhone and iOS
Loads of Storyboards for diverse projects, like Product Review, DIY, and Book Report
20+ active text styles
Create a polished video using your photos, soundtracks, and clips easily
Output your files on HD resolution without a watermark
Cons:
There is a shortage of stickers and emojis
The video trimming tool may get into a crash when you update this app
Filmic Pro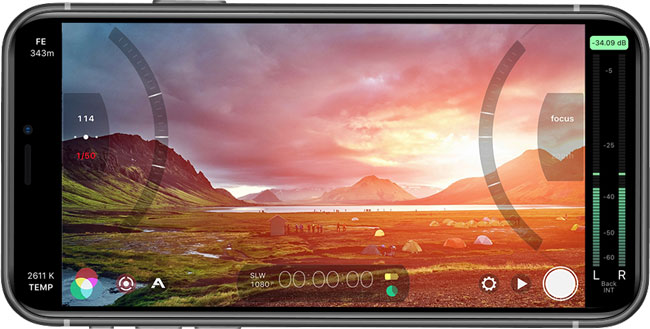 Filmic Pro is an app that is specifically designed for professional video work. With a fancy interface, powerful features, and lightweight compatibility with iOS video apps, it is a great alternative for anyone seeking to produce advanced videos.
As the best iPhone app for video editing and capturing, Filmic Pro provides the same powerful functions as its paid counterparts. As an iPhone video editor, Filmic Pro is as good as it gets without spending any money. It's got all the crucial components you need to make movies. Filmic Pro is free on the App Store with no in-app purchases or subscriptions.
Pros:
Edited clips won't be added with watermarks
Support or 4K 60fps video editing
Audio mixer and sound waveform
Horizontal window for recording, editing, and sharing clips
Cons:
The advanced video shooting mode requires a high level of knowledge
Videoleap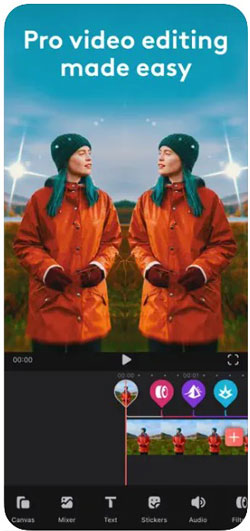 The Enlight Videoleap is for you if you are searching for the best free video editing app for iPhone and iPad. As an all-in-one video editing app that lets you generate and edit videos on your phone, Videoleap is creative and engaging. You don't need to download any other specialized video editing apps to edit movies, add music, text, or voice-overs because it is all-in-one and you can use it for further audio and photo projects.
The app has many fully customizable options, and all the tools are intuitive. It's the perfect tool for beginners who want to start editing videos on their phones. Further, it is a great option for more advanced users who desire to render a green screen (chroma key) effect.
Pros:
100+ sound effects
Make video dubbing and add voiceovers
Mirror yourself in a video clip
Filters, animations, opacity, and blending
Smart motion detection
Cons:
Some free features are becoming only applied to the premium version gradually, and you may find ads when you upgrade to the pro version
Adobe Premiere Rush
Adobe Premiere Rush is a free iOS app perfect for enthusiast-level users for video and audio editing. It has features of expensive software and is straightforward to operate.
As a free video editing app for iPhone without watermark, Rush features preset templates that allow you to create professional-looking videos in a few swipes and taps. You can use the app's intuitive design to quickly learn and experiment with all it offers. Its step-by-step instructions will teach you how to cut, splice, fade in/out, transition, and delete scenes without reading lengthy manuals or tutorials.
Pros:
1000+ of new soundtracks and sound effects
Add animated titles to overlay on videos
Slow down or speed up any audio and video clip in real-time
Streamlined layout design
Automatically reframe for various aspect ratios
Cons:
Only 4 tracks for video and audio are available, so it is unfit for complicated editing
Rush is unresponsive to change when editing the video subtitles and captions
Lumafusion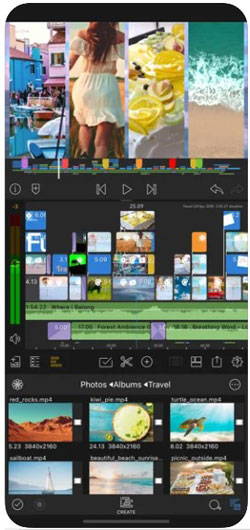 LumaFusion is a video editor that's native to iOS. With LumaFusion, you can edit videos with a wide range of creative and advanced editing tools. It is the most advanced and best video editing app for iPhone to make videos with unique visual effects or add custom soundtracks.
Other features of the app include trimming, cropping, and splitting videos, applying filters to video clips, adding the ability to change time-lapse effects, and more. You can also adjust brightness with LumaFusion's camera settings or capitalize on one of the app's many color corrections for your video project.
Pros:
Advanced graphic equalizer
Built-in video stabilizer to change overall strength
Loads of moving and animated captions
6 additional tracks for each project
Cons:
You may find some files may be lost without warning while editing
Videorama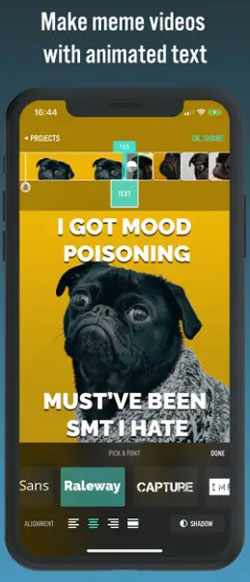 Being a stellar video text editor, Videorama is one of the best video editing apps for iPhone users. This app has more than 100 templates and features, such as transitions, and filters. It is accessible to add licensed music tracks to your vlog, films, and short videos without hassle.
Key features include 100 professionally designed templates to choose from. Videorama's media library is embedded with over 7,500 royalty-free music tracks for use by customers. By the way, making photograph slideshows with music and texts is stylish among us active users.
Pros:
Ready-designed aspect ratios for Instagram and TikTok
Trim out unnecessary audio and video clips
Make an excellent meme video
Up to 1080p full HD output
100% free stock photo and music resources
Cons:
There is no undo button
The control options may return to the previous state after you swipe it to a degree
Clips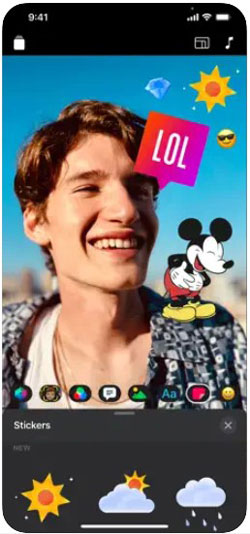 Without exporting watermarks, Clips is one of the best free video editing apps for iPhone that allows you to produce videos from existing photos and videos from your device. It has a vast collection of filters and effects that can be used on the clutter-free interface. The iPhone video editor Clips makes short movies with built-in texts, stickers, and emojis.
The application features a simple and easy-to-use interface, with three main features that can be accessed by swiping left or right on the main screen – Gallery, Share, and Effects. You can view the created videos in the gallery, share them, and explore different effects.
Pros:
Record a new clip horizontally or vertically
Animated emojis and speech bubbles
Immersive VR spaces
Use the full-screen posters to create video intro and outro
Customer-centered timeline
Cons:
It is unable to resize the screen of your footage
Many built-in music varieties are copyrighted
Filmigo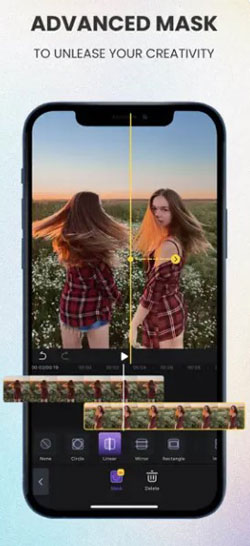 Filmigo Video Maker & Editor is one of the best video editing apps for iPhone devices. Its user-friendly interface allows you to make meticulous editing and share them online via social media, YouTube, Vimeo, and more. It offers over 150 templates and 60 filters. It has features like slow-motion, text overlays, and background music and supports major audio and video formats.
This app is available for free with in-app purchases. Video editing requires a lot of time and effort. Nevertheless, it can be done well by using this app to create a simple video or adding effects to make your videos unique. Filmigo iPhone video editing app is best for people looking for a simple way to create videos and showcase them with friends and family.
Pros:
A stock of royalty-free music to add
Share to TikTok, WhatsApp, YouTube, Instagram, and Facebook in customized size
Adjust video speed for each frame
Easy-to-learn green hand feature
Cons:
You need to pay around $25 per month to export a video without watermark and download it at 1080p and use licensed music
Final Verdict: A Better Option?
Choosing a video editing app for iPhone from the list discussed here and customizing your video per your needs. The most intriguing part is showcasing the edited video to different media platforms without leaving the app. Although each app edits videos, it cannot effortlessly deal with multiple files at once. So, you'd better switch to editing videos with the software on your computers. AceMovi embraces all the wanted background music, effects, HD & 4K output, high stability, easy setting, incredible reliability, and simple operation. You'll find it one-stop and powerful!