Communication has taken a unique space in this digital century. People converse in different modes and the advent of advanced technology has led to various forms of channels to convey messages. Podcasts are one of the powerful platforms that enable users to spread information addressing crowds beyond boundaries. There is distinctive recording software for podcast available at the online store. You are in the perfect environment to connect with the latest tools that aid in podcast editing. Choosing the correct software for your Mac or Windows is quite challenging and this article displays reliable programs that record and edits the podcasts professionally. Follow this review to select the perfect partner!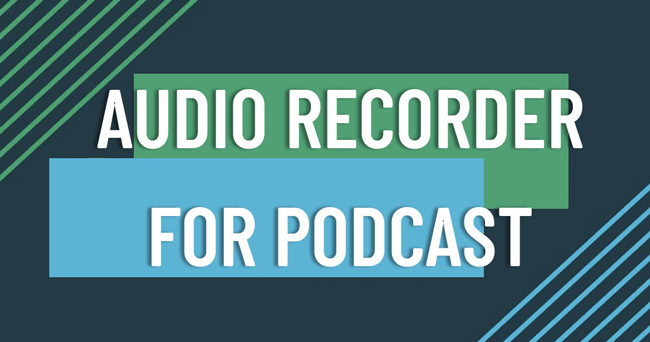 FAQs to Podcasting
1. What is podcasting and how does it work?
Podcasting is a media file consisting of back-to-back facts focusing on a specific theme. It sounds like a radio but the interesting thing about podcasts is that you can listen to them whenever you want to. The flexibility in hearing to podcasts boost the demand for this communication channel.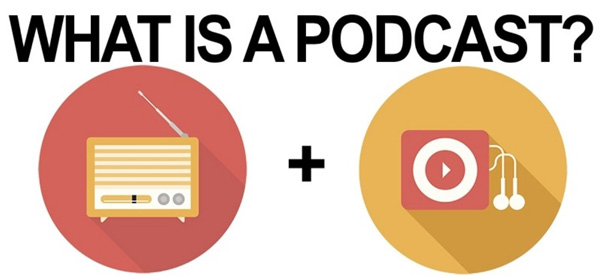 Podcasts are pre-recorded audio files that you can stream on any channel to convey your information in the air without location constraints. There are options to live stream the podcasts and entertain the audience like live concerts. The best part of podcasts is that you can express the information to millions of audiences through live streaming channels efficiently.
Podcasting has a simple working strategy. Record the podcasts using efficient tools based on a specific theme and connect with streaming services like Spotify, Resso, and Tidal applications. Use this medium to reach your target audience efficiently.
2. What are the types of podcasts?
There are different types of podcasts like Interviews, storytelling, and hybrid. Nearly 850,000 podcasts are active carrying more than 48 million episodes in 2021 and the count rises gradually. Most of the podcasts are generic types addressing commoners whereas some of the podcasts target a specific group of the audience like kids, young age, and old citizens.
The podcasters adopt a unique format while creating the content according to the listener's interest. You can also find video podcasts where the narrator conveys the message in a storytelling format.
3. How to monetize your podcasting?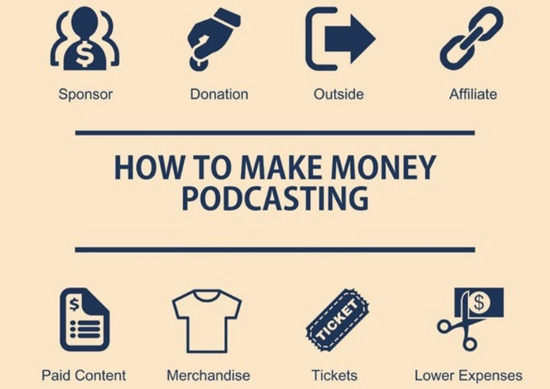 You can monetize the podcasts by adopting affiliate marketing, advertising, study courses, services, and crowdfunding. The foremost goal of any podcast is to reach the target audience in a short period. The advent of the podcast has led to a change in the marketing strategy. It is easy to disclose the features of any product to valuable customers through flexible channels using podcasts.
Podcasts information related to a specific product or service to increase its online visibility for better reach. These podcasts play a vital role in marketing the goods beyond boundaries. Use these best ways to monetize the podcasts and earn money without any constraints. It serves as a less expensive marketing tool for business owners and it aids in boosting sales rates within a short time.
[2022] Top 6 Best Podcast Recording Software for Computers
Top 1. TunesKit AceMovi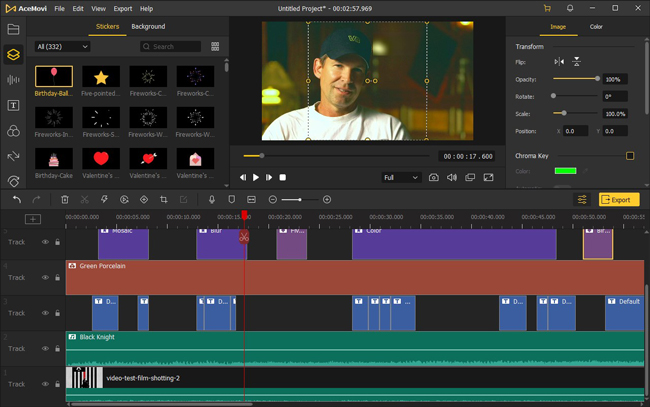 For quickly recording and editing a podcast on computers, the TunesKit AceMovi software helps you manipulate any podcast with built-in audio-making effects and features. Personalize the audio track speed and trim them based on your requirements under the timeline are at your disposal.
What makes TunesKit AceMovi better than other podcasting software is that it can enhance the audio bit rate (Kbps), sample rate, codec, and channel flexibly.
You can also convert the recorded podcasting to the desired file type like AAC and FLAC to overcome compatibility. The user-friendly interface allows you to edit the soundtracks without affecting the original quality of the content. Now, enjoy your experience with TunesKit AceMovi for free.
AceMovi Podcast Recorder
MP3, AAC, OGG, FLAC, MP4, etc.
Sound effects abound, like Bleep
User-oriented, beautiful interface
Increase or decrease sound speed
Reverse any clip with one click
Automatically save audio on HQ/SQ
Lots of royalty-free background music
Extract audio from videos and edit it
How to Record Voice-Overs for a Video with TunesKit AceMovi
Top 2. Adobe Audition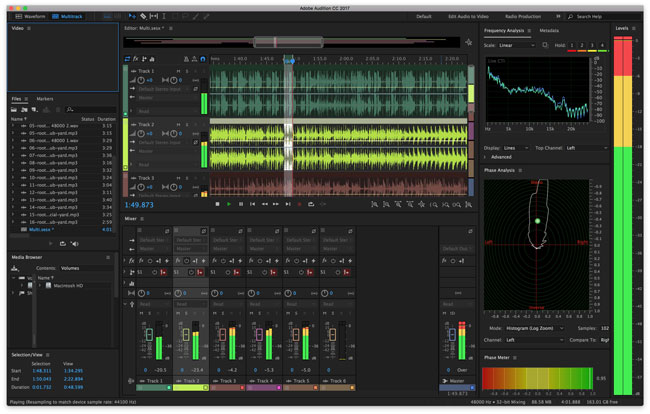 The Audition by Adobe software for recording podcast comprises sound panels to handle the audio tracks professionally. It's a professional audio editing tool and the in-built presets assist beginners to create podcasts effortlessly. You can switch to a single and multi-track recording based on your requirements.
There are options to edit the podcasting recordings in the batch format and save the changes accordingly, including music merger, splitter, cutter, speeder, reverser, and equalizer. The advanced noise suppression technology ensures the audio track is free from distortions.
Pros:
Mark each track with different colors
Full of sound effects (SFX)
Real-time sound waveforms
The customized interface where you can trim or split unwanted music clips easily
Edit, enhance, and extract audio from a video
Cons:
The free trial of Adobe Audition lasts for 7 days only, so you'll be expired by it after a limited time
Complicated workflow
Top 3. Logic Pro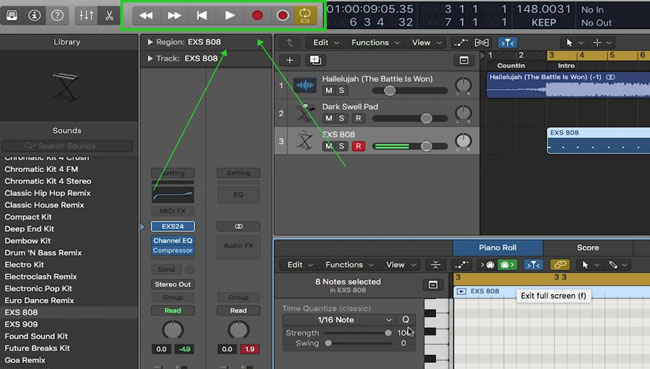 Logic Pro is one of the best selective, high-quality software for recording podcast that carries immense collections of audio creation features. You can use this software to record audio in 24-bit/192kHz. The ready-to-use plug-ins save a lot of time during the recording session. This program is suitable for professional use and you can get quality results.
Different from other podcast recorders, Logic Pro provides users with meticulous parameters for manipulating toppers, infinity, percussion, beats, and keyboards. You can set all of the parameters like a pro and check the result without any difficulty.
Pros:
Mixing songs with the integrated Dolby Atmos
Download on both macOS and iOS
Turn your audio into a three-dimensional experience
Multi-touch mixing
A grid of musical phrases and loops
Cons:
It's made for Apple only
90-day free trial expiry
Top 4. Auphonic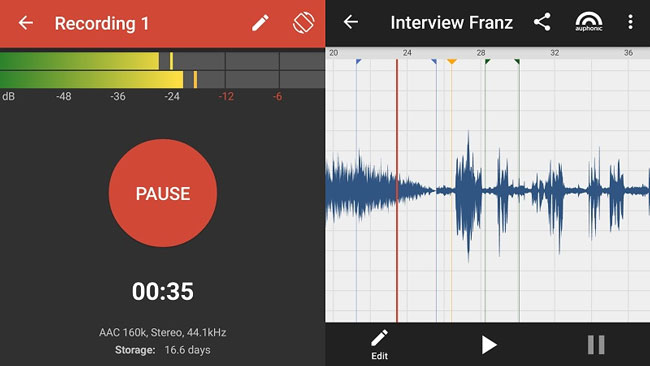 Auphonic is compatible, easy podcast recording software with an automatic audio ducking feature. You can use this tool to transcribe your content in up to 80 languages effortlessly. It is effortless to upload audio tracks to popular virtual storage spaces like Dropbox, Google Drive, and SoundCloud.
More importantly, the in-built analyzer enhances the audio level and reduces the noise attributes to obtain better results. You can review the audio waveform and edit the bit rate with a wanted number up to 320 Kbps. It's also allowed to share your songs with others on social media platforms with one click.
Pros:
Record a podcast and automatically save it
Share podcasting on social media
Trim and cut multiple audio files
44.1 kHz and more
Easy-to-comprehend experience
Cons:
The program needs to upgrade more sound effects like Bleep, Shot, and Clapper to generate creativity
Top 5. QuickTime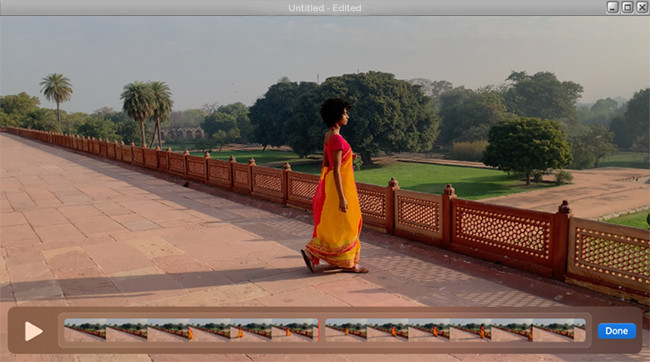 Another stunning, popular software for recording podcast that offers free service to users is QuickTime. You can merge audio and trim the files according to your needs. There are options to make quick export to desired space. It is easy to use and you can perform accurate edits on the recorded content in no time.
Apart from being a podcast recording software, QuickTime helps users quickly edit a movie by trimming, rotating, and rearranging. There is a feature to split a video into more than one clip and control each one respectively. Right now, QuickTime has versions for Mac and iPhone.
Pros:
Completely free
Record device screen quickly
Edit audio from a video
Record your podcasting and split it into multiple parts
Beginners-friendly interface
Cons:
This software is unable to run on Windows 10 or 11
Users cannot watch the results with a built-in performance monitor with this software
Top 6. Reaper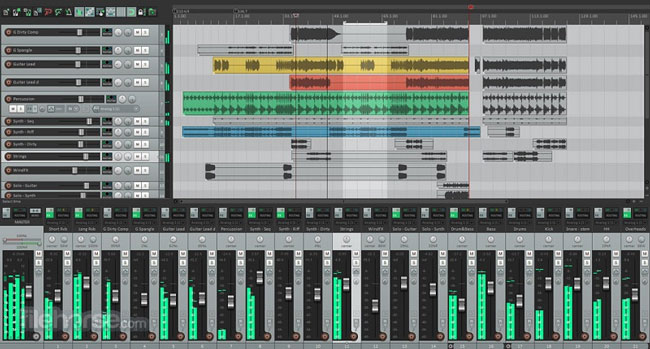 Reaper is a lightweight microphone for podcast recording that allows users to record audio tracks, edit, and process them by mixing other soundtracks. This tool uses 64-bit audio processing and allows external plug-ins. There are options to personalize the layout and supports multichannel routing.
The same as Adobe Audition and Logic Pro, Reaper comes with a trackless timeline and powerful audio editing effects. However, there are differences among them, namely, Reaper offers a one-time purchase of USD 60 and 60-day free of use. When it comes to the built-in functions, Reaper gives you more channels to adjust sound and beats like a piano.
Pros:
Create commercial or home audio files
Quick to load files
MIDI routing with a multi-channel timeline
64-bit music processing
A handful of studio-quality sound effects
Cons:
60-day for each free trial
One-time purchase only
Intricate user interface
Top 7. Anchor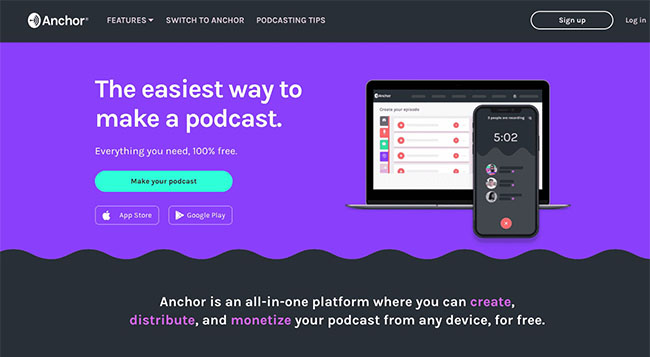 Anchor is a reliable podcast recorder software that features impressive in-built controls to customize the content. This tool records the audio tracks with high resolution up to 48kHz. Use the split track recording options to entertain many audiences at a time.
You can find noise suppression features to improve the quality of the recordings and the sound is stereotype. Implement the echo cancellation option to get the best audio clarity while streaming. Anchor is so easy to control so even entry-level editors will love it.
Pros:
Preview effects in real-time
Upload your videos on the media
Free for everyone
There are versions for mobile phones
Save podcast recordings automatically
Cons:
Plain sound effects
You cannot enjoy the video hosting feature
The Final Verdict
Thus, you had an interesting discussion on the best recording software for podcasts, including free and paid choices. Surf the above-discussed tools and connect with the perfect one that suffices your expectations. The foremost goal of any recorder is to create a piece of audio track free from noise and external disturbances.
The editing options in-built with this recording software assist the users beyond boundaries. Stay tuned to explore the associated podcast tools to create an inspiring soundtrack for the target audience. By the way, if you want to edit a podcast for videos, TunesKit AceMovi or QuickTime will be advised.