Video stabilization is a significant aspect of video editing and it determines the clarity of the content, which is the process of overcoming the distortions in the media files that happens due to shaky moments during the shooting mode. The pixel and resolution values get affected and there is a need to restore those attributes to acquire quality videos.
In this article, you will be surfing through the best video stabilization software that is reliable and gives you astonishing outcomes. Connect with the below-discussed picks and learn to edit the videos professionally and stabilize the content for better quality results. Choose the perfect software that assists in sorting out the flaws in the recordings thereby yielding your expected work without compromising on any factors.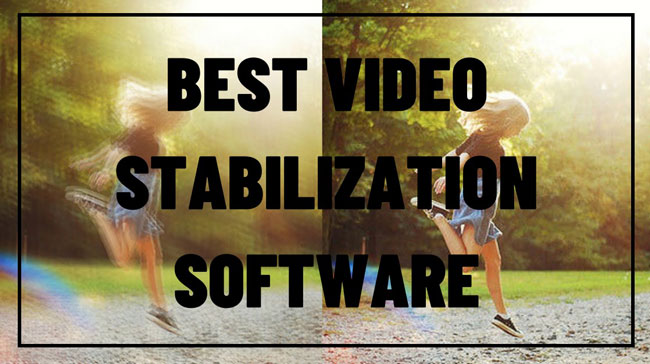 7 Best Paid & Free Video Stabilization Software for 2022
Top 1. TunesKit AceMovi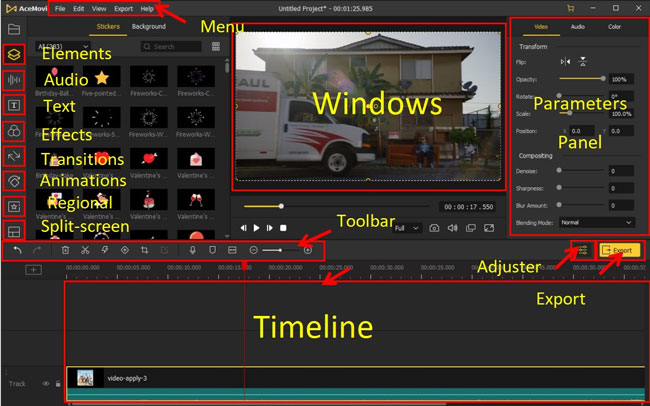 Being the top one in this listing, TunesKit AceMovi Video Stabilizer & Editor is an excellent tool to bring out the best in video content. There are surplus options in-built into this tool to customize the videos for better visibility. Here, you can find animations, transitions, and audio-related features to improve the quality of the content.
Similarly use the stabilization controls to fix the distorted pixels in the videos. It has a high level of compatibility and huge collections of databases offering a wide range of templates and other audio tracks to personalize the videos. Moreover, TunesKit AceMovi supports all file types hassle-free, including MP4, WMV, MKV, DivX, WAV, MOV, etc.
When it comes to enhancing video audio, users are able to denoise background clips, equalize the whole track, improve bit rate and sample rate, as well as set the file quality at a high level. Download TunesKit AceMovi and then you can unleash your imagination using this program.
AceMovi Video Stabilizer
Support bit-rate up to 60FPS
4K/2160p and Full HD/1080p
Denoise background noise
Equalize audio professionally
Change video sharpeness and blur
One-stop tone & color balance
Export video at a quick speed
How to Use TunesKit AceMovi to Make Your Video Quality Better
Top 2. Movavi Video Editor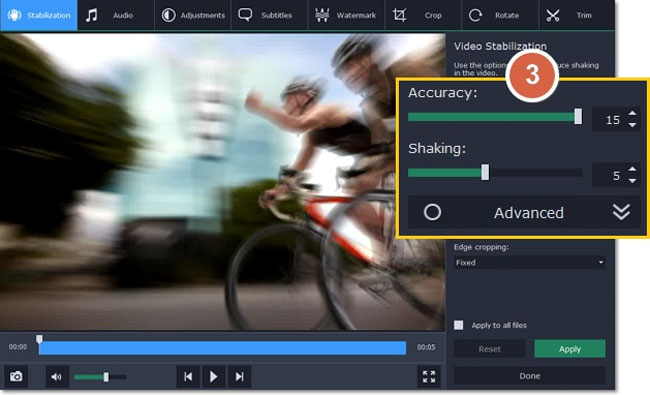 One of the best video stabilizer software that helps to fix the flaws in the videos effortlessly is Movavi. Using this program to add titles, filters, and transitions are very simple. The Chroma Key option helps to change the background of the video content. Switch the aspect ratio values as per your desires to get the correct fit on your screen.
The stabilization technique helps to remove the shakes in the videos. If you want to learn how to stabilize a video with Movavi, just open up the Stabilization feature, then try to control the accuracy and shaking per your needs. In addition, you can insert pictures on another picture using this innovative tool. You can also perform voiceover using this tool precisely.
Pros:
Specific workspace for video stabilization
Color grading & adjustment
Record your screen and take a snapshot
A lot of video effects included
Crop and trim any file format
Cons:
7-day free trial limit, so you'll be expired after that
The rendering time is a bit slow
Top 3. VideoProc Converter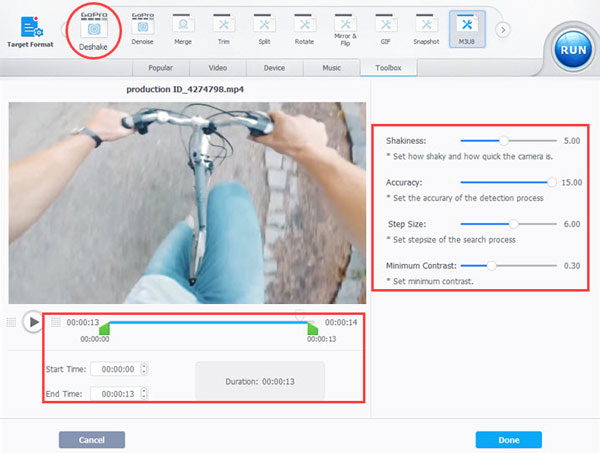 VideoProc Converter is video stabilizer software for Windows and Mac that assists to make necessary changes to the recordings effortlessly. You can use this tool to change the speed, correct the color attributes, and fix any distortions precisely.
Specially drone captured images require intense edits and the role of VideoProc is impressive while handling the DJI drone footage. VideoProc Converter has a simple edit interface and you can easily sort out the controls in no time. The explicit view of the buttons helps the users to go for it without wasting their valuable time.
Pros:
Professional space for stabilizing videos
Set minimum contrast
All the features are standalone
Easy-to-follow user interface
Deshake and denoise any file type
Cons:
It's unfit for stabilizing batch video files
Only 5-min videos can be stabilized or edited for free, so you can judge that this software comes with no free version
Top 4. VideoPad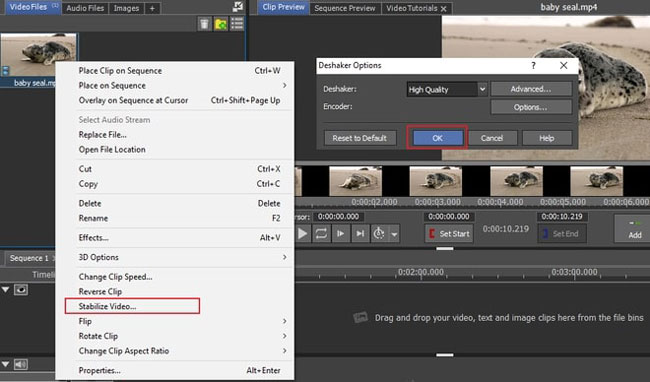 The VideoPad serves as a boon in the video stabilization field. Here, you can use this tool to add visual effects and transitions to obtain a better quality of the content. Optimize the videos by stabilizing the videos. Correct the colors and apply monochrome shades if required and increase the sharpness of the videos to add flavors to the existing file.
You can also apply filters to enhance the overall outlook of the media files. There are also audio tools like mixers and voice-overs to overlay unique soundtracks with the available videos. With VideoPad, for stabilizing videos on Windows and Mac, you can preset the quality and encoding degrees.
Pros:
Non-commercial video stabilizer
360-degree editing and previewing
Motion detection
Place videos and soundtracks in sequence
Convert video aspect ratio
Cons:
A limited amount of video effects
It takes much time for rendering a video sometimes
Top 5. HitFilm Express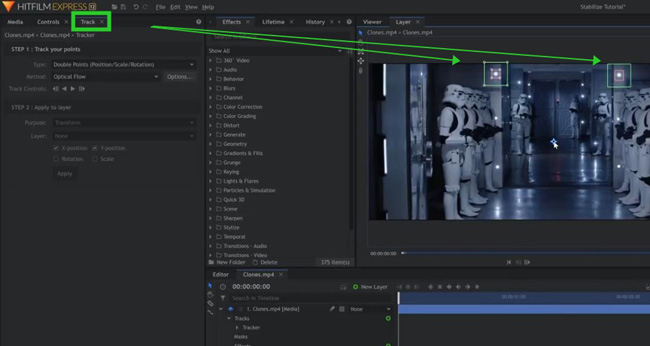 Do you want to find a great VFX video editor and stabilizer? HitFilm Express can be your best option, which is an exceptional video stabilization software on Mac and Windows, along with a wide range of professional features in video edits.
HitFilm Express stabilizes the video content and works on the film grains to get cinematic looks. You can make desired changes to the videos and use trimmers to adjust the videos as your needs. There are options to customize the audio tracks and try playback on the available content.
Pros:
A plethora of SFX
Stabilize a video by the X/Y coordinates
Clean, trackless layout
Distort sequential frames
Sharpen the blurry areas in your videos
Cons:
There is no free version for users
Heavy OS requirements
Top 6. Coral VideoStudio Ultimate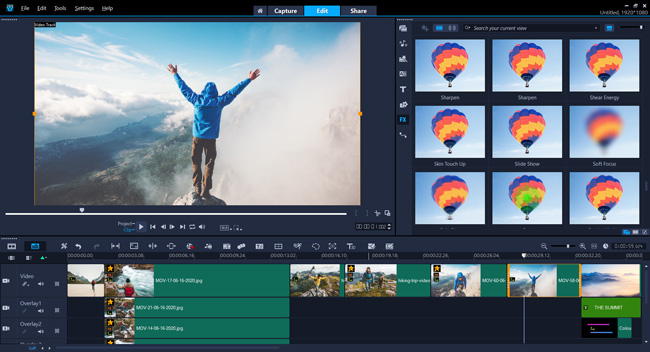 If you are a new editor, then Coral VideoStudio Ultimate is a perfect video stabilization software choice. It has a simple interface and supports a wide range of file formats. You can use this app to fix the shaky video content in no time.
The stabilization feature helps you to get rid of the distorted pixels on the media files. The footage recorded with an action camera displays shaky content and therefore the role of Coral Video Studio ultimate seems to be crucial. Inexperienced editors can handle this software wisely to stabilize the videos professionally.
Pros:
Clone yourself in a video
Add subtitles and change font, size, color, etc.
Unlimited tracks
Share your editings on YouTube and Facebook
Advanced color grading
Cons:
A few video formats provided
30-day trial for free
Top 7. FilmForth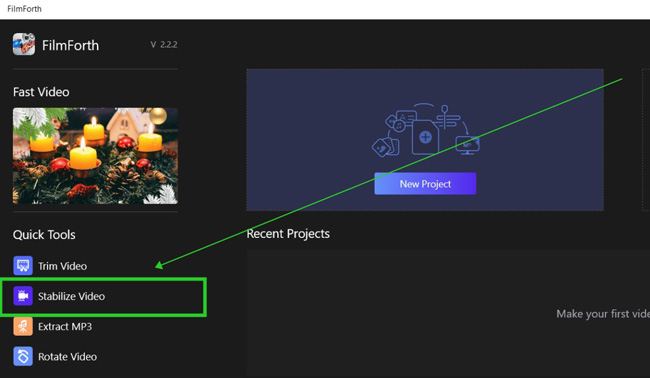 FilmForth is a free, open-source video stabilizer software that is hailing from IOForth. It has a user-friendly editing interface. The stabilization options ensure the videos are free from shaky captures.
Apart from optimizing the video content, you can use this app to add subtitles, make slideshows, work on the video speed, add a logo, and try voiceover to make the videos outstanding.
On top of that, you can choose to insert filters, customize the video background, and trim the content according to your needs. There are options to freeze the frame to create an excellent clipping for your requirements. All the critical features are built in the toolbar area that you can apply in no time.
Pros:
Pre-designed panel for video stabilization
Extract MP3 audio from videos
Save your project in real-time
Smart motion-tracking effect
Cons:
It lacks advanced features for pro-level editors
This software needs to improve the crashes when extracting audio files
FAQs to Vide Stabilization Software
1. Is audio important for stabilizing video files?
Definitely! There is a need to work on the audio track while stabilizing the video files. When fixing the shaky videos ensure the audio makes a follow-up accordingly without any lag or lead issues. The in-built audio controls help to sort out this issue in no time.
2. Which software is best for video stabilization?
You can use software like TunesKit AceMovi, Movavi, and Coral VideoStudio to meet your video stabilization needs. Connect with the desired tool based on your experience level. Beginners can opt for the TunesKit AceMovi software on their computers because this software provides the best user experience and has no expiry.
3. Can VLC stabilize video? Which one is better than VLC?
Yes, VLC stabilizes the videos. When the distortion level is minimum you can opt for VLC to fix it precisely. For intense shaky content, go for the TunesKit AceMovi software for desired outcomes. It helps you to overcome the unwanted pixel distortions on the video and stabilizes the content accordingly.
The Bottom Line
This article had given a short synopsis of the video stabilization software for Windows 10, 11, and Mac. There is a need to edit the videos to obtain stunning outcomes. It is high time to sort out the shaky video content using the above-discussed reliable software. Now, choose your favorite application after surfing through its features in depth.