Cropping a video is pretty necessary to ensure you don't include unwanted distracting portions or black bars in your videos because it's hard to enable your audiences to indulge if the uploaded content contains glitches or goes with an uncomfortable visual experience. To make your video looks perfect and doesn't come with irrelevant bars or watermarks, you may look for a reliable video cropping tool, aren't you?
This post reveals the top 12 video cropper picks that can help you crop the width and height of the video canvas as per the requirements of different platforms. For instance, the aspect ratio of 9:16 is common for Instagram Reels and TikTok Posts, while 16:9 for Facebook and YouTube is revealed. Let's start this review.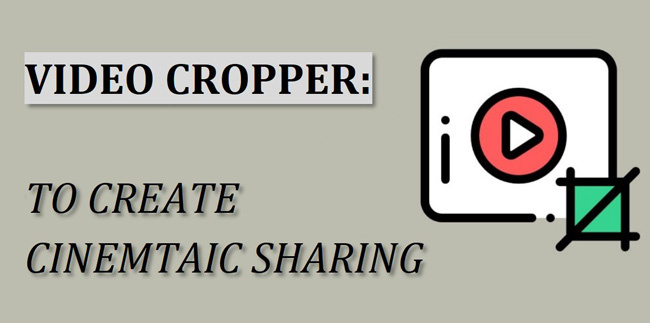 Top 6 Best Video Cropping Software on Windows 10 and Mac
This part mainly refers to all-in-one video editing software for your computers. Apart from powerful cropping, you can improve the audio and color of your media with them as well. Also, we're happy to share with you the tutorial on how to crop a video quickly.
Top 1. AceMovi Video Editor
One of the things about cropping a video most editors have noticed is that videos tend to lose the original resolution quality, which may drop frames and cause an audio disturbance. Hence, you must look for a video cropper that can help you maintain the video's original resolution despite cropping more than half of your video.
AceMovi Video Editor lives up to your expectations as an outstanding video cropper for both personal and commercial use with drag-n-drop UI. Using it, you have the access to directly use pre-built cropping options (16:9, 9:16, 1:1, 4:3, 3:4, etc.) or customize the aspect ratio of your video by resizing the edges.
AceMovi Video Cropping Tool
Use the ready-made video dimensions
Applied to various video/audio formats
Customize video size into cinematic
Released trial version for entry-level
Advanced color grading & music balancing
Endless tracks to be added to timeline
Following the guides to crop your video with AceMovi on computers
Get AceMovi Video Editor. Launch it and import your videos to user interface
Once you have downloaded AceMovi on your computer, operate it directly, then you can put the videos you need to crop under the timeline or click the "File" > "Import Media" icons to pick up the file. The timeline is trackless, meaning that you can edit multiple images, videos, and audios at once.
Resize edges of canvas manually, or change position degrees from "Properties"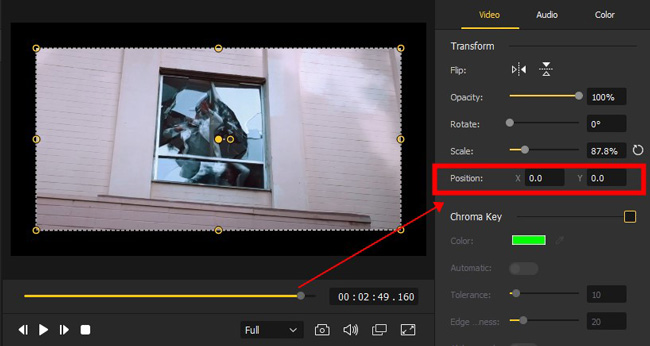 Here is the first method to crop your video by AceMovi - Drag the edges of the canvas to the points as you want. The performance monitor is customizable, in other words, you can crop the upper or bottom parts of your video with ease. Also, you can fill in position values in the "Position" bar from "Properties" in your right hand. However, in this case, you may find the width is not proportional to the height. What about trying the second method?
Use built-in video cropping function to change aspect ratio of your media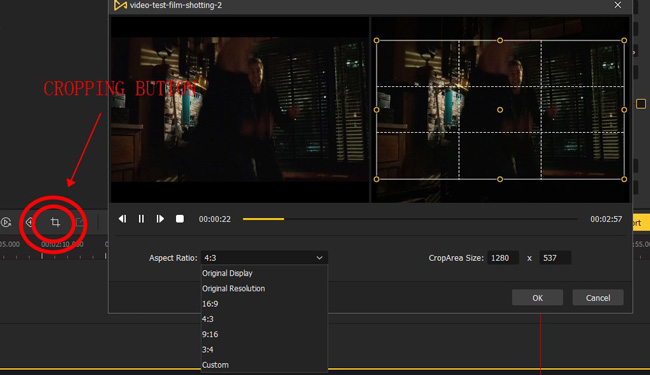 If you want to convert the aspect ratio of your video to 16:9, 9:16, 4:3, 3:4, or others that are commonly used, you have to click the "Cropping" button from the interface. The pre-built dimensions are set inside the "Aspect Ratio" in the cropping workspace.
Export the cropped video to your save path, with wanted format and quality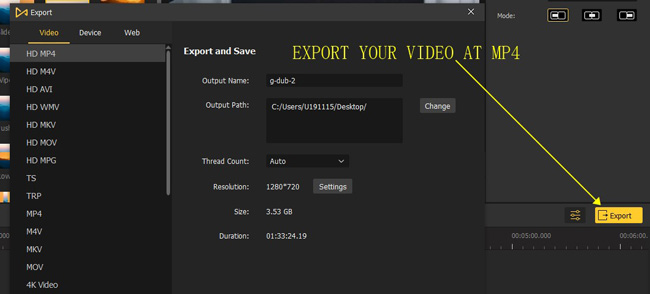 If you like the cropped video, click "Export" to export your video from AceMovi. It allows you to set the video format, save path, video resolution, audio bit rate, and more parameters.
Top 2. VLC Video Cropper
People use VLC Media Player to watch streaming lives or high-quality media. VLC is stand out because it is cross-platform and open-source. Users can download VLC on Windows, Mac, or Linux. Even mobile phones can download it for free, but the app versions are not so brilliant. One of the most important reasons video editors choose VLC lies in the built-in video cropping options. VLC offers you multiple video dimensions such as 16:10, 16:9, 4:3, 1.85:1, and 2.21:1.
However, if you change video aspect ratio when playing your video in VLC. The effect is temporary, which means you can watch the video in a different aspect ratio but cannot download it. If you want to use VLC as a video editor to crop the imported files, you need to go to "Tools" > "Preferences". Under the "Show settings", choose "All". Navigate to "Video" > "Filters" > "Croppadd". Enter the values in the blank boxes under the "Crop" section. Finally, tick "Video Scaling filter" from "Filters", then set the file name to save the video.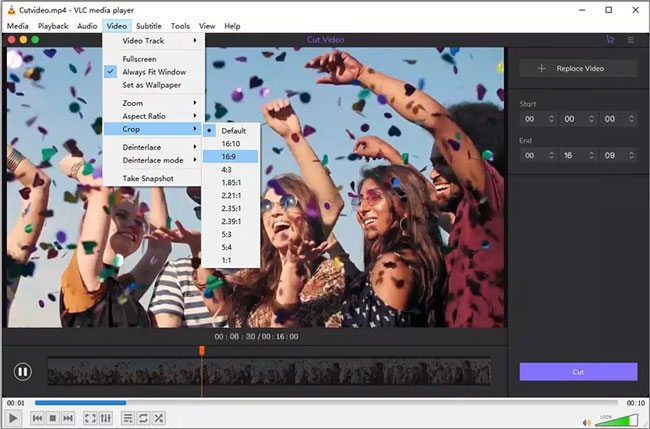 Pros:

Free download for Windows, Mac, and Linux
More video aspect ratio options
Excellent video effects and sound effects
Mature color correction feature
Support a lot of video and sound formats
Cons:

If you want to edit video, this software seems complicated
The user interface is out of date because it was designed for playing videos rather than editing videos
Top 3. OpenShot Video Cropper No Watermark
The same as VLC Media Player, OpenShot is device-friendly software for Ubuntu Linux, Mac, as well as Windows OS. But the difference is that OpenShot is a professional video editing and cropping software rather than a player. OpenShot contains a host of video effects to grade the background color and enhance the video quality. "Noise", "Delay", "Echo", "Distortion", "Stabilizer", and "Tracker" are some of the popular effects in OpenShot.
This software has no paid versions, that is to say, all of the elements and effects are free to use up to now. It allows you to add transitions and funny emojis to the video clips from the toolbar. Besides that, the left-side panel allows you to adjust the cropping values according to your needs. And you can see the changes in real time.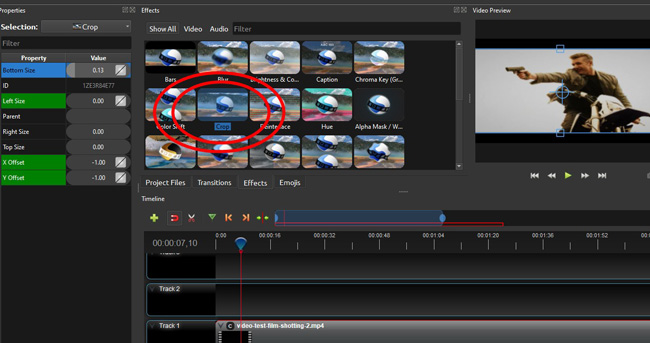 Pros:

A plethora of video transitions that are classic
Advanced video effect editing and size cropping plates
High video resolution output with different bit rates
Interesting emojis to add to your video
Video cropping software no watermark for free
Cons:

There are no ready-made aspect ratios such as 16:9 and 4:3
This video editor needs to add royalty-free music resources
Top 4. iMovie for Mac and iPhone
If you're looking for a reliable and free video cropper for your Mac or iPhone, you shouldn't ignore iMovie. Its splendid video editor allows you to edit the video in any manner you want. iMovie has a couple of fantastic video cropping options, including Ken Burns and Crop. After cropping the video, you can adjust the video accordingly, and guess what? This tool doesn't tinker with the resolution quality of your video.
To crop a video, you must drag it to the timeline and then adjust the position by dragging the corner handle to a place you'd like to crop the video. The "Crop" button is set on the toolbar in the upper right place. But more than that, iMovie is an easy-to-try video cropper no watermark.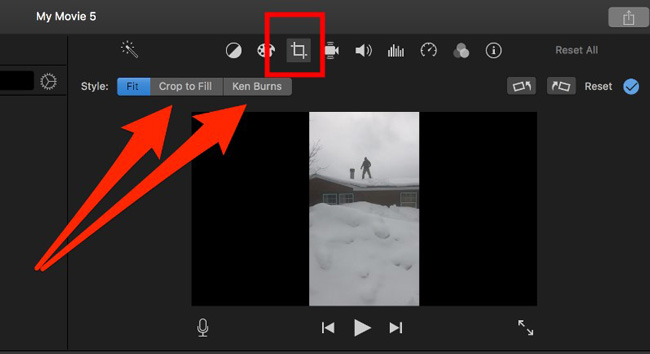 Pros:

Free YouTube video cropper with straightforward user interface
Automatically crop to fill by the "Smart Ken Burns" function
Pre-installed in your macOS or iOS
Green screen effect to generate science fiction clips
Save your edited or cropped videos automatically
Cons:

It may lag when exporting MP4 videos
You cannot download or try it on Android or Windows
Top 5. Olive Video Aspect Ratio Cropper
Olive Video Editor is one of the easiest YouTube video croppers that aims to make your video out of the ordinary. You can access the cropping from the "Effects panel" and then crop any part you think that it seems unnecessary in your video.
Luckily, this video editor for Windows offers parameters including Bottom, Right, Top, and Left that can help you to decide the pixels you'd like to crop from each side. It also offers a relatively simple user interface that makes the video cropping process easy. It combines the cropping tool with Zoom and Pan while allowing you to drag the cropping box to the area you'd like to cut the area from. Moreover, you can use zoom-in effects and then create panning effects.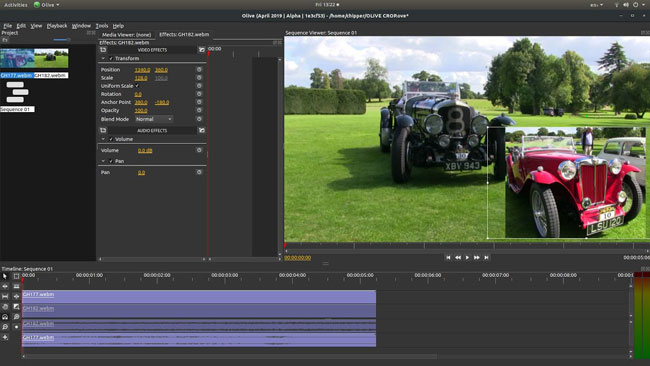 Pros:

End-to-end color management plate
Performant disk cache ability
Comfortable 5-panel layout
Crop video with customized aspect ratios
Made for Linux, Windows, and Mac
Cons:

The new version Olive 0.2 is still unstable
Top 6. VideoProc Converter
Another spectacular tool that can make video editing look unique and effortless is VideoProf Converter. It is a multidimensional video editor that can perform multiple operations on your video. However, if you're looking to crop the video, you can easily access the cropping tool from the editing panel. To edit or crop the video, all you need to do is drag the video to the editing panel and then let the tool do the rest.
The features of audio and video trimmer, effects, subtitles, cutter, cropper, and watermarker are built-in the "Edit Video" plate, you need to enter into the "Cropper" panel on the profile. Then go to resize the canvas, preset the dimensions, or perform a change in the blank dialogue.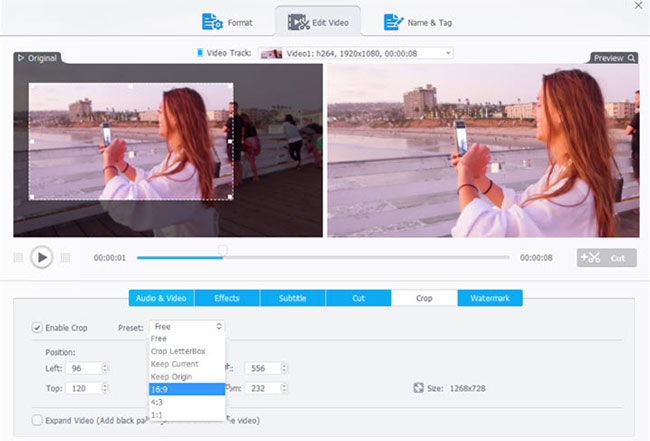 Pros:

Crop large 4K/HDR videos
370+ input codecs and 420+ output formats
Built-in dimensions for YouTube, Instagram, and Widescreen TV
Extract subtitles from the footage
Cons:

The full HD and 4K resolutions are paid
There is no monthly subscription option
Top 3 Best Online Video Croppers No Watermark
As we know, online video editors are effective in converting and cropping video because users have no need to download and install anything. Nevertheless, you may face file size limits and laggy internet quality issues. If you prefer cropping a video online for free, try the three tools given in the following.
Top 1. VideoCandy Online Video Cropper Free
If you want to find a free online video cropper without paying, then you can opt for VideoCandy, which is a toolset to crop, edit, speed, convert, trim, and enhance your video and audio files online for free. More importantly, it is a cropper that has no watermarks and no file size limit. But you need to wait for much longer when uploading large-size videos. This tool gives you off-the-shelf video aspect ratios, including 1:1, 16:9, 9:16, 4:5, and more.
It is easy to continue to edit your videos with other features like trimming, or you can download the video for free. This website won't ask you to register before exporting. Some features are automatic such as the video-compression project. With those tools, you simply add files to the system and click the button to begin, then get your videos easily.
Pros:

Clean operation interface
No file size limit, although it is an online video cropper
Options to directly change the aspect ratio of your file
No watermarks remain after downloading
Cons:

It is slow to upload or download large-size files
You cannot choose a specific video format with the cropping function
Top 2. Kapwing Online Video Cropper
After trying a few online tools, if you're looking for an online video cropper, Kapwing might be the best option. It comes with a bounding box that helps you select the area you want to cut from the video. In addition, it is beginner-friendly, meaning newbies won't find it hard to crop the videos in this tool. After cropping the videos, you can easily share their videos with your friends on social media.
Using this tool, you can cut, trim, or crop your video with advanced features. On top of that, this tool also has some essential functions that can make your video look excellent. It allows you to drag the frame to decide the area you want to cut from a video. The notable thing that this tool comes up with is that you won't see any resolution quality loss despite cutting down half side of your video.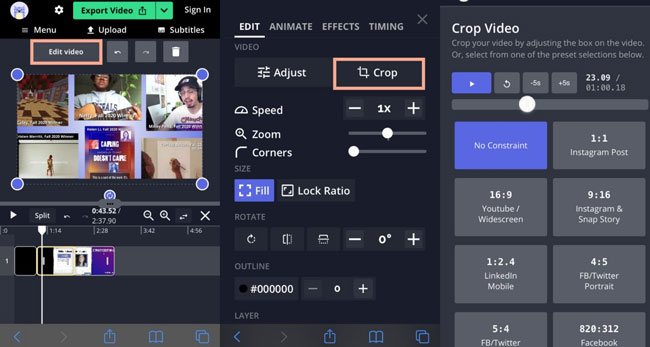 Pros:

Video cropper online no watermark up to 720p
Hundreds of stock music and audio effects
Convert clips into other formats or GIFs
Record a new video online
Import files via URLs
Cons:

You need to buy the premium versions of Kapwing to export videos or convert output format
Top 3. EZGif Video Cropper Online
Want to try and apply an online video cropper that can help you crop the video without watermark, Ezgif can be an exciting gig. The best thing about this tool is it doesn't ask you to install the software. Instead, you can visit the official website of this online tool via Chrome, Opera, Safari, and Firefox.
Using this online video aspect ratio cropper to start a new project is pretty straightforward as you'll only need to upload the video you'd like to crop and then get your job done afterward. You can switch to other features on one page, including the Trimmer, Cutter, Splitter, Reverser, Recorder, and Merger.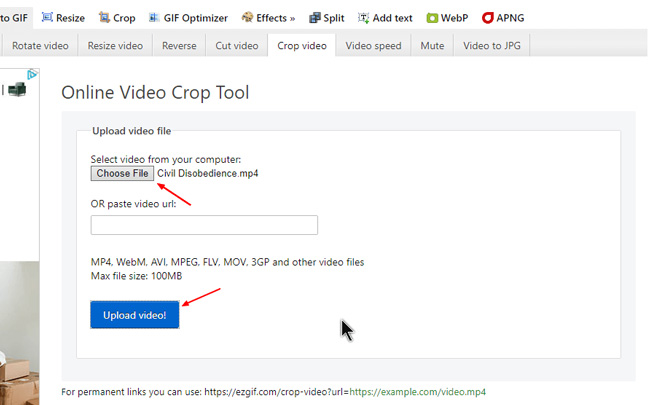 Pros:

Online video cropper free
Simply designed workflow
Support the HD resolution
Quickly export files without queues
Cons:

A lot of advertisements
Large files are not advised to edit with it
Top 3 Best Video Cropping Apps for iPhone and Android
Want to crop a video on your mobile phone? In fact, a lot of video editing apps are better than some software and online tools because they are lightweight and convenient. As video uploading and sharing platforms are running on cell phones, users can download and post cropped videos on their media through an app with no hassle. Let me introduce the best video cropping apps to you.
Top 1. VN Video Cropping App
VN is the first video editor that is free for both iOS and Android share with you in this post. It has a series of options to convert the width and height of your video to satisfy the uploading requirements of Instagram, TikTok, WhatsApp, and YouTube. For instance, it allows you to change the original footage into 1:1 for Instagram with a couple of clicks by the "Crop" function on the toolbar.
Exporting video without watermarks makes VN different from other apps in video making such as KineMaster and InShot. VN is alive with a few video templates to make a quick video project for holidays or festivals. Also, you can add titles and descriptions to your video and share it via email or other social media. By the way, 720p and 1080p are the output video resolution choices.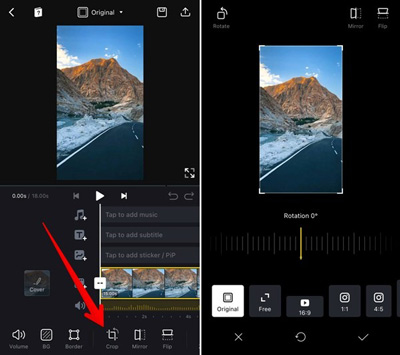 Pros:

One-stop video-making apps
Aspect ratios for YouTube, Instagram, and more platforms
2160p is the maximum video resolution to choose
Add animated captions with wanted color and font from the library
Cons:

Some elements are paid
Compared to software, the screen for cropping is too small
Top 2. KineMaster Video Cropper App
The user interface of this video editor is horizontal, which gives users more space to compare the details when editing and cropping a video on this app. KineMaster has built-in a standalone sound effect panel to enhance the quality of the background sound of your video with volume changing and audio equalization. What's more, KineMaster is able to edit a green screen to change the video background to AI.
More functions will enlighten your imagination in making a video with KineMaster. The filters and transitions are designed to change the style of your video. There are redo and undo options to help you recover the former steps. All in all, video editors won't feel disappointed after downloading it to crop, trim, split, speed, and convert media files. However, even on the demo version, you will find a watermark in your video.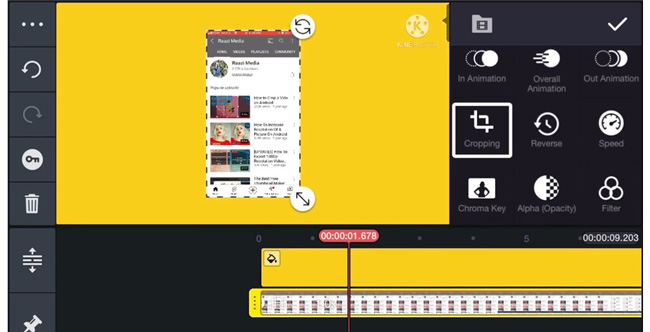 Pros:

The user interface shows more details
Smart Chroma Key functionality
A library of music resources and sound effects
Convert video playback speed partly or wholy
Cons:

You need to buy the premium version to unlock music resources and some features inside
The free version has watermarks
Top 3. InShot Video Cropper App
If you like adding stickers and emojis to your video screen to make it lovely and more engaging, then you may need the InShot video editing app. This app provides a library of video editing elements. And the majority of them are free to use. Speaking of cropping videos with it, 1:1, 4:5, 16:9, 3:4, and more ready-made aspect ratio options are included.
Users can adjust the area for cropping as well. However, you can edit one video file at one time because it is a linear app for making footage excellent. The profile will save your cropped videos and help you post on Instagram, YouTube, or other channels with titles and descriptions.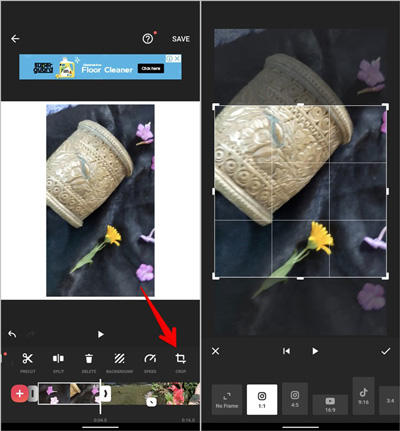 Pros:

A host of emojis and GIFs
Choose a piece of background music to add
Multi-purpose toolbar to trim and change sound volume
Control the size of your video manually
Cons:

In-apps purchases
InShot logo has been printed on your exportings
The Differences of the Recommended Video Cropping Tools
It is possible that you think those video croppers are quite similar in quality and functions, so you cannot easily find the proper tool to start cropping. To handle this problem, we're going to share with you a chart to compare the differences between those abovementioned free or paid video cropping picks. Hoping you can quickly find the suitable one.
| | Supported OS | User Experience [Tutorials] | Video Editing Ability | Ready-Made Cropping Options | Free Demo Versions | Elements [Music & Subtitles] |
| --- | --- | --- | --- | --- | --- | --- |
| AceMovi Video Editor | Windows, Mac | Effortless | Powerful | √ | √ | √ |
| VLC Media Player | Windows, Mac, Linux | Complicated | Powerful | √ | √ | × |
| OpenShot Video Editor | Windows, Mac, Linux | Easy | Powerful | × | √ | No Music |
| iMovie for Apple | iPhone, macOS | Medium | Powerful | × | √ | √ |
| Olive | Windows, Mac, Linux | Medium | Powerful | × | √ | √ |
| VideoProc Converter | Windows, Mac | Easy | Medium | × | √ | × |
| VideoCandy | Online | Easy | Medium | √ | √ | × |
| Kapwing | Online | Easy | Powerful | √ | × | √ |
| EZGif | Online | Easy | Weak | √ | √ | × |
| VN | iPhone, Android | Easy | Powerful | √ | √ | √ |
| KineMaster | iPhone, Android | Medium | Powerful | × | √ | √ |
| InShot | iPhone, Android | Easy | Powerful | √ | √ | √ |
FAQs You May Want to Know about Video Cropping
Q1: Which is better aspect ratio 4:3 or 16:9?
16:9 is the best dimension to capture a video for the simple reason that the majority of types of displays support it, including computer displays, TVs, phone tablets, and more. The 4:3 aspect ratio, also called 1.33:1 or fullscreen, covers the screens in your device, while the 16:9 is known as 1.78:1 or widescreen. They are different in basic usage and viewing experience.
Q2: What is the crop for cinematic?
The CinemaScope or anamorphic aspect ratio is made in a 2.35:1 or 21:9 ultrawide dimension. Most cinematic screen includes black bars to create the atmosphere of a film.
Q3: Which is the best tool to crop a video quickly?
Since so many wonderful video cropping options on the internet, AceMovi is the best one because of its simple-to-learn user interface and low-end compatibility. All of the features for subtitling and adding sound effects are free even on the demo version of AceMovi. Most importantly, you can choose hundreds of video output methods with wanted parameter settings in bit rate, frame rate, and video resolution.
Final Words
Cropping the video shouldn't be an issue, but the presence of unreliable tools has made it somewhat difficult for many users. To do your job quickly, we've highlighted and further updated terrific video croppers for your work. Every video cropping tool we've mentioned is worth your attention and won't disappoint you with its customized and flexible features.