As regards the current video effects rendering and generating software, After Effects by Adobe is one of the best which is made for tons of social media professionals, movie producers, visual animators, as well as video uploaders. Overall, After Effects is so popular for the motion graphics tools which create splendid animations of 2D and 3D, while images/video editing with subtitles and filters are supported at the same time. It also integrated with Premiere Pro and PhotoShop seamlessly, making itself convenient and smart. You may want to know how to crop video in After Effects for various purposes. Here are the best guides to make the cropping mission easy and interesting.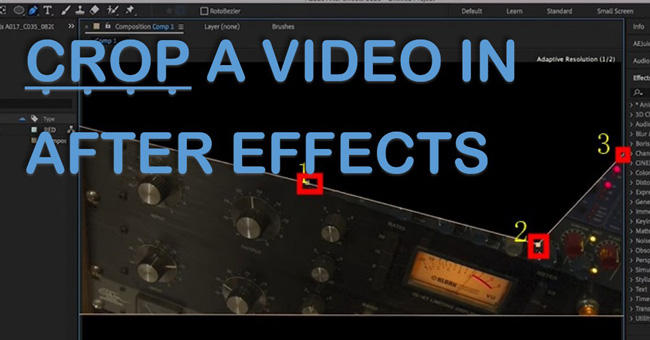 After Effects: The Basic Guides to Crop a Video
This part mainly talks about the basic ways to resize the height and width of your video imported to After Effects. Once you have registered and gotten free or paid account, you have access to use it for video editing. When it comes to the aspect ratio requirements, the different platform needs specific ones, like YouTube is 16:9 and some cinematic movies are 1.85:1 or 2.39:1.
Launch After Effects on your computer. Add a new layer with video importing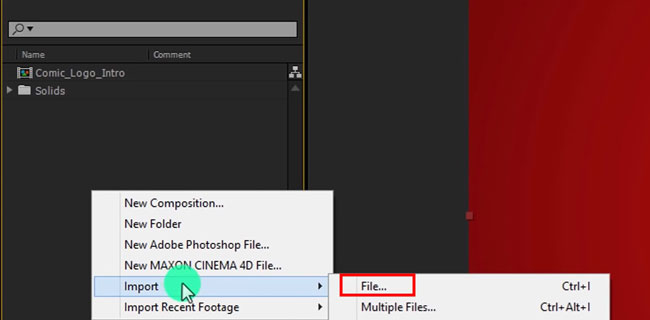 Add a new layer in the left-hand panel to start a new project when you've already launched After Effects. Right-click the blank space, then go to "Import" > "Files..." to select the local videos to import. It allows you to import recent footage as well.
Find the "Region of Interest" icon from the toolbar. Hit it and resize the canvas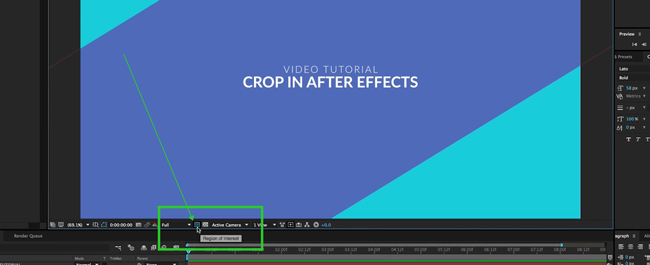 Find the toolbar of After Effects in the middle of the user operation interface. When you have the "Region of Interest" icon picked, you can resize the canvas of the video vertically or horizontally. Alternatively, for After Effects Crop Video, cropping the clip by directly drag-n-drop the edges of the canvas is permitted.
Navigate to "Composition" > "Crop Comp to Region of Interest" on the menu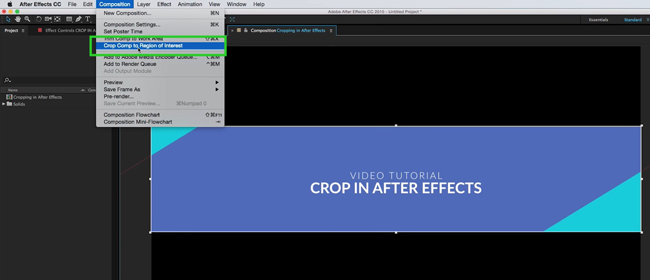 Later, you need to fit the changed canvas into the project, otherwise, you will find some black bars remaining in the output video. To do it, click "Crop Comp to Region of Interest" from "Composition" in the menu bar. This will crop the video to the project checkbox automatically and help you adjust the canvas to enhance the result as well.
Enter wanted width and height on "Composition Settings.." as per your needs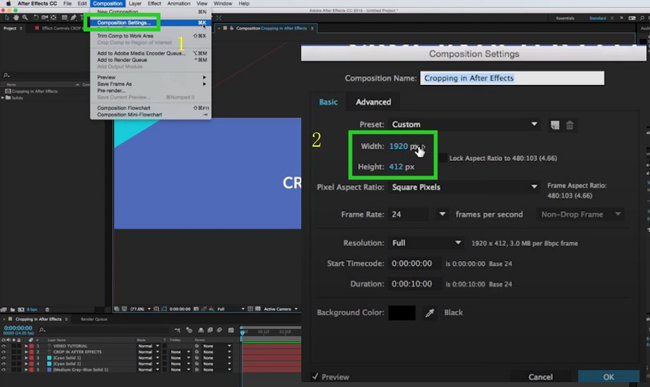 If you want to know the detailed px value of the width and height of the current project, or you need to adjust it more precisely, go to "Composition" > "Composition Settings..." where you're allowed to customize the aspect ratio (you can choose to lock the width and height together). On top of that, resolution, background color, frame rate, and more settings are at your disposal here.
How to Crop a Video Professionally in Proportional Grid by After Effects
If you want to crop your video into triangles, quadrilaterals, pentagons, or other shapes that are unusual but interesting for a video, After Effects makes this possible by dividing the canvas into adjacent parts with the "Proportional Grid" feature. In this process, a certain region is created by connecting points you click on the screen. Ready? Let's scroll down to learn the guides.
Put your video under track. Select "Proportional Grid" from toolbar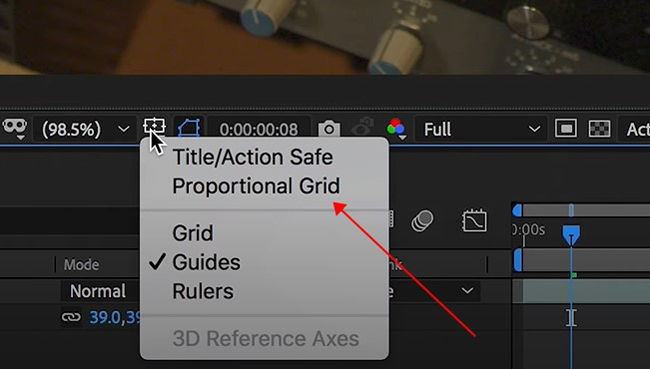 Once you have your layer and videos imported, choose "Proportional Grid" from the specific icon on the toolbar as the picture depicts. Then the whole canvas will be divided into several grid squares.
Zoom in the window to 50%, 33.3%, or other percent values alike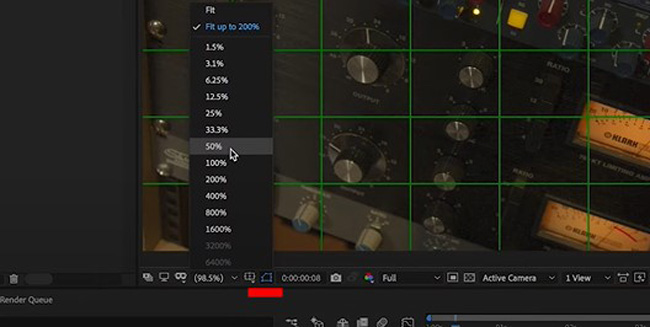 Then choose the "50%" option from the Zoom-in panel where both zoom-in and zoom-out are accessible. This step is intended for an easier video-cropping procedure because you need to make accurate dots.
Initiate the "Pen" from the top-left menu. Create the cropping dots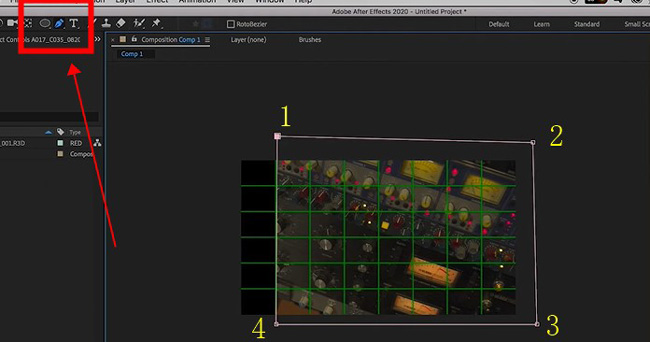 You need to start using the Pen feature from the menu place to crop video in Adobe After Effects, which helps you create and connect dots that generate a new canvas according to the grid squares divided at the very beginning. The area that has been circled will be acquiescently deleted after exporting or composition fitting.
Crop video canvas into special shapes by dragging-n-dropping dots
Click "Export" to export the video from iMovie no matter if you just finished the post-production or want to share edited projects. For posting a video on YouTube or other social media, click the icon directly. If you want to fine-tune file settings like resolution and codec, find and click "Save Video" from the pop-up options. Then give the video descriptions as your want.
Adobe After Effects Frequently Asked Questions
1. Is Adobe After Effects easy to use and comprehend?
Technically, After Effects has a bit hard learning curve compared to many other video editors like Premiere Pro, Final Cut Pro, iMovie, AceMovi, and OpenShot, even users of all levels appreciate and use some built-in functions and SFX. Under the circumstances that you've tried other Adobe software or editing tools, it's easy to find some traditional editing skills are very different when to be performed in After Effects, but it is still worth of learning.
2. Do After Effects cost money?
There are three different pricing terms from $20.99 to $239.88. Most people use the basic one which costs $20.99 every month after the 7-day free trial after registration. It's worth noting that the free trial is safe and contains all the updates and premium features in the latest version that can be downloaded officially.
3. Why After Effect is so slow?
As a matter of fact, you'd better not download After Effects on a low-end computer because it needs a responsive system and large storage. If you want to solve this problem without changing the system, you can try to lower the project settings, such as resolution (from 4K to Full HD) and bit rate (from 60 FPS to 30 FPS). An alternative, more efficient way is re-direct your cache to a specific SSD drive.
4. Should I use Premiere Pro or After Effects? What are their differences?
Recording, cutting, trimming, converting, color grading, and configuring are some of the main missions of Adobe Premiere Pro, while people usually use After Effects to produce professional motion graphics and apply eye-popping VFX. Generally, both of them are good enough for making decent video ads, movies, animations, etc. But the pre-condition is which one covers your needs better and whether you want to encounter a hard learning curve.
AceMovi - Best Alternative to After Effects for Easy Video Editing
What users intended to do when they want to know which one is the best After Effects alternative tool for computers? Usually, users need a video editor that is intended for quicker, easier, and safer operation. When it comes to cropping a video, TunesKit AceMovi Video Editor provides pre-made aspect ratios to help you crop MP4 or other types of videos automatically. No matter whether you want to make your video cinematic or available for uploading on YouTube, give AceMovi a try!