For TVs, movies, and videos, color is so essential as it is one of the most basic compositions. The background color is intended to set the overall mood and tone of your storytelling and camera language. That is to say, the more right the color is, the more visually engaging the video project you are handling will be.
Color correction and color grading are usually used to interchange with each other in the post-production process, in fact, they're different in sequence, definition, and implementation method. Right here, let's dive into the color correction vs. color grading, as well as the best color balance tools to make your video feel natural and unprocessed - let the video shows a feast for the eyes.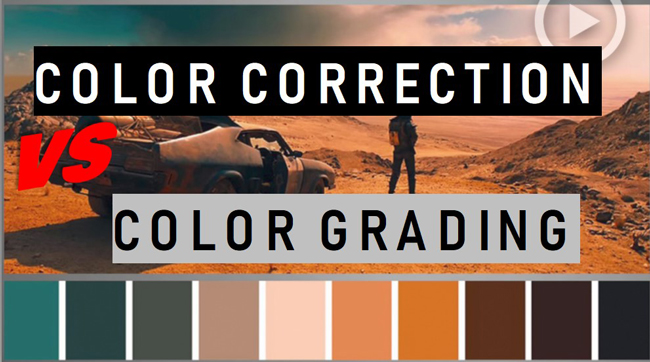 Color Grading and Color Correction Video Definition
What's Color Correction? How Do I Know If I Need a Color Correction?
Color correction is a technique to fine-tune video saturation and contrast, balance the white and black degrees, improve the exposure, as well as fix some incorrect color corners on the screen. In other words, when you're dealing with a video color problem, you actually need to make adjustments on the basic values of tone (brightness, saturation, contrast, hue, exposure, etc.) and color balance (Cyan-Red, Yellow-to-Blue, Purple-Green, etc.).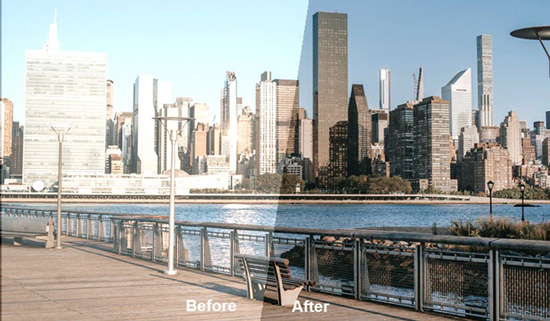 There are some cases in that the color of your video should be corrected. For example, when playing the video clip, the background is too dark or light so viewers cannot see the motions inside the content clearly. Others include you need to fix uneven video color regrowth and ashy-became-brassy. The same as editing a pic, the changes in the contrast, saturation, and hue of the video will have an influence on the results.
What's Color Grading? How Do I Know If I Need a Color Grading?
Color grading is used by colorists to personalize the visual atmosphere and tone of your video to make it seems relevant to the background items. For instance, when making a movie, aside from choosing the aspect ratio of the movie as 1.85:1 or 2.39:1, video editors will put a cinematic filter or overlay to manipulate the black level, luminance, color balance, and many aspects. A lot of filmmakers take advantage of a multi-panel color palette to do color grading as well.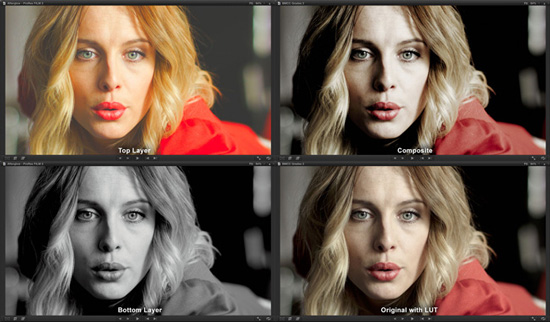 Basically, the process of color grading aims to make your video visually crisp to viewers with a unified look and graded tone. To be specific, if you want to make the video somber, it is a good idea to wash the clip in a much more blue mood. And you can put a "Blue" filter on the canvas to reach such a spectacle visual effect. In a nutshell, color grading is made for specific purposes rather than fixing color glitches in your video.
What Are the Differences between Color Correction and Color Grading?
Color correction and color grading are mainly different in three aspects - Sequence, basic content, and implementation method. To begin with, color correction is prior to color grading in the whole process of color adjustment of any video. Color correction infuses the footage with a visual mood and displays the general emotions you want your audience to feel. That is to say, the color correction will fix both inconspicuous and obvious color problems to make content natural-looking before you grade the color to make it cinematic or visually unique.

Then, people are supposed to adjust brightness, saturation, contrast, hue, balance, and other basic elements of the color in a video for performing color correction. By comparison, color grading contains filters, advanced palettes, LUTs, toning, and scope.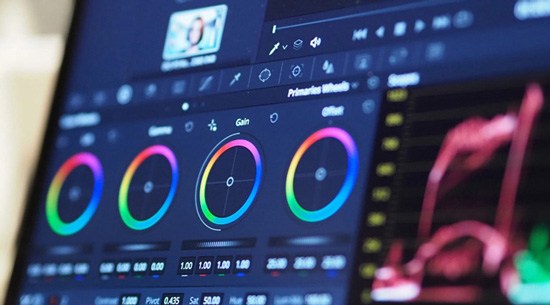 Finally, color grading needs professional video color editing software, such as AceMovi, DaVinci Resolve, Final Cut Pro, and Adobe Premiere Pro. Those tools allow you to choose from a plethora of filter and overlay libraries as well as use a palette to grade the color in real time. While almost all video editing software or apps are capable of correcting your video by changing the brightness and converting the contrast.
Color Correction VS Grading Frequently Asked Questions
Q1: What Are the Types of Color Grading?
Color grading types are various, and you can review some of the samples of it in the chart below.
| Color Grading Type | Definition/Content | Method | Best For |
| --- | --- | --- | --- |
| Analogous Color Grading | Using different colors next to each one | Change the values of red and green to reach warm color grading | Nature, landscape |
| Moody Color Grading | Cool colors | Contrast adjustment | Shadows, dim background |
| Vintage Color Grading | Retrospect mood | Stress warm color, tone down video color contrast | Flashback |
| Bleach Bypass Color Grading | A series of chaos | Emphasize video color contrast with regard to saturation | Activities, celebrations, prom |
| High Key Saturated Color Grading | Bright and color-rich | Balance hue and saturation | Artificial intelligence |
Q2: What Are the Rules of Color Correction?
It needs to calibrate the performance monitor before editing a video's color. In the process of correcting color, you'd better try a high-quality monitor or wide-gamut LCS. As regards the place to do it, a semi-dark area will be the best since it displays both bright and dark elements on the canvas. Also, notice that the largest color correction should be handled first.
Q3: Which software is best for color grading and correction?
If you want to know which is the best color grading tools or color correction software for Windows and Mac. Then you will find AceMovi Video Editor, DaVinci Resolve, Lightworks, VEGAS Pro, VSDC, and many more options good enough to use. Yet, if you need to quickly grasp how to correct and grade color in your video, AceMovi is the top one to pick. In the following, you can learn how to use this software for color balancing.
How to Do Color Corrrection and Grading with AceMovi
AceMovi is used for both low-end and high-end computers. Windows 10, 11, and macOS can operate it well. As regards downloading it for a free trial, you can find the button here to download this software for free. Aside from that, all of the built-in functions like cropper, trimmer, and recorder are easy to use. Let's learn the guides.
Use the drag-n-drop UI to add video and audio to timeline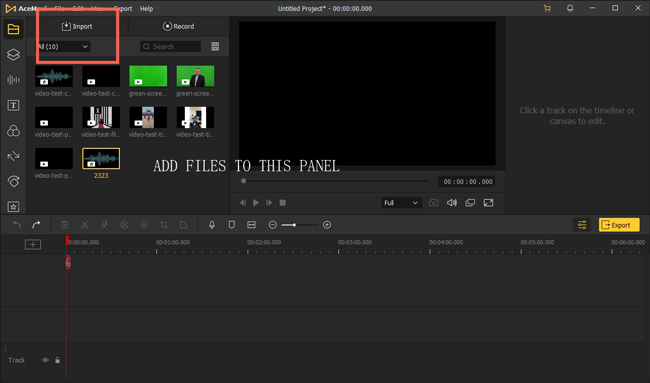 AceMovi's user interface is trackless and easy-to-use, meaning that you can add as many texts, audios, and videos as you want to combine, split, or compress. Put your media under the timeline, and begin to edit your video with this video color editor.
Correct color by adjusting saturation, brightness, hue, etc.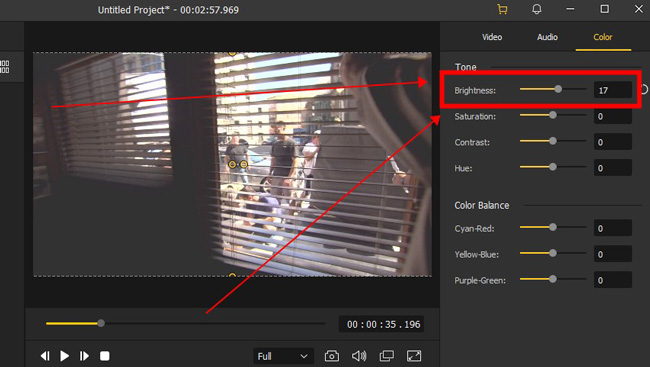 Once you have added the clip to a track, go to the "Properties" > "Color" in your right-hand place where you're allowed to fine-tune the brightness, contrast, hue, balance, and more parameters of the video. The monitor will display the differences in real time without loss of quality.
Grade color by manipulating high-fidelity filter and overlay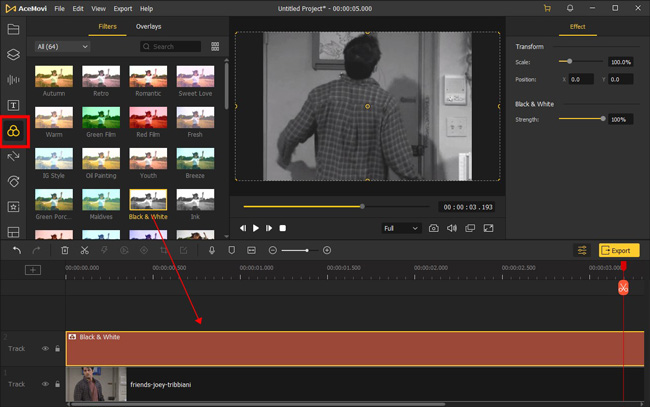 It is alive with filters, overlays, music, sound effects, text templates, and split-screen modes in the left side bar on the interface. For example, if you want to grade the color to apply the vintage effect, find the "Vintage" filter from "Effects", then put it under a new track. After that, edit the scale, position, and strength of the filter.
Download your color-balanced video project with settings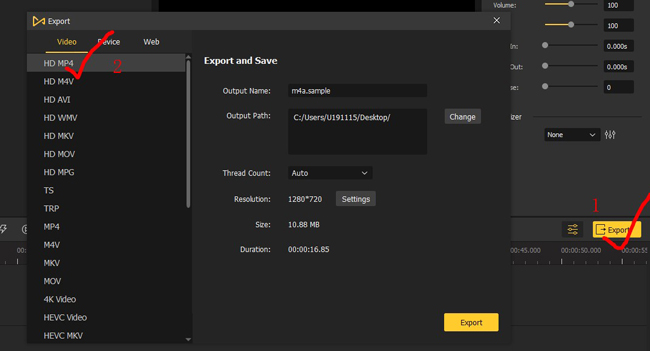 The yellow "Export" icon was set to export your video. Inside the downloading function, users can decide the save path, video resolution, video frame rate, file size, project format, etc.
Wrap-Up
If you deem that color correction is the same as color grading, then you may compound color problem fixing and color tone improving as one question. To be a colorist to figure out how to match the colors to do advanced color grading and correction, the first thing is using a good tool, then learning the effects generated by mixing colors.