Are you looking for a tool to help you edit the brightness of a video? Even though you are using the appropriate hardware for recording a video, enhancing it becomes essential for an excellent result. Of all the editing features, brightness adjustment plays a pivotal role. With the help of a video brightness tool, you can uplift a dull or dark environment that you shoot in low light.
You will come across several brightness editing tools available for the Windows platform, online, and on smartphones. However, only a few live up to expectations, making it difficult to choose a good one. Today, we will be listing the eight best video brightness editors. Read ahead to learn about them.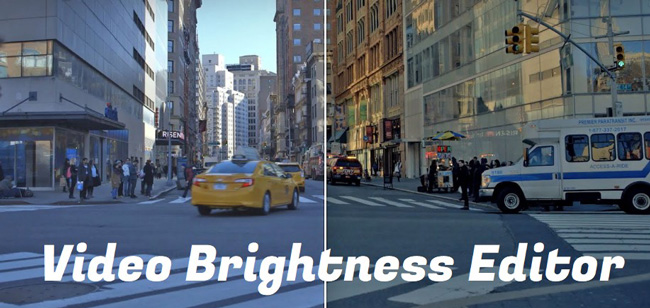 TunesKit AceMovi - The Best Video Brightness Editing Software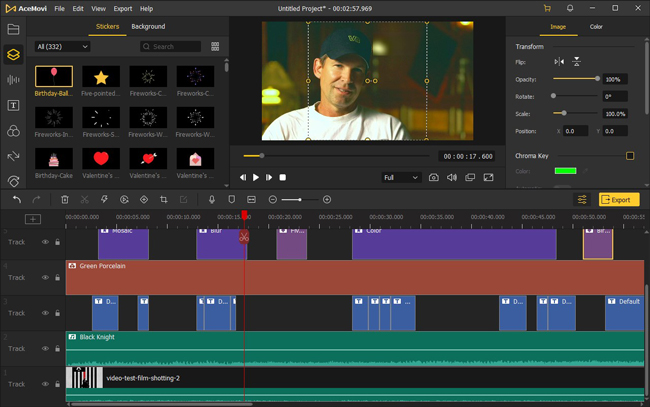 An essential task for a video editor is having performance along with features that helps in improving the overall output of raw video footage. TunesKit AceMovi is one tool that provides numerous options along with a built-in Video Brightness Editor, which is made to adjust video brightness, saturation, contrast, hue, and color balance.
The advanced editing platform is available for Windows PC and Mac. With the help of the features provided, this software can unleash imagination in a few simple steps. For instance, creating an intriguing video using basic features such as splitting, rotating, cropping, adjusting speed, merging, zooming, and adding audio and text. Additionally, the editor can detach audio from the raw footage. Download it here.
AceMovi Video Color Editor
Professional color balance and grade
Put many files under the timeline
Adjust color contrast, hue, and saturation
Change the dark background to a bright one
Video trimmer, cropper, speeder, and dubber
100% safe for Windows and Mac users
The library contains music and sound effects
High-quality exporting up: Full HD/4K support
How to Brighten a Video Clip with TunesKit AceMovi for Mac & Windows
Now that you've already reviewed TunesKit AcMovi. You must want to know to turn a dark video into a bright one with AceMovi for computers. Come with me!
Enter AceMovi once downloading is finished. Put videos to it afterward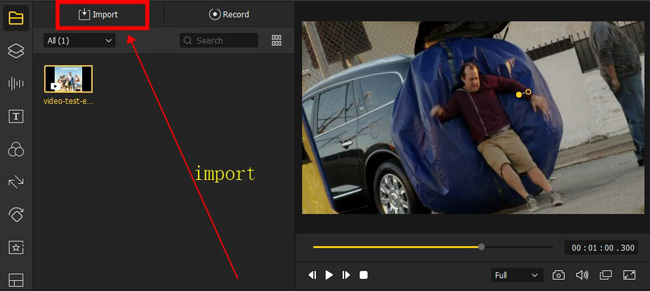 You can safely download and install TunesKit AceMovi from here. Choose it for your Windows computer or Mac. It allows you to import kinds of videos by clicking "Import" on the interface. Then drop your thumbnails into the timeline for the beginning.
Highlight the clip. Get Color in right hand. Make the video brighter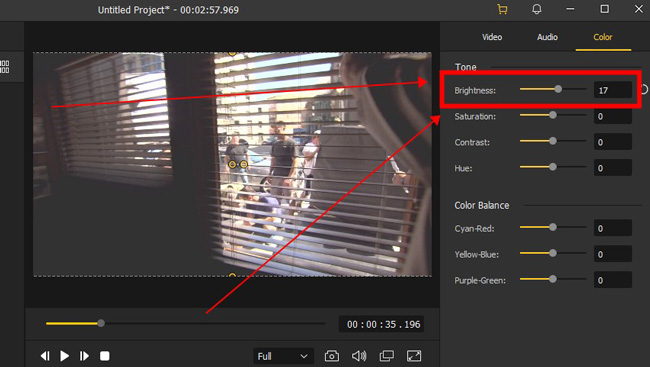 The video brightness setting is inside the "Color" panel after you launch "Properties" > "Color" > "Brightness". The degree is range from -100 to 100. Most importantly, it is efficient to preview the video color rendering while editing the video color. Meaning, just play the video when adjusting the video brightness.
Set output format. Choose save path. Click Export for downloading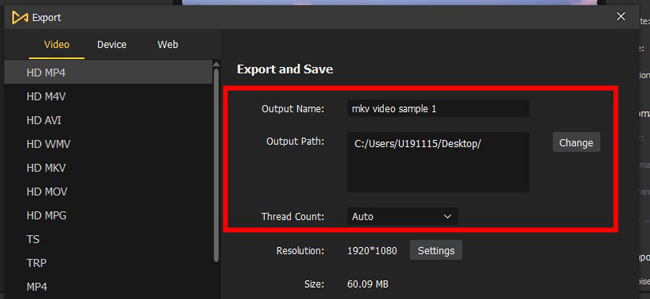 That's the easy but integrated guides for editing video color on AceMovi. If you want to try it for more, download it first. As regards exporting, all you need to do is find "Export", click it, and then define some settings you may prefer in that specific workspace.
Other Video Brightness Editors for Windows, Mac, and Linux
AceMovi is one of the tools for editing video brightness on computers but not the only one. And you cannot download it for Ubuntu Linux up to now. Here are more options for you.
1. OpenShot Video Editor
Running on Windows, Mac, and Ubuntu Linux, OpenShot is a video brightness editor without watermark that comes equipped with a plethora of video effects options. For example, if you have captured a video in darkness, correct it using the brightness correcting tool in the editor.
In addition, you can import the video that you like to edit and use the brightness tool to make adjustments. It is good to use the slider to adjust brightness and view in real time the changes. There is also an auto enhancement feature that you can choose to fix a video with a single click. Another exciting feature, color match, help you improve the color when you merge two different clips.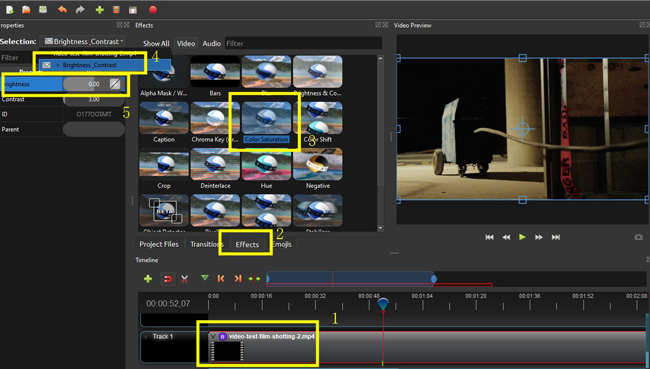 How to make a video bright with Openshot: After you launch OpenShot and add videos to the track. Find "Brightness & Contrast" from the "Effect" panel under the toolbar. Then you need to right-click the track and tick "Properties". Go to "Selection" > "Brightness - Contrast", you see the brightness value bar. Edit the value as per your wants.
Pros:
Video brightness editor app without watermark
Different types of video transitions
Add emojis and stickers
VFS abound like bars, blur, and chroma key
Ad-free, easy user toolbar
Cons:
Some guides are hard to operate
Weak in audio editing
2. VSDC Free Video Editor
Want to find a professional tool? VSDC free video brightness editor will be a great tool in the right hands. A skilled user will be thrilled to use all the effects available to create a fantastic result with any raw footage. They can make videos even when they capture videos with a handheld device. The editor supports complex formats and comes with 3D charts, preview modes, and effects.
You have color correction and object transformation with advanced audio effects, including volume enhancement and adjustments. Unlike other tools, VSDC comes with exclusive features essential for editing without leaving watermarks and limitations. The biggest problem is that you find it very hard to use at first.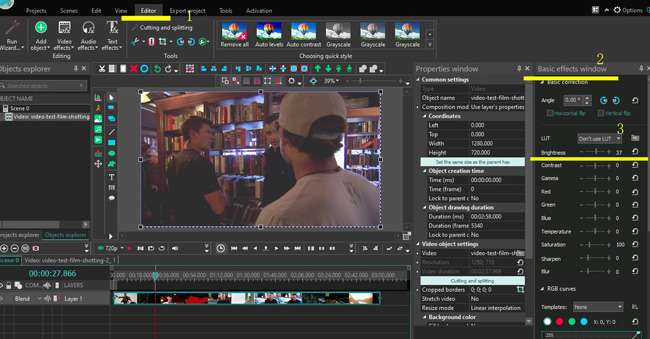 How to brighten a video by VSDC without complicated steps: Once entering the interface of VSDC. Add files to the timeline. Go to "Basic effects window" > "LUT" > "Brightness". Click the "+" icon to make your video brighter in real time.
Pros:
710p, 1080, and 2160p support
360-degree video editing preview
Ready-made photo slideshow templates with transitions/music
Comprehensive LUT settings include brightness, contrast, gamma, sharpen, and blur
Export video without watermarks
Cons:
Hardware acceleration and some features are paid
Mac users cannot run it functionally
3 Best Video Brightness Editor Online without Watermark
Want to edit the brightness of a video online? Currently, online video brighter tools are popular among editors due to their conveniences and responses. If you want to skip those paid online video editors like Kapwing and VEED.io directly, try the following options.
1. Online Converter (Max: 200 MB)
If you like to edit the brightness of a video online, then Online Converter is what you must choose. The video brightness editor online without watermark is an ideal tool for every editor who wants to make changes to their video using basic editing features on one page.
You can access the website from any web browser, which will impact how you can change the video's brightness. You can upload the video to the editor and select the settings to use the brightness tool. You can now proceed to make the changes, save the file, and download the same as well.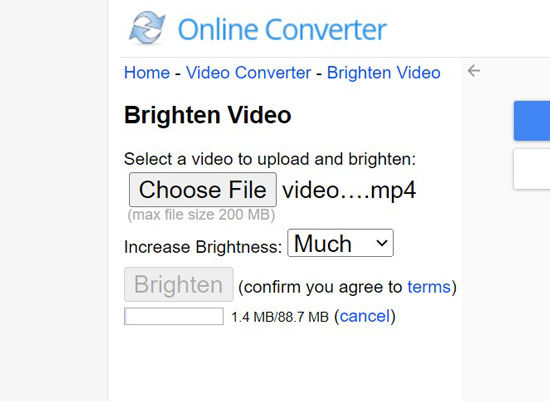 How to brighten a dark video for free with Online Converter: Go to "Home" > "Video Converter" > "Brighten Video". Select a video by clicking "Choose File". Pick up "Much" in the video brightness-increasing options. Lastly, press "Brighten" to commence the process.
Pros:
Online free video brighter
MP4, MKV, AVI, FLV, MOV, VOB, 3GP, and more
Select other tools like compressor, merger, resizer, cutter, cutter, rotator, and stabilizer
Easy steps for beginners
Multi-functional feature libraries
Cons:
Mac file size is 200 MB
A lot of ads
Low downloading speed
2. FileConverto (Max: 500 MB)
FileConverto is a free video brightness editor online that helps you adjust your video color without the need for desktop software. You can access this program from any web browser. Different from other online options, FileConverto is capable of changing video brightness to 1.5, 2, or 2.5.
More tools can be accessed, including a video volume booster, video downloader, video joiner, video meme maker, MP3 compressor, audio reverser, and PNG/JPG to PDF Converter. Those services are available on the menu place. More importantly, you don't need to register.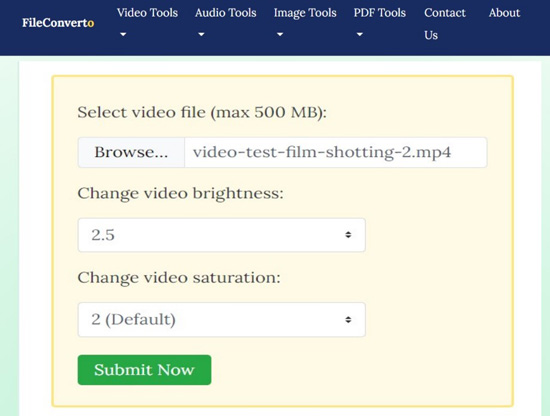 How can I make a dark video brighter and clearer online with FileConverto: Find "FileConverto" on the browser. Go to "Video Tools" > "Change Video Brightness". Pick up the video you want to change brightness. Set the value and saturation. Tap "Submit Now" to process it.
Pros:
More video brightness options
Import 500 MB video file size
Multiple tools for video, audio, image, and PDF editing
MP4 to MP3 converter
Straightforward user guides
Cons:
Few video formats
On-page ads
3. ClipChamp
Clipchamp is a semi-professional video brightness editor online. You can browse the website using your favorite web browser from a desktop, Mac, or smartphone. Apart from the basic settings available, the online video brightness editing program provides numerous templates to make everything efficient.
You can pick any video templates, make changes to the intro, subtitles, and other editing requirements, and save the file. The compelling feature is stock images, videos, and music availability. It's easy to apply the audio editing panel, fading effect, filters, color parameters, and speed changers from the toolbar. By the way, the "Exposure" button is the target for you.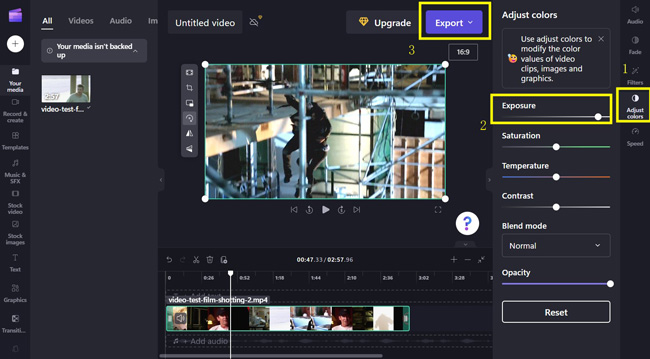 How to edit video brightness editor by ClipChamp: Click "+" to add files to the timeline. Go to "Adjust colors" in the right-hand panel. Then you see the sliders to change exposure, saturation, temperature, and contrast. You can edit the value according to your needs.
Pros:
720p is watermark-free
Blend modes covert normal, multiply, screen, and overlay
Change video speed at 0.1x, 1x, 2x, 4x, 16x, or other customized value
Quick importing and downloading speed
No file size limitation
Cons:
Most video filters, some effects, and HD output are available on premium versions
2 Best Video Brightness Editor Apps for iPhone and Android
Want to find the best video brightness editor app for video color enhancement? If you have iMovie, you will find the only way to brighten the video is the filter. And many more video editing apps like TikTok and InShot come with watermarks. So, if you haven't found a proper video brightness editing app, go ahead!
1. VN
The video brightness editor app comes as a blessing in the form of VN. Available for both iPhone and Android, this application is helpful in editing video brightness quickly. It comes with all the necessary features that one likes to see in a video brightness editor app.
The user-friendly interface, performance, and visual content are a treat for the editor because it never compromises anything. The best thing about VN is its ability to edit HD videos. It also offers multi-track editing features, filters, and stock music. You do not require any previous editing experience to use VN. Upload any video clip or footage and make the necessary adjustments at your will.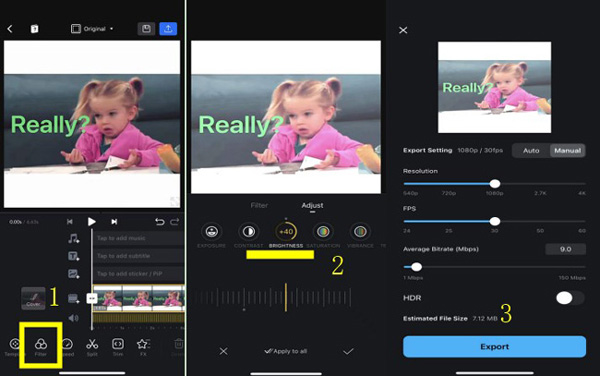 How to increase the brightness of a video on iPhone or Android by VN: Download this app for editing video brightness from the app store. Click "+" > "New Project", and add files to the timeline. Then slide the toolbar to go to the "Filter" panel. Now, you can adjust the brightness from "Adjust" or apply the bright filter from "Filter".
Pros:
Multiple tracks for texts, images, MP3s, and videos
Video brightness editor app without watermark
Convert MP4 to AVI format
Crop a video at different aspect ratios for social media
Ready-to-use slideshow/photo collage templates
Cons:
Editing 4K videos may meet crashes
Built-in purchases
2. Capcut
Capcut is another video brightness editor app available for Android and iOS devices. The app is user-friendly and offers features many other editing apps fail in this segment. What makes it interesting is the tools featured for TikTok users. You can immediately use them, convert your video into an outstanding result, and post it on TikTok.
Dreamy, split-screen, party, vintage, and so on are a few effects for users to edit their videos. Using them will help you add that professional touch to the videos. For example, you can improve the brightness value using the slider and set it at the correct value for a video you shot in the dark or a clip that requires brightness enhancement.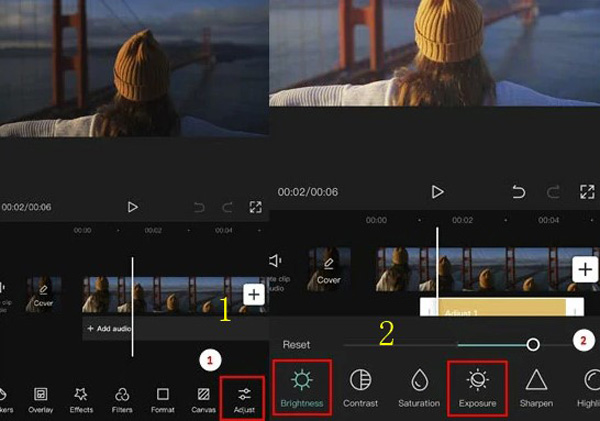 How to change video brightness in Capcut for mobile phones: After importing files to the timeline t"../images/resource/capcut-brightness-effect.jpg"rack, click "Adjust" from the toolbar. Then brighten the video from "Brightness" with the value slider. If you do not like the result, tap "Reset". If you like it, click any other place you want to save the adjustments.
Pros:
Video brightness editor app for Android and iPhone
Convert aspect ratio for Instagram, Twitter, and TikTok
Multiple color parameters: Brightness, Contrast, Exposure, Sharpen, etc.
Royalty-free sound and MP3 resources
Download video on 720p or 1080p resolutions
Cons:
15-min video editing limit
Single track for each project
Conclusion
A video editing tool comes to the rescue of a video editor by offering features that improve and enhance the video. Even when you shoot a video in the dark, the possibility of increasing the brightness is available with a video editor. With the help of a video brightness editor, you can brighten a video as needed. These tools also contain features that help you fine-tune the video for an exceptional result.
We have covered some of the finest tools available here, which will help you brighten a video in a few simple clicks. So, pick a suitable tool and start editing!