MP4 and MP3 are two of the sought-after media types for conveying digital information and sharing millions of types of videos. A device that is created for MP4 belongs to a player that can handle both video and audio, while devices made for MP3 can merely process sounds. You may plan to edit multiple MP4 and MP3 files with the merging function to combine and mix them together. However, a linear video editing program or an audio editor cannot achieve your goal smoothly. That's why you need to find a multi-track video file combiner, and here you'll learn the 4 ways to merge MP4 and MP3 on different platforms. Now, choose your strategy and let it happen!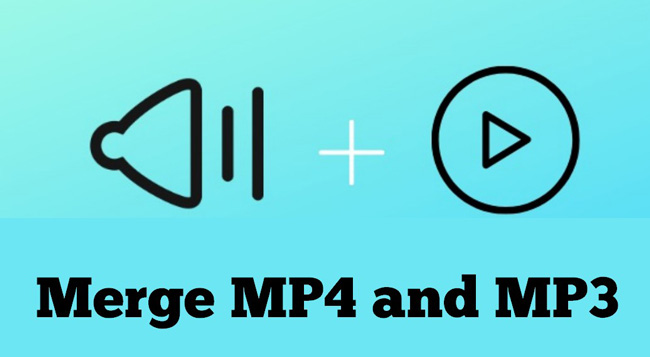 TunesKit AceMovi: How to Merge MP3 and MP4 in Computers
For adding batch music and video files to the timeline and editing them with built-in video merger or other features, TunesKit AceMovi Video Editing Software is capable of doing that without complicated steps. On the free trial version, users can even add a 2GB movie to the streamlined interface.
One of the best qualities of AceMovi is that this program can craft MP4, MP3, AVI, DivX, WMV, MKV, M4A, AVI, and more types of media. In other words, you can convert other files to MP4 or MP3 first, and combine them afterward. All the steps won't spend much time. Here download the video and audio merger and follow the user guides step by step.
AceMovi Files Merger
100% safe for commercial or personal use
Unlimited tracks for video, audio, and images
Convert hundreds of media formats
Create a new footage with screen recording
Set high-quality output with 320 Kbps
Apply special MP4 and MP3 effects
Merge batch files under the NLE interface
User Guides: How to Merge MP4 and MP3 in TunesKit AceMovi
Install TunesKit AceMovi. Make a new project and import MP4 and MP3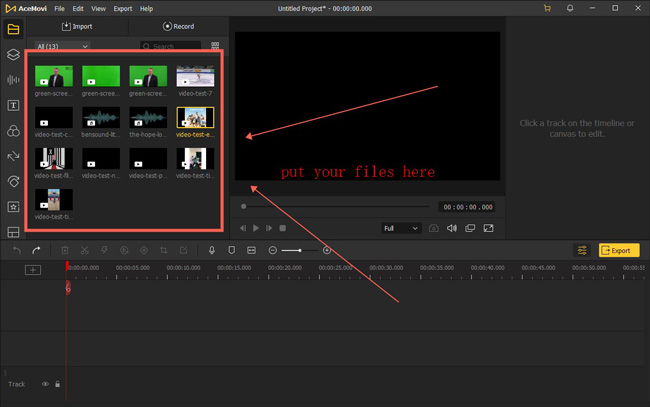 Hit the "Import" icon and import all your MP4 and MP3 files to the interface. You find them from the Media place. If you want to separate the videos from music files, you can switch by the "All" icon.
Add thumbnails to the track area. You need to separate MP4 from MP3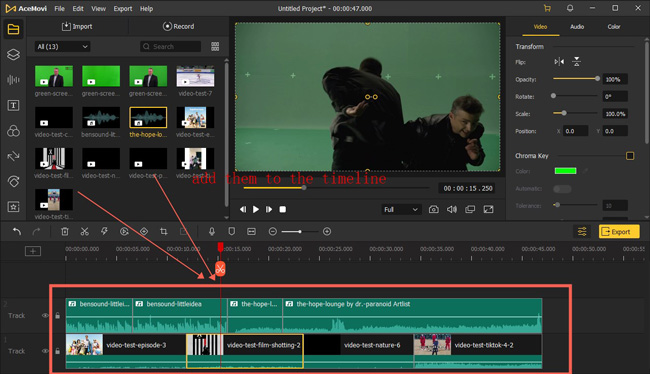 You see unlimited tracks under the timeline. You need to put the MP4 files under one track, and add the MP3 files to another track. Sometimes, if you want to extract the audio from those MP4 media first to mute them, you can highlight the clip and select "Detach Audio". The sequences can be organized per your needs.
Set the save path and output quality. Then download the combined file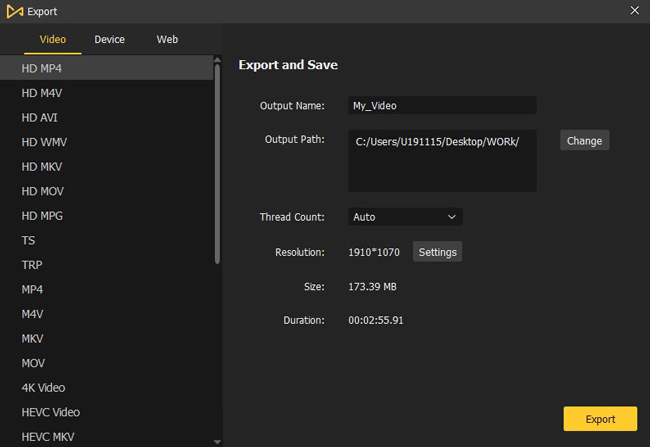 When it comes to the final step, you need to click the "Export" button. In the next pop-up workspace, you're empowered to control the video format, save path, and resolution. If you want advanced settings, click "Setting" on this window. That's all for AceMovi's user guide. Now, pick your favorite features from AceMovi!
VLC Media Player: How to Merge Multiple MP4 and MP3 Files
Compared to TunesKit AceMovi Video Editor, VLC Media Player is made for Windows, Mac, and Linux. It is a very popular pick for playing your files and editing them with diverse effects and features. All the functions are set inside the menu, meaning that it is not a professional video maker. It's free of cost right now. Continue to read this post!
Install VLC Media Player. Go to Media > Open Multiple Files from the menu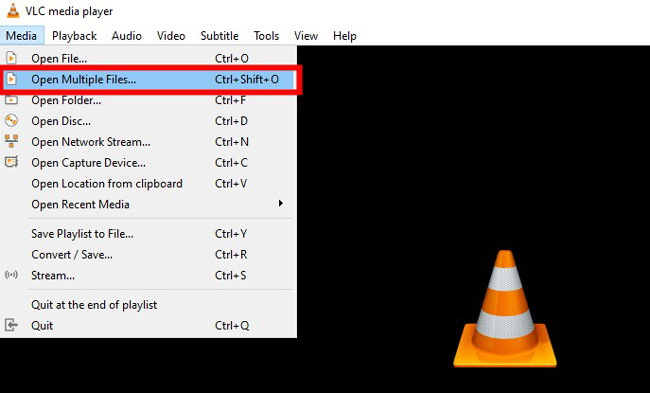 Open up the Media panel from the menu, and you can change into the file merging window by going to "Open Multiple Files". By the way, the shortcut to unlock it is "Ctrl + Shift + O".
Click + Add to import your MP4 and MP3 from local files. Click Convert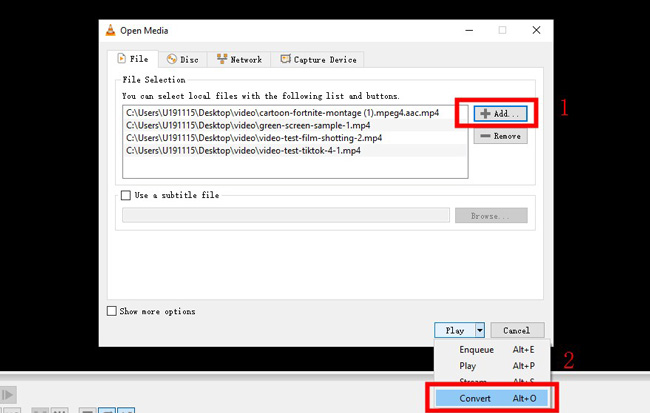 You can add all formats of videos or music files by pressing the "+ Add" icon. If the sequence is wrong, just click the "- Remove" icon. When you're ready, change the "Play" to "Convert" and click it.
Set the output parameters and destination file. Hit Start to merge files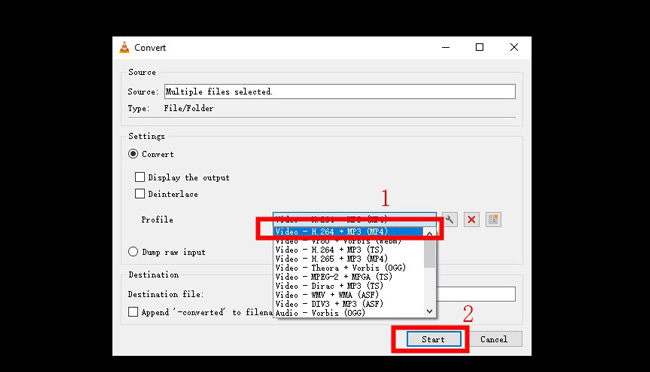 Users can choose from different output options, such as codec and format. Besides that, you need to define the destination file in case you cannot find it easily. Once prepared, click "Start" to download videos!
FileConverto: How to Merge MP4 and MP3 Online Free
Want to know which online MP4 and MP4 merger and combiner is the best one to use? If you have an online video editor, you don't need to download software or application when making edits. But, every coin has two sides, for example, you'd better prepare a good internet environment, and each file size should be limited to 150MB. Besides that, you encounter annoying advertisements. The following is the FileConverto's tutorial.
Find Video Tools > Video Joiner in FileConverto on your browser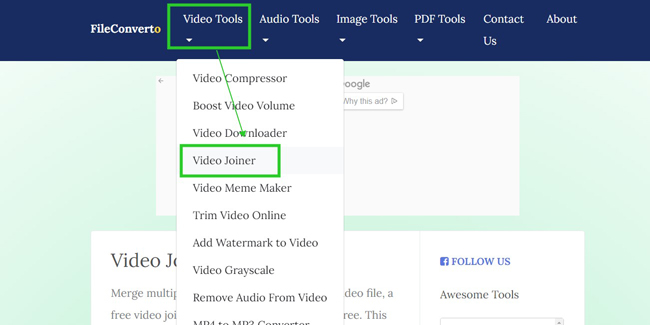 When you visit the FileConverto website on a browser, you should first find the "Video Joiner" from "Video Tools". Likewise, you can find an audio joiner from the audio tools.
Click Browse to import your files one by one. Go to Submit Now later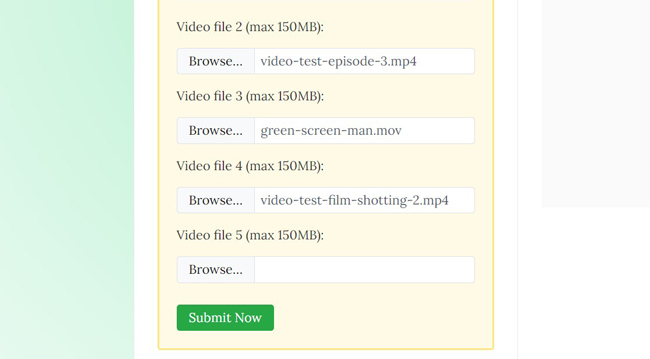 As you can see, there are blank boxes on the next pop-up page. It is accessible to upload 5 files at once by hitting the "Browse" icon. And each video file size is 150MB maximum. When it is okay, click "Submit Now" to download the combined files.
Video Merger: How to Join MP4 and MP3 on iPhone & Android
If you prefer merging MP3 and MP4 files on your mobile phone. You'd better give the Video Merger app a try, which is free for both iOS and Android devices. The interface of this tool is very clean, so users don't need to be a pro when using it for any purpose. There are three modes to choose from: Side by Side, Sequence, and Up and Down. Just go on reading!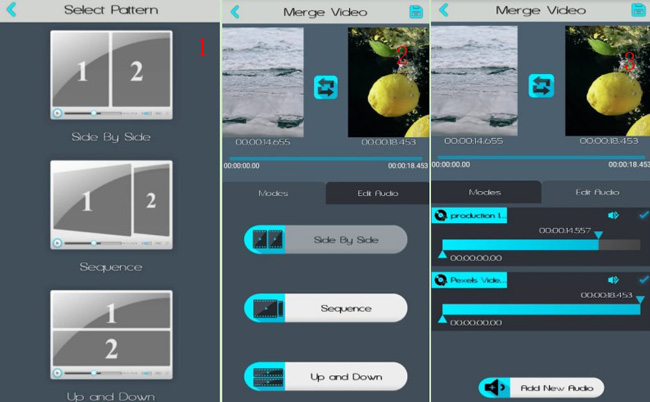 You need to choose the second mode "Sequence" from the default page. Then import your videos and songs from the album. You can preview the effect in real-time or change the sequences at any time. In the process, users are able to increase or decrease the original volume. Once everything is ready, click the "Save" icon on the right upper plate and find your videos in the local folder.
Conclusion
The four MP4 and MP3 video mergers are different from each other in features, user experience, pricing, and output quality. However, you can merge multiple media files on them without complicated steps. By the way, if you want to make advanced editing projects like VFX and SFX, TunesKit AceMovi and VLC Media Player are more suitable.