Product videos are a more compelling kind of content marketing than images alone, and they help diminish a customer's hesitancy to make a buy. According to Wyzowl, an animated explainer video firm, 78 percent of video marketers claim video has directly helped improve sales.
A great video editing software can assist you in showcasing your merchandise and creating professional promotions for platforms such as Instagram, TikTok, and YouTube. You can also make a video just for sharing. There are a lot of free video editing programs that can help you stand out from the crowd and edit films like an expert. Today, we are going to talk about a top-notch video editor app – the AndroVid Pro Video Editor that will help you achieve extraordinary editing results with only a few clicks on your phone. Ready? Let's begin!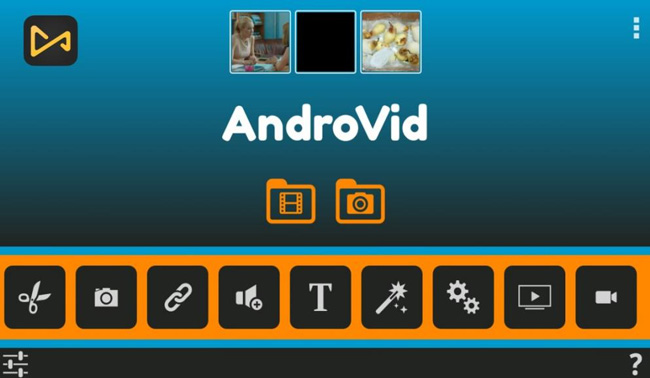 Know All about AndroVid Pro Video Editor App
AndroVid - Video Editor is a video-editing application explicitly designed for Android smartphones and tablets. Videos can also be captured inside the app (with the main limitation being the capabilities of the device's camera).
This video editor can cut, divide, and combine video clips, separate audio from video, add music, and add text or special effects to videos. Renaming videos, saving them to folders, and searching for them with keywords seems easy with AndroVid Pro.
Moreover, content creators and influencers can add music to the cinematic scenes of their videos, add text with multiple font colors and enhance the element of style with emojis, stickers, and more.
Pros:
Powerful editing options
An excellent option for Android users
Extremely easy to use
Cons:
Limited options in the free version
Editing on tablet screens is trickier
Download EaseUS Video Editor Crack for Free 2022
| Item | Details |
| --- | --- |
| Ranks | 4.2 · 338,699 Votes · Free · Android · Entertainment |
| Is AndroVid Free? | Not completely. You can download the trial version yet it's feature-limited. |
| How to Download AndroVid Pro v4.1.6.2 for Free? | Enjoy AndroVid Pro video editor for free, plus much more ads-free and built-in plugins, click here to download AndroVid Pro from Google Play. |
| What Can I Do with AndroVid Pro Video Editor? | AndroVid Pro Video Editor is a toolkit of Video Trimmer, Cutter, Splitter, Merger, Joiner, Titler, FX/Filters Adder, Music Adder, Aspect Ratio Changer, Video Background Changer, MP3 Converter, Photo Slideshow Maker, Video Player, Video/Photo Organizer, Flipper/Rotator, Enhancer, Speed Changer, MP4 Converter, Reverser, Frame Grabber, Video Pic Extractor, Compressor. |
| What Cannot I Do with AndroVid Pro Video Editor? | Edit multiple videos easily and conveniently; Make high-quality videos; Make content on PC or online; Create split-screen or PiP video; Use chroma key to edit green screen video. |
Edit Music Track: How to Add Music to Video with AndroVid Pro (I'll Show You the Best Alternative to AndroVid - TunesKit AceMovi)
If you want to add music to your videos to make them more entertaining, AndroVid Pro can help you do that. Here's how: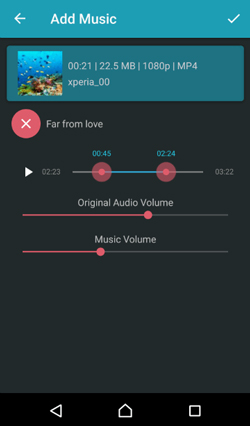 Open the AndroVid Pro app and select the Video option from the interface. Import the video you want to use. Now tap on the Music option at the top of the screen. Choose where you want to add music to your video. Download the audio and add it to your video. You can also adjust the volume of both videos' original audio in the music.
→ Best Alternative to AndroVid Pro Video Editor on PC - TunesKit AceMovi Video Editing Software Downloaded for Free on Windows and Mac
While AndroVid Pro is an excellent tool, it has its shortcomings. The user interface, for instance, is complicated and not visually pleasing. In addition, because individual video clips are not shown in the timeline, it is more challenging to choose the segment of a movie that needs to be clipped from the timeline.
TunesKit AceMovi Video Editor can be an excellent alternative to AndroVid Pro since the latter lacks some editing features. AceMovi is a multi-effects and transitions-enabled video editor that works in a single application. It includes a screen recorder, which can capture both visuals and the sound of your computer as you use it.
AceMovi is a well-established video editor equipped with features like split-screen, filters, animations, texts, and a music library, among other things. With AceMovi, it becomes possible to immediately import your audio into this program and have it match the video to make your movie more appealing. You also can equalize music, change an audio pitch, and add different sound effects to your videos, something the AndroVid doesn't have.
How to Edit the Music of the Video with AceMovi Easily and Quickly
Install AceMovi
Open TunesKit AceMovi on your computer, and then drag and drop the music files and video footage into the media box to begin editing. Alternatively, you can directly drag them to the timeline.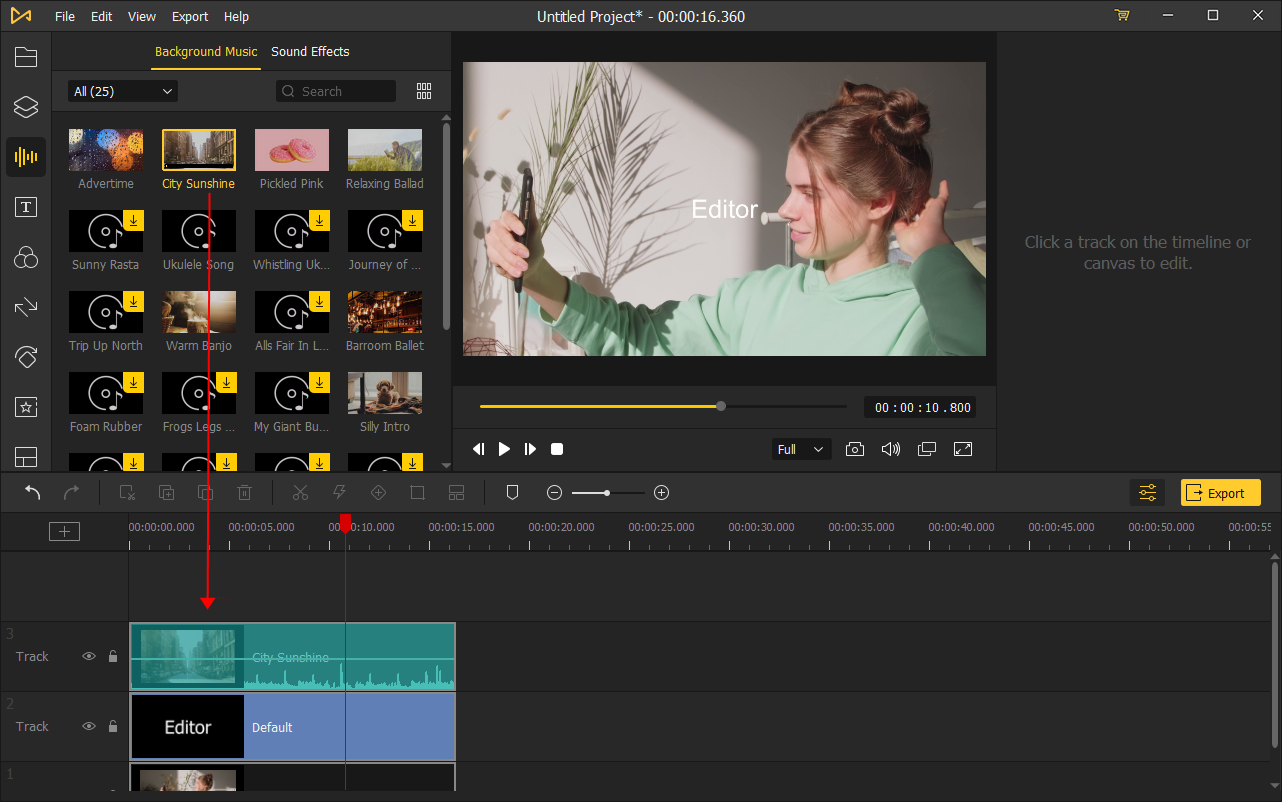 Once the audio and video material have been added to the timeline, you can change the audio by selecting it and clicking on it. You can control the level of the audio clip by moving your cursor to the top right panel.
It is possible to use the Denoise tool to filter out background noise and improve the clarity of your audio if it has a significant amount of it. A built-in equalizer with five presets is also available on the TunesKit AceMovi, which allows you to fine-tune the frequency of your music.
Adjust Duration & Cut Out Unwanted Clips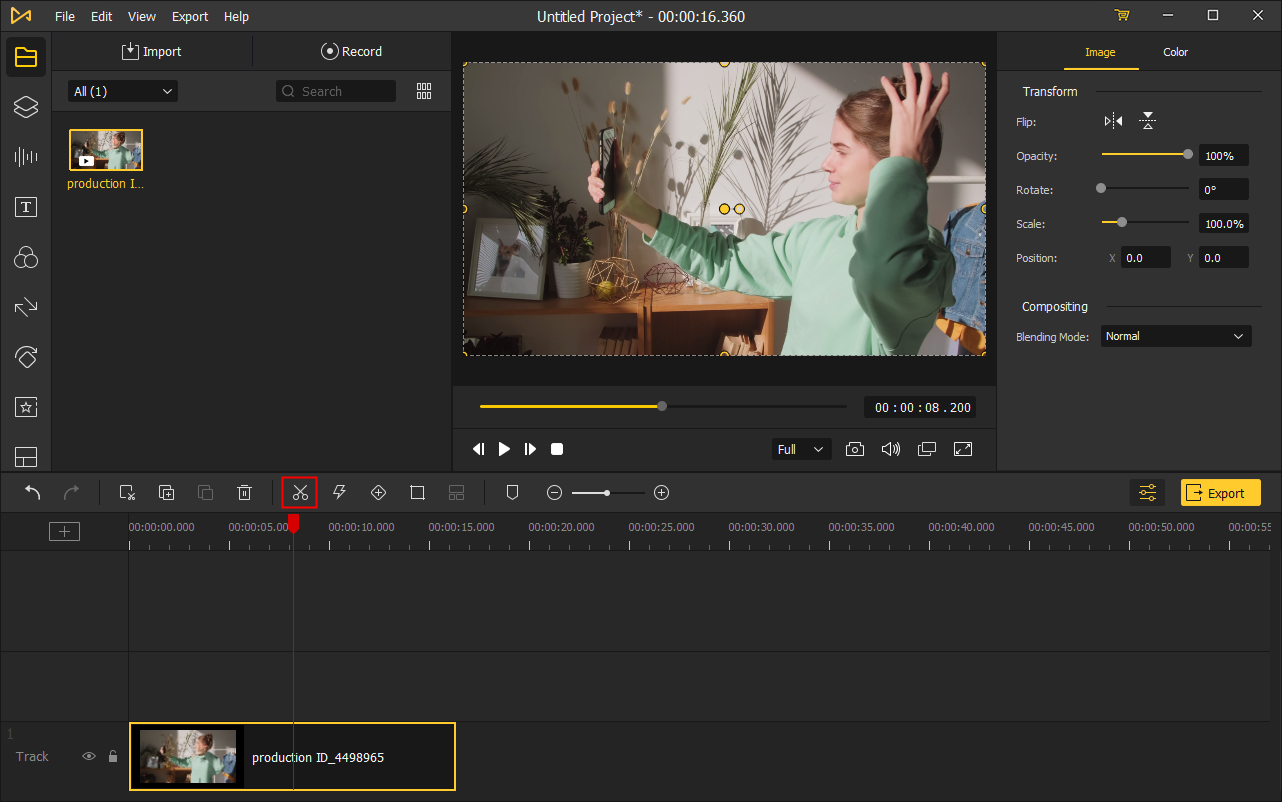 You can adjust the audio duration by hovering your mouse over the beginning or ending points of the recording on the timeline.
Alternatively, if you wish to divide your audio track into many pieces, drag the Playhead to the time point where you want to cut the recording and choose Split from the drop-down menu. Once you've done that, you can move the smaller audio segments to match the video.
Export Your Masterpieces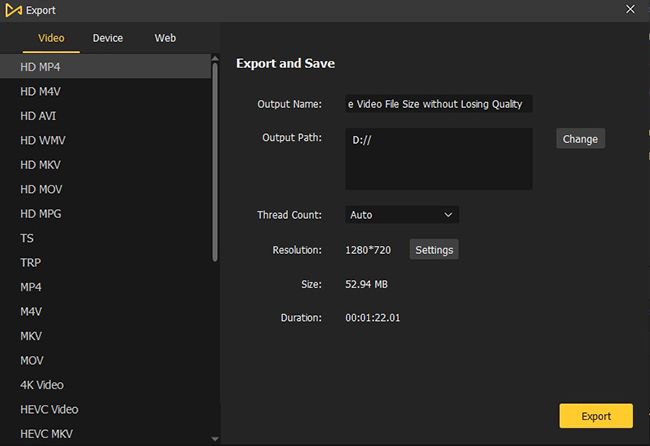 Once you've finished modifying your text, click the Export option in the center of the screen to save your movie to your computer. When you click on the Settings button, you will be able to customize the output settings. You can also modify the output location. Now, join us here↓
Crop Video: How to Crop Video/Change Aspect Ratio with AndroVid Pro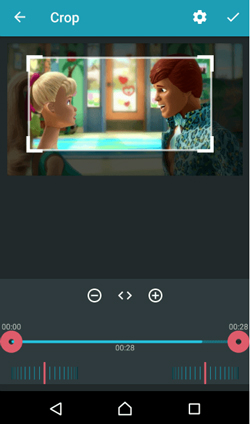 To crop your video and its frame using AndroVid Pro follow this tutorial. Now, import your video from the phone's gallery. Select the Edit tab. And then choose the Crop option. You can resize/customize the aspect by fingering, holding, and dragging flexibly and freely.
Adjust your cropping requirements from the given options and choose the Tick mark to save the video.
Emojis, Drawing, Pics: How to Edit Video with Emojis and Pictures with AndroVid Pro
To get started with some basic editing using the AndroVid Pro, here's your tutorial:
Import Your Files & Add Stickers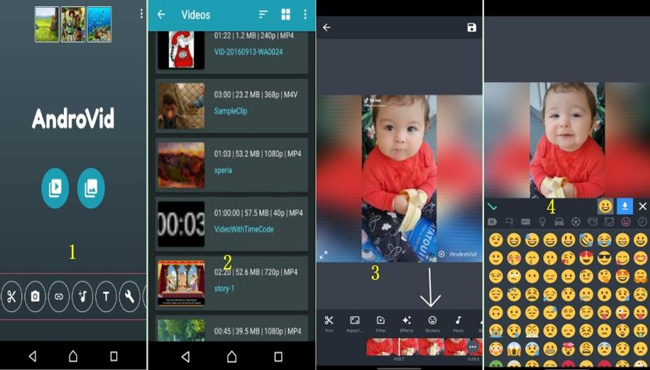 After downloading the Androvid Pro Video Editor APK, open the AndroVid Pro app and select the Video option from the interface.
Then import the video you want to use. Head over to the Edit tab and choose the Stickers option to apply some emoticons.
Add Captions/Pics to Video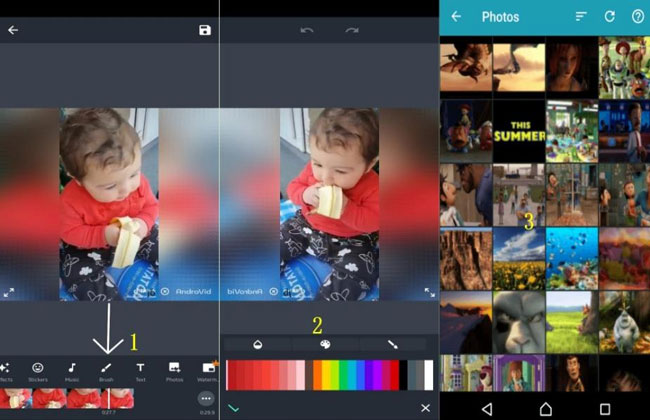 If you want to draw something on your video, select the Brush option from the Edit tab and draw whatever you want to draw.
If you want to add pictures to your video, choose the Photo option in the Edit tab. Click on the picture you want to use from your Android device.
Finally, adjust the frame size of the picture. You can also add filters, adjust the brightness of the added photo, and more.
Cool Filters & Effects: How to Edit Video with Filters and Effects with AndroVid Pro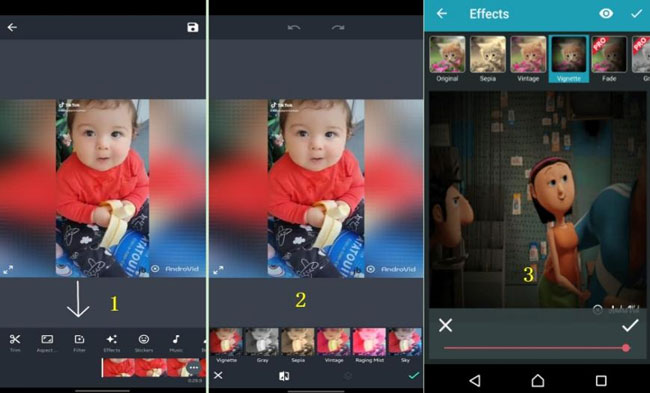 Here's how you can add some cool filters and effects to your videos. After importing the video from the phone's gallery.
Select the Filters option from the Edit tab to apply the filters of your liking. Similar to the filters option, you can choose to apply the Effects of your choice by clicking on the Effects option in the Edit tab.
Export/Convert Video: How to Share/Convert Video in AndroVid Pro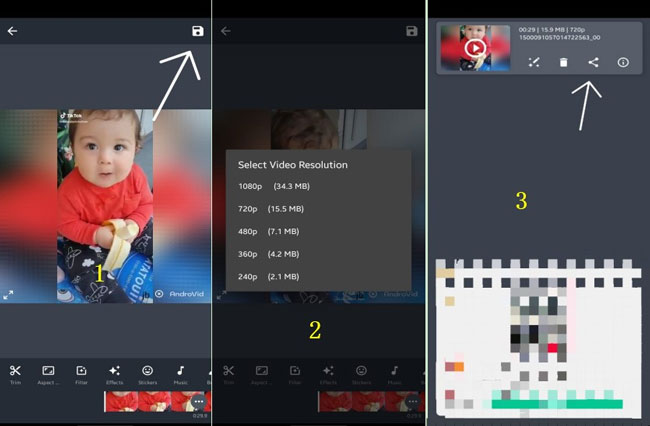 Last but not least, after you are done editing your video using AndroVid Pro, it's time to share it with the rest of the community.
Click on the option in the top right-hand corner of your screen. Choose the Resolution you want to Export your video into. Now, your video will start preparing to be exported. Click on the Share button to make it viral!
Conclusion
Content creation has grown several folds over the years, and video editing is a significant element of it. AndroVid Pro Video Editor offers you everything you need, from basic video editing features to leaving no watermarks on videos; this is an excellent choice for Android users.